On August 29 at Hollywood Studios, the opening attractions at Galaxy's Edge will transport Disney guests, Jedis, and Siths alike to the planet Batuu and into the village of Black Spire Outpost. 
Black Spire Outpost features many of the famous landmarks from across the Star Wars Galaxy: X-Wings and Tie Fighters, a full-scale replica of the Millenium Falcon, and a bevy of costumed cast members.
After opening night at Disneyland, Lucas said Galaxy's Edge "will change your life." So while you're counting down the days until your life-changing adventure across Batuu, take a look at six reasons why we love the attractions at Galaxy's Edge before it's even open.
1. Take a ride on the galaxy's fastest hunk of junk
Sure, Luke Skywalker is the ultimate good guy. He saved the galaxy, destroyed the Death Star, and piloted an X-Wing. 
But as kids, everyone wanted to be Han Solo.
Think about it. Han saved Princess Leia. Han had a Wookie best friend. Han shot first.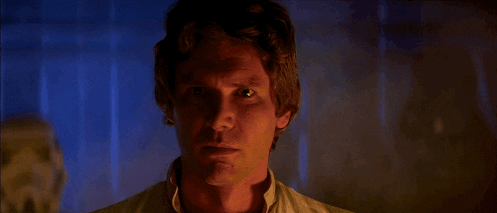 Millennium Falcon: Smugglers Run is currently the land's lone operating ride. Guests jump into the cockpit of Han's ship and travel through hyperspace into a world of adventure, and danger.
Before boarding, six riders are assigned one of three doubled-up tasks: pilot, engineer, or gunner. 
The right pilot controls the up-down movement while the left pilot moves the Falcon left and right. If the Millenium Falcon takes damage because of a pilot error or a stray laser blast from another ship, the engineers must press a series of flashing buttons and levers to fix anything that breaks. As gunners, there are two ways to play this role: manual and automatic. Automatic is great for kids because the ship aims for them. Manual requires gunners to aim well and shoot smart. Accuracy counts towards the ride's overall score.
Jennifer Fickley-Baker of the Disney Parks Blog explains,  "How [guests] perform on the mission holds even bigger stakes: perform with skill, and you may earn extra galactic credits while bringing the ship back banged up could put you on the list of a bounty hunter. End up on Harkos's list, and you may face a problem if you show up at the local cantina." In other words, the success or failure of a guest's mission aboard the Millennium Falcon matters to a guest's overall experience long after the ride.
Ride Quick Notes:
Height Requirements: 38′ or taller
Seating: Each cockpit holds 6 guests
Single rider and Ride Switch are available
Wait Time: Expect long wait times of 60 minutes or more
2. The DIY Galaxy's Edge attraction: Build your own lightsaber and droid
To be a Jedi, one must become one with the force. What's the point if you don't have a lightsaber to fling around? At Savi's Workshop, future Jedis and Siths alike have an opportunity to build their own lightsaber (for the price of $199).
The only thing cooler than being Han Solo is being Han Solo and flinging around a custom lightsaber. Located in the heart of Galaxy's Edge, guests will meet one of Savi's Gatherers, who offer a choice of one of four hilts (themes) for the custom lightsaber. The hilts are as follows: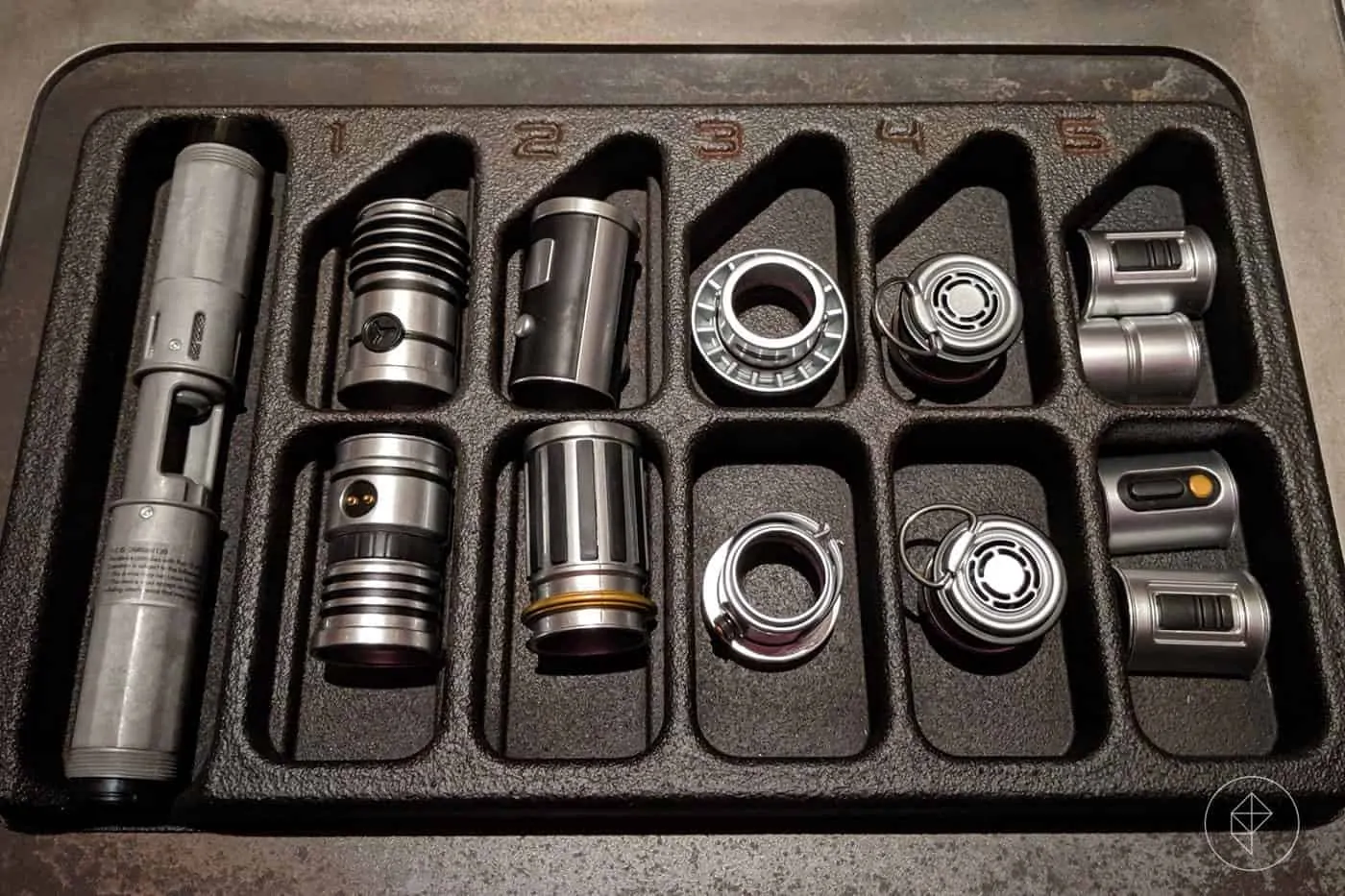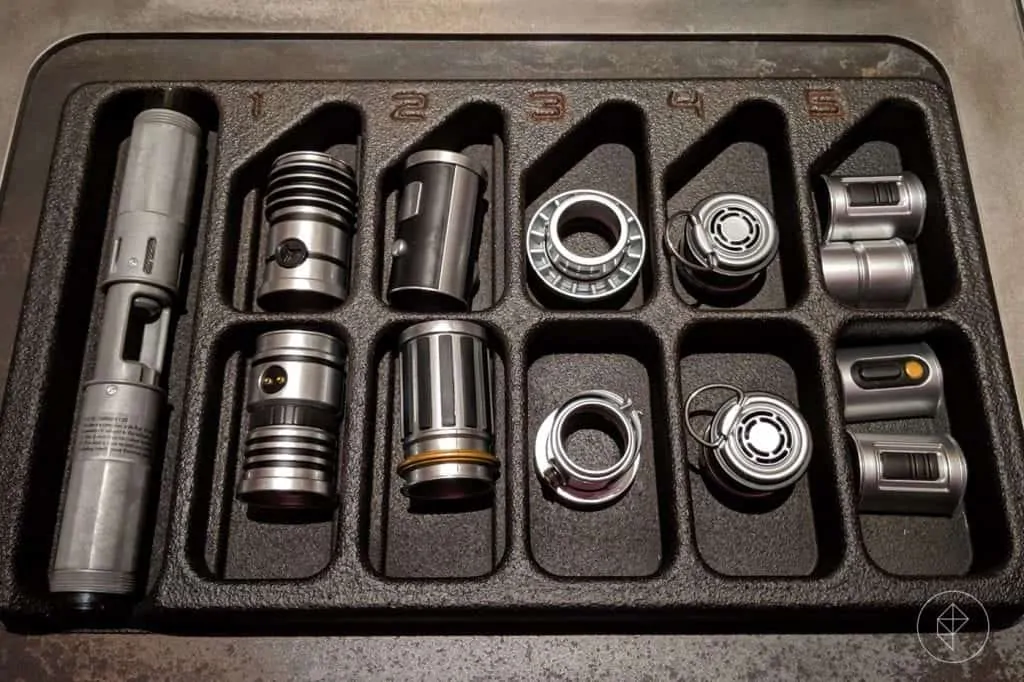 Peace and Justice: Salvaged scraps from fallen Jedi temples and crashed starships in these Republic-era designs honor the galaxy's former guardians.
Power and Control: Originally forged by dark side warriors, this style features rumored remnants from the Sith homeworld and abandoned temples.
Elemental Nature: This theme embodies the Force—an energy created by all living things, like Brylark trees, Cartusion whale bones, and Rancor teeth.
Protection and Defense: Hilt materials bear mysterious motifs and inscriptions that reconnect users with the ancient wellspring of the Force.
Each lightsaber consists of a sleeve, an emitter, a pommel cap, and an activation plate. When the lightsaber's hilt is complete, guests take part in a ceremonial lighting of the blade where a cast member connects the 31" toy blade to the lightsaber.
Note: Savi's Workshop requires a reservation. Plan for the experience to take around 20 minutes, and you will need to arrive 15 minutes early.
For families looking for something a little bit different than a lightsaber, but still want to build something Star Wars related, head over to the Droid Depot. For $99, you can make a custom BB-series or R-Series droid.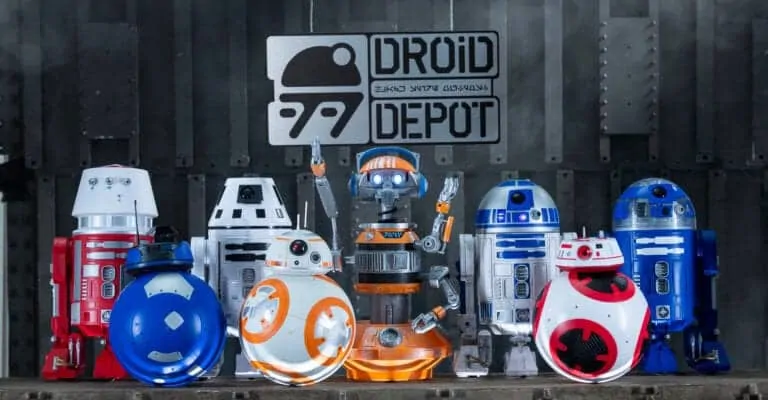 At the parts station, builders pick from a variety of parts rolling by on a conveyor belt. After choosing the droid's components, guests move on to build station where they are given a placemat with instructions on how to assemble their unique BB- or R-Series.
With a completed droid in hand, a cast member will be paired with a remote control and ready for travel across Black Spire Outpost.
Attraction Quick Notes:
Price: Custom Lightsabers -$199 BB or R-Series Droid- $99
Age requirements: Recommended 5 years of age or older
Wait Time: The experience lasts around 20 minutes
Reservations: Required (only one builder per lightsaber or droid, and one guest allowed)
3. Drink with smugglers, bounty hunters, and rogue traders
From Blue Milk (Blue Bantha) to T-16 Skyhoppers (Tito's Handmade Vodka, Bols Melon Liqueur, Kiwi, and Half and Half), Oga's Cantina is the home for smugglers, bounty hunters, and Galaxy's Edge guests who want to indulge in an alcoholic drink or three.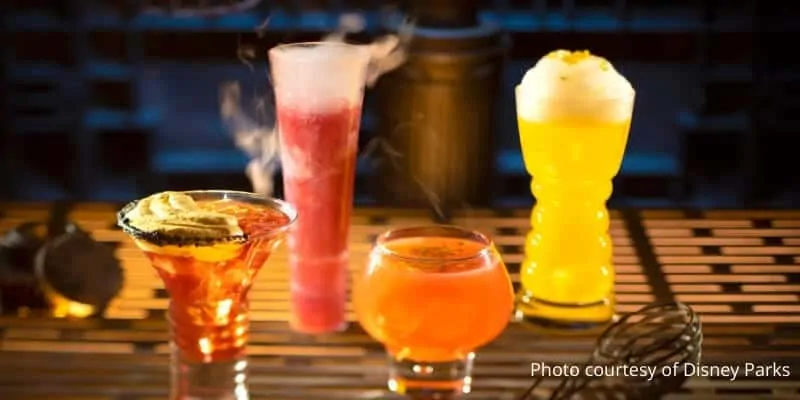 Oga's Cantina offers a fantastic drink selection of alcoholic mixed drinks, IPA's, and nonalcoholic Star Wars-themed beverages. There's no question that Oga's Cantina, as a central Galaxy's Edge attraction, caters more to the adult Galaxy's Edge attendee. Music blasts throughout the bar from droid DJ R-3X as bartenders deliver drinks in themed mugs and flights. 
Don't forget: your ride on the Millennium Falcon will affect your experience here, so do that first.
Guests rank The Outer Rim: Silver tequila, acai liqueur, lime juice, pure cane sugar, black salt and exotic fruit puré and the Jedi Mind Trick: Ketel One Botanical Grapefruit & Rose Vodka, John D. Taylor's Velvet Falernum, Bols Blue Curaçao, White Grape Juice, Lime Juice, and Grapefruit Bitters as favorites.
Bar Quick Notes:
Price: Drinks range in cost from $6- $32 (note the $32 drinks include a commemorative mug)
Reservations: The Oga's Cantina experience is subject to availability and reservations are highly recommended as walk-ins will be very limited.
Kids: This bar is best for those old enough to drink.
4. Your phone turns into an interactive datapad
The Disney Play App is an interactive mobile app designed to entertain guests while waiting in line. Depending on location, the app gamifies the queue experience with Disney trivia questions or plays music from nearby attractions.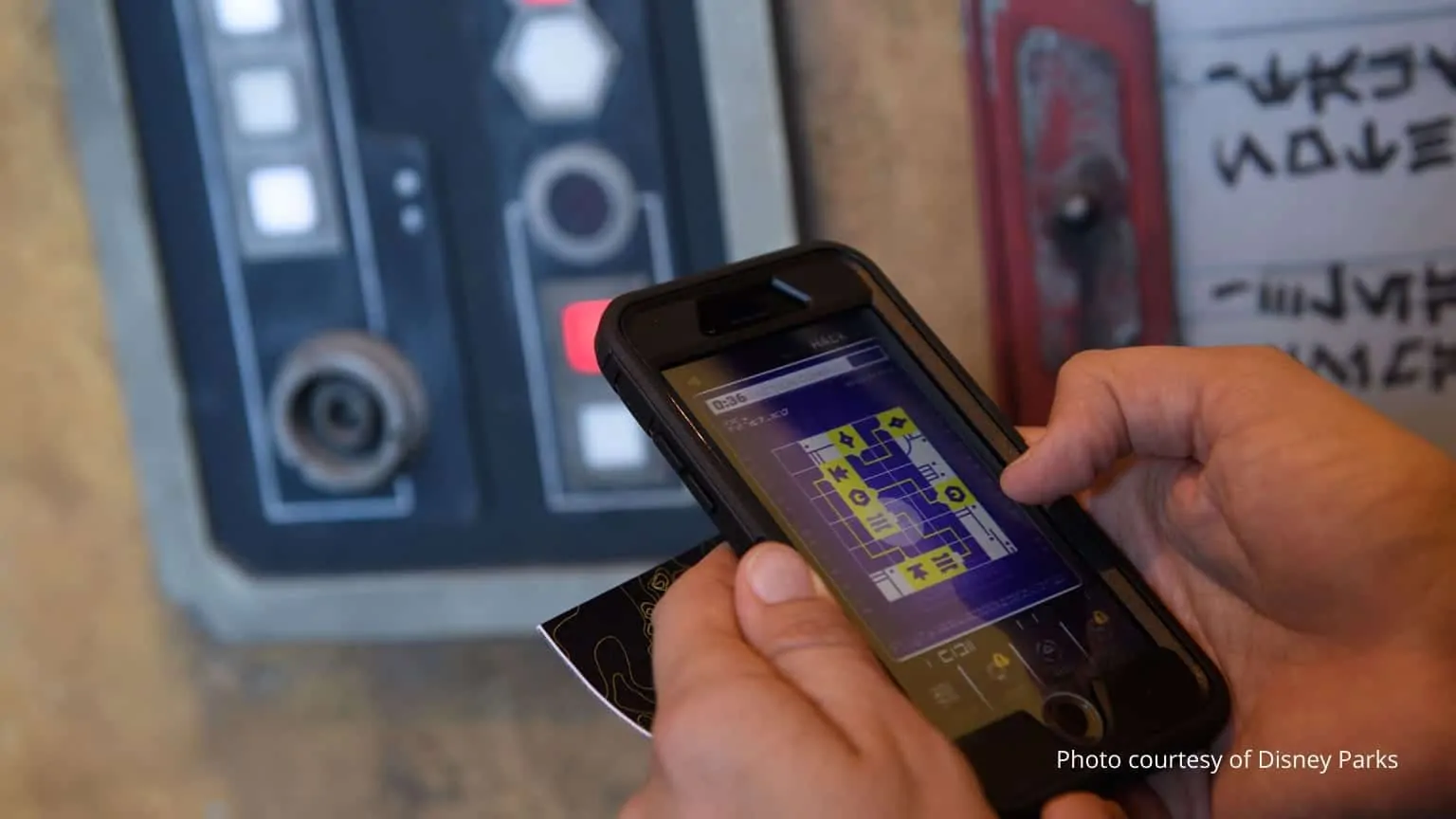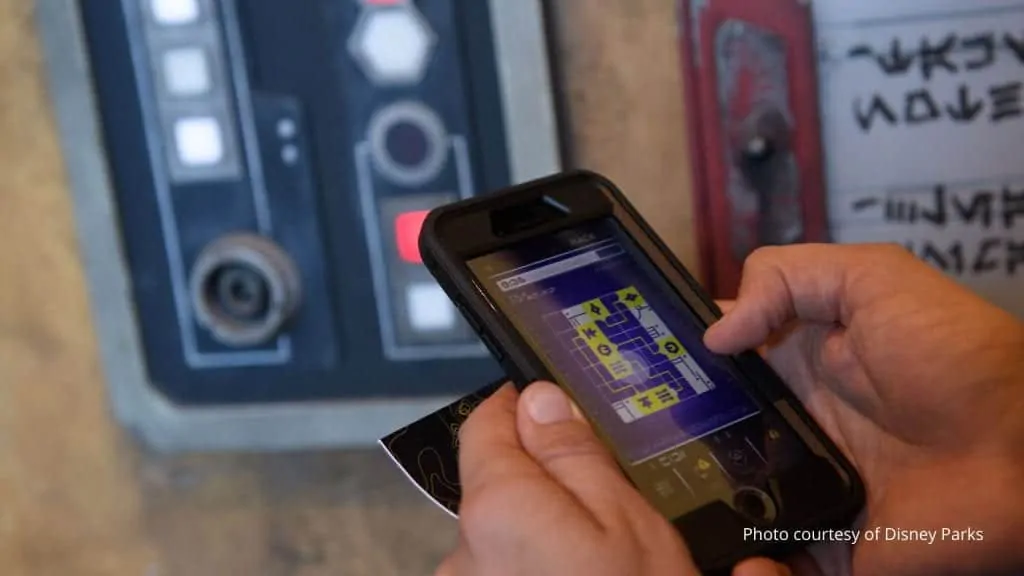 But inside the walls of Black Spire Outpost, the Disney Play App transforms into a Datapad, supplementing all guest interactions with Galaxy's Edge attractions.
For example, opening the Datapad reveals four options for Batuu visitors: Translate, Scan, Tune, and Hack. Guests can translate Aurebesh signs or decrypt hidden messages using the Tune function on the Datapad. 
Each completed task offers digital rewards in return, such as ship schematics or star maps. How you complete specific missions decides which side are you on: are you loyal to The First Order or a part of the Resistance.
The expectation is that over time, the choices you make with the Datapad will follow you throughout the Black Spire Outpost. Imagine personalized interactions with patrolling Storm Troopers or better yet, be assigned specialized top-secret missions to uncover Galaxy's Edge's hidden easter eggs.
The Disney Play App's launch received mixed reviews with complaints about bugs and limited functionality throughout the park. Disney heard those complaints and made it that to experience everything the Imagineers hid inside Black Spire Outpost, Disney made the play app a must-have.
App Quick Notes:
Price: Free to download on the Apple or Google Play Store
In-app payments: None
System requirements: iPhone or Android Device
5. Get ready: the resistance is coming!
The second ride to open inside Galaxy's Edge, Rise of the Resistance, has been described by Imagineers as "among the most technologically advanced and immersive attractions Disney has ever created." Unfortunately, it won't open until December 5, 2019.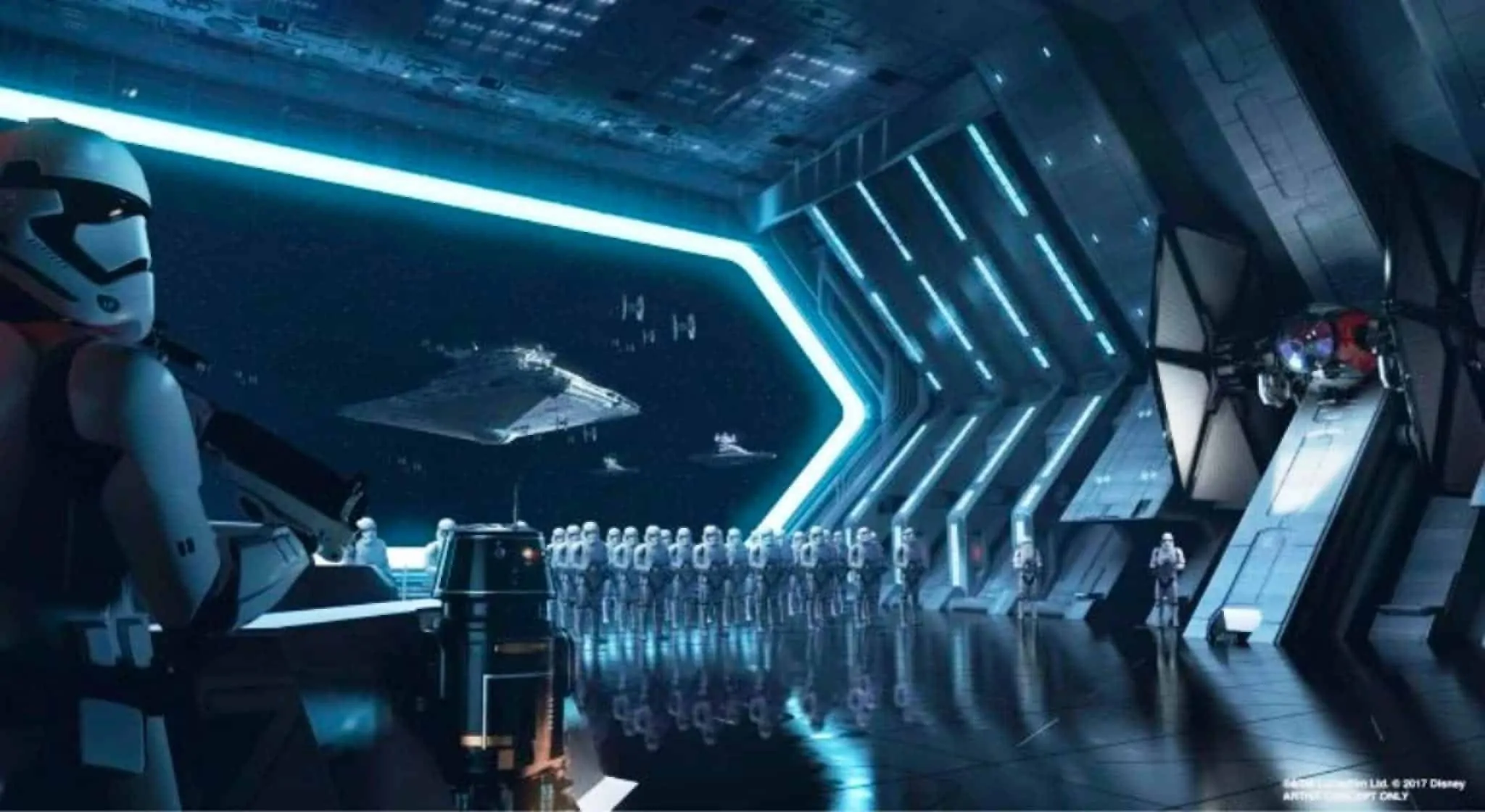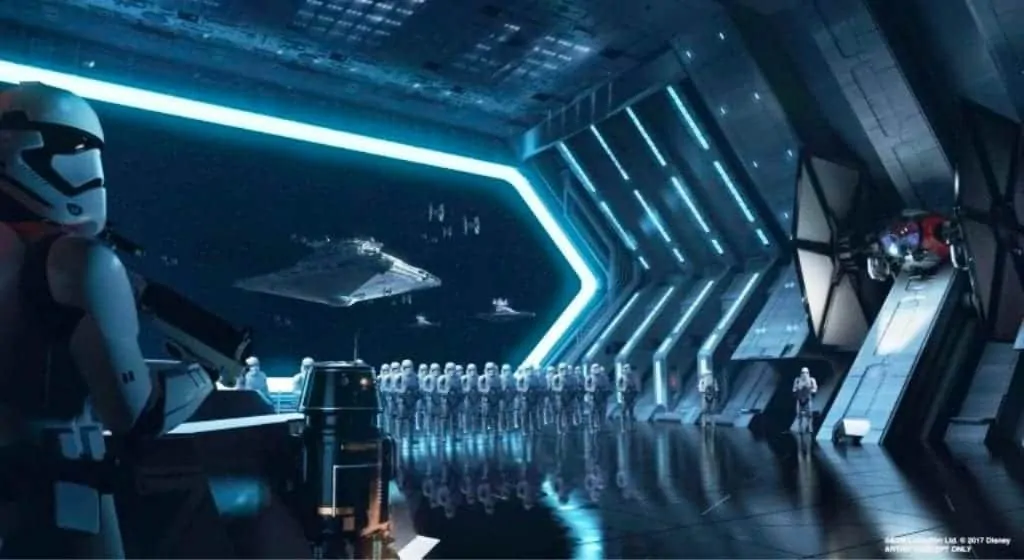 Rise of the Resistance transports guests into the middle of a battle between the First Order and The Resistance. Guests are recruited to the Resistance but are captured and brought aboard a First Order Star Destroyer.
Reports suggest that the trackless attraction will have guests climb on and off their vehicle at various parts of the ride to interact with hundreds of new animatronics.
Careful: riders are prone to come face to face with Kylo Ren himself.  Imagineer John Georges added that inside the massive show building will be two full-scale AT-AT's. Now that's immersive storytelling.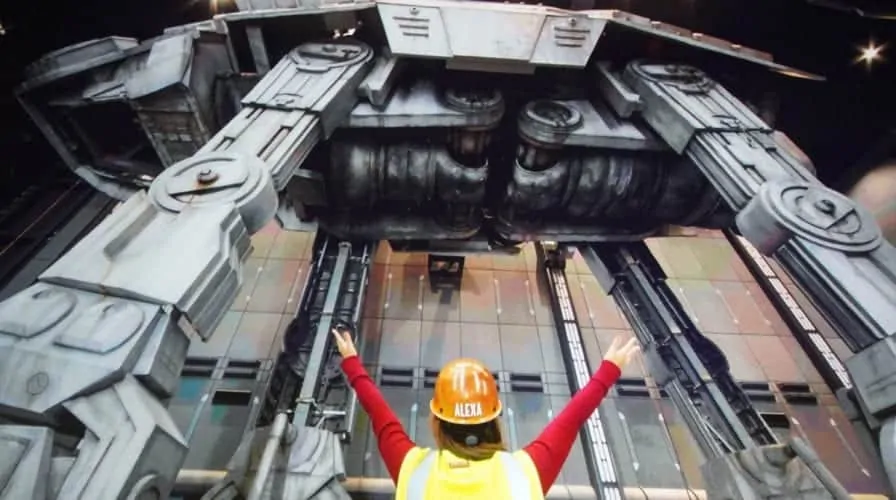 Attraction Quick Notes:
Expected opening: December 5, 2019
Ride requirements: Guests must be 40 inches tall
6. Climb aboard Star Wars: Galactic Starcruiser
Expecting to open in time for Walt Disney World's 50th Anniversary in 2021, Star Wars: Galactic Starcruiser hopes to deliver the galaxy trekking fantasy to Star Wars fans have been imagining since the 1980s.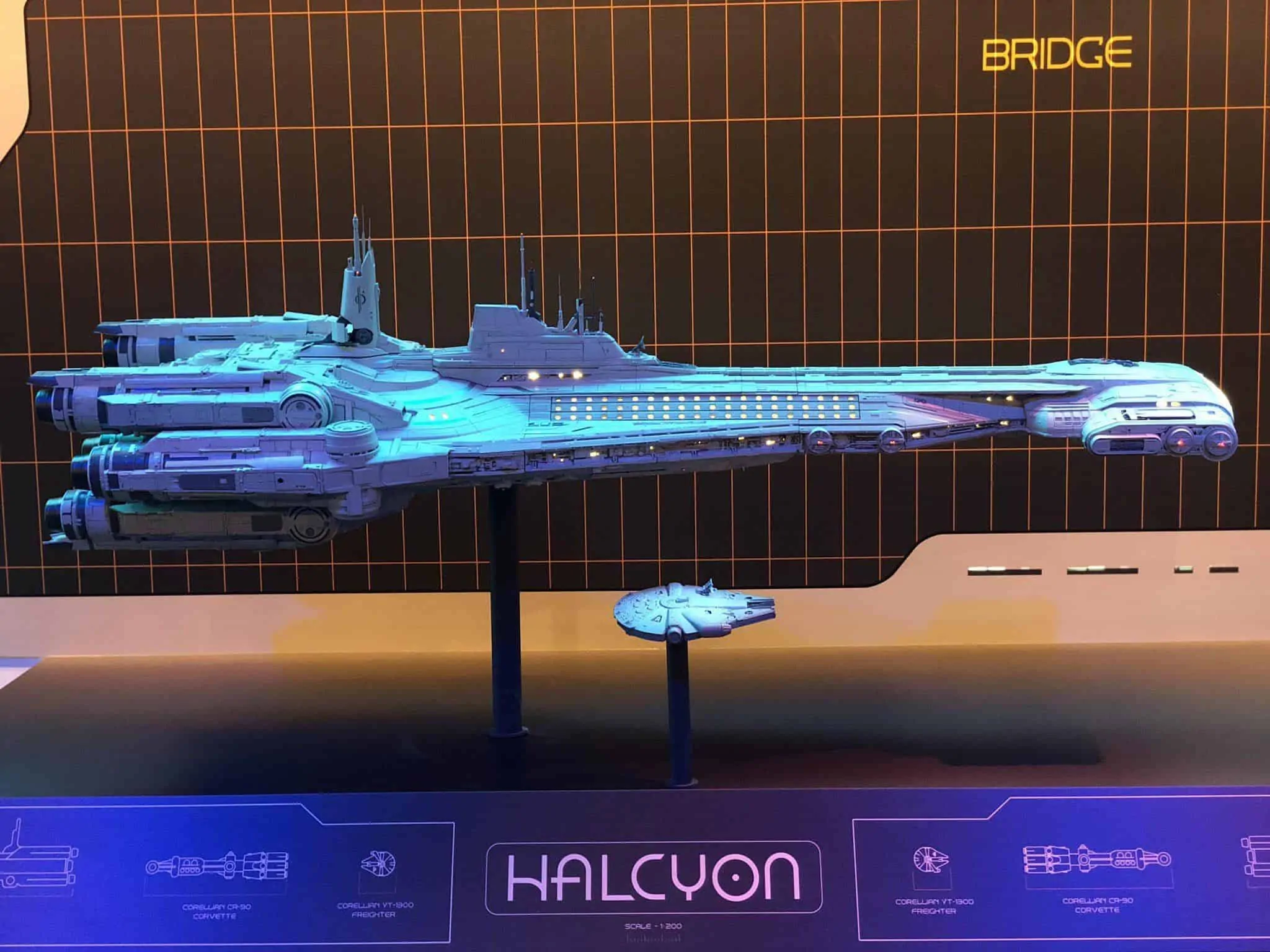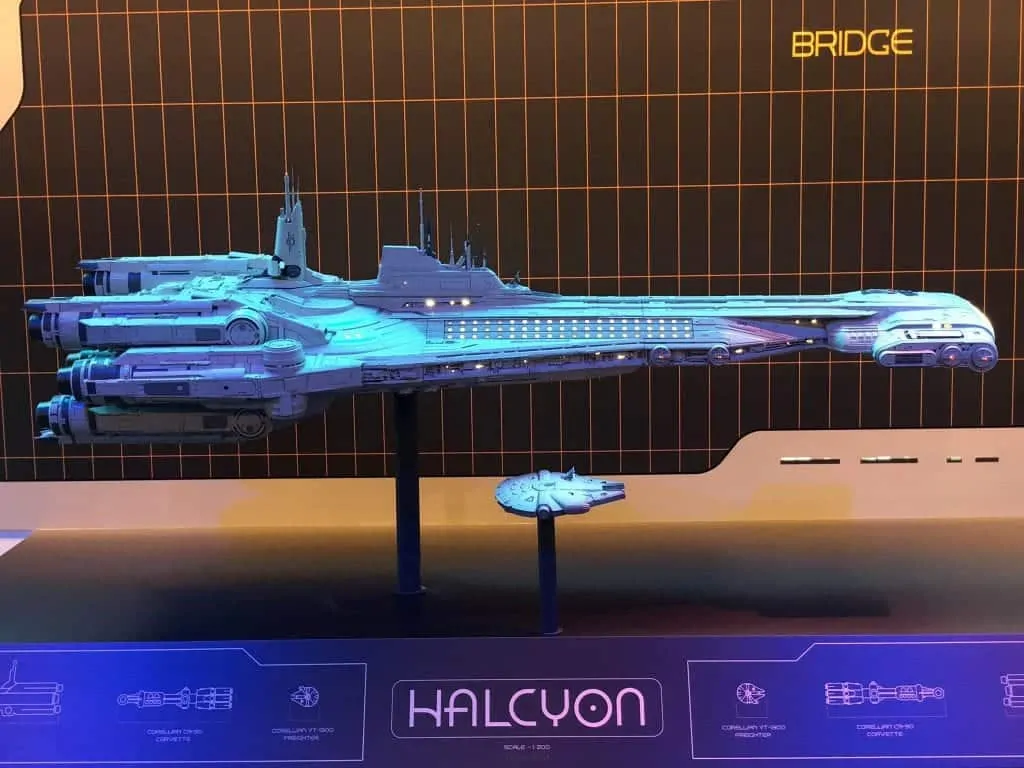 Disney's official description reads "Star Wars: Galactic Starcruiser will be a new, first-of-its-kind vacation experience where guests will check-in for a two-night adventure aboard a glamorous starship. Once onboard, guests will interact with characters and become active participants in stories that unfold around them on their galactic journey."
At D23, the model of the Halcyon ship (the backstory name for the cruiser) sits next to a scaled model of the Millenium Falcon. As you can tell from the picture below, Star Wars: Galactic Starcruiser is going to be massive.
Attraction Quick Notes:
Expected opening: 2021
Ride requirements: None
Price: TBA (Predictions suggest at least $1500 a night for a mandatory 2 night stay)
More attractions at Galaxy's Edge?
From the land's immersive, interactive features (Savi's Workshop, Datapad) to Batuu's innovative redefinition of a theme park (Rise of the Resistance and Star Wars: Galactic Starcruiser), we already know that we love Star Wars Galaxy's Edge. 
Are you excited to visit Galaxy's Edge? What Disney franchise should have their own dedicated land next? Let me know in the comments!