I'm a big cereal guy. Get me some Lucky Charms, some milk, and that's the combination for a perfect morning. However, one problem is if you're a cereal Dude and have a beard: those scraggly hairs were dangling over your upper lip and milk. Men with beards know precisely what smell I'm talking about. And so do their partners. That's why picking a scented beard oil like Brothers Artisan Oil Grooming Oil can make the difference between milk-kisses and passionate ones.
Okay, you got me. Brothers Artisan Oil Grooming Oil wasn't developed with strange smells in mind. Instead, the husband and wife team behind Brothers Artisan Oil Grooming Oil wanted to create natural grooming products that help men and the environment at the same time.
While the company offers bar soaps, room sprays, and deodorants, our Brothers Artisan Oil Grooming Oil review will just focus on their grooming oil. With thousands of beard oils available on the market, it can be challenging to identify which ones are legit and the beard oil equivalent to a milk-kiss. Check out our Brothers Artisan Oil review to find out.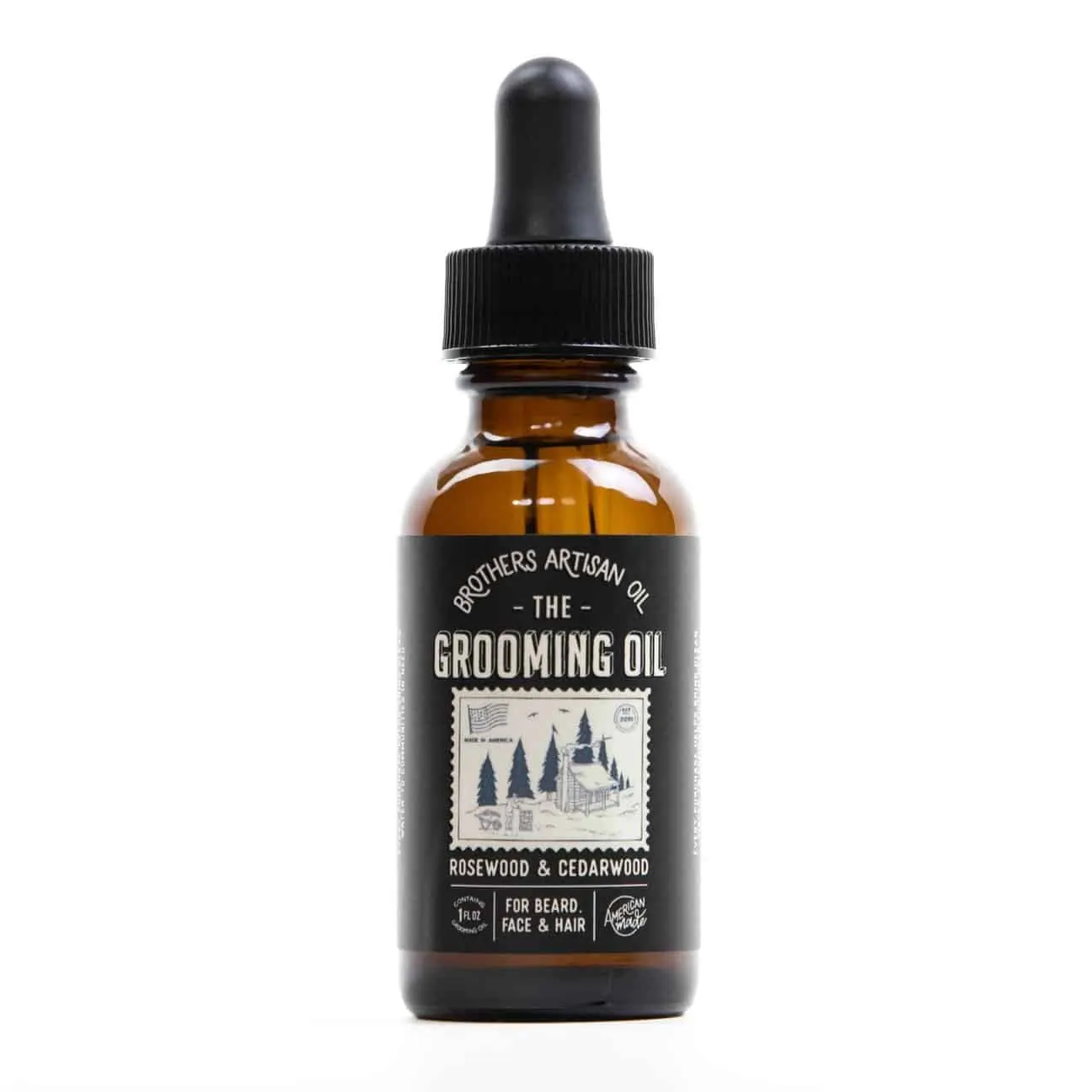 One of the more environmentally friendly beard oils on our list, Brothers Artisan will soften, and strengthen your beard to make it look healthier than ever before.
Who is Brothers Artisan Oil Grooming Oil?
Formed behind a bar, the small team behind Brothers Artisan Oil wanted to create natural products for the body and home. Everything the company produces is handcrafted. Its "clean products for clean water initiative" lends itself to helping out the environment with every purchase. Their products "are tested only on willing humans, and only buy ingredients from suppliers that follow the same practices."
Everything from the packaging to the graphics makes Brothers Artisan Oil feel like home. It's not often you'll find a company featured in both GQ and Esquire that still provides handcrafted, high-quality products at reasonable prices. Brothers Artisan Oil does precisely that.
What's inside?
Brothers Artisan Oil's products' selling point is that everything they make is from 100% natural ingredients. For this review, I used the Rosewood & Cedarwood Beard Oil, which is made from "argania spinosa (argan) kernel oil, simmondsia chinensis (jojoba) seed oil, vitas vinifera (grape) seed oil, dalbergia sissoo (indian rosewood) essential oil, cedrus atlantica (cedarwood) essential oil." The dalbergia sissoo and cedrus atlantica essential oils combine together to create a light, masculine woodsy scent.
When asked about the creation of Brothers Artisan Oil Grooming Oil, co-owner Owen Shea told me, "We started with three quality ingredients, argan, jojoba, and grape seed oil, handpicked by co-founder Marie Shea. Then I took the job of scenting the oils. My experience from years of bartending came in handy for blending botanical extracts and essential oils. You won't find synthetic fragrances in our product; I mean, would you put them in your drink? I began to share our product with friends and regulars at the bar, refining the original grooming oil recipe from their compliments and criticism. A family company born behind a bar." Family-owned nature comes across from their customer service, detail to using the best ingredients, and even the bottle labels.
As for the packaging, each bottle has been carefully crafted and poured into a small bottle. Included is, of course, a handy dropper to make sure you get enough beard oil to use. Everything about Brothers Artisan Oil Grooming Oil feels like home. That's really the best way to describe their style. Cozy, comfortable, and clean. From their dedication to a healthy environment to their low-key theming, you feel like you're visiting an old friend every time you use Brothers Artisan Oil.
Brothers Artisan Oil Grooming Oil Review
The all-important question when it comes to beard oils, does Brothers Artisan Oil Grooming Oil work? Dudefluencer rates beard oils in five categories: scent, softness, moisturizer, eco-friendliness, and cost. Check out our Brothers Artisan Oil Grooming Oil review below for more information on each of those qualities.
Scent
If you're going to be putting beard oil on your face, you better hope it smells good. Thankfully, the Rosewood & Cedarwood formula of Brothers Artisan Grooming Oil smells excellent. There is a faint musky, masculine scent that wafts into the air but only lingers for a couple of minutes. It's strong enough to be noticed but soft enough to fade away as it soaks into your beard.
Beard Treatment
The real reason why any man would want to buy grooming oil is to tame those wild hairs while also softening the beard. With Brothers Artisan Oil Grooming Oil, only a couple of drops every morning (or after your shower) will make a small difference. After using this beard oil for the past two weeks, I haven't noticed any massive softness changes. It just feels a little bit smoother. I will say that this grooming oil does an excellent job of preventing beardruff and skin flaking. That was something I noticed right away while using Brothers Artisan Oil Grooming Oil.
Moisturizer
Brothers Artisan Oil Grooming Oil doesn't advertise itself as a skin moisturizer, so don't expect to see results in terms of cleaning up anything underneath your beard. Don't get me wrong, I didn't break out, nor did my face have any adverse reactions to the grooming oil. There were just no noticeable differences between my skin before and after Brothers Artisan Oil Grooming Oil.
Eco-Friendly
Yes, yes, yes. Dudefluencer loves protecting the environment. Brothers Artisan Oil goes above and beyond when it comes to being an eco-friendly beard oil. All of their products are made from natural ingredients that won't hurt the environment. But what's most important is that every purchase through Brothers Artisan Oil helps their "Clean Products for Clean Water Initiative," which allows the company to help serve communities with clean water. Not only are their products eco-friendly, but the company gives a damn about the environment too.
Cost
You can purchase a bottle of Brothers Artisan Oil Grooming Oil at $22 for 30 ML. That is around the average price for beard oils on the market.
Is it worth it?
Looking for an environmentally conscious, small-town beard oil manufacturer, Brothers Artisan Oil is one of the most respected grooming companies around. Their Rosewood & Cedarwood Oil smells lovely and feels smooth on your skin as you use it. While it doesn't offer the softest beard oil experience, this grooming oil does the job of treating your facial hair and preventing beardruff.
Dudefluencer recommends picking up a bottle of Brothers Artisan Oil if you're looking to support small businesses, a company dedicated to protecting the environment, and want a clean, natural beard oil that smells great and won't hurt your skin.
Conclusion
Want to know more about men's grooming? Check out our list of the best men's grooming gifts to find more products to help your daily self-care routine.