Disclosure: This website is reader supported. If you click on a link, I might make a few bucks. Read our disclosure page for more information.
A wise person once said, "Always spend more on the things that separate you from the ground." And they're right: it makes sense to splurge on a bed since you'll be sleeping on it for half of your life, and definitely a comfortable pair of shoes since you'll be walking in them the other half. Give or take a couple minutes of course. Because of that, I wanted to create a list of the best eco-friendly shoes for men in 2021 for dudes who are looking to take care of their feet and the environment.
See, sustainable footwear (or clothing for that matter) can be functionable, fashionable, while still being made ethically. The 9 shoes listed below have all been tested and fit within the criteria of our eco-friendly guidelines (some more so than others, but that information will be listed below). I wanted to pick out a variety of shoes that dudes could wear while working out, dressing up, or even just wandering the beach.
And of course, each of these eco-friendly shoes make our list because they have been produced with the planet in mind. Some have been manufactured with fair trade practices in mind, others produced from organic ingredients. So if you're looking for a new pair of kicks and interested in moving towards a wardrobe of more sustainable clothing, make sure to check out our list of the 9 best eco-friendly shoes for men.
What should I look for in a shoe?
Let's ignore fashion for a moment and focus on functionality. Everyone knows what a good pair of shoes should feel like, but for those dudes who still need a bit more information, I described a couple of things to look for when purchasing any pair of shoes.
Two obvious factors to consider when purchasing any pair of footwear is comfort and size. For fit, "A well-fitting shoe should feel secure around your heel, without slippage." If you're looking for an athletic shoe (or running shoe), be aware that your feet will swell up a little bit as you are using them. It's just something to be aware of when trying on sneakers for the first time. Don't let your heel start slipping though, that means your shoes are a bit too big. On the other hand, "pinching and excessive tightness means the shoes are too tight."
Pay attention to the sole of the shoe as well: for running shoes, and especially when I used to wear dress shoes, I'd look for gel inserts built into the shoe. There's also a lot of companies using a variety of technologies to help make sure your feet stay comfy all day.
Most importantly, pick the shoes for your goals. If you're going hiking, find a hiking boot. Want a classy looking boot that will look good no matter the occasion, then go that route. Wearing the wrong shoes for any activity sounds simple enough, but the number of dudes who ignore their footwear and end up with back and foot problems is still too high.
What do you mean by eco-friendly?
You're going to read and hear a lot about organic, sustainable, and eco-friendly products on this website. When I discuss a product's eco-friendliness, I am focusing on the following criteria:
Is it made from natural ingredients?
What materials a shoe is made of is directly related to how much potential pollution to the environment. There will be obviously varying degrees of natural ingredients, but we are really looking to avoid the most popular chemicals used in shoe production. "Different chemicals are needed to produce different parts of the sneaker. Titanium oxide gives a sneaker its bright white color and dyes on the logo are made with heavy metals (Williams). Most shoelaces are constructed with non-recycled polyester, even though polyester laces can be recycled and reused to make more shoelaces (Williams). Polyurethane, which makes the spongy insole, is made from two viscous liquids – isocyanates and polyols (Walking on Air)."
If you want more information about the quote above, and chemicals that affect sneaker production, please check out this great report from Rutgers: Sneakers are running our environment into the ground.
Is the manufacturing of the product environmentally friendly?
The production of a product is just as important as what it is made out of. The highest rated scores for eco-friendliness are products that are developed in factories that prioritize organic manufacturing and utilize clean energy. We also take toxic runoff and destruction of natural elements into consideration when rating these products.
If a company's product is certified by an eco label. You can find a list of eco labels here. Certifications provide us with clarity and evidence that a company's manufacturing is entirely environmentally friendly.
What are the working conditions for those making the product?
The working conditions for employees who are making eco-friendly products should be paid a livable wage, and work under safe working conditions. While not directly related to the environment, a healthy workplace is essential to the eco-friendliness of a company.
9 Best Eco-Friendly Shoes for Men in 2021
Despite a bevy of sustainable shoe companies on the market, these 9 eco-friendly shoes made the list for not only being fashionable, and functional, but also making the environment a better place.
1. Allbirds Men's Wool Runner Mizzles
I've mentioned the Allbirds Wool Runner Mizzles in my men's fashion guide, so it's a no brainer that I'd include them on this list of the 9 best men's eco-friendly shoes. Available in a variety of colors, these sustainable sneakers look great in the limited edition Pacific with cream sole color scheme. They are made with thick wool to keep your feet warm, while also being water repellent. Speaking of water repellent, there's nothing worse than having a wet sneaker, so that's an extra benefit of the Wool Runner Mizzles. Did I mention they're machine washable?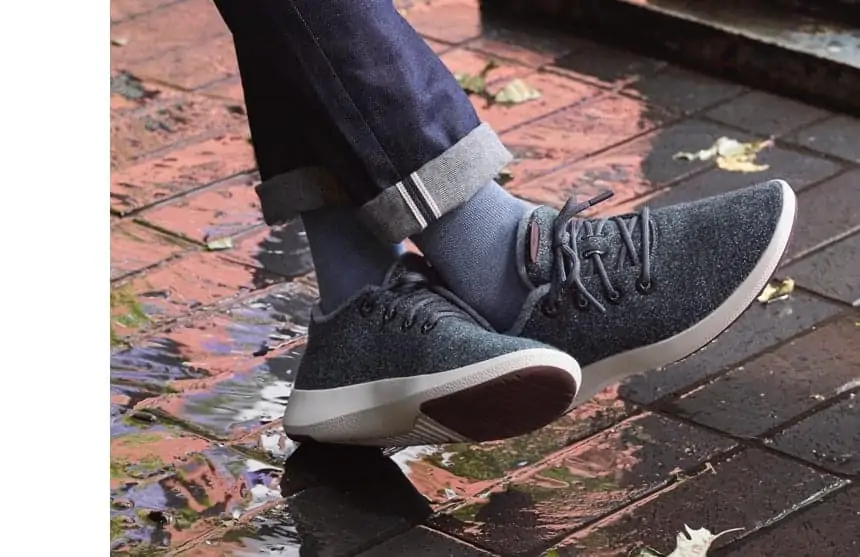 As for being eco-friendly, I don't even know where to begin. The Wool Runner Mizzles feature an Eco-Passport Certified water repellent coating, while their SweetFoam sole is "made with the world's first carbon negative green EVA, and FSC® Certified natural rubber treads." The shoe is carbon neutral due to the Wool Runner Mizzles sustainable manufacturing process, and you can check online for the shoes carbon footprint.
Due to Allbirds trademark sustainable sneaker construction, the companies openness about the Wool Runner Mizzles production, and simple, yet timeless design, it's a no-brainer that the Allbirds Men's Wool Runner Mizzles are number one on my list of the best eco-friendly shoes for men in 2021.
2. Greats The Royale Knit
If you're looking for something with a bit more of a classic look, then Greats' The Royale Knit might be for you. Something that's important for any shoe on my best eco-friendly shoes for men list is that the shoes look good and boy do The Royale's look good. There's a couple of different styles of The Royale (including an even more sustainable version), but I chose the knit version because of their sporty, simple layout. They aren't trying to do too much which means you can dress up or dress down The Knit Royales depending on the occasion.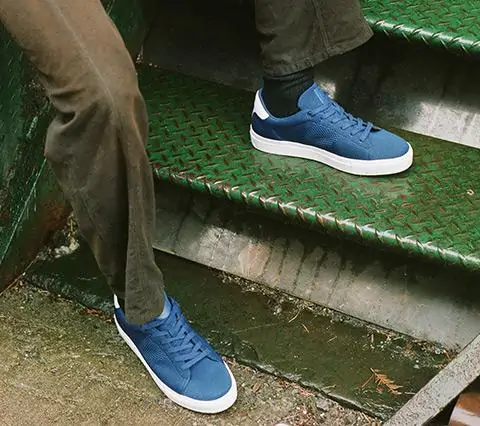 Greats' Knit Royale is 100% vegan, and made from recycled plastic. In fact, each pair of the Knit Royale's are made from seven plastic bottles that would have ended up who knows where. And the sneakers are handcrafted in a factory that utilizes sustainable and responsible practices. No list of the best eco-friendly men's shoes would be complete without the Knit Royales.
3. Cariuma OCA Low
I love a versatile sneaker which is why Cariuma's OCA Low has made our list of the best eco-friendly shoes for men in 2021. While I was half-tempted to include Cariuma's Catiba Pro skate shoe on our list of the best eco-friendly shoes for men, I couldn't resist putting the off-white canvas on here instead because a clean pair of sneakers will never go out of style. The style is similar to Converse All-Stars, except with Cariuma, you can expect fine craftsmanship with every pair of sneakers you buy.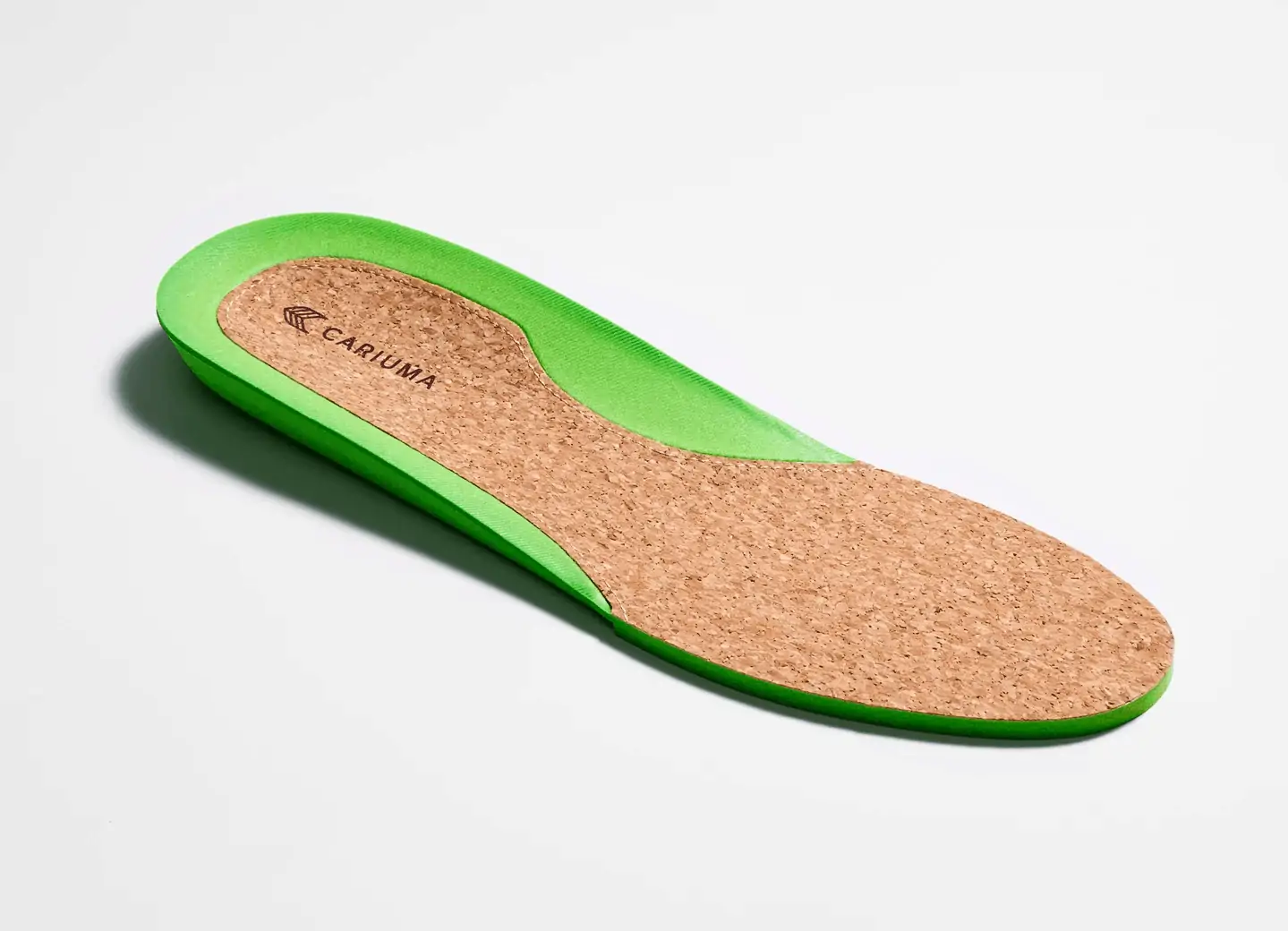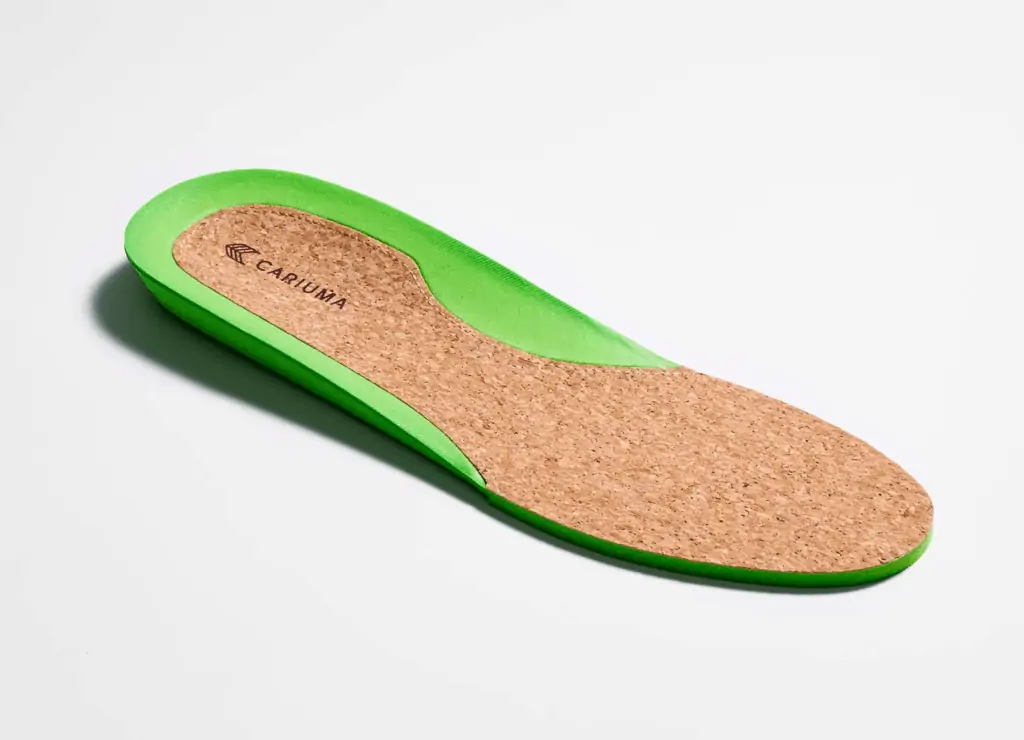 The first thing you'll notice when you pick up a pair of OCA Low's is the eco-friendly sole: "100% vegan insoles made from organic mamona oil and cork." Built in ethical factories and made from natural premium materials, it's obvious Cariuma takes keeping the environment clean seriously. But possibly my favorite part about purchasing sneakers from Cariuma, every time you buy a pair of sustainable footwear from them, Cariuma will plant two trees in the Brazilian rainforest. Companies that give back to the environment and companies worth investing in.
4. Vivobarefoot Primus Lite II
The only barefoot shoe to make our list of the best eco-friendly shoes for men, the Vivobarefoot Primus Lite II is an excellent choice for those dudes looking for a pair of sustainable footwear for running or exercise. Low cut and light, the Primus Lite is designed to feel like you're wearing nothing at all on your feet. Barefoot shoes allow your feet to feel and move how nature intended, and can help you walk/run pain free. They are absolutely an acquired taste though.

The Primus Lite II is made from recycled plastics which makes it a completely vegan shoe. They also feature a "bio-based Bloom EVA performance insole." I should note that readers in the United States might have difficulty finding these shoes (you can find them on Amazon but not in all sizes), but Vivobarefoot does feature a large selection of eco-friendly barefoot shoes on their international website.
5. Nisolo Andres All Weather Boot
Another shoe featured in our 2021 men's fashion guide, the Nisolo Andres All Weather Boot is our favorite boot to make our list of the best eco-friendly shoes for men in 2021. A water-resistant leather upper, and gusseted tongue is designed to make sure your feet stay warm and dry in any weather. But what I personally love about these boots is just how clean and stylish they look. Not only would these boots be fine if you're trekking through the snow in the middle of winter, but would also look great with a pair of jeans out to dinner. The Andres boots are really that versatile.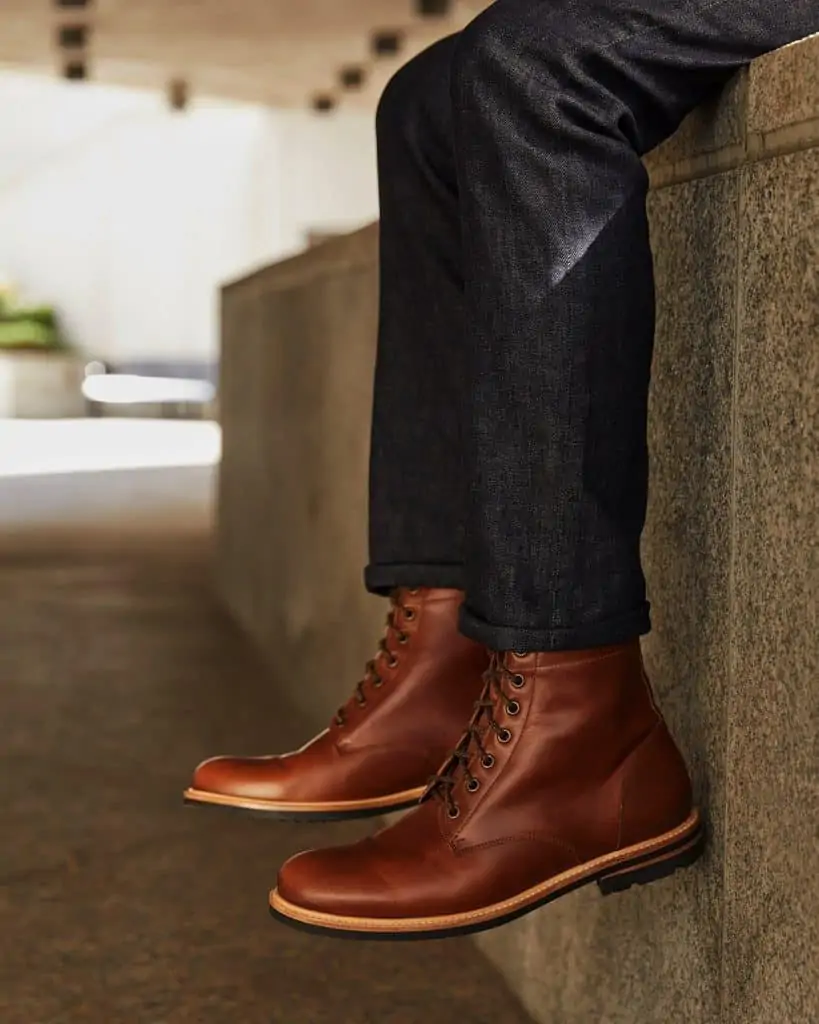 As for being ethically made, just check out Nisolo's website. Here you'll be able to find the company's 66 page impact report that goes through every element of their supply chain. A couple of key standout facts from the document include employees make 33% above fair trade wages, Nisolo is a certified B-Corporation, and score a 94 out of 100 from an independent audit of their factory from the "Société Générale de Surveillance SA (SGS), the world's leading inspection, verification, testing and certification company." When you buy from Nisolo, you can really feel like you're buying from a company that cares about the environment and the products they make which is why the Andres All Weather Boot is one of the best eco-friendly shoes for men in 2021.
6. Teva Hurricane XLT2 Hiking Sandal
How about some sandals for our list of the best eco-friendly shoes for men? Be sure to take a look at the Teva Hurricane XLT2 Hiking Sandal then for an eco-friendly shoe that's good for lite hikes. There's a new sole on this edition of the Hurricane's meant for better traction while you're out and about. Plus they're available in a ton of different colors which is perfect for those dudes who like to express themselves through their sandal choices (there are people like that, right?).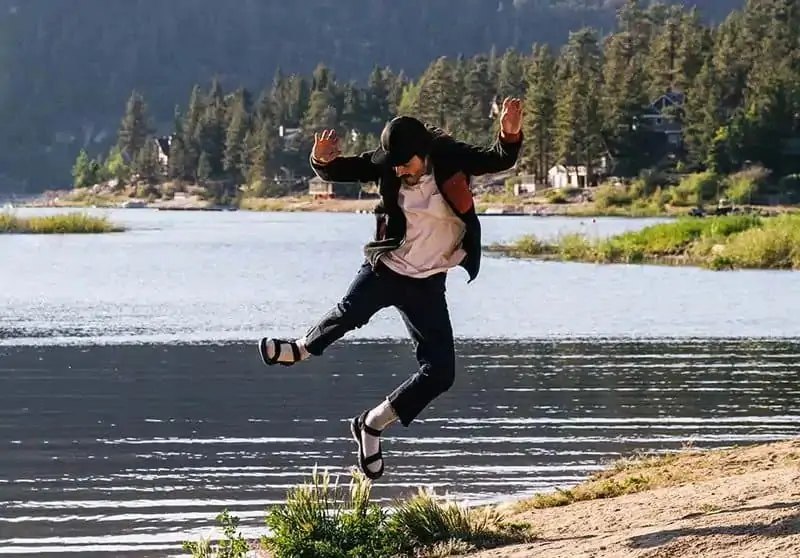 As for being an eco-friendly sandal, the Teva Hurricane XLT2 features "quick-dry webbing made from recycled plastic using traceable, and verifiable REPREVE® polyester yarn by Unifi." Basically each sandal saves 5 plastic bottles from being thrown into a landfill. They are completely vegan and made for comfort. For more information about Teva's sustainability project, you can check out their environmental report page here.
7. Nisolo Leather Oxford
Come on, you know how much I respect Nisolo that I had to feature them twice on my list of the best eco-friendly men's shoes for men in 2021. This time, I'm choosing their Leather Oxford option. Every man needs good a pair of dress shoes in his wardrobe, so it's a no-brainer to look at these oxfords. They don't try to do too much, just modern, minimal, and functional. Just make sure you always match your socks with your shoes, as well never wear brown shoes with black pants.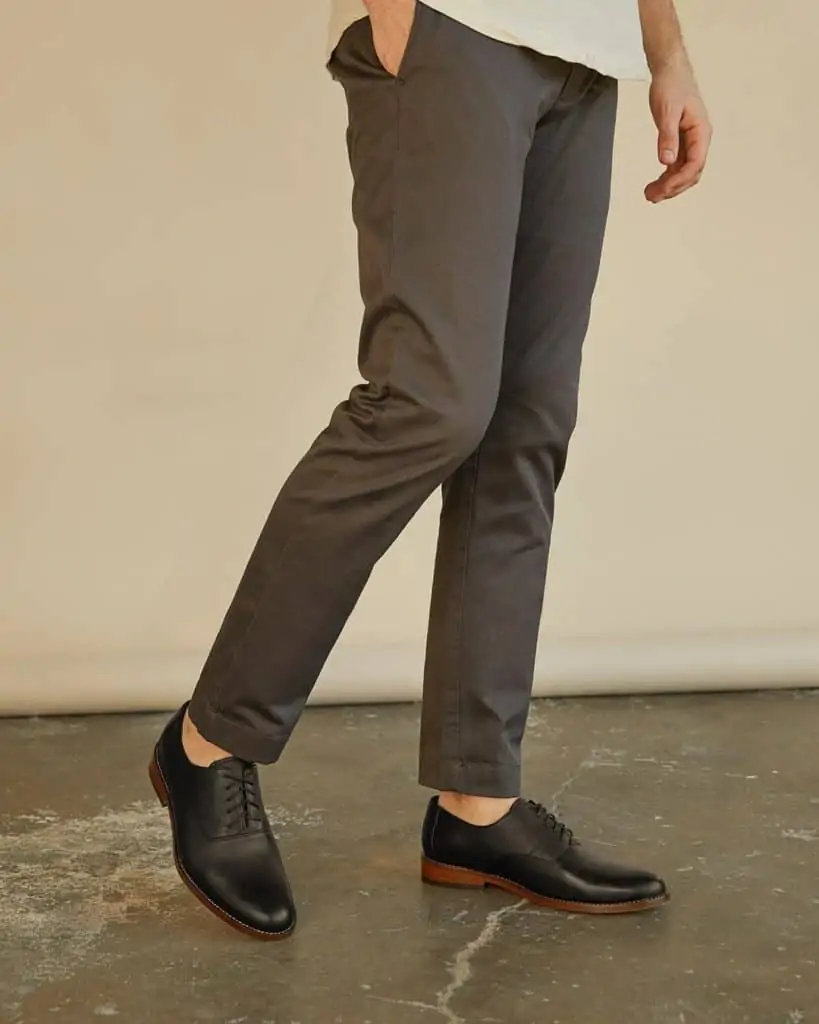 8. Toms Dark Denim Cloudbound™ Alpargatas
Did you know that Toms made shoes for men? Well, now you do and their Dark Denim Cloudbound™ Alpargatas make our list of the best eco-friendly shoes for men in 2021. These might make my list of the most comfortable shoes because wearing these feels like I'm wearing nothing at all. Cue Ned Flanders. But seriously, with the Alpargatas specialized insole, your feet are going to be treating themselves the entire time you're wearing these Toms.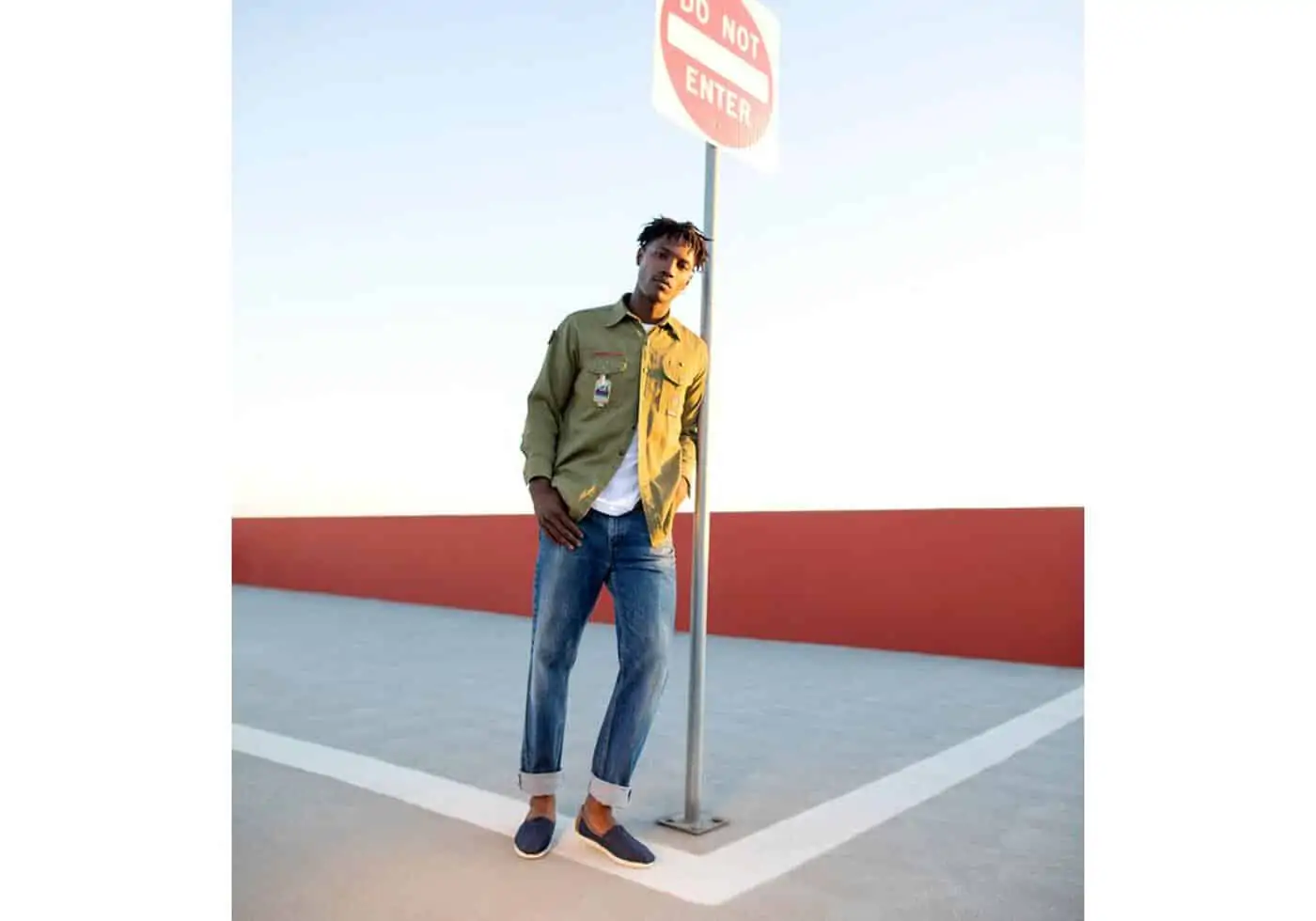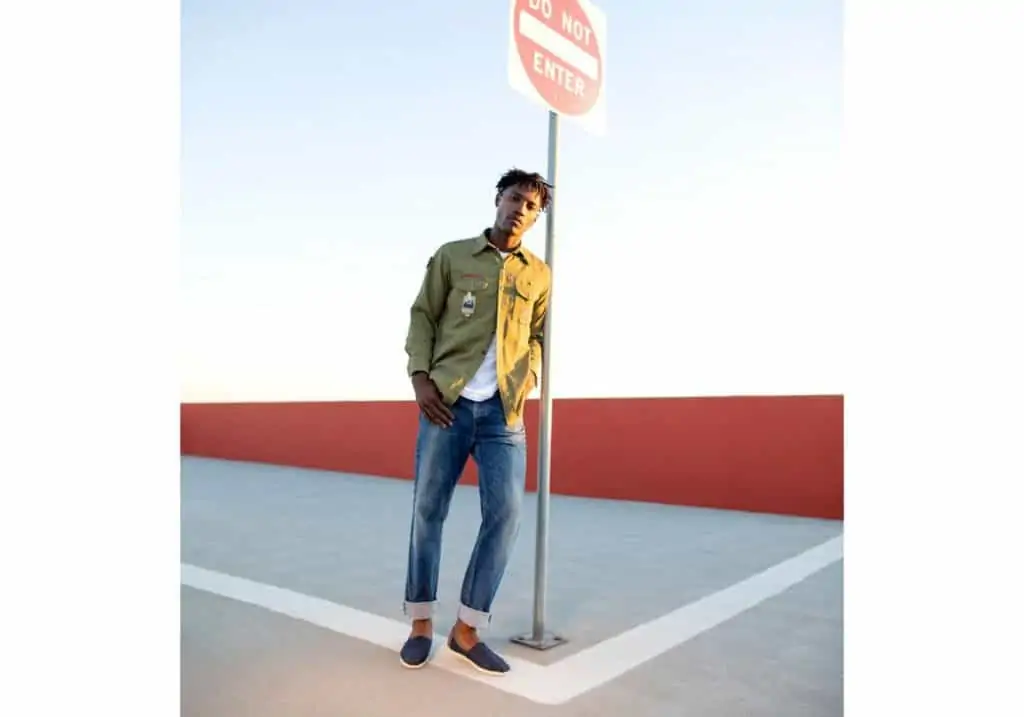 The Alpargatas are 100% vegan and made from plant derived and recycled materials. Like Nisolo, you can find Toms entire impact statement on their website. Toms is a certified B-Corporation which means they "represent the highest standards of social and environmental performance, transparency, and accountability." Plus they plan on increasing their sustainable footwear production to make sure the environment continues to be a healthy place for all of us to live. The Dark Denim Cloudbound™ Alpargatas are without a doubt one of the best eco-friendly shoes for men in 2021.
9. Salomon Index Recyclable Running Shoe
Unlike the other shoes on our list of the best eco-friendly shoes for men, the Salomon Index Recyclable Running Shoe isn't available on the market yet. The anticipated release date of Spring 2021 (which is coming up quickly), running shoe fans are ecstatic at the possibilities of this revolutionary shoe. Not only do they look modern, these Salomon running shoes are designed with the fierce intensity of outdoor lovers in mind.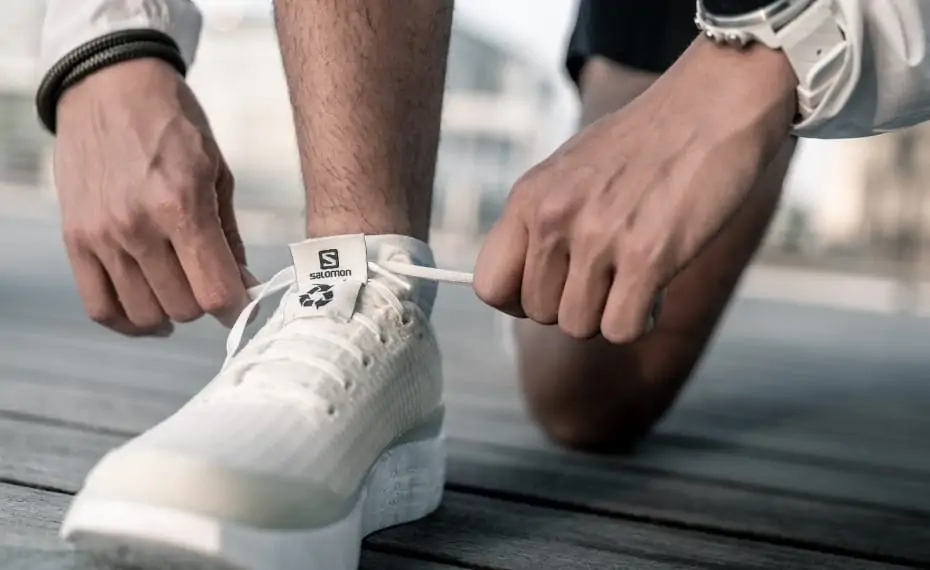 As for the materials used in these sustainable sneakers, Salomon's engineers developed "nitrogen-infused, TPU-based foam called INFINIRIDE, which can be ground into tiny pieces and recycled when the shoe reaches the end of its life." Basically, the entire shoe is going to be recyclable after use which creates a sustainable sneaker loop. For more information about the production of the Salomon Index Recyclable Running Shoe, check out their information page here.
Conclusion
Eco-friendly shoes show that you don't need to sacrifice comfort and style for sustainable footwear.
Which ethical footwear brands do you want me to check out next? Let me know in the comments below.