I sat in the middle of the street, phoneless and functionally homeless on the second night of the San Fermin festival in Pamplona, Spain. Defeated, exhausted, and confused.
People around me danced and celebrated, yet all I focused on was the peril of the moment.
But then, the kindness of a stranger turned my night around and led to one of the most memorable 24-hour stretches of my life.
I'd consider this the second of three major turning points that led me to where I am today (part one of which you can read HERE).
The invitation of a lifetime.
How did I find myself in such a predicament on the streets of Pamplona? To understand that, we would have to go back to 2017.
Two friends, George and Sma, had offered me an invitation to their wedding in Braşov, Romania, on June 29th of that year. George is an American man who, despite his towering stature, has a calm, endearing demeanor, and Sma is his brilliant and willful Romanian counterpart.
After graciously accepting, I began figuring out what my ensuing enterprise would be. After I weighed some options, I elected to spend a few more days in Romania after the wedding with some other friends who were traveling the world at the time: Bob and Mary.
Full disclosure here: Bob and Mary are a MAJOR influence on who I am and what I'm doing today. They really paved a path for me, and I've learned a lot from them. I'm sure I'll write about them more on a future date.
A stopover in a European city made sense before returning home: I chose Barcelona.
And so it was decided: four and two days respectively in Braşov and Bucharest with Bob and Mary, and then another three in Barcelona by myself. The killer B's if you will.
Unbeknownst to me, my three days in Barcelona coincided with the San Fermin festival in Pamplona, Spain – or as you probably know it, the Running of the Bulls.
A couple months later, in April, I had dinner with my oldest friend Phil (the man I can thank for introducing me to George and Sma), who was going to be at the wedding party. Phil, who I have known since I was four but still has the same jovial presence whose laugh and smile fills the room, informed me that he had looked into the Running of the Bulls since it fell just a couple days after the wedding.
With serendipity on my side, I booked lodging in a hostel and bought train tickets to and from Pamplona. It's no stretch to say that I planned the Spain portion of my vacation around that side trip. Eventually, the end of June came about, and it was time to hit the road.
Braşov, a beautiful Romanian town perched in the Carpathian Mountains, isn't particularly easy to get to. However, it is a very fitting location for a romantic getaway or more pertinently a wedding: red rooftop buildings surround the open-air town square, all of which is encapsulated by rolling green mountains. After two hours' drive to Toronto, a connecting flight in Munich to Bucharest, a bus from the airport to the Bucharest train station, and lastly, the train up to Braşov, I had finally made it to my destination 28 hours later.
Initial exhaustion aside, Romania came and went without a hitch.
The wedding in Braşov was an unbelievable sight to behold. After a short but intimate ceremony in the late morning, we returned together in the afternoon for the reception: seven courses of food were served (like the newlyweds, they were both Eastern European and American), traditional Romanian dancers put on a show later in the night, and drinks and dancing with Phil, George, Sma, et al. weren't over until sunrise the next morning.
Not even the 100-degree heat could stop us, though admittedly those who had brought backup shirts came much more prepared than I.
At the wedding, I was fortunate enough to meet an amazing woman from Bucharest, Emel, an athletic, tan-skinned, and dark-haired tennis player from Romania. After a night of dancing at the wedding, she accompanied Bob, Mary, and myself for our remaining time in Braşov together. She even helped us as our de facto tour guide for a whirlwind two days in Bucharest.
And yes, I can confirm that the only thing hotter than a Bucharest summer day is the night; you truly must take in the nightlife if you visit.
In all honesty, I could write an entire article about my brief time in Romania, disclosing all the details of the food and drinks, the wedding itself, the lovely cities, and the Transylvanian castles, but that's a tale for another time. Once I had to part ways, I said goodbye to my temporary travel companions Bob, Mary, and Emel, and prepared for my Spanish excursion.
The Barcelona pick-pocket.
The direct flight was smooth, and the first day brought along no surprises but plenty of captivating sites and memories with my hostel bunkmate and new Moroccan friend, Jamal.
With a smile and friendly nature, not even his braces could hide, Jamal was a pleasure to share time with. Together we took in many sites, including Montjuic hill overlooking the city from the South, Antoni Gaudí's Dr. Suess-esque Park Guell, and the historic Gothic quarter with its centuries-old cathedrals and narrow winding streets. With a successful round of touristy site-seeing under our belts, we rewarded ourselves, naturally with small Spanish plates of tapas and pinchos.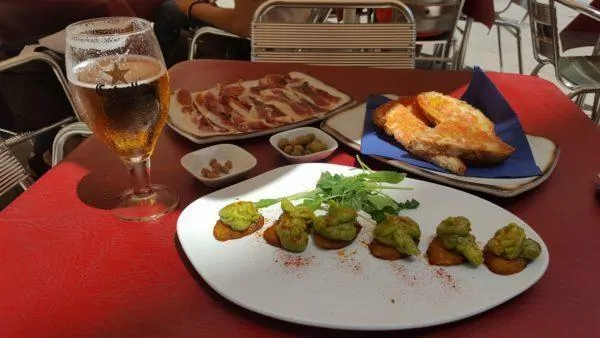 However, on my second day, a couple hours before my train to Pamplona, I made a critical mistake.
On a packed Barcelona subway leaving the Boqueria Market to go see Sagrada Familia (the massive Gaudi-designed church still under construction over 150 years after its insurrection), I carelessly slipped my phone into my outer pocket, and that was the last I ever saw of it.
After getting off at my stop to see the world's most extended construction project in all its architectural beauty, I went to take a picture. To my chagrin, I couldn't – my phone had been lifted, and I was now another statistic in the long line of Barcelona pickpocket victims.
I was dismayed at first, but short of the initial shock, never entirely distraught. The pictures I lost, or in some cases never captured, ended up being the only real disappointment from that revelation. I rushed back to my hostel in Barcelona to send messages to my family, letting them know that if they didn't hear from me, it was because my phone was stolen.
I assured them that I had not been gored by a bull… yet?
Prepare to run.
After that, it was time to catch a train, and I wasn't going to let a missing phone derail the opportunity of a lifetime. How did I pass that 5-hour train ride through the Spanish countryside? I still had my headphones and my book.
To the sounds of Spanish opera on the train's broadcast, I read The Last Lecture from cover to cover. If you're ever in need of an inspirational read that can convince you to forget the small things and enjoy life for what it is, that book is the perfect elixir.
10 pm rolled around, and I arrived in Pamplona to a magnificent sight. I disembarked from the train, and I was greeted by flocks of Spaniards, Americans, French, you name it, all dressed up in the signature white shirt and pants with red kerchief and sash, many of whom were covered in sangria.
They were catching the train back to Barcelona, as a sign of the fun that lay in store for those of us arriving.
The train station in Pamplona would be about 3 miles outside the city center – a long walk even if you had a way to navigate, like a phone.
Since I did not, I was stuck in a taxi queue that apparently decided it was no longer picking up passengers that night. Realizing 11 pm was fast approaching and desiring to see the fireworks at that time, I took matters into my own hands and hopped on a public bus.
I figured that I spoke enough Spanish to get by, certainly enough to figure out which bus to get on. Imagine my surprise when nobody on that bus, driver included, spoke Spanish.
No, they all spoke Basque.
There I was aimlessly riding buses to God knows where with nobody to ask for help, hoping to get into the city center in time for the fireworks. As the route started to become more densely populated with wayfarers in all white with red accents, I elected to get off and hopefully follow the crowd to the party. I found a hill where I could watch the fireworks with some fellow adventurers before wandering my way in an attempt to find my hostel.
After navigating densely packed streets of men and women partying and drinking sangria, I did find that hostel. But once I got there to check-in, I faced a sobering reality. My lack of phone left me locked out.
I sat down in the street, defeated, feeling all the emotions I discussed upon this entry's opening. Worse yet, without a place to stay or keep my belongings, I wouldn't be able to run with the bulls.
Have you ever seen a guy running with the bulls with two backpacks? There's a reason that's not allowed.
Recognizing my defeat, a local man named Samuel came up to me, greeted me, and introduced me to his friends. He was tall and lean with thick dark hair, and just so happened to be the elixir I needed to cure my current malady. This spontaneous act of kindness from a stranger had a profound impact: it indeed became the turning point of my excursion.
Samuel took me up into his place so I could get dressed in my San Fermin garb and then asked me to party with him and his friends. I accepted though I was happiest just to have a place to sleep and store my belongings, allowing me to run the next morning. Samuel was even kind enough to lend me a key, knowing little about me other than the fact that I was in serious need of some sangria.
I enjoyed the festival to its fullest for the next few hours.
Though I had to be careful not to get intoxicated (inebriation is an immediate disqualification if you want to run with the bulls), I made sure to make the most of it.
I danced, partied, and had some sangria poured over me by what I'm assuming were flirtatious Spanish women. It was a great night. Even better, at about 2:30 am when I was about to call it a night, I met some people who happened to be staying at my hostel. I went back into Samuel's place, grabbed my things, thanked him and his friends for the hospitality, and tucked quickly into my hostel bunk bed, knowing sleep would be minimal.
At 6:30 the next morning, my alarm went off. By 7:00 I had to make it to the Plaza del Castillo, where the runners for the morning would meet. Luckily, I was still in my outfit from the night before, so I was out the door in 5 minutes.
When I got to the Plaza, reality set in. Was I really about to do this? It's one thing to talk about running with the bulls, but after two Americans were gored and hospitalized the morning prior, I felt uneasy. I met a British man who had been running in the event for years, and he attempted to put my concerns to rest.
His most poignant piece of advice: though the bulls are scarier, it's other people that get you hurt; run slowly and carefully and look out for people stumbling ahead of you, and you'll be fine.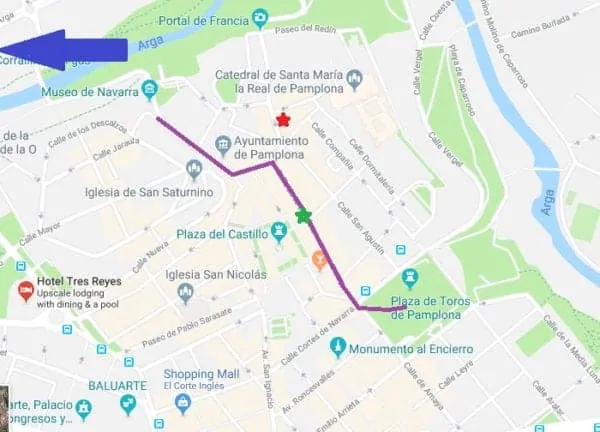 As we were corralled from the plaza to the route, I noticed a couple of people being escorted out due to intoxication or having their cell phones out. I was preoccupied with the butterflies in my stomach.
I lined up with a group towards the last leg of the route, and I wondered just how much time I would have to react when the bulls finally came.
Where I initially lined up was evidently unacceptable, so security pushed us back a few meters (I believe my location was "too safe" if I heard the guards right).
Moments later, the boom of the fireworks signaled the release of the bulls: the event had officially begun.
The crowd was ripe with anticipation, and you could feel the distant murmur providing a palpable weight.
As we leaked forward, I begged the question, "¿Cuando? ¿Cuando?" with a sole "Vas a saber" echoed in response. Boy, was he right… I did know.
I can't write much about it, to be honest, it all happened so fast.
But I'll give it a shot. Though it WAS humid – Spain in July tends to be – I felt an appreciable weight with each breath well beyond the atmospheric conditions. I've completed plenty of adrenaline-inducing acts, but this was different. Trying to avoid becoming yet another statistic, the aforementioned gorings were ripe on my mind.
But the event is quick, and there is no time for hesitation. Just about two minutes after the instigating firework, the respective intensity and density of the onlookers and crowd grew infinitely. Once the crowd started moving forward, we saw it parted by a pair of horns and began our sprint to safety. I apparently didn't even have a great sense of my surroundings.
When asked upon my return home, "How close did you get?" my response was, "Oh, about three or four feet." After consulting the YouTube video, I saw myself no more than 8 inches from the lead bull of the group. So there I was running away from an animal that would have no problem sending me into next week, just hoping to make it to the arena unscathed. After we meandered out of the way of the lead pack of bulls, we quickly booked it down the tunnel and into the ring. Salvation.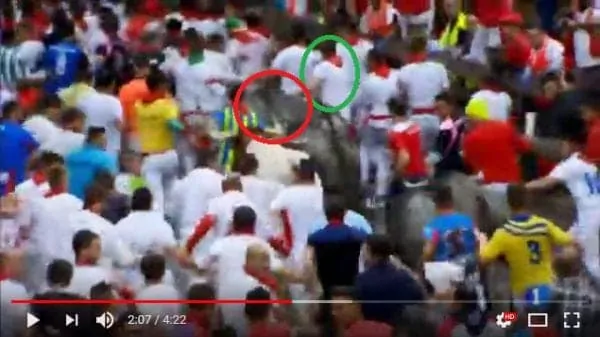 If you make it to the Plaza del Toros ring, you quickly duck right or left and let the wranglers do their job. Essentially, you've made it.
I stuck around a few minutes to let the adrenaline settle, but I felt accomplished and mostly relieved.
The best comparison I could make was that it was similar to that sense of relief you feel when surfacing after being underwater for slightly too long; I could breathe easy again. It seemed the day went off smoothly for everyone (though I would soon find that to be untrue.) After hugging some strangers, I headed to my hostel and decided I would try to catch an earlier train back to Barcelona; it was the last day of Gay Pride week, and I wanted to see the parade!
The kindness of strangers.
I thought my adventure had ended, but in reality, another surprising twist came my way. At the station, all of the earlier trains were fully booked, so I'd have to wait 4 more hours for mine. However, I met three people who needed transport. Two had missed their train and one was without a ticket. Three strangers and one act of kindness.
After a brief discussion, we elected to rent a car and drive back to Barcelona. So our squad was formed: Max from Los Angeles, Brett from New York, Marius from Ireland, and myself driving a car cross-hemisphere together. If that sounds confusing, knowing that though they are only a 4-5 hour drive apart, Pamplona is West of the Greenwich Meridian while Barcelona lies to the East.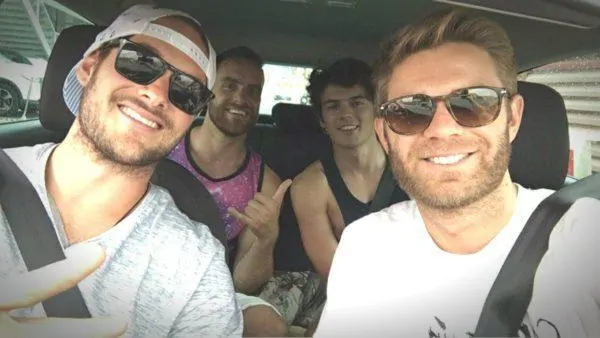 It was interesting getting to know my new friends/fellow travelers and sharing stories; all of us had unique narratives to be shared. Remember when I said that the day wasn't smooth for everyone? Evidently that same morning, Marius witnessed a runner getting gored and incapacitated by a bull directly in front of him.
Luckily for me, Max drove the entire way, so I was able to sneak a nap in between stories. Soon enough, the ride was over, and I was back at my hostel in Barcelona, just in time for the pride parade.
As luck may have it, my hostel was on a side street just off Avenue de Parallel, the parade's main route. I drank a bottle of wine, put on my most colorful clothes and walked, then marched, then danced alongside the parade route.
There's something to say about gay pride that should make even the straightest man/woman smile. These are people that not long ago would have been outcast for being who they are and are now able to celebrate freely and fully. It was uplifting, to say the least, though selfishly, so was the seemingly endless stream of flattery I received.
After the parade, I headed back to my hostel and ran into Oliver, a hostel-mate from Paraguay with an open mind only matched by his regal presence and chiseled facial features. I wasn't ready for the night to end, so I proposed we check out the culminating concert. We agreed to head to the Moll de la Fusta for the show to end the week of pride. We were both a little tired, so we decided to stick to the outskirts and have a drink or two… or so we thought.
Once we got there, it was quite a spectacle. Men and women danced to electronic music and lights from a performer backed by a massive screen. Beer lines were long, so we made sure to split up to minimize our wait time and return with drinks to share. Love (or was it lust?) was certainly in the air among people who had traveled from all over the world to enjoy each other's presence. Though not the target audience, Oliver and I were undoubtedly content to be in a place of such happiness.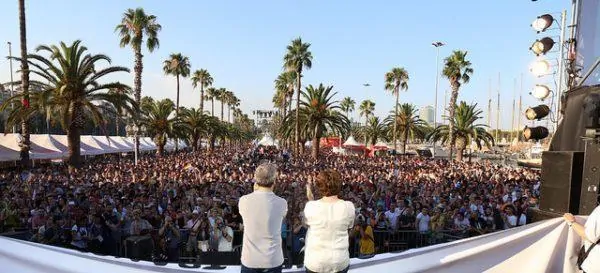 But one beer turned into four, and next thing we knew, we were navigating the crowd of 30,000+ to get to the front. Once we got about 15 feet from the stage, the cameraman locked in on yours truly, and I looked up to see my face, grinning ear to ear and dancing, broadcast on the screen across the entire esplanade for what had to have been a minute.
At that moment, all I could do was laugh. Precisely 24 hours ago, I was defeated, exhausted, and confused. There I was on my last day of travel, triumphant, exhilarated, and composed. It was a remarkable juxtaposition, and that is the beauty of travel. It took the kindness of a stranger from halfway across the world to lift me up.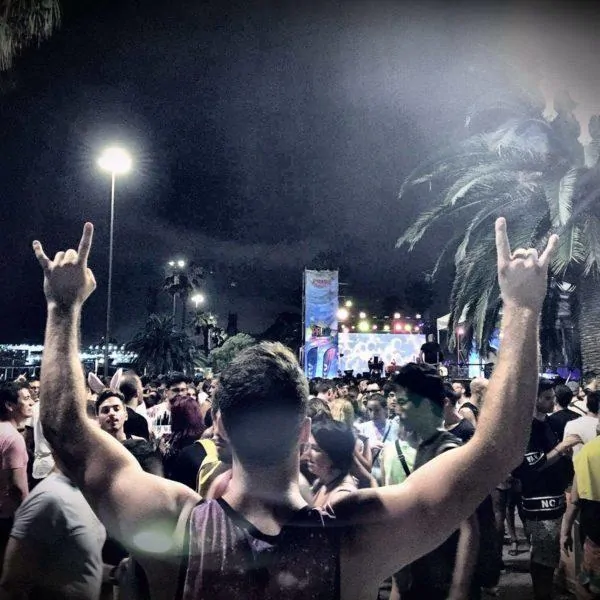 And as I sit in a campsite in Uganda writing this, I can genuinely look back on this experience and say that's what this planet can and should be: people helping each other even if they have no reason to gain for it.
I only hope I can one day return the favor to an audacious soul in need.