Disclosure: This website is reader supported. If you click on a link, I might make a few bucks. Read our disclosure page for more information.
The road to men's self care is paved with grooming tools. So when the founders of Luxee reached out to me a couple of months ago offering their men's grooming and lifestyle subscription box, I knew I needed to say "yes." Yes to a journey that would lead me through the valleys of wellness and grooming towards a destination of becoming a more complete dude.
Or at least one that makes me look and feel more confident.
Luxee subscription box is the antidote for those dudes who want to explore self-care but don't know where to start (and might be afraid to reach out). Self-described as the ultimate wingman, Luxee is a quarterly subscription box featuring an assortment of luxury grooming tools, skin-care treatments, and lifestyle items to complete every Dude's daily self-care routine.
Why should you trust us?
Other helpful pieces of information:
Dudefluencer was not paid for this post. We do not accept paid or sponsored reviews.
Luxee did not ask us to write this review.
Luxee sent us complimentary samples for this review.
This website uses affiliate links which means if you buy a product from a link on our site, we might make a couple of bucks.
Luxee is not reviewing or editing this review prior to publication.
Luxee subscription box review
With so many subscription box options available, is Luxee worth $90 a box?
Value wise- yes, you're absolutely getting more than $90 worth of product every quarter. For around $30 a month, you'll be picking up full bottles (no samples) of skin-care products, and in the case of their second box, a trimmer that is built to last for long-term usage.
$90 is on the higher-end of subscription box costs, but the value comes from the careful curation of products chosen by Luxee. Sure, you can get started by going to the store, picking up a $45 razor, and calling it a day. But why pick an item off the shelf when you can get stuff delivered to your home quarterly that you already know works? And because the Luxee box is quarterly, you'll get to experiment with new items without having to do research on what's good or not.
Are you a man who is interested in the latest lifestyle trends? Want to take the leap into men's grooming? Then Luxee subscription box provides you all of the tools necessary to build a more complete version of you. Still not sure whether to subscribe? Our Luxee subscription box review will provide you with all the information you'll need to make the best decision possible.
What is Luxee?
Luxee's subscription box is a quarterly men's self-care box designed for dudes who want to look their best, up their skin-care game, and most importantly, try out new products without having to scour the shelves. Every three months, subscribers can expect to receive 5-8 different products that have ranged from a classy whiskey glass to an after-alcohol hangover aid.
Founders Colton Ropson and Alec Grawe started Luxee subscription box out of necessity. After working a highly stressful job, Ropson noticed his skin breaking out and, as a result, a loss of confidence. "That started to take a toll on my energy and specifically my skin; I was breaking out a lot. So, I started to look for product solutions that could help me feel more confident as a dude." But he soon realized that shopping for men's grooming products isn't easy because men have seen self-care as a predominantly feminine field for far too long.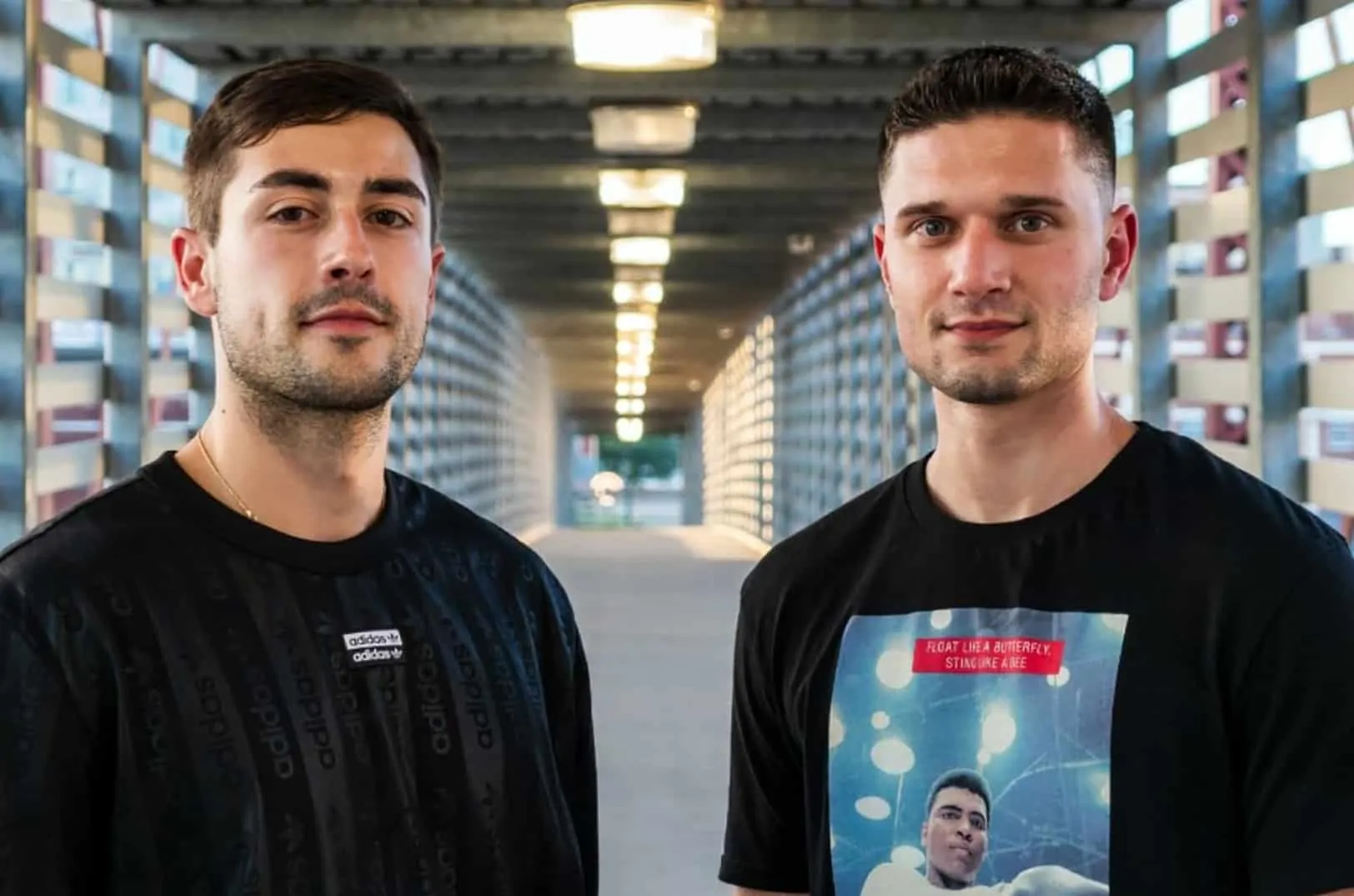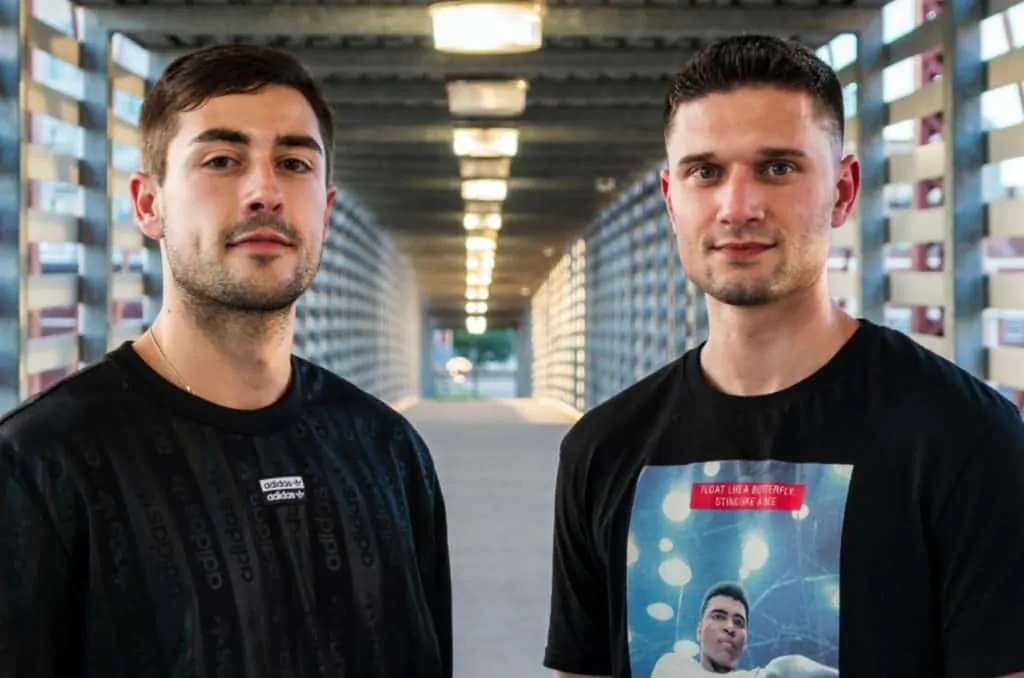 Grawe and Ropson aim to change that perception with Luxee. Together, they've created a luxury subscription box that doesn't just make self-care cool but presents it as it is: an essential experience to a more fulfilled life. Luxee wants to provide men with the necessary tools to help them become the best version of themselves.
What's inside their newest box?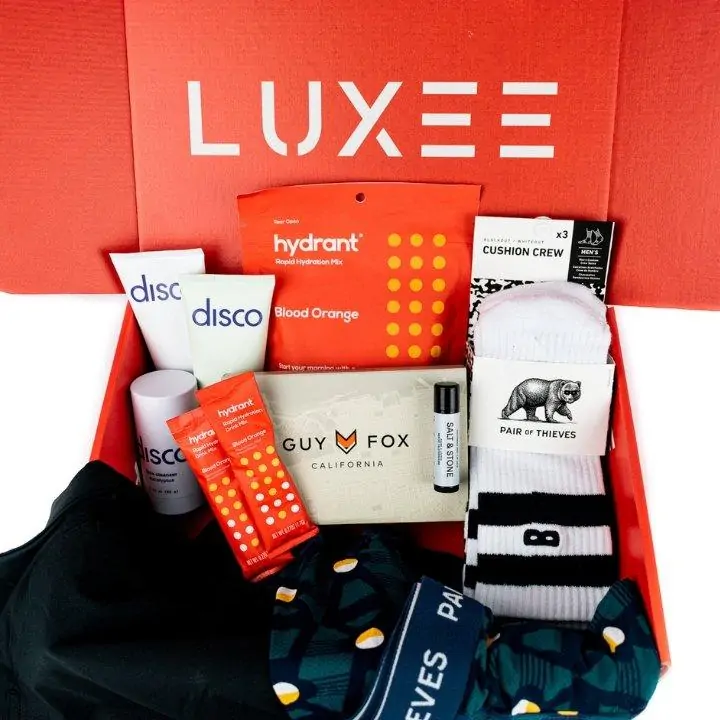 Note: This piece has been updated to include information about their Spring 2021 Box.
Alright, let's get into the good stuff. What's inside a Luxee box?
Luxee just shipped out their third ever box, and I must say, this might be my favorite one yet as they seemingly have found a nice relationship between the men's lifestyle items, and grooming products. Whereas the first box was heavy on grooming, and the second a bit more on lifestyle, the Spring 2021 box is just right.
Inside there were seven new items ranging from Salt & Stone Lip Balm to a set of Pair of Thieves socks. Starting with the grooming items, the top of the list has to be the set from Disco, a men's care company. Each box contains a charcoal face cleanser stick, hydrating face moisturizer, and exfoliating face scrub. As someone who has never tried Disco, I'm stoked to give this a shot in my morning routine. There's also some Salt & Stone Lip Balm which, I mean, every dude should own a lip balm for those dry, winter afternoons.
Clothing-wise, Luxee went all out this time by including a pair of Legends Luka Shorts, SuperFit Boxer Briefs, and a 3-pack of Pair of Thieves socks. Starting with the Legend shorts, another company I've never tried before, I absolutely am in love with these shorts. They fit great (a little on the short-side, but that works for me), and there's a zippered pocket on the back.
As for the boxer briefs, they felt good while exercising but were a bit bunchy and didn't feel comfortable while lounging around the house. I'll probably continue to use them as my go-to workout boxers, but otherwise keep them in my drawer.
But I can't end this without talking about my favorite part of the box, the Pair of Thieves socks. After I first tried them out, I was skeptical about how much I would like them but after a week or so of use, they've now become my go-to socks. Even over my Under Armour one. They fit great, feel great, and are just a high-quality sock.
After Luxee released their first two subscription boxes, I was impressed but still looking for more. And while there is still the issue of the boxes being a one-skin-type-fits-all product, they seem to be working on that. The Spring 2021 box from Luxee finally feels like Alec and Colton have found their stride and I'm excited to see what comes next from them both.
Previous Boxes
Opening the Summer 2020 box, the men at Luxee let me know that each of these products was personally picked because they were the same tools Grawe and Ropson used for their daily routines. Packaged in a sleek, custom black box, the first thing that stood out to me was the care Luxee put into the subscription box's layout and design when you open it. Unlike other boxes where stuff is just thrown together and shipped, you could tell Luxee wanted to create something that captured your attention.
Once inside the box, I found a diverse collection of men's self-care products meant to stimulate your mind and your body. For example, one of my favorite items from either of the Luxee subscription boxes was the goli apple cider vinegar gummy vitamins. Vegan, gluten-free, and surprisingly delicious, these vitamins are as reliable as a vitamin can be. There's no weird aftertaste. In fact, the vitamins taste like apple-flavored candy. And never underestimate the power of vitamins that taste like candy. I'd never have expected a men's subscription box to include gummy vitamins, but that's right on-brand for Luxee.
One area where Luxee mis-fires is that the box is really a one-size fits all box. That means if you're not a nootropics guy like me, some of the brain drugs are going to end up just sitting in a drawer. As of now (although Luxee has stated that they want to include customization in the future), what you get is what you get.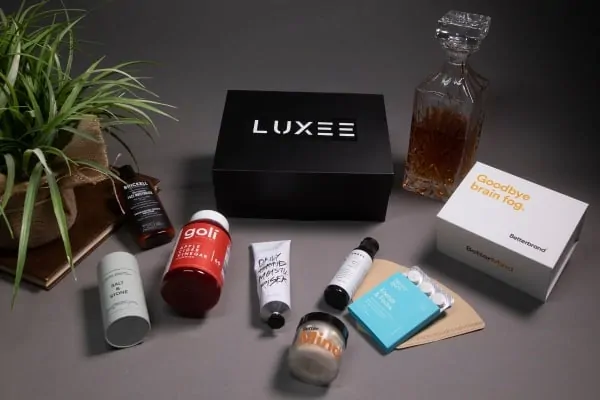 The Summer 2020 box also contained a bottle of AMASS hand sanitizer, which I've found myself using throughout the pandemic. Some Salt & Stone Natural Deodorant has also served as a suitable replacement for my traditional store-bought stuff. And to cap it off, this Luxee subscription box was the inclusion of Doers Hydrating Face Cream.
For the Luxee Winter 2020 box, there were a few more skin-care items, but the theming behind this particular quarter trended more towards lifestyle items than additions to your daily routine. They included a nice glacier-bottomed whiskey glass and a super comfortable waffle-knit robe with "Luxee" embroidered on the chest, as you might have seen from their advertisements.
The big seller of this quarter, though, was the Manscaped Lawn Mower 3.0. I've been a massive fan of Manscaped products for a while now, and the addition of the Lawn Mower 3.0 to my personal grooming salon has been tremendous. Along with the trimmer, Luxee also included some of their patented ball deodorants—your armpits aren't the only spot where things can get smelly.
And since a lot of Luxee subscribers will be using these products for the first time, it would be beneficial to include some instructions alongside them. For example, the Doers Hydrating Face Cream included in the first package is perfect…if you don't have sensitive skin like me. Same with the Bro Mask. A little bit of heads-up of the ingredients or some instructions from Luxee themselves could go a long way in easing folks into their self-care routines. I'd also love to know if these products are eco-friendly or not before using them. Just a little bit of background information would be beneficial.
Like nearly any subscription box, there are items in Luxee that you will love and products you'll never use. To me, that's what makes the Luxee subscription box great, though. Ropson and Grawe want to introduce you to new items, experiment with your self-care routine, and ultimately live the best version of your life possible.
Is Luxee worth it?
Yes. As long as you're someone like me who has a solid morning self-care routine but isn't afraid to try new things. While the box's contents more than pay for itself, the real value comes from the careful curation from the Luxee gentlemen.
The Luxee subscription box is the right choice for dudes who are just getting started with self-care and want to begin their journey
Conclusion
Have you subscribed to Luxee? What are some of your favorite self-care products? Let us know in the comments below.