Pop quiz, dudes. What's the most essential article of clothing on your body now? Answer: your underwear. Everyone knows the difference between a nice pair of men's underwear versus a cheap pair. Softness. Fit. Protection. And as someone who appreciates a good pair of underwear, I couldn't resist giving Opok underwear a test. I mean, what's better than protecting your balls and the environment?
My mom made me an emergency winter kit when I got my first car, and she made sure to pack a couple of clean underwear pairs. She'd always tell me, "If you get trapped or into a car accident, you're going to need a nice pair of undies." Yes, undies. But something resonated with me as I've come to expect more from my underwear.
Combined with a recent appreciation for eco-friendly underwear, my search for my next favorite pair of boxer-briefs is underway. Opok is a brand new ethical clothing company dedicated to changing the way men view environmentally friendly clothing. With more and more companies stating their "eco-friendly," does Opok back up their claims? And maybe, more importantly, do Opok make great underwear?
What's Opok?
Opok is the creation of twin brothers Janson and Drac Wigo. As professional water polo players, they quickly began to care more about nutrition and their bodies; the Wigo twins realized that food wasn't the only way toxins entered the body. During their research, they found out "most commercially available clothing contains high levels of carcinogens and toxins including pesticides, formaldehyde, and hazardous dyes, which end up in our bodies through skin contact and inhalation."
Seeking out clothing companies that created comfortable, fashionable, and organic clothing, the Wigo brothers, couldn't find a brand that fits all of those categories. Thus, the creation of Opok (organic + Epoch).
Opok is dedicated to helping the environment by creating organic clothing while "donating a portion of their proceeds to saving the bees and coral reefs." For now, Opok is only selling men's boxer briefs with three style patterns available. As the company continues to grow, Opok plans on developing a much broader collection of clothing items. You can also find more information about organic clothing and environmental changes by visiting Opok's education page.
Why should you trust me?
As someone who's going to be putting a score on products, it's essential that I experience them myself (round-up pieces might require a couple of different people's opinions). For Opok underwear, I tried out two pairs: The Floral and Native Prints. Because these were underwear, and I didn't want to wear them two days in a row (seriously, dudes, wash your drawers), I tested these out for around six to seven wears and three washings.
I exercised over those wears, walked my dog, sat around playing video games, and slept in them. I wanted to make sure I gave Opok underwear as close to an authentic livable experience as possible. One note is that I've been in a mild climate this winter, so I wasn't able to test their underwear under extreme heat (i.e., the swamp-ass test).
Other helpful pieces of information:
Dudefluencer was not paid for this post. We do not accept paid or sponsored reviews.
Opok did not ask us to write this review.
Opok sent us complimentary samples for this review.
This website uses affiliate links which means if you buy a product from a link on our site, we might make a couple of bucks.
Opok is not reviewing or editing this review prior to publication.
What do you mean by eco-friendly?
You're going to read and hear about many organic, sustainable, and eco-friendly products on this website. When I score a product one through five based on it's eco-friendliness, I am focusing on the following criteria:
Is it made from natural ingredients?
What materials an article of clothing is made of is directly related to how much potential pollution to the environment. An organic cotton t-shirt will score higher than a polyester shirt but less than a t-shirt made from organic hemp because of the amount of water used. The top-scoring items from our eco-friendly category do not use synthetic materials such as polyester or nylon due to their tax on fossil fuel emissions and non-biodegradable nature.
We also consider whether or not companies use organic dyes as traditional dyes may be toxic and cause harm to the environment.
Is the manufacturing of the product environmentally friendly?
The production of a product is just as important as what it is made out of. The highest-rated scores for eco-friendliness are developed in factories that prioritize organic manufacturing and utilize clean energy. We also take toxic runoff and the destruction of natural elements into consideration when rating these products.
If a company's product is certified by an eco-label. You can find a list of eco-labels here. Certifications provide us with clarity and evidence that a company's manufacturing is entirely environmentally friendly.
What are the working conditions for those making the product?
The working conditions for employees making eco-friendly products should be paid a livable wage and work under safe working conditions. While not directly related to the environment, a healthy workplace is essential to the eco-friendliness of a company.
Is clothing sustainable?
Fast fashion is trendy, cheap clothing that is not meant to last. For a piece of clothing to be sustainable, it must be made from materials that are not only eco-friendly but built to survive multiple washes/years. Be aware of the dangers of fast fashion and how your clothing might negatively affect the environment.
Opok Underwear Review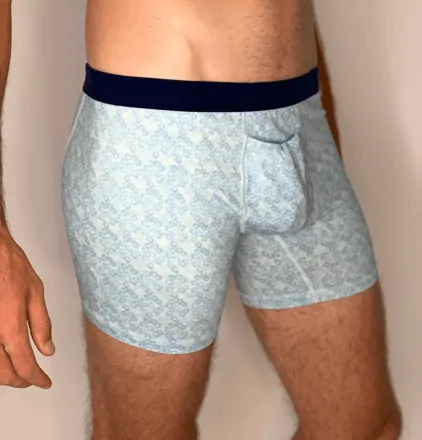 My deep-dive review of Opok underwear comes from personal experience wearing the product. For two weeks, I wore these underwear multiple times, in a variety of scenarios, and put them through the washing machine as well. After two weeks, would Opok's organic underwear be up to the task of protecting my jewels or fall next to the hamper as just another hole-filled pair of undies?
Comfort
When I spoke with Janson and Drac on The Dudecast, I mentioned how comfortable Opok underwear was. And I wasn't just saying that to be nice. I've owned my fair share of underwear, from Calvin Klein to ol' Fruit of the Loom tighty-whities. Since I've been wearing underwear all of my life, I'm basically an expert. Opok underwear is some of the softest clothing I own, which makes for an extraordinary wearing experience.
A lot of that comes from the fact that Opok underwear is made from organic cotton. And what's best about my experience with Opok underwear is that they are still soft even after multiple washes. While running around and exercising, there was no riding up, no gross feeling: just a comfortable, well-made pair of underwear.
Fit
I'm a boxer briefs guy, so Opok underwear already spoke to me. If you're looking for a more traditional boxer or brief, unfortunately, Opok hasn't released any. So I can only talk to their fit from a boxer brief perspective.
That being said, I loved the way they fit. Snug in all the right places, secure everywhere else. The little pouch on the front adds a small layer of comfort and fit your privates. When I'm looking for a pair of boxer briefs, I want them to feel a little tight, a bit body-conforming. Opok's first set of underwear does precisely that. I should mention the vertical fly was also a welcome addition as it was non-intrusive and handy for those moments you need it most.
Durability
Like I've said a couple of times before, these underwear have gone through a few washes, and there's been no bagginess or deterioration at all. They are just as soft and comfortable as when I first tried them on. I can also tell you that the color didn't run or fade after going through the washing machine.
It's also crucial that a good pair of underwear keeps its shape and, more importantly, a tight waistband. I wore each pair of Opok underwear multiple times, and I felt no change in terms of fit. In the morning, they were snug. In the evening, still snug. That's the sign of a great pair of underwear.
Eco-Friendly
One thing that makes Opok stand apart from other underwear companies is their dedication to being environmentally friendly. Each pair is made from "95% GOTS Certified Organic Cotton, 5% Elastane (for stretch)." Not only that, but they also use 100% GOTS Certified Organic Dyes. Other companies either sell plain organic boxers or use non-organic dyes. Opok wants to keep your underwear looking fashionable and clean at the same time.
The Wigo brothers also take care to make sure that all of Opok's garments are produced in safe environments ("organic farming, wind, and solar energy") that pay employees a livable wage. Many clothing companies talk about being eco-friendly, but few stack up to Opok's dedication to developing organic clothing that takes care of the Earth.
Cost
I've spent the last few sections waxing poetically about Opok's underwear, but they do come at a cost. For $32 a piece or $89 for three pairs, Opok underwear is on the higher-end cost for ethically made men's underwear. For example, Pact costs around $12 a pair, probably the lowest price eco-friendly underwear on the market.
The high price does take into account material and manufacturing costs. Organic clothing will be more expensive than traditional products. Still, you can rest assured that your money is going towards clothing articles developed with your comfort and the planet's comfort in mind.
Conclusion
Rachel looked over at me. "Are you wearing those again?" I nodded my head. I love my Opok underwear. They are, without a doubt, the best underwear in my drawer, and I wear them every chance that I get.
Suppose you're in the market for a new pair of drawers (specifically boxer briefs) and care about the clothes on your body. In that case, I highly recommend Opok for a comfortable, organic, and durable underwear experience.