I miss sports. Badly. The smell of fresh-cut grass in the spring reminds me of opening day for baseball, and I can't help but feel disappointed that we might not get one this year. And as a Washington Nationals fan, it stings a bit more considering the team went from 19-32 in May to World Champions in October. The 2019 Nats season felt like an underdog sports movie.
So without live sports (outside of professional wrestling), it's been a struggle trying to get that athletic fix. I've burned through every season of Last Chance U, re-watched Manchester City on All or Nothing, and have resorted to watching my favorite athletes play virtual versions of themselves for charity. This might be the bottom of the barrel folks.
Thankfully, there is an endless amount of timeless underdog sports movies available on streaming services for you to check out.
The Mighty Ducks 2
Streaming on HBO Now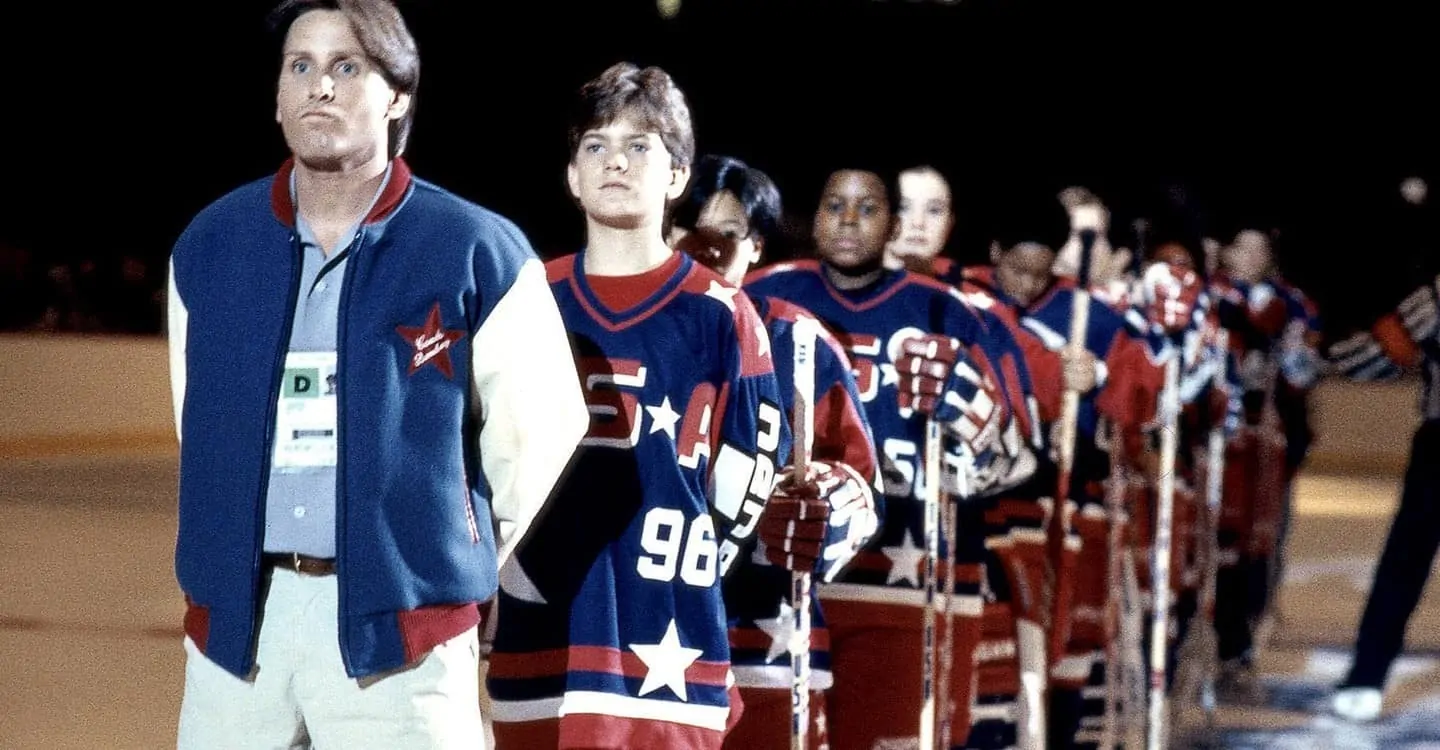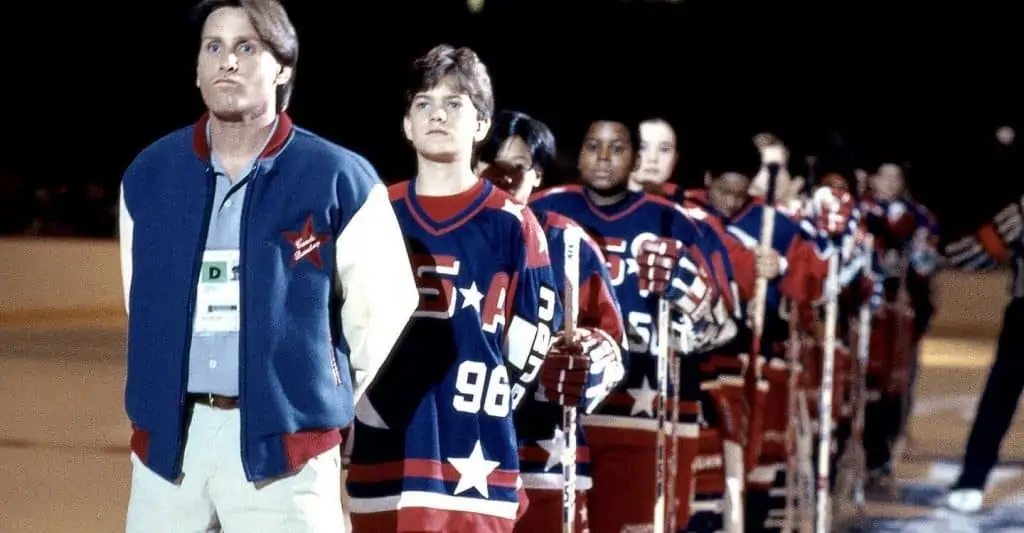 Some might say, why would you start your list with the second film in the critically acclaimed Mighty Ducks trilogy. While the first film introduced us to the rag-tag group of degenerate hockey players and their alcoholic coach Gordon Bombay, The Mighty Ducks 2 takes us on a spiritual journey through the Junior Goodwill Games.
And when we're thinking of the best underdog sports movies, how can you not include a film where a team is so desperate for talent in the Junior Goodwill Games tournament that they pick up a street hockey player from off the tennis courts. Don't even get me started on the fact that the knuckle-puck doesn't work. I'm sure myself, and every other kid who owned rollerblades and a hockey stick tried blasting knuckle pucks against their garage door only to find out that Kenan Thompson's signature move was just a bit of cinematic wizardry.
That's okay because it's about the journey and how this group of untalented teenagers comes together to battle the dreaded Icelandic Icelanders in the greatest game on ice.
The Dawn Wall
Streaming on Netflix
I've got a problem while watching sports movies in that I believe I am far better at sports than I really am. Take for example, the documentary The Crash Reel. The next morning, I went out and bought myself a skateboard, thinking I could just pick it right back up again.
I didn't.
But with the 2017 documentary The Dawn Wall, I didn't even dare try rock climbing. I'm going to leave that to the experts like Tommy Caldwell and Kevin Jorgeson, who managed to climb the most dangerous cliff in Yosemite, The Dawn Wall. From being kidnapped to his marriage to his climb towards infamy, Caldwell's story is incredible.
If we're talking underdog, there's no greater underdog between man and nearly 8,000 ft of a mountain. The documentary does a beautiful job humanizing Caldwell while he accomplishes this incredible feat. And while you're watching, pay attention to the cinematography: it truly captures why this is an underdog sports movie.
Miracle
Streaming on Netflix and Disney Plus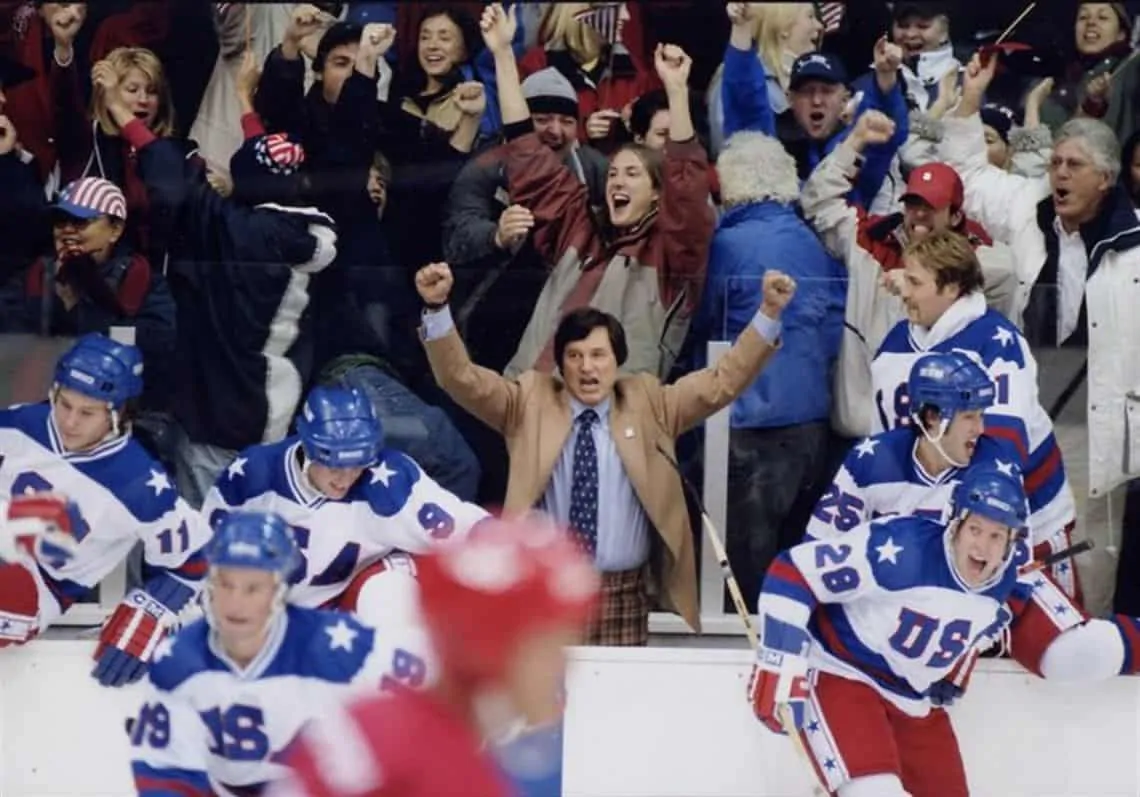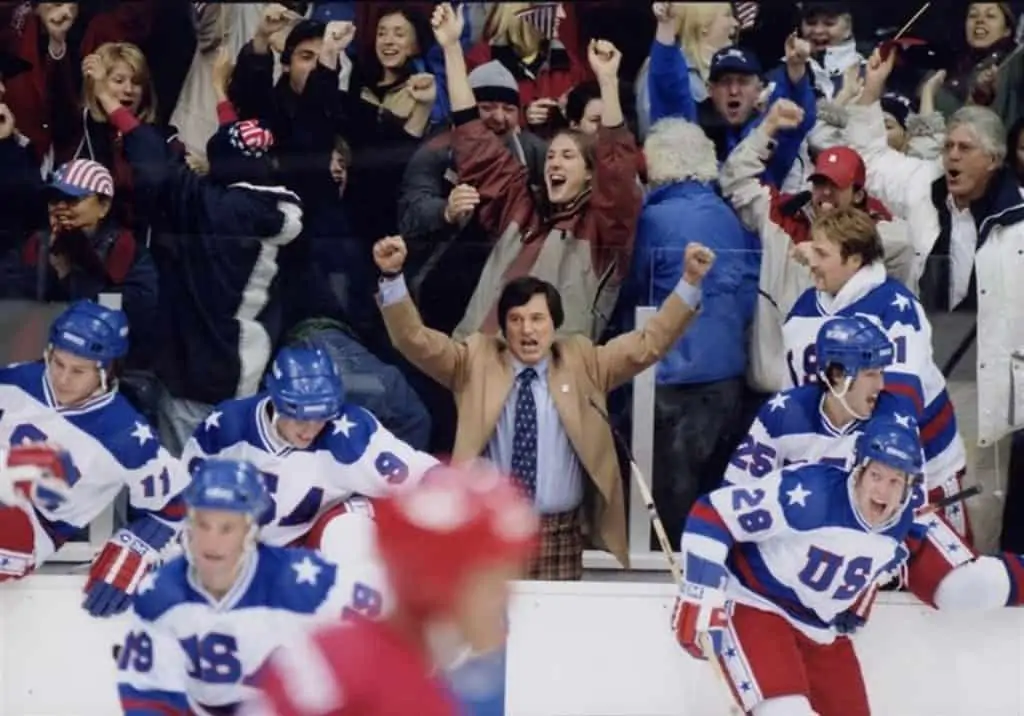 I once played Miracle to a group of freshmen creative writing students. Needless to say, they couldn't give less of a shit about the 1980 United States Olympic Hockey Team. That's okay, they can be wrong about the greatest underdog sports movie of all-time.
But when someone asks me what my favorite sports moment of all time is, the Miracle on Ice is absolutely in my top 5. You've got James Craig, the showstopping goaltender who makes Goldberg from the Mighty Ducks look like a dweeb. You've got former Buffalo Sabre Mike Ramsey, the youngest player on the ice, holding up the defense. Eruzione, O' Callahan, the list goes on and on of unforgettable United States hockey players who helped make this moment happen (and in my opinion, end the Cold War).
Despite the incredible casting (who would've seen Jennifer Aniston's boy-toy assistant from Friends becoming one of the most idolized goaltenders of all-time?), Walt Disney Pictures really nailed coach Herb Brooks by picking Kurt Russel to play the inspirational leader of America's Team.
Don't believe me? Watch this speech and tell me you don't get goosebumps. I'll wait.
When we're thinking of the best speeches in movie history, this one is right up there alongside President Bill Pullman's speech from Independence Day. And as for hockey action, the camera keeps things nice and tight, making you feel like you're on the ice with the players. If you're looking for a sports history lesson, Miracle should be number one on your list.
Creed
Streaming on Amazon Prime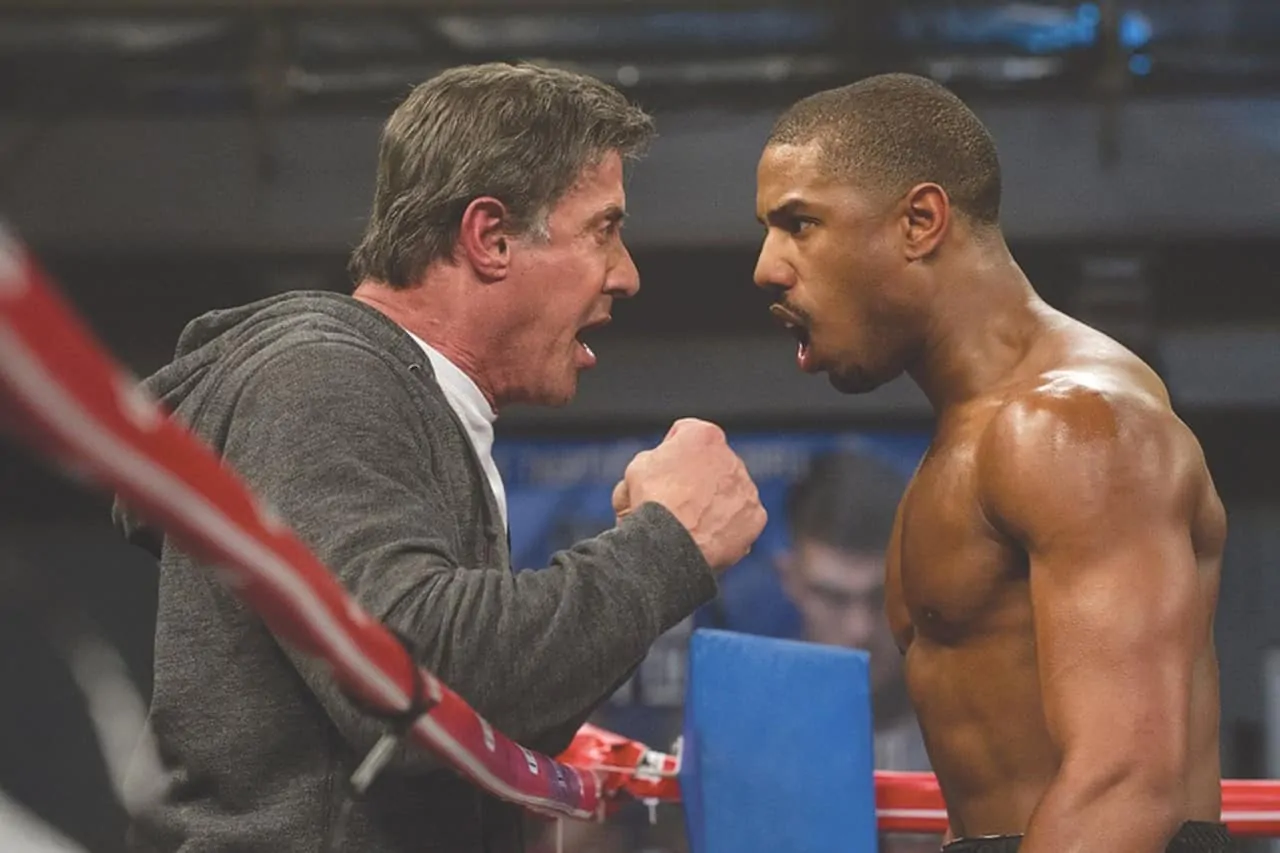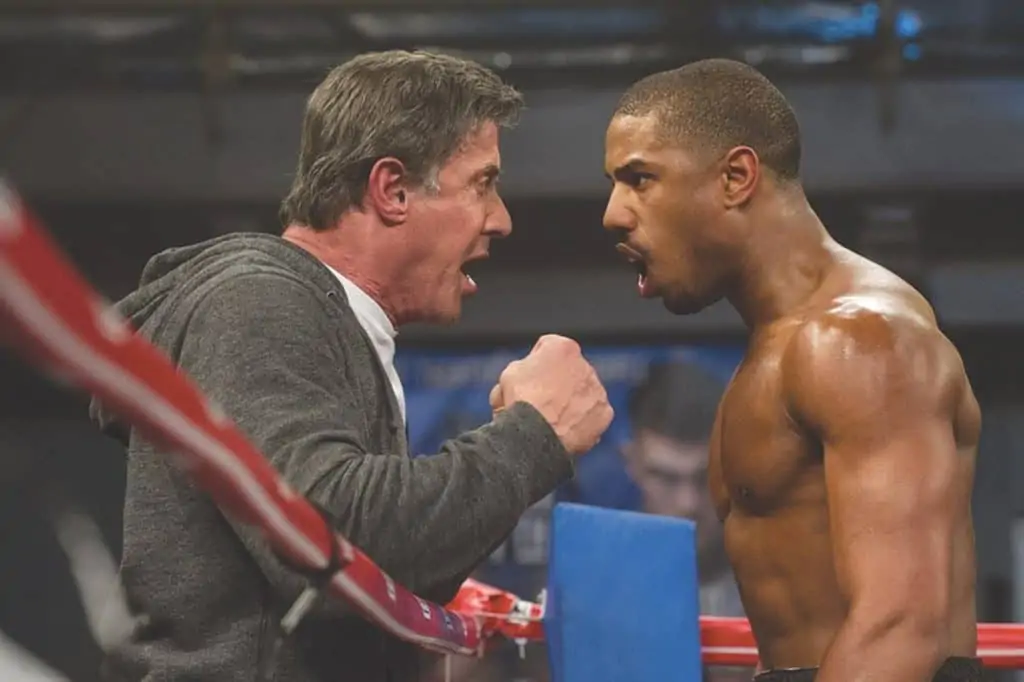 Okay. I know what you're thinking. Ummm…the only list Creed should be on is a list of most bad-ass Christian alt-rock bands of all-time. And for that I agree. Except I'm talking about Creed, as in the sequel to Philadelphia's most beloved fake boxer, Rocky.
Why did I choose Creed over any of the other Rocky films? Easy. How many Meek Mill songs were in the five Rocky movies? None. How many in Creed? More than one. Dare I say it is better than "Eye of the Tiger?" No, but it's way less played out.
If we're going to start talking about the best underdog sports movies, the story of Rocky is one that's best told over and over again. Even Creed hits a lot of the same notes, but the modernization of the tale is what makes it great. Michael B. Jordan plays Adonis Creed's son and does a phenomenal job encompassing what it means to be an underdog boxer, just hoping to get his shot. Everyone knows the story of his predecessor, now it's time to watch the story of the next statue to built in Philadelphia, Creed.
Moneyball
Streaming on Starz
I first came across Moneyball in the summer of 2007. I was a baseball-obsessed nut without a real home town team to root for (the minor league Buffalo Bisons were always a joy to watch, but their Major League affiliate switched from the Indians, to the Mets, to the Blue Jays), I spent my summers playing beer-league softball and reading about America's pastime. The book by Michael Lewis is incredible with it's dedication to detail, wonderful storytelling, and the way it captures how the entire sport changed over the course of just a couple of seasons.
In 2011, Columbia Pictures released the film version of Moneyball starring Brad Pitt, Jonah Hill, and a screenwriting credit by Aaron Sorkin. What the director Bennet Miller does with a book about math, numbers, and baseball is inspiring.
But to consider Moneyball, one of the best streaming underdog sports movies, it's important to set the scene. Oakland Athletics manager Billy Beane (Pitt) not only lost to the New York Yankees in the 2001 American League Division Series, but the Evil Empire also signed Jason Giambi that offseason. Along with Johnny Damon and Jason Isringhausen leaving Oakland for new teams, Beane needed to reconstruct his roster with a limited budget.
What follows is the incredible true story of how Peter Brand (played by Jonah Hill) and a little bit of math, changed the landscape of the entire sports universe from baseball to soccer to the NFL.
The Wrestler
Streaming on Amazon Prime
My love of professional wrestling is no secret. Rachel loves to tell the story that when I first told her I watched professional wrestling, she thought I was kidding and that professional wrestling is over. But like Hulkamania, professional wrestling never dies.
But it's presence on the big screen has been limited to comedic spoofs of America's most celebrated form of live theater. There's the Macho Man vs. Spiderman fight scene or the infamously bad Ready to Rumble starring WCW Heavyweight Champion David Arquette. And who can forget the great, but doesn't paint wrestling in a good light, documentary Beyond the Mat.
That's not to say Darren Aronofsky's The Wrestler makes the sport looks good; it does give it the gravitas to be taken seriously. The film follows Mickey Rourke's character, Randy "The Ram" Jackson, as he navigates life as an aging professional wrestler. This movie hits all of professional wrestling's greatest hits: steroid injections, drug addiction, and broken families. But we can't help but root for Randy to get one last shot at glory. And by the end of the film, we want to see the underdog Jackson take flight one last time.
The Wrestler did so well that Rourke found himself in the middle of real-life professional wrestling feud with none-other-than All Elite Wrestling superstar Chris Jericho culminating in a match at WrestleMania.
The Barkley Marathons
Streaming on TUBI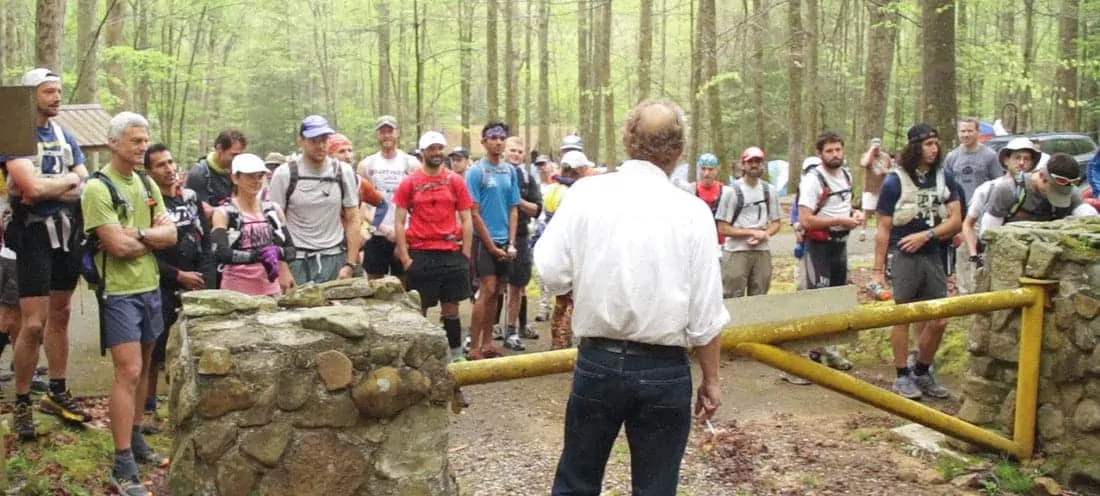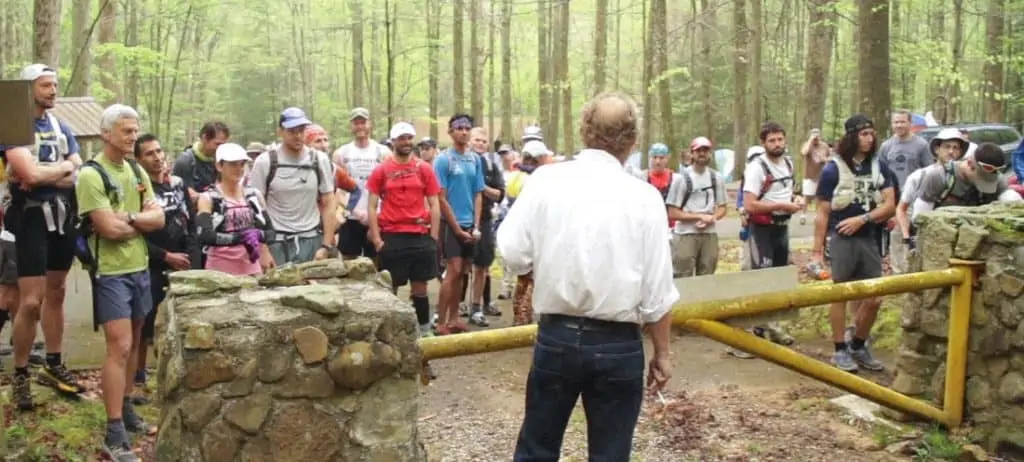 I've suggested watching The Barkley Marathons, and it's spiritual sequel Gary Robbins and the Barkley Marathons many times before because it is a documentary of incredible people doing incredible things. Like The Dawn Wall, this movie reminds us that when it comes to nature, all of humanity are underdogs. Except for probably Dwayne Johnson and Bear Grylls. Shout out to dude's named after animals that terrify me.
The Barkley Marathons is an ultramarathon race in Tennesee that is over 100 miles long. Racers have 60 hours to complete five laps through unmarked trails, up hills, and through tunnels. Less than 20 people have finished the race since its inception in 1995.
What makes this documentary so great is how it captures human beings pushing themselves, mind, and body, to their absolute limits. The best underdog sports movies are the ones where the deck is stacked against you, and at the Barkley Marathons, everything is against you.
Space Jam
Streaming on Netflix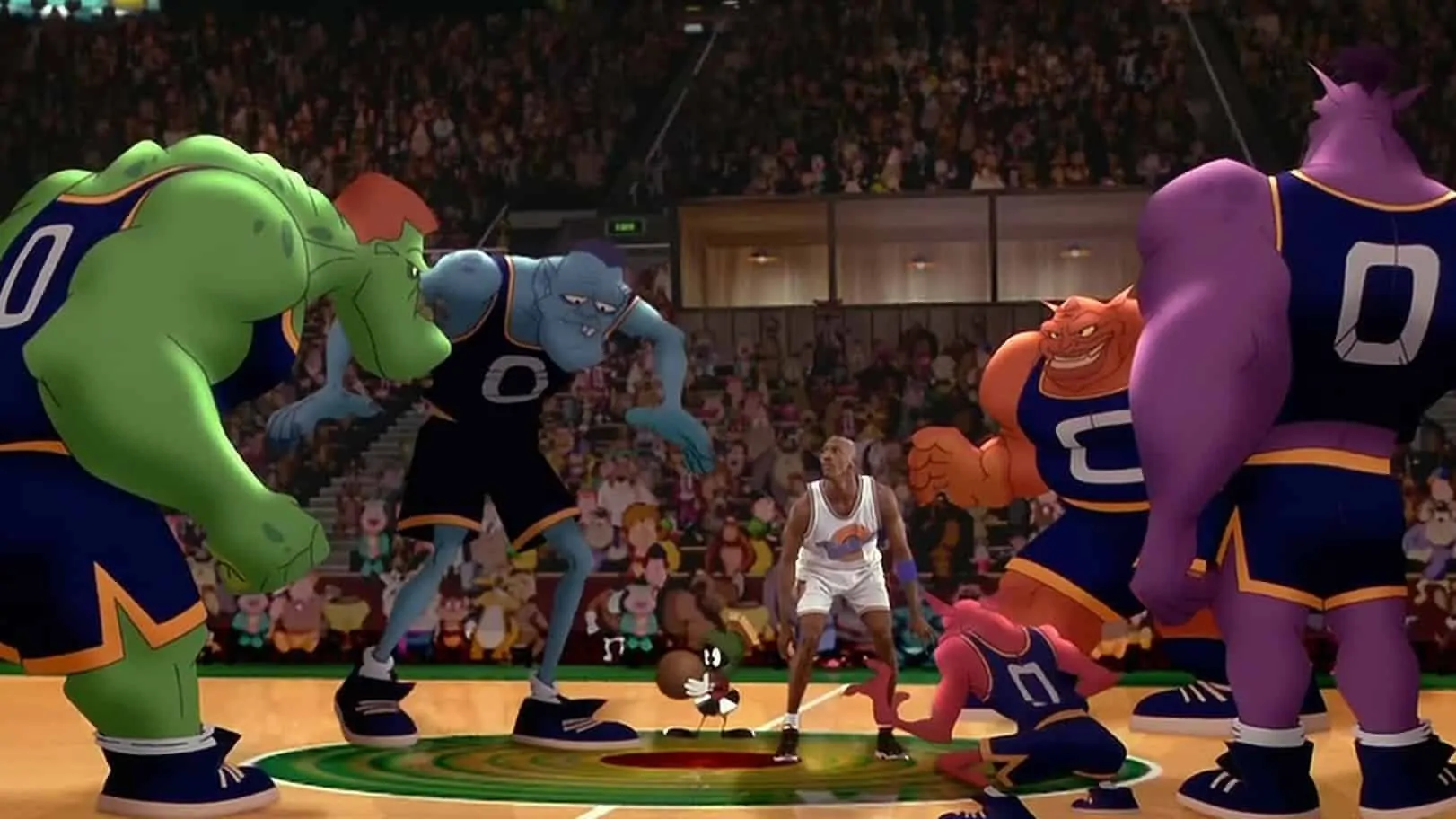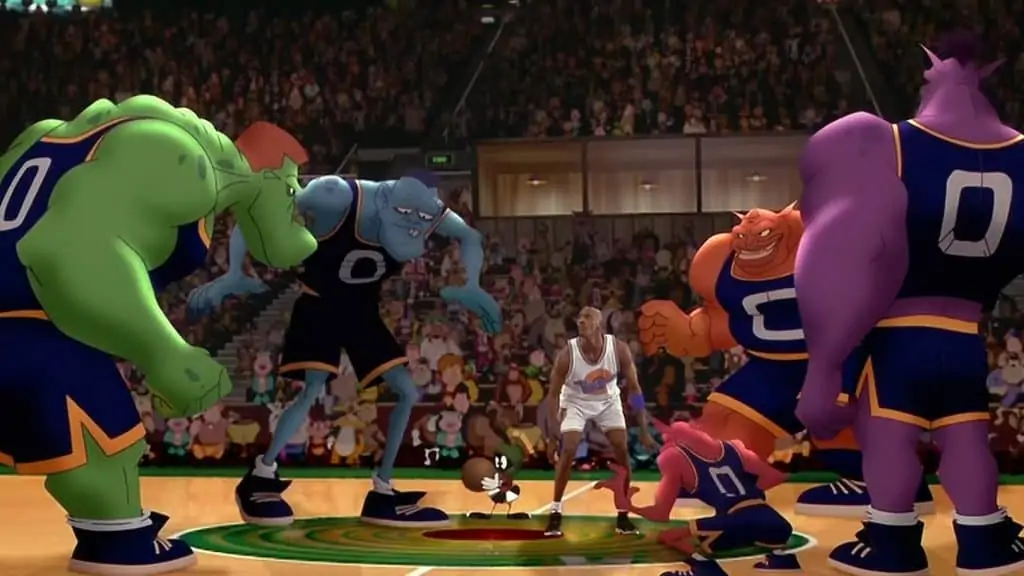 Michael Jordan is the greatest basketball player of all-time. There's not a team on planet Earth that would make Jordan an underdog. That's why they had to go to space, baby.
Space Jam is one of those films that I loved growing up in part because the soundtrack was balling, but also because I loved The Looney Tunes. After four NBA superstars lose their ability to play basketball, Michael Jordan is asked to come out of his temporary retirement that definitely wasn't a secret suspension due to gambling, to play one last game for the Tune Squad. With a starting roster of Bugs Bunny, Daffy Duck, and Lola Bunny, Jordan and his squad are the clear underdogs to the overpowered Monstars.
And if I could take a moment to criticize the refereeing in this game: Marvin the Martian allows for Foghorn Leghorn to be burned alive on the court without a foul call. Seriously. He was murdered, and Jordan couldn't get two free throws.
Besides that, the journey of teamwork, a guest appearance by Bill Murray, and the most significant sports movie soundtrack of all-time are what make Space Jam an absolute classic.
Dodgeball
Streaming on Hulu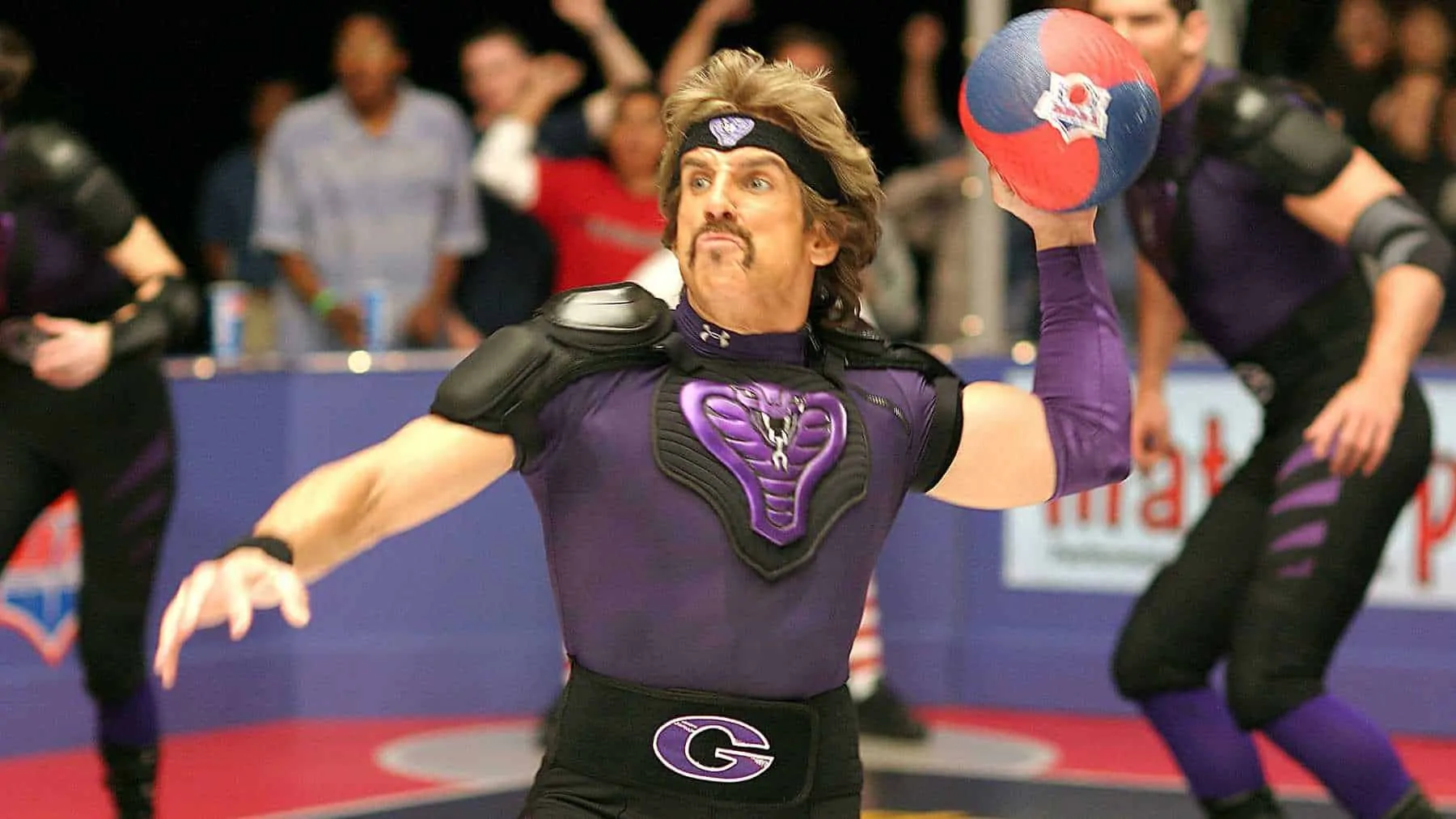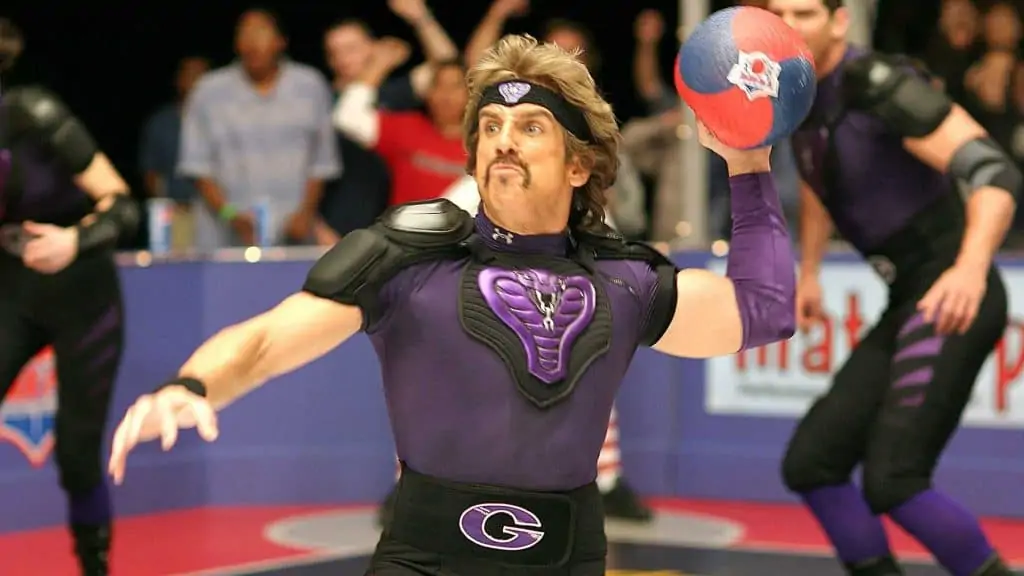 You can't make a list of the best streaming underdog sports movies without including Dodgeball: A True Underdog Story. I mean, underdog is in the title.
Every time I watch this film, I'm reminded of senior year in high school when my friends and I started a dodgeball team at our local YMCA Amateur Dodgeball League. All of those words are a real sentence. And when a movie can bring back vivid memories, that means it's doing something right.
Dodgeball is one of those movies you find on FX in the middle of the afternoon and just can turn away. Whether it's Ben Stiller's incredible White Goodman, or the intense 5-on-5 ball-on-ball action, Dodgeball manages to capture what it truly means to be an underdog.
Conclusion
Everyone loves a good underdog. What's your favorite underdog sports movie? Let us know in the comments below.
Make sure to follow us on Facebook and Twitter!
If you enjoyed this, be sure to check out some of my other pieces here on Dudefluencer:
The Manly Man's Guide to Coronavirus
Hyper-Masculinity and Concussions
The Manly Man's Guide to Rom Coms