There's something special about nicely coiffed facial hair. Whether it's a well groomed beard or a finely tuned mustache, you know the difference between facial hair that's groomed and those hairs that are growing wildly like the jungle.
You don't need to be a rockstar, model, or even have access to a world-class barber to have a dapper beard worth complimenting: all you need are the right products and the perfect routine.
Thankfully for you, we've simplified all of that down into an easy four-step beard care routine guaranteed to make your facial hair softer, cleaner, and well-maintained.
Why do you need to take care of your beard?
A 2018 study conducted by Harry's revealed that "grooming – taking care of our appearance – was the strongest driver of positivity (in men)." Simply put, science says if you look good, you feel good.
Personal grooming is no longer just about physical appearance. But it's also about taking care of your mental health. That's why it's one of the tenants of positive masculinity.
You might be asking yourself, I've been growing my beard for years without a routine; why should I get one now? Simple: a well-groomed beard is the difference between looking scraggly as heck and professional.
Ever heard of bed beard? It's like bed head, but for your beard. You wake up after sleeping funny, and your beard looks like it went through a lopsided wind tunnel. A proper beard care routine can prevent that from happening.
You can count on the fact that adding a couple of steps to your morning grooming routine can make a massive difference in the way your beard looks daily.
Outside of the way your beard looks, it's also essential to think of what's going on underneath your beard hairs: dry skin, ingrown hairs, beard itch. All of those should be factored in when reasoning why it's essential to have a beard care routine.
A healthy facial hair routine moisturizes the skin underneath your hair follicles, so you don't have to worry about beard dandruff, itchiness, or irritation. All things you don't want.
It doesn't matter if you have a long beard, short beard, or mustache. Taking care of your facial hair regularly is essential to make you look good but also helping out with your mental health.
Supplies you'll need for your beard care routine.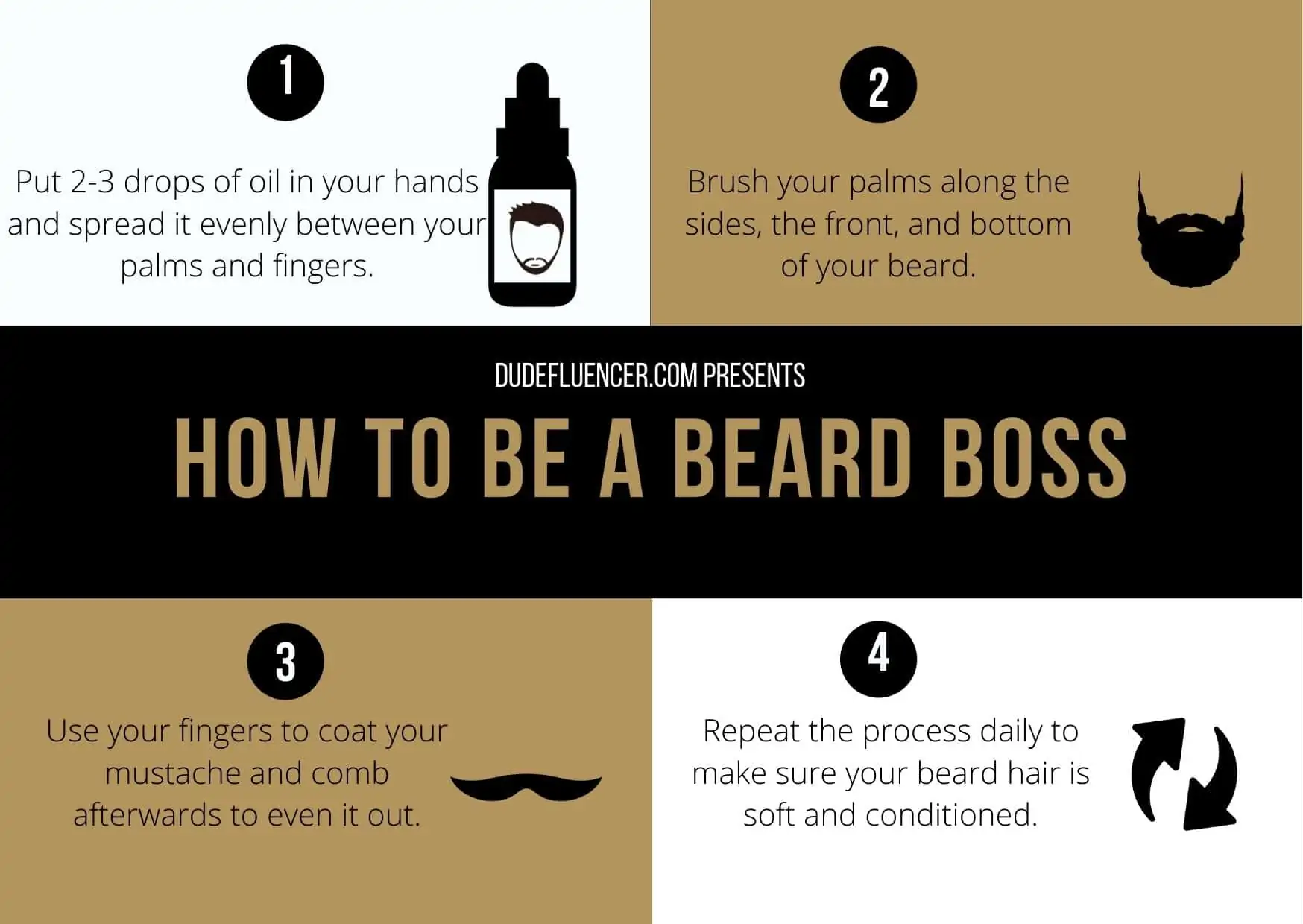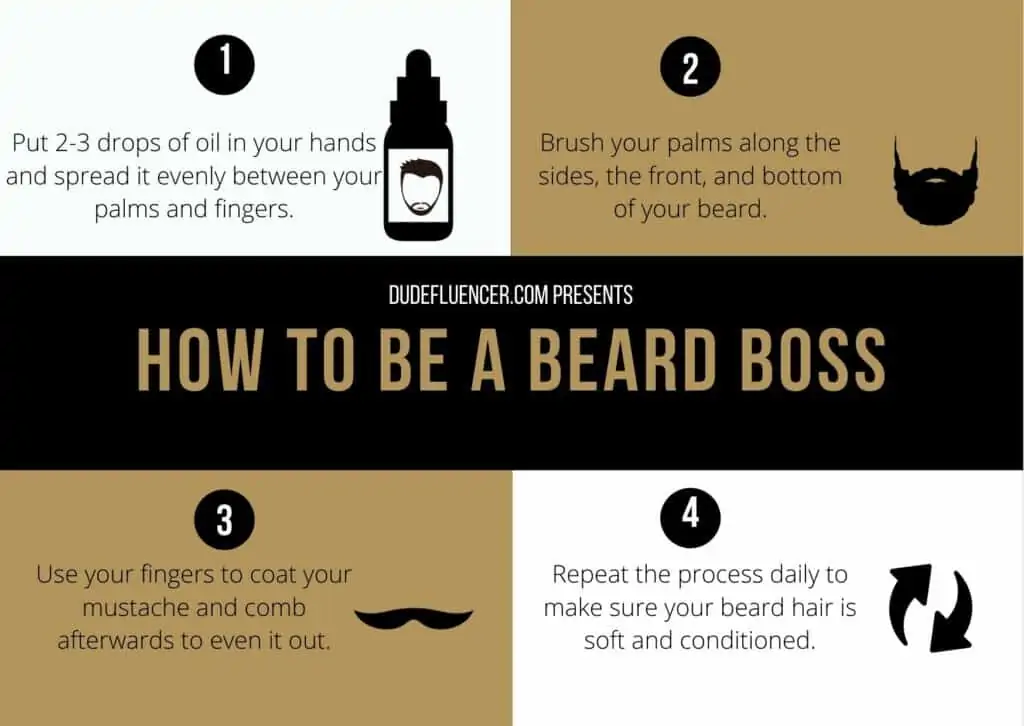 Some of these beard products you might already have, there may be a couple you have never heard of. It's time to take count and set up your beard care routine toolbox.
Beard Trimmer and Scissors
More than likely, if you have a beard, you probably have a beard trimmer. That doesn't mean you shouldn't always be on the lookout for an electric trimmer that offers new features, a closer shave, and significantly doesn't cut and nick-up your face.
You can check out our best beard trimmers for an updated list.
For those tighter trims, a pair of beard/mustache scissors is a necessity. And before you ask, no, you should not use your kitchen scissors. Instead, grab yourself a pair of beard scissors. These ONTAKI Beard and Mustache Scissors are all you'll need.
Beard Oil
Everyone seems to be making beard oil these days. Seriously.
That being said, you should do your research before picking up any old beard oil off the shelf of your local shopping center. You're going to want to find one that not only smells good but moisturizes your hair follicles as well as the skin underneath.
Frequently beard oils are made from essential oils and natural ingredients.
Dudefluencer put together a list of our favorite beard oils of 2021. We recommend Captain Fawcett's Boozy and Baccy Beard Oil if you're short on time. You can expect a smooth, shiny beard and soft skin underneath your facial hair.
Beard Balm
Beard Balm is a type of conditioner for your facial hair. This is a product more aimed at those who have medium-long length beards. Unlike the bottled liquid beard oil, the consistency of beard balm is something closer to what you'd find in a hair pomade.
Also, beard balms tend to stay in your beard hair a bit longer than oil which allows them to moisturize for a longer period.
You can expect to find "shea butter, beeswax, and essential oils, such as sunflower oil" as the key ingredients within a beard balm.
Beard butter is another option to think about here as it's somewhere between balm and oil texture-wise. The butter does an excellent job of moisturizing while preventing itchiness. We recommend Dapper Guru Beard Butter because of it's handmade quality, great scent, and uses shea butter.
Beard Shampoo & Conditioner
Whoa, whoa, whoa. You've got hair shampoo, now you need beard shampoo?
Yes. Yes, you do. Using the same shampoo on your head as your beard, you can expect to find dried-out facial hair and irritated skin underneath.
Beard shampoo is a washing agent explicitly designed for facial hair by preserving natural oils, minimizes beard dandruff, and keeps the skin underneath soft. Beard conditioner conditions your beard in the same way and should be used in tandem with the shampoo.
There are many liquid beard washes out there, but try to look for beard shampoo bars instead. They are often made from natural ingredients and are more friendly to the environment.
4 Easy steps for a glorious beard care routine.
Life is complicated; your beard care routine shouldn't be. That's why we broke down the optimal routine into four simple steps that are easy enough to do right before you shower.
1. Brush your beard.
Depending on if you have a long beard or short beard, you'll want to use a beard brush or beard comb to take care of your beard before your shower.
By brushing your beard, you're evenly distributing the hair follicles to make your facial hair look more even. Plus, it makes sure your beard hairs continue to grow downward.
Most importantly, brushing your beard allows you to bring any beard dandruff to the surface so that you'll be able to wash it off in the shower.
When brushing your beard, rub it in a circular motion so it can pick up any dirt and grime on the skin underneath.
2. Trim
You shouldn't have to worry about this daily, but it is something you'll want to keep an eye on.
Grab your electric razor (with a guard on it) and clean up your beard. There's a couple of different ways to do it. One is to even everything out. The other is to give it a bit more life by leaving "hairs a little longer around the chin and shorter on the sides of your face."
Next, you'll want to grab those scissors and trim your upper lip. Don't leave any danglers that can catch crumbs or leftover breakfast scents.
Cut off anything that hangs below the lip line.
3. Wash
Here's the fun part.
The next step, grab your beard-specific shampoo and lather it up on your face. Make sure you get all of your facial hair here.
This is essential to having a healthy beard.
Then run your beard through cool water; warm water might dry out your skin.
After that, throw in some beard conditioner and repeat the process.
4. Moisturize
While your beard and mustache are slightly wet from your towel dry (a damp beard is best), now is the best time to throw in your beard oil or beard balm.
Take whichever you're using and massage it into your beard until all of it is off your hands. Use only a couple drops of beard oil and less than a dime-size amount of beard balm. That should be enough.
Once you're done putting in the product, your beard care routine is done. You can use your beard comb and mustache wax for styling purposes or leave it as is.
You're on track to having a healthy beard.
Conclusion
Now that you know everything you'll need to know about your beard care routine, it's time to get grooming. Want to get started right away for beard products and all your other essentials? The Dudefluencer Store is now open.