Disclosure: This website is reader supported. If you click on a link, I might make a few bucks. Read our disclosure page for more information.
There's that scene of the wife walking out of the bathroom door wearing a face mask in every television sitcom. Cue husband being horrified. Laugh track. Blah blah blah. Men have been conditioned to think facials and face masks are feminine, that fair skin isn't worth working towards, and men's self-care is overrated. I'm here to once again tell you that is wrong; men's grooming is the shit, and more importantly, Beau Brummel Charcoal Face Mask for men is the shit.
Like many others, I suffered from severe acne as a teenager/young adult. It was to the point where everything felt debilitating: I'd walk around the halls of my high school, afraid and embarrassed of my skin. Dermatologists were at a loss; over-the-counter creams only did so much. I would love to tell you my secret sauce (although, once I started taking Epiduo later in life, that did make a big difference) to how my face healed, but at some point, my acne kind of just disappeared. I'm pretty lucky in that case.
But because of my past with cystic acne, I make sure to take extra good care of my face-cleansing routine. Moisturizer, daily face wash, the whole thing. And now I've just started to add face masks to the arsenal. My first foray into face masks was the over-hyped, disappointing Bro Mask, so I decided to change things up a bit by moving away from a gel mask to the Beau Brummel Charcoal Face Mask. Would my results be any better with the change, or are dudes destined to deal with well-marketed, poorly constructed face masks? Check out my review below to find out.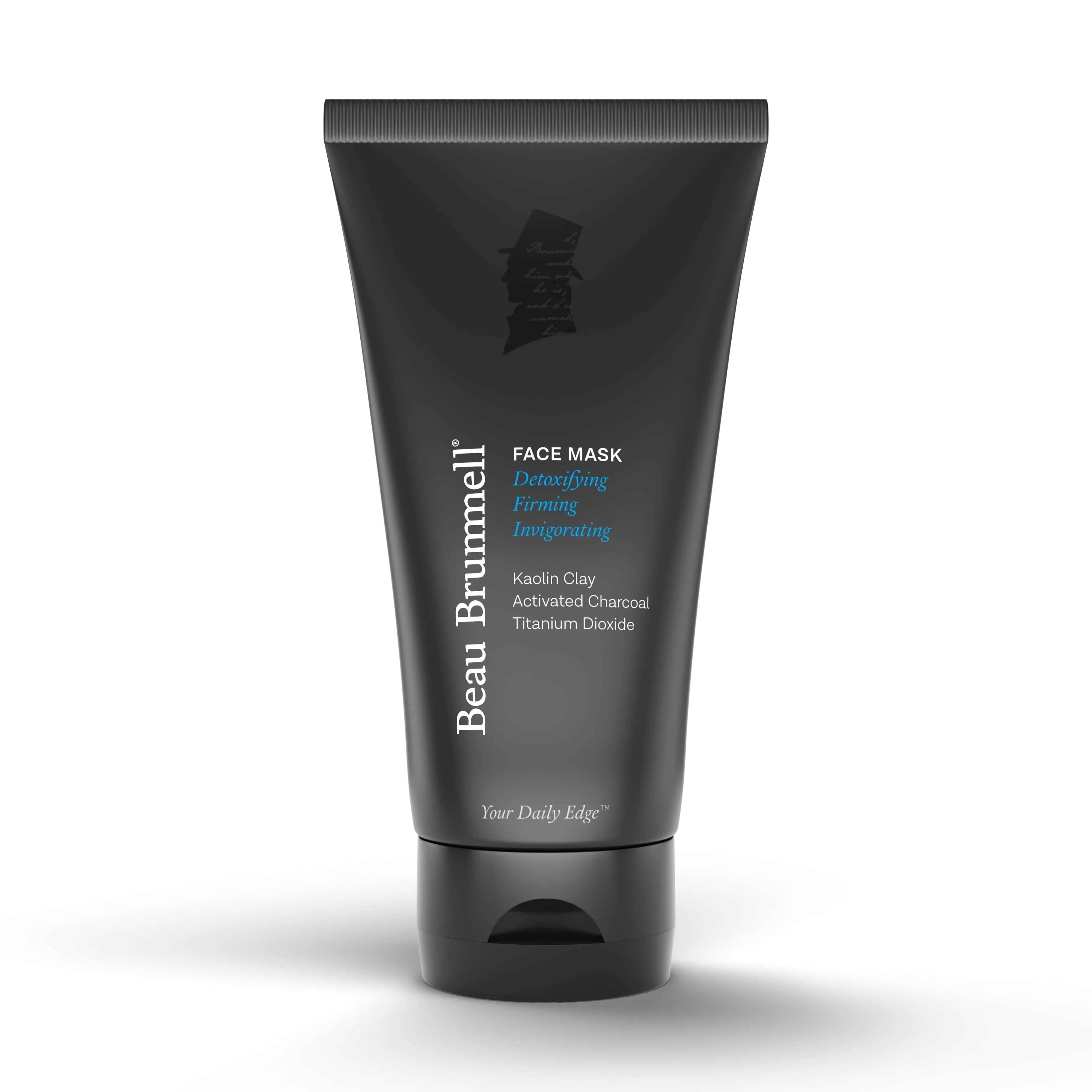 Have you ever wanted to try a face mask? Then give Beau Brummel's Charcoal Face Mask a shot. Designed for men, this face mask knows how to treat difficult skin (especially in that pesky T-Zone).
What is the Beau Brummel Charcoal Face Mask?
While women have monopolized the self-care market, men have been searching for items to include in their self-care morning routines designed for them. Enter Beau Brummel, named after the 19th-century fashion influencer, a men's grooming company that believes in simplicity over pricey.
Beau Brummel's store features an entire selection of men's grooming solutions: there's Beau Brummel Daily Face Wash, Beau Brummel Anti-Aging Cream, even Beau Brummel Face Moisturizer. Basically, if it makes you smell good, look good, and feel more confident, Beau Brummel sells it at their shop. At one point, they even sold a sampler kit that offered all of their products for customers to try before purchasing the big bottles.
But this review is going to be focusing on the Beau Brummel Charcoal Face Mask. I'll speak more about Beau Brummel's mask in a moment, but I want to spend a couple minutes talking about charcoal face masks in general. Activated charcoal has become quite popular over the past couple of years, and yes, it's different from what you're using to cook steaks on the grill. While there hasn't been enough research done on charcoal face masks one way or the other, they are advertised to draw toxins from the skin, clean up acne, and remove dead skin cells from off of your face.
With the disappointing Bro Mask out of the way, it was now time to get my charcoal on.
What do you mean by eco-friendly?
You're going to read and hear many organic, sustainable, and eco-friendly products on this website. When I score a product one through five based on it's eco-friendliness, I am focusing on the following criteria:
Is it made from natural ingredients?
The men's grooming industry is still relatively fresh onto the scene, so plenty of companies are still experimenting to see which ingredients work best. For me, I'm looking for ingredients that are natural and are not harmful to the environment.
Is the manufacturing of the product environmentally friendly?
The production of a product is just as important as what it is made of. The highest-rated scores for eco-friendliness are developed in factories that prioritize organic manufacturing and utilize clean energy. We also take toxic runoff and the destruction of natural elements into consideration when rating these products.
If a company's product is certified by an eco-label. You can find a list of eco-labels here. Certifications provide us with clarity and evidence that a company's manufacturing is entirely environmentally friendly.
What are the working conditions for those making the product?
The working conditions for employees making eco-friendly products should be paid a livable wage and work under safe working conditions. While not directly related to the environment, a healthy workplace is essential to the eco-friendliness of a company.
Why should you trust me?
For the Beau Brummel Charcoal Face Mask, I made sure to use the product and follow up the results every morning. My wife actually joined in on the fun and tried it out herself as well. While wearing the mask, I followed all of the directions and moisturized my face afterward to prevent any drying out.
In the days that followed, I exercised, showered, and basically did everything an average human would do. I didn't change my morning routine or utilize any new grooming products in addition to the charcoal face mask.
Other helpful pieces of information:
Dudefluencer was not paid for this post. We do not accept paid or sponsored reviews.
Beau Brummel did not ask us to write this review.
We paid for this product ourselves.
This website uses affiliate links which means if you buy a product from a link on our site, we might make a couple of bucks.
Beau Brummel is not reviewing or editing this review prior to publication.
[arrow_forms id='8448′]
Beau Brummel Charcoal Face Mask Review
This product was probably the one men's grooming product I was most excited to try out. Given that my first experience with a face mask left a burning sensation and less than ideal results, I wondered how different a charcoal face mask could be?
Does the Beau Brummel Charcoal Face Mask Work?
The men behind Beau Brummel emphasize "Smart Elegance" when it comes to their products. Delivered in a matte-charcoal-colored squeeze container, I slowly painted my face like Sting and looked in the mirror. I looked like a gosh-darn mud creature. The Beau Brummel Charcoal Face Mask packaging advertises itself as detoxifying, firming, and refreshing.
After wearing the mask for only 10 minutes (that's all the time suggested on the bottle), I removed the charcoal from my face and threw on a bit of moisturizer. Instantly my wife noticed how clean my face looked. After a glance in the mirror, I agreed. The skin around my cheeks and eyes looked healthy; there's really no better way to describe it.
Even a couple of days later, I still felt like my face was glowing. With that, as someone who's had skin issues most of his life, I felt newfound confidence in my skin. There's no better feeling than walking around outside, head held high, knowing that your skin looks great. So does the face mask work? Absolutely.
How does the mask feel while you're wearing it?
Unlike the Bro Mask and other gel masks, the Beau Brummel Charcoal Face Mask requires you to take the charcoal face mask material and put it on yourself. Once you've put a good coat on, you just let it sit for 10 minutes or so while the mask hardens.
I liked the charcoal face mask because there was no burning feeling while using it. It went on smooth, felt a little wet, and then stiffened up. If anything, I'd say during the actual mask-wearing portion of my review, I could literally feel toxins from my skin being purged. I could feel my face getting cleaner.
There's no need to worry if you have a beard either. Because you're lathering the charcoal facemask yourself, you can just simply not put any of the face masks on your beard. It's really that easy.
Is the Beau Brummel Charcoal Face Mask messy?
Not really. You put a glob of face mask stuff on your hand, run it over your face, and then wash it off your hands. There's no excess wetness, nothing to throw away. Once your ten minutes are up, just grab a washcloth and wipe it all off. With the Beau Brummel Charcoal Face Mask, you don't need to worry about peeling things off or a big mess. Everything just washes away with water.
Is the Beau Brummel Charcoal Face Mask eco-friendly?
Let's start with the good: Beau Brummel follows a product system entitled "Pure Edge." What that means is that Beau Brummel pledges "to never use any ingredients that are known to cause harm or irritation on even the most sensitive skin." Not only that, every ingredient used in Beau Brummel products meets the standards set by the Environmental Working Group's Skin Deep® Project. Products must use elements that are classified as safe to use.
The company also pledges to never use: Parabens, Sulfates/SLS, Synthetic/Artificial Fragrances, Phthalates, PEGs, Artificial Dyes/Colorants, Animal Derived Ingredients, Mineral Oil, or Polyethylene Microbeads.
That being said, while a majority of the ingredients are organic, there are some inorganic compounds used in this product, you should be made aware of, including aluminum silicate. This is not a 100% natural product. There is also a lack of information about the product's manufacturing and how Beau Brummel's production affects the environment. If you're looking for a purely environmentally friendly product, this won't be it. But Beau Brummel does a better job than most when it comes to eco-friendliness.
How much does the Beau Brummel Charcoal Face Mask cost?
For around 5 oz,. The Beau Brummel Charcoal Face Mask costs $20. My guess is that's probably about $4-5 per mask, which is a reasonable price for the quality of product you're getting.
Is the Beau Brummel Charcoal Face Mask worth it?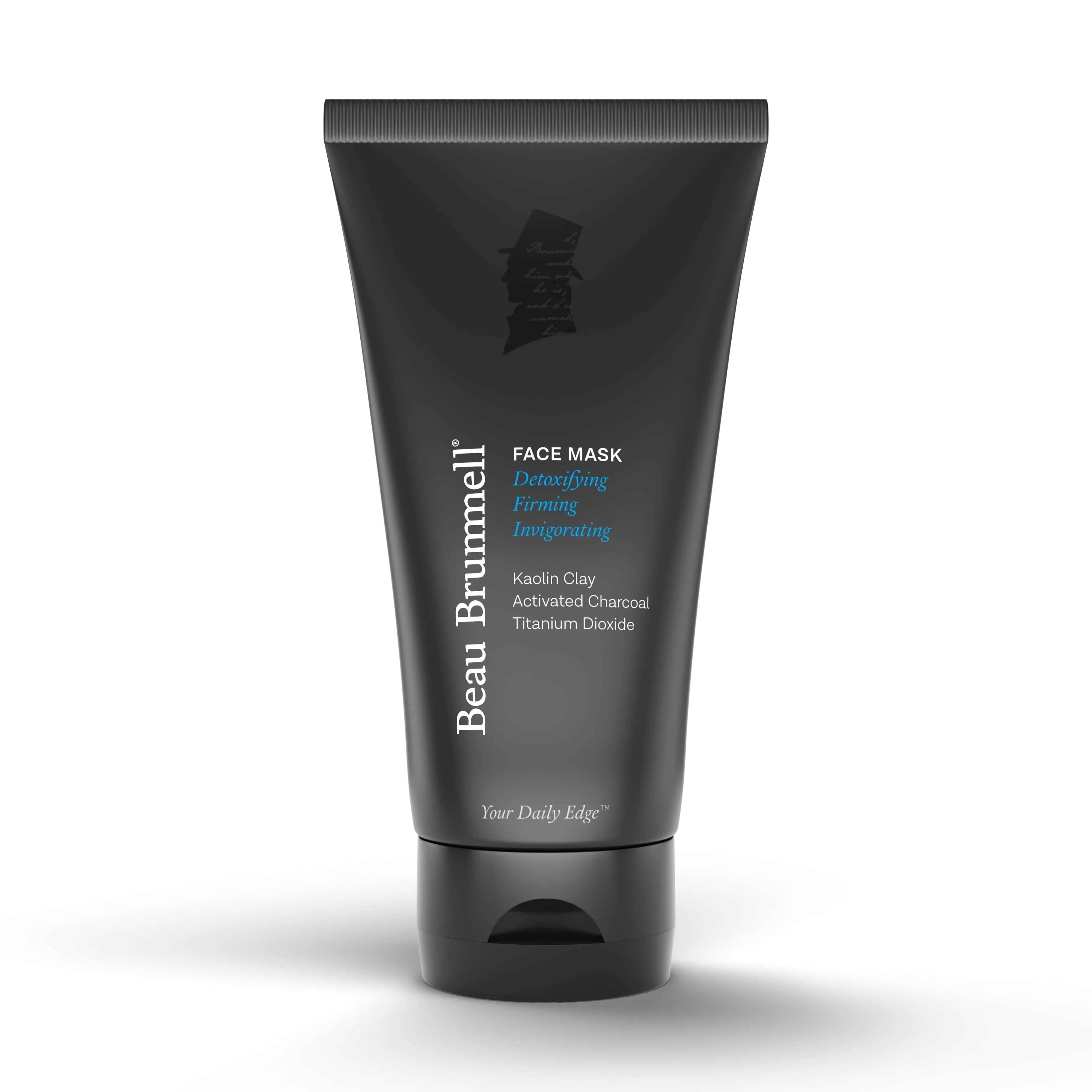 Have you ever wanted to try a face mask? Then give Beau Brummel's Charcoal Face Mask a shot. Designed for men, this face mask knows how to treat difficult skin (especially in that pesky T-Zone).
Absolutely. This has been one of my favorite products to use and review because it works well. There's no burning sensation, no mess, just a well-crafted face mask designed for men by men. If you're looking for your daily edge and a little bit of confidence, then go out and pick up a bottle of Beau Brummel Charcoal Face Mask.
[arrow_forms id='8759′]