There are never enough hours in a day to buy everything we need. That's where subscription boxes for men come in. Whether you're looking for semi-tailored clothes to be delivered to your doorstep, or a monthly collection of the best-grilled meats to cook, Dudefluencer's list of the 20 best subscription boxes for men is here to help you out.
How did we select these top subscription boxes for men?
There are over 3,500 subscription box options available right now, and plenty of them offer less-than-stellar products. Here are the factors we considered when selecting the best subscription boxes for our list:
Functional: We discarded all subscription boxes that didn't offer something that couldn't be immediately useful to the recipient. We specifically looked for the best men's subscription boxes in five categories: clothes, gear, beer, food, and grooming.
Affordable: We capped pricing at $150 a month, though we prioritized subscriptions that cost under $60 per month.
Reliable: We only looked at subscription boxes that had earned a positive reputation from online reviewers.
Acceptable for men: None of the boxes we selected promote anything but positive masculinity.
Each of these boxes presents something trendy, something delicious, or something handy (because you never know when you'll need a survival kit).
Disclosure: This website is reader supported. If you click on a link, I might make a few bucks. Read our disclosure page for more information.
Best Clothing Subscription Boxes for Men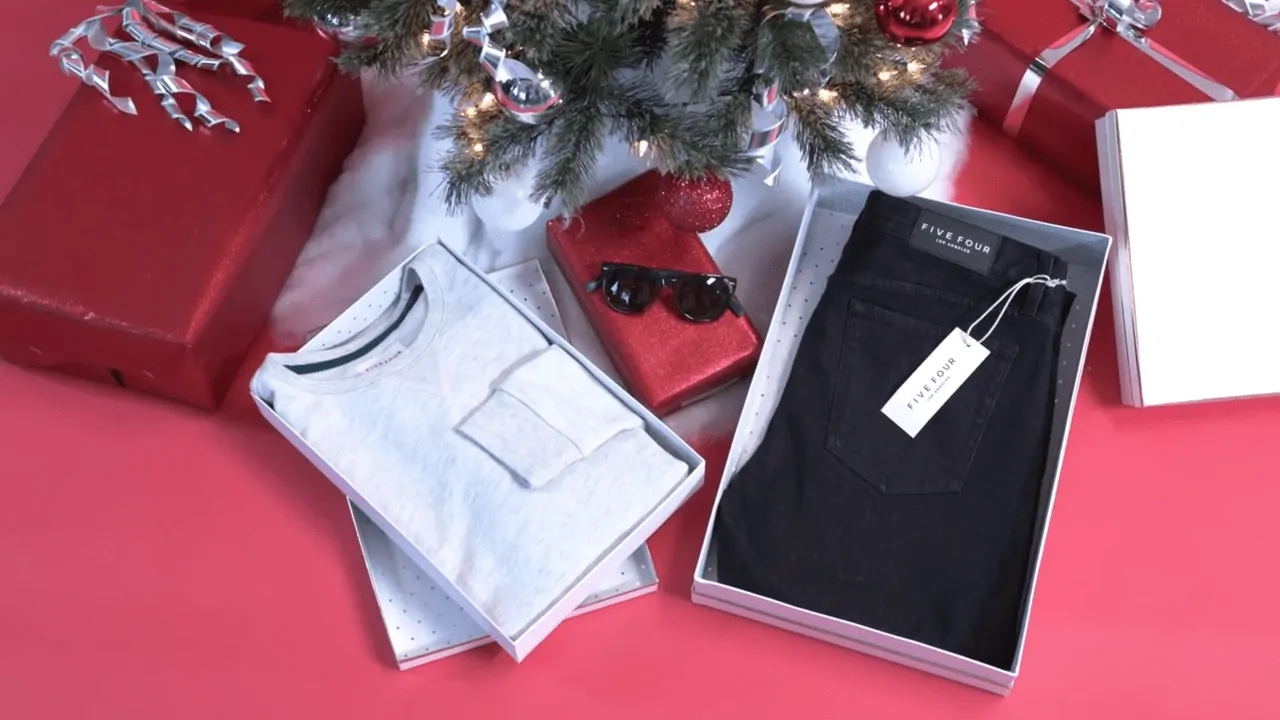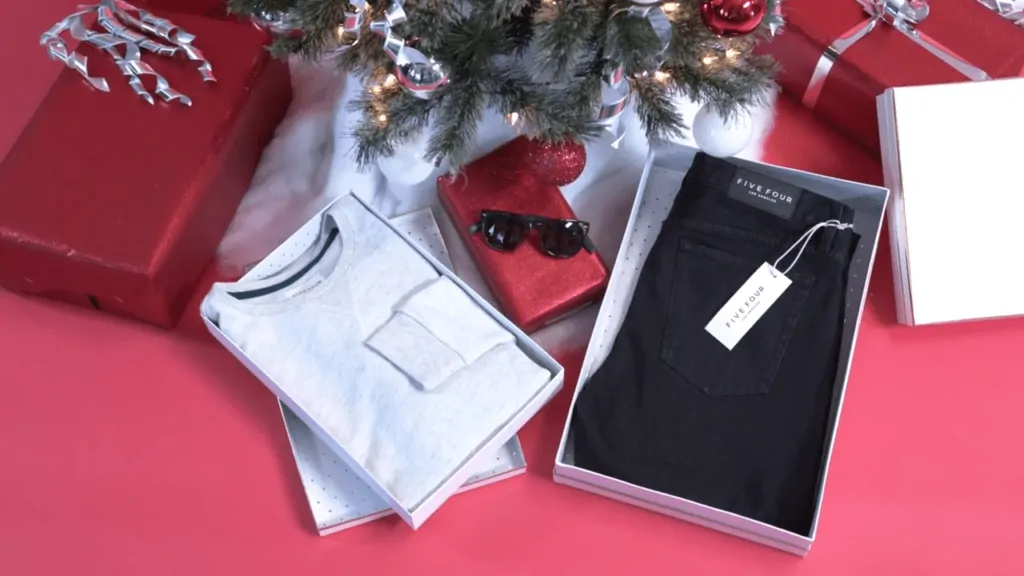 Previously known as the Five Four Club, Menlo Club delivers trendy fashion wear from Five Four, New Republic, and Grand AC. Simply fill out a style guide before signing up, and Menlo Club will curate monthly packages containing 2-3 items each month. Two designated months include footwear from New Republic, two designated months include athleisure wear from Grand AC, and the remaining eight months include contemporary wear from Five Four.
What's excellent about Menlo Club is that they style for the season. That means your closet will contain multiple mix-and-match opportunities to look stylish and fresh, no matter the weather.
Who is it for?
For men who love to hit the town with the latest fashion but don't have the time to go to the mall.
Is it customizable?
Sort of. Fill out a style guide before signing up, and Menlo Club curates your monthly packages.
Cost: $60 a month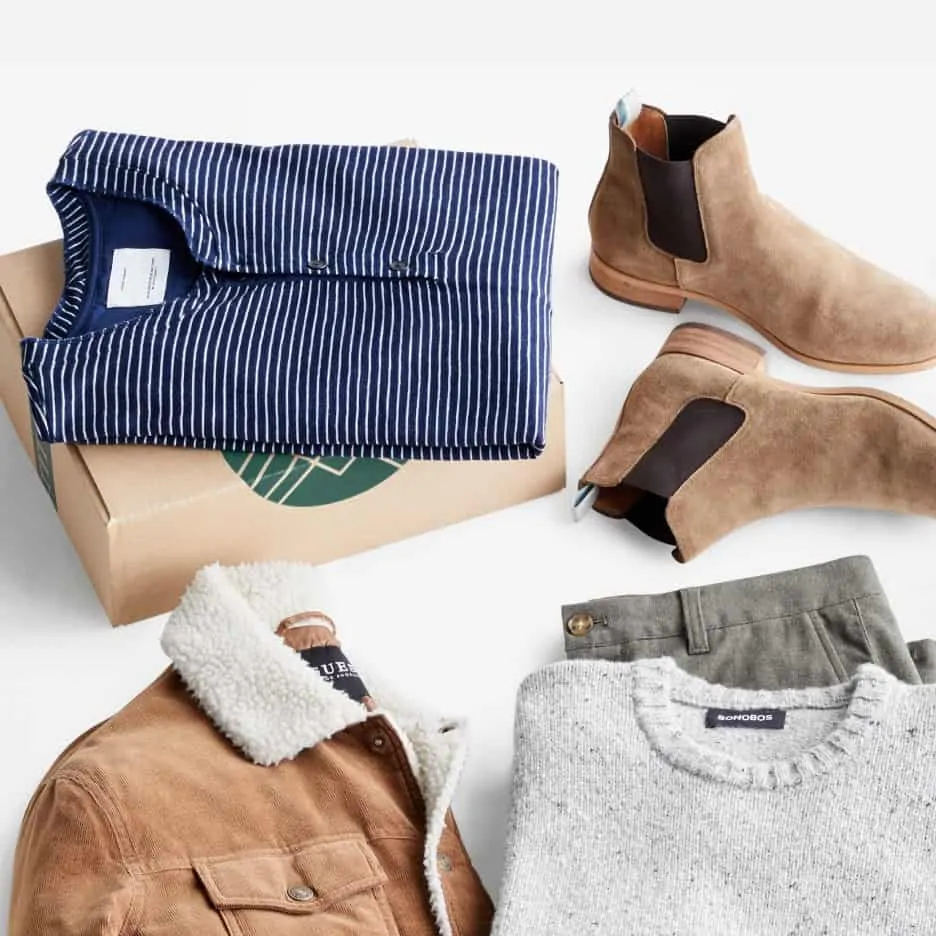 Ever want your own personal stylist? Then you should check out Stitch Fix for Men. For just $20, you can get a personal stylist to select a collection of clothing items sent directly to your door. From there, you simply just buy what you like and return what you don't. It's that simple.
Based on your personal style quiz, your stylist will have all of the information to send you the right clothes for your fit and personality. And the best part, when you're done, you can then shop online with a personally curated selection of clothing items (also chosen by your stylist).
Who is it for?
Men who like to dress well but have no idea how.
Customizable?
Yes, sort of. Your stylist sends over clothes and you choose what you like and what to return.
Cost: $20 for the stylist, and whatever the cost of your clothes may be.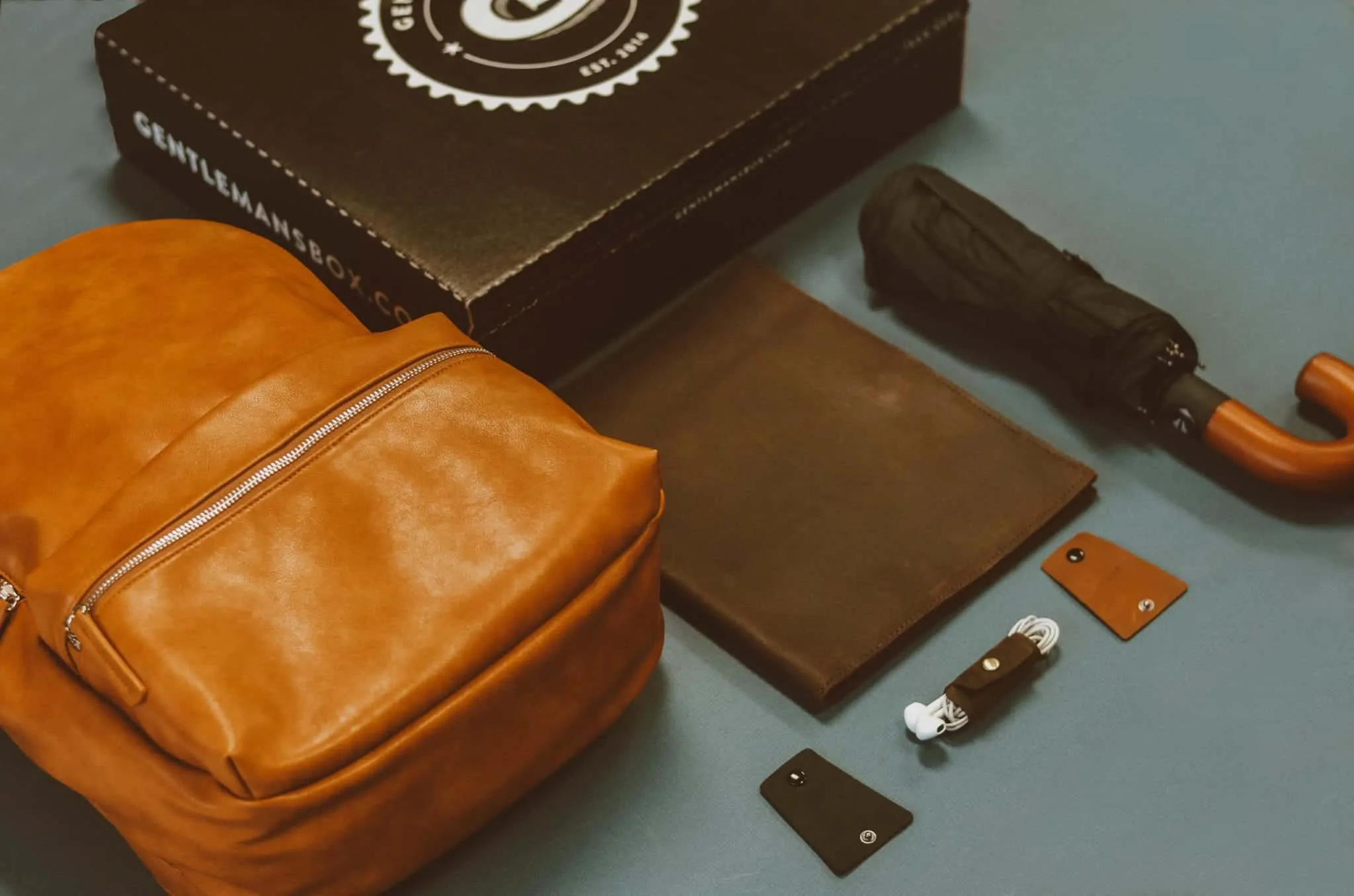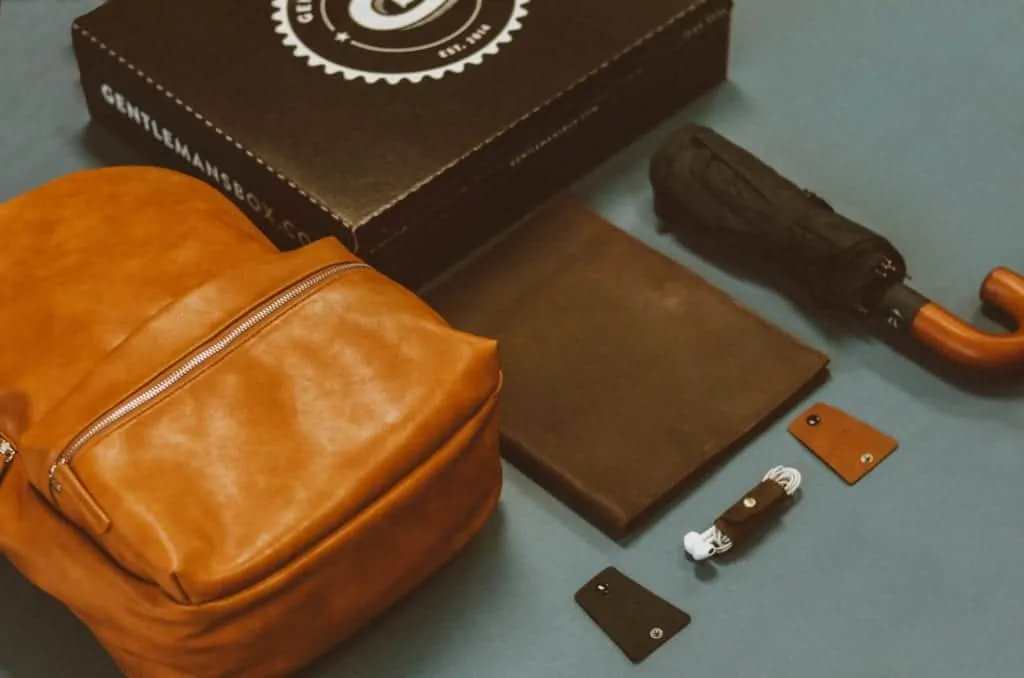 The Gentleman's Box is a monthly accessory subscription that includes a variety of items to help snaz up your closet. Each month, you'll receive a tie, socks, grooming sample, and two lifestyle accessories from the latest trends in male fashion.
For a few dollars more, you can sign up for the premium membership box, which includes 4-6 premium lifestyle goods. For example, Summer 2019's box included socks, sunglasses, and a nice pair of over-the-ear headphones, while Fall 2019's box included a beautiful leather backpack.
Whether you go with the monthly subscription or premium subscription, you're going to end up with a collection of trendy, fashionable accessories that will make your outfits pop.
Who is it for?
For men who are looking for premium accessories at a reasonable price.
Customizable?
No
Cost: $29 a month (or $100 per quarter for a premium box)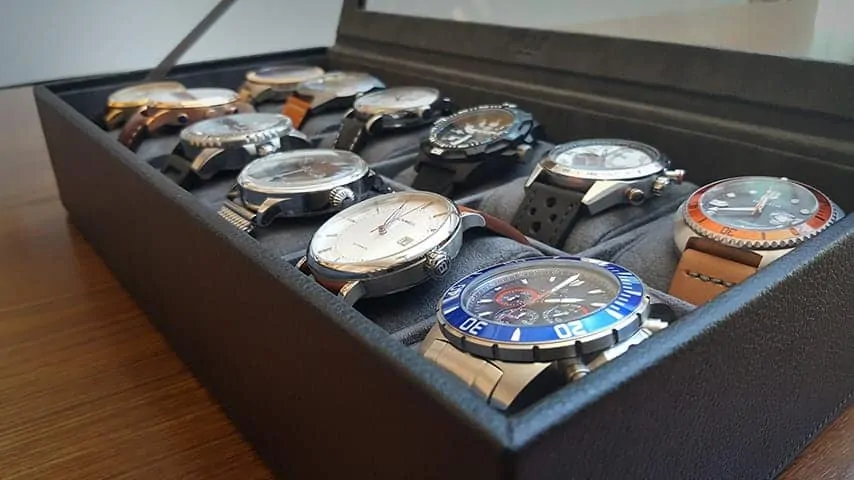 The most expensive monthly option on our clothing list, Watch Gang, is for folks who love a good watch.
Watch Gang is easy to use: choose your style of watch (elegant, expressive), and your plan, and Watch Gang will send a brand new watch to your mailbox once a month. With a wide variety of watch options available, each member's growing collection of watches is curated to fit their style preferences and needs.
As a watch fan myself, there's nothing better than choosing the right watch from a collection to match your outfit. And while watches are traditionally pretty expensive, it's nice to have an affordable option to build a collection of your own.
Who is it for?
For men who believe watches accentuate any outfit.
Customizable?
Sort of. Choose which types of watches you like, and Watch Gang will curate your order based on your preferences.
Cost: $49.99 a month (or $142.50 for three months, $269.99 for six months, and $479.99 for a year)
Best Gear Subscription Boxes for Men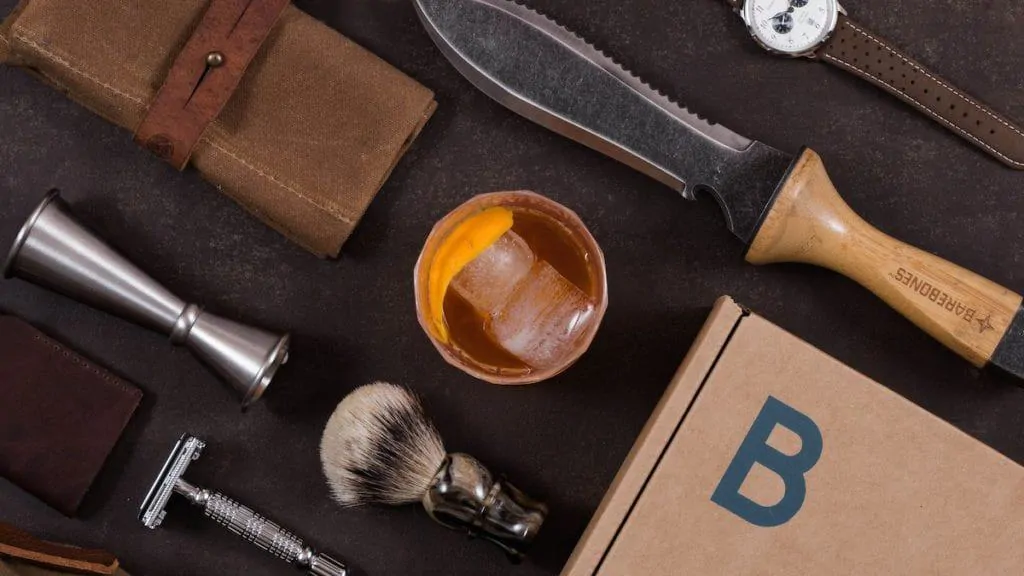 The Bespoke Post Box is an all-in-one men's gear super box. After signing up, you'll receive an email on the first of the month that includes all of the details of what's inside your box. For the next five days, you can swap out items, customize styles and colors, and even choose to skip that month's box.
Then: boom. A ring of the doorbell and sitting on your welcome mat is a customized box of gear to enjoy and indulge.
Gear is a broad term, and for the Bespoke Post Box, that means you get the option of choosing boxes that include everything from classy booze containers to wireless earbuds. At Bespoke Post, the goal is to deliver a little something for every man.
Who is it for?
For men who love trendy gear.
Customizable?
No.
Cost: $45 a month
BattlBox is a subscription box dedicated to outdoorsman as each delivery includes a wide variety of camping, survival, and other outdoor gear.
Depending on your subscription package, you could end up with outdoor manuals (survival guides, plant manuals) and small survival tools at the $29 a month box, to sleeping bags and tents from top name brands in the $149 a month package. BattleBox works best for serious outdoorsman as a lot of the gear is designed for folks camping rather than glamping.
Something cool about BattlBox is that their website details what's been released in previous boxes, so you have an opportunity to check out directly which subscription package is right for you.
Who is it for?
For men who love the intensity of the outdoors.
Customizable?
No.
Cost: Prices range from $29 a month to $149 a month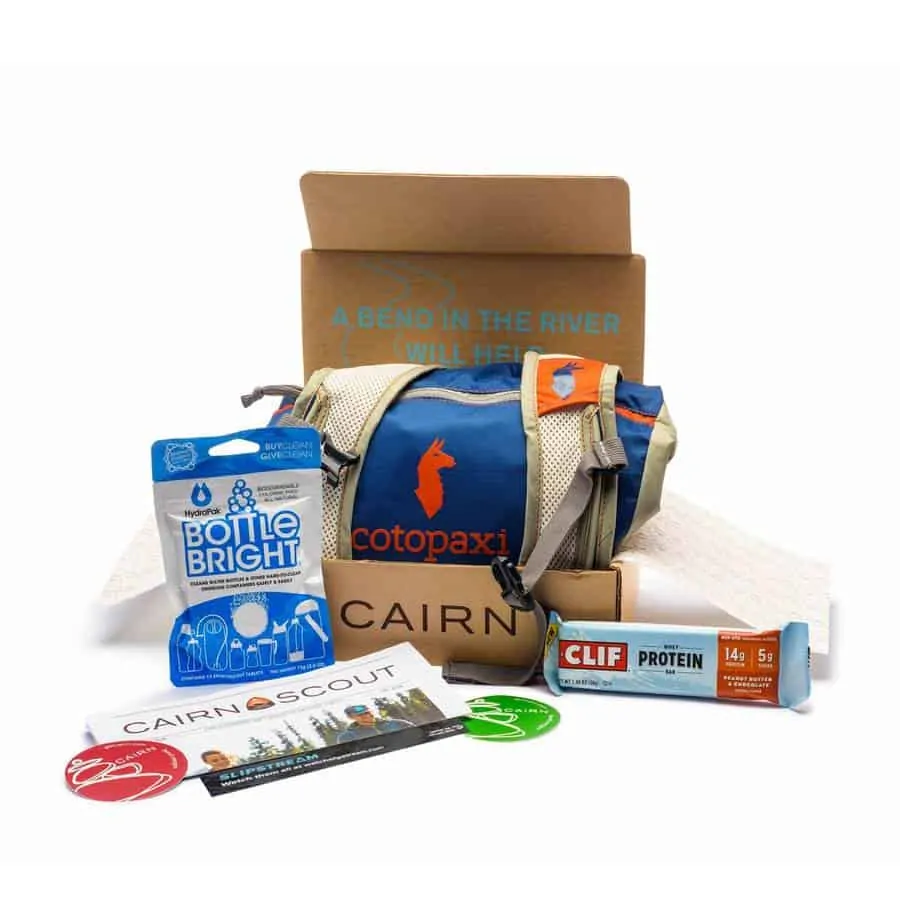 For those who love the outdoors but are a little less intense about it, Cairn's subscription box is a perfect choice.
Each monthly box includes a wide variety of outdoor apparel, gear, food and snacks, skincare products, and emergency aids. What's nice about Cairn is that the choices for your box are curated based on your style.
If you want a more elegant box, Cairn also offers the Obsidian Collection, a quarterly subscription that offers high-end products such as shoes, camelbacks, and jackets. If customization is what you want, then Cairn is the way to go.
Who is it for?
For men who love to relax outdoors.
Customizable?
No.
Cost: $29.95 a month ($169.95 for six months, $329.40 for the year, and the Obsidian Collection for $249 quarterly)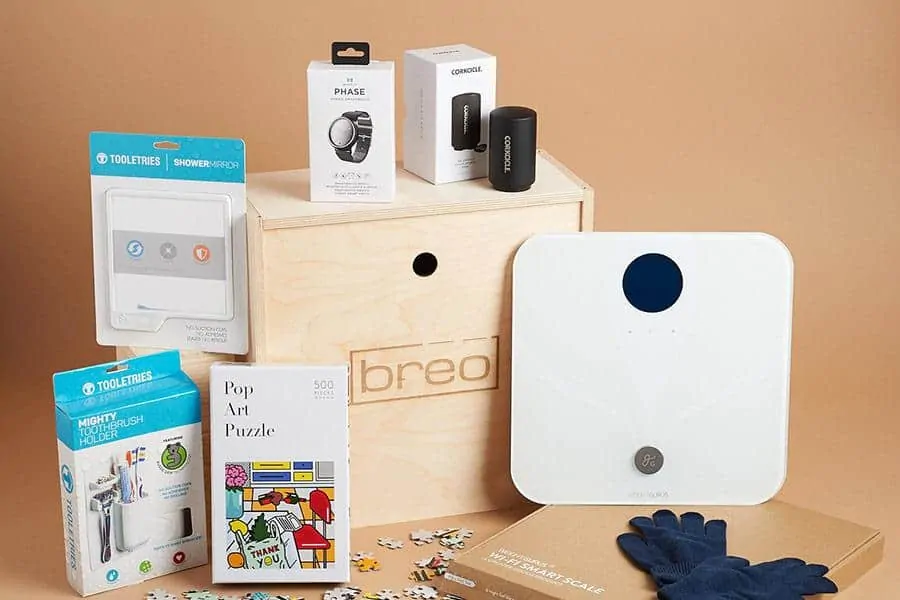 Every three months, Breo Box handpicks a selection of quality items to be delivered straight to your house. Part of the reason for the higher cost and quarterly delivery frequency is because of the quality of the items being sent out.
For example, past boxes include Click and Grow Smart Gardens, Ekho Sports and Action Waterproof cameras, and a defrosting board. If you subscribe, you can expect to receive 5-8 items revolving around everyday essentials like fitness, health, and technology, depending on the season. Imagine Breo Box as a quarterly Sharper Image Subscription box: the trendiest gadgets from around the country curated and delivered quarterly.
Who is it for?
For men who love The Sharper Image.
Customizable?
No.
Cost: $159 every three months (pre-paid $579 for a year)
Best Beer Subscription Boxes for Men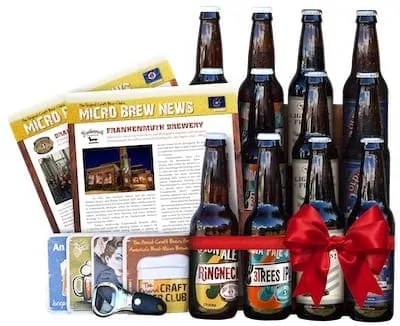 The Original Craft Beer Club does exactly as the name implies: they ship out a collection of the best craft beers from around the country once a month. What's great about this box is that it allows you to sample a variety of beers (curated by the folks at Craft Beer Club) to allow you to taste the best America's microbreweries have to offer. One downside to this is that you have no option to customize what kinds of beers you like, or from what location, which means you may end up with a $42 12 pack of duds. Instead, expect a collection of brews with distinct flavors from unique locations that are guaranteed to make your friends jealous.
Who is it for?
For men who love the latest craft beers and microbreweries.
Customizable?
No.
Cost: $42 a month for 12 beers (additional shipments and number of beers available for additional cost)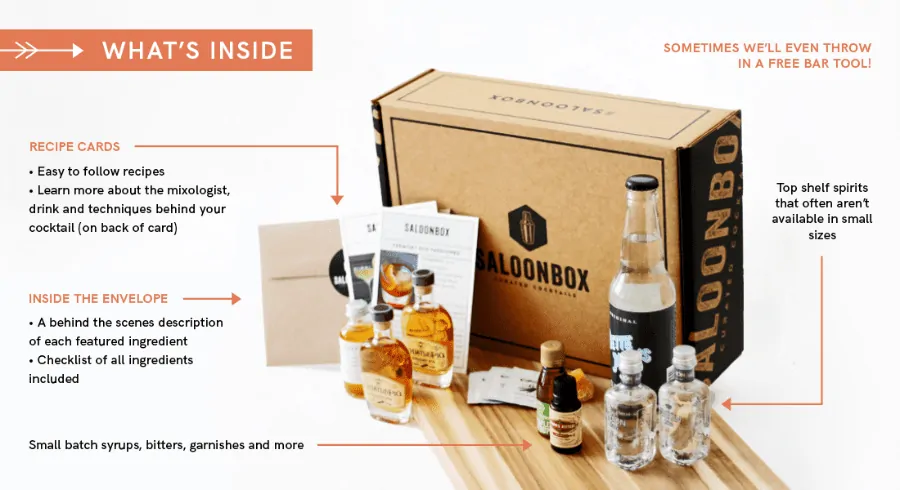 Saloon Box is the perfect collection for at-home bartenders and men who just love cocktails. Inside each box are the recipes and ingredients for two cocktails (previous boxes included the components for Kentucky Mules and Cherry Bombs), a small batch of syrups and garnishes, and small bottles of top-shelf spirits. Each box is seasonally designed, so you can enjoy those light, breezy summer cocktails shipped straight to your door in August and hearty winter drinks in January.
Saloon Box does not offer any customization options for your subscription boxes. Instead, Saloon Box chooses the recipe, the alcohol, and the bitters so you don't have to spend time searching online, scouring liquor stores, and making shoddy mixed drinks. Saloon Box has got you covered.
Who is it for?
For men who are at-home bartenders or looking to class up their drink palette.
Customizable?
No.
Cost: $58.99 a month (pre-paid $158.99 for three months, $305.99 for six months, and $587.99 for a year)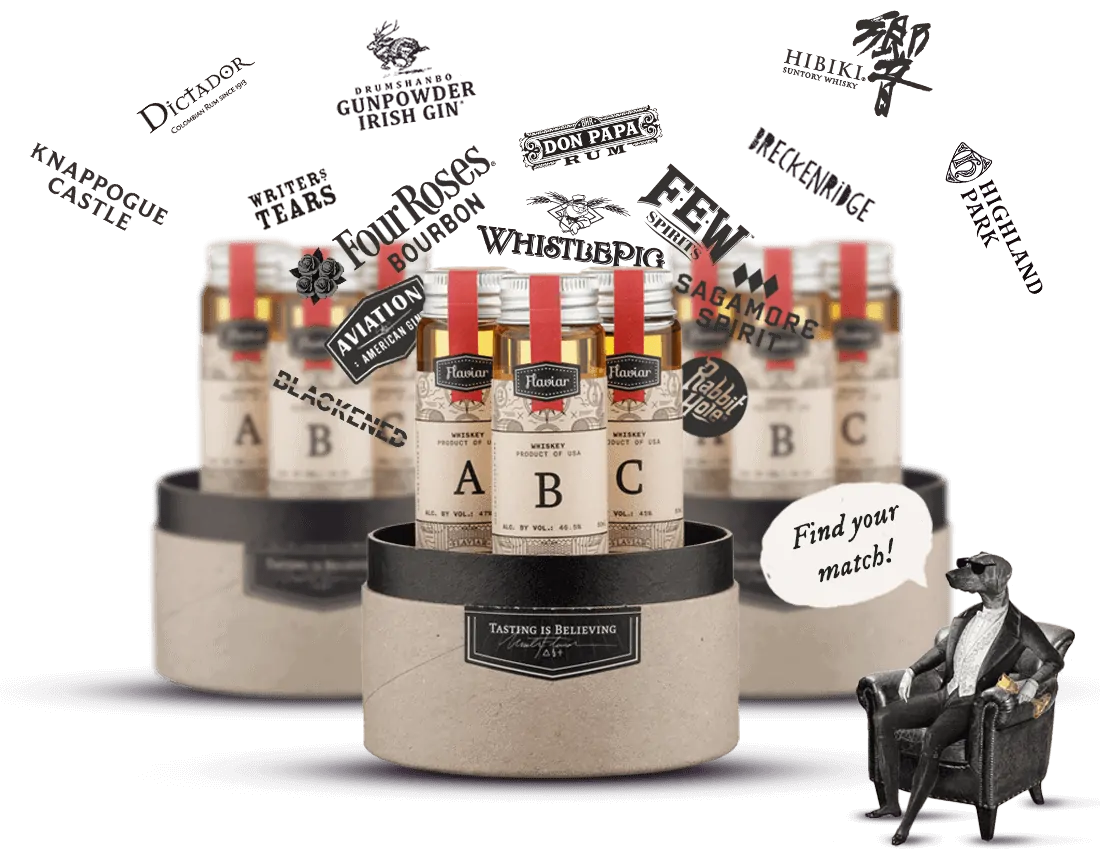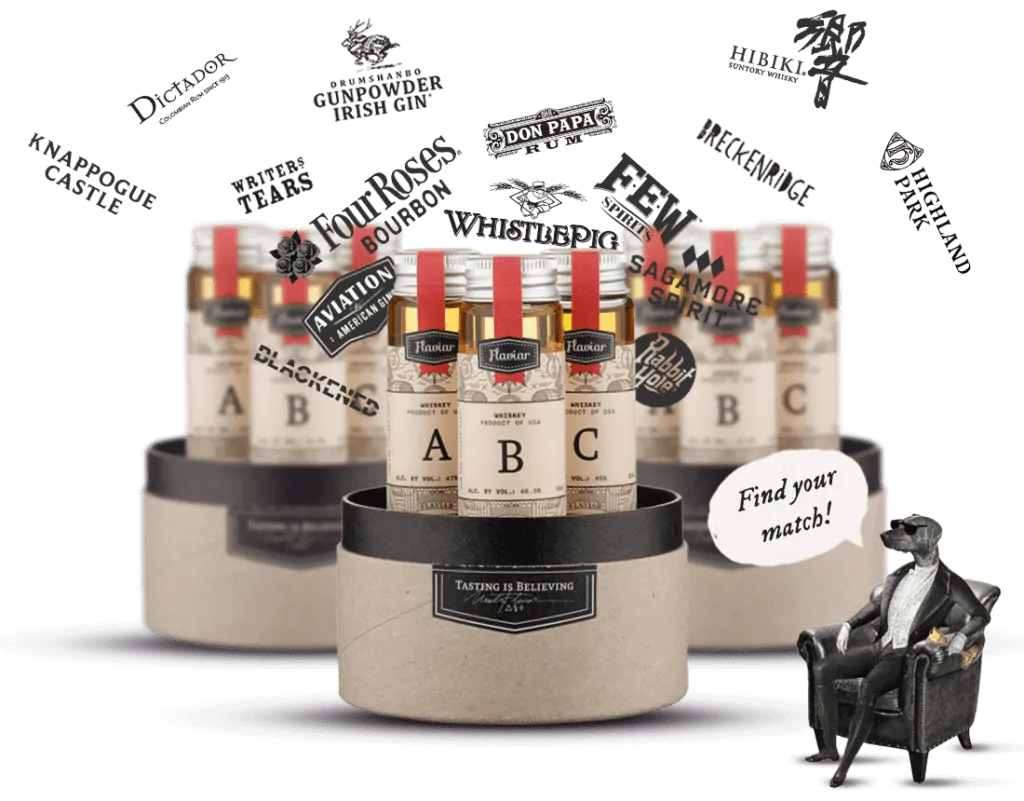 Want a better way to taste fine spirits? Flaviar has you covered as one of the best subscription boxes for men in 2021. Each month you'll get exclusive drinks sent right to your home that you cannot get anywhere else. There's no better way to figure out what kind of fine spirits fit your palette than Flaviar.
You can expect to get one tasting box, 1 full size bottle, and free live tasting events. Flaviar is the best option if you're interested in growing your alcohol flavor palette.
Who is it for?
For men who want to figure out what kind of spirits fit them best.
Customizable?
No.
Cost: $95 billed quarterly, $300 a year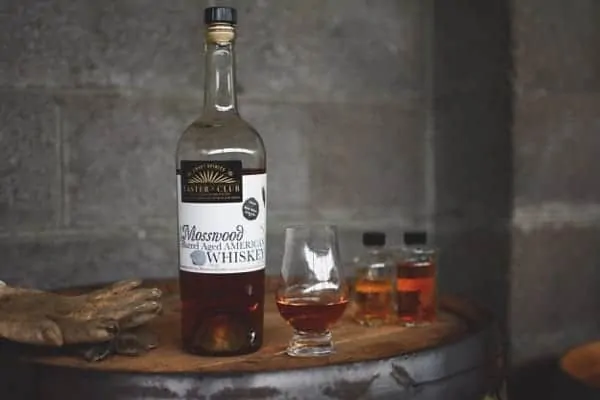 Choose your favorite type of liquor, and Taster's Club does the rest for you. Based on your subscription tier, Taster's Club will send you a 750 ml bottle of the best tasting (and rarest) liquors in the world. With a variety of distilleries at their disposal, Taster's Club allows you to choose from whiskey, scotch, bourbon, tequila, gin, rum, vodka, and wine for your subscription. It's crucial to the company that customers are surprised by which brand liquor is delivered, so Taster's Club doesn't post current shipments on their website.
Who is it for?
For men who know what kind of alcohol they want and are looking for something a little stronger than beer.
Customizable?
Sort of. Choose what kind of liquor you want, and Taster's Club will send you a new bottle every month.
Cost: $44 a month to $79 a month depending on your choice of alcohol
Best Food Subscription Boxes for Men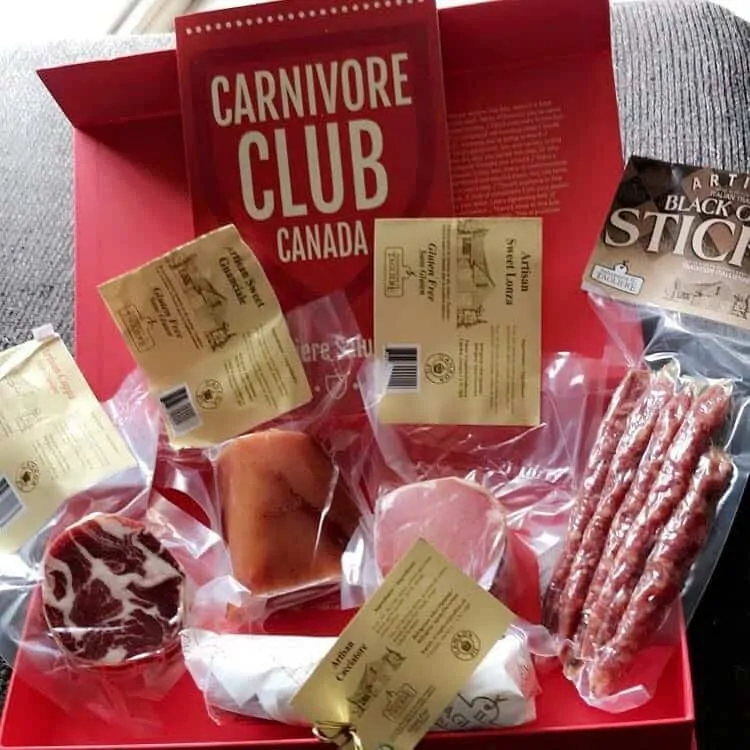 With two subscription packages available, Carnivore Club is precisely what you expect it to be: a subscription box of meat.
The "Snack Box" contains premium cured meat snacks for people on the go, while the more expensive "Classic Box" offers four to six premium cured meats like salami, bacon, and prosciutto.
For example, December's "Classic Box"includes garlic salami, chorizo casero, iberico jamon, serrano jamon, and hot soppresatta sticks. Snack boxes often include jerky's, salami sticks, and other to-go meats.
In other words, this box is the perfect gift or subscription if you're on a keto or paleo diet.
Who is it for?
For men who love to try a variety of meats.
Customizable?
No.
Cost: $24.99 a month for the snack box; $39.99 a month for the classic box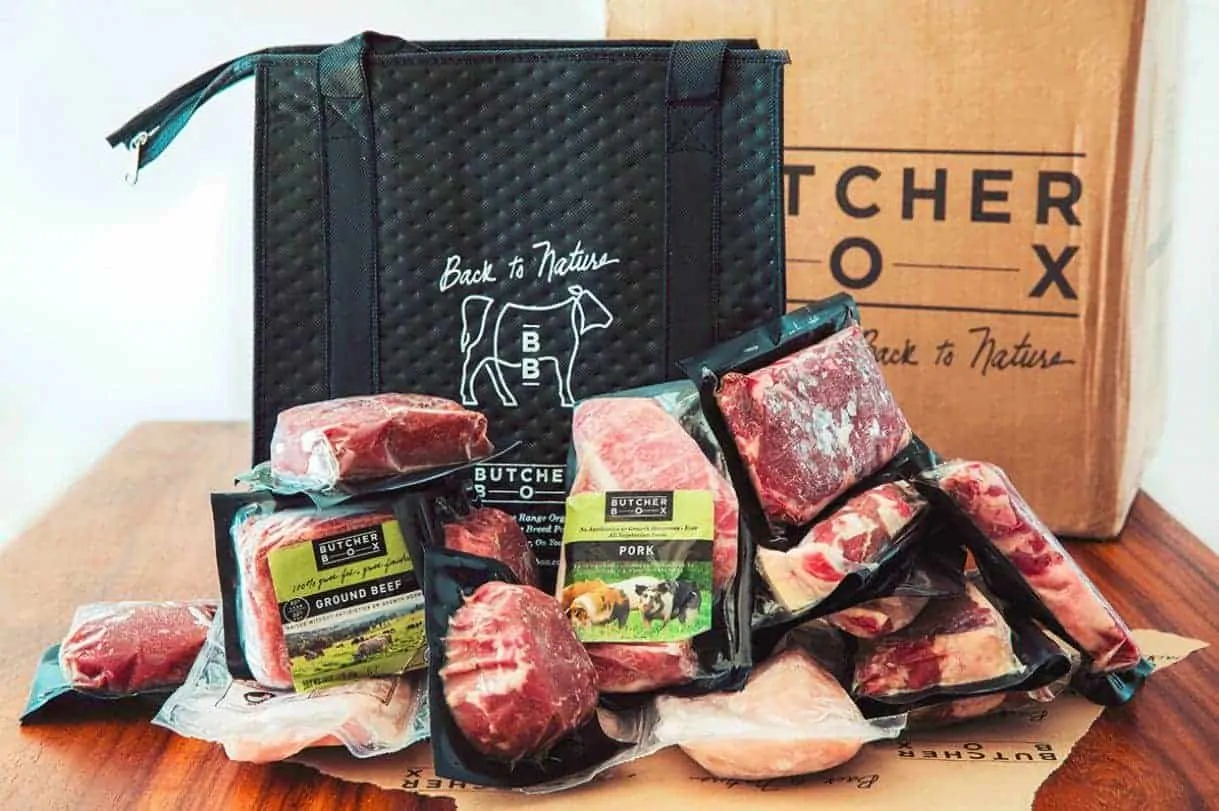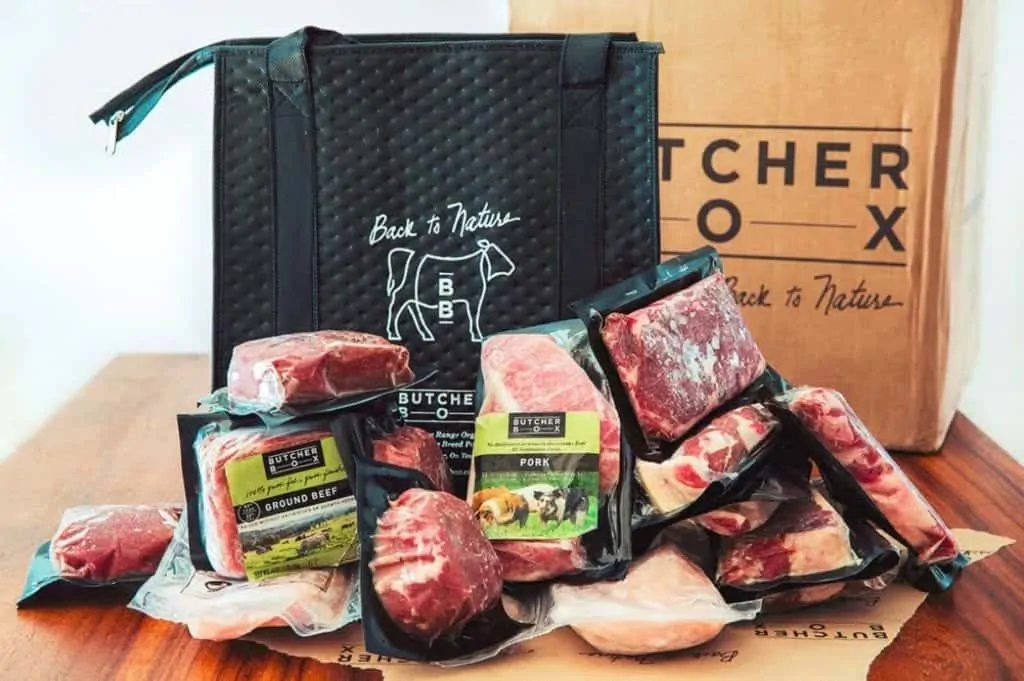 Do you love meat-based meals? Then Butcher Box is for you because each month offers 8-11 pounds of meat delivered straight to your door.
You can choose between beef and pork, beef and chicken, just beef, or a mixed box of all three types of meat. Expect the arrival of drumsticks, strip steaks, and pork chops (depending on your subscription, of course), which are all perfect for men who love to cook meat but don't have the time to go to the butcher for something fresh.

What's best about Butcher Box is the option to customize what meats you get for $20 more a month. You can select up to 21 different cuts, which allows for plenty of options for cooking.
Who is it for?
For men who spend more time at the grill than at the beach in the summer.
Customizable?
Sort of. You can choose a customized box each month with plenty of options for meats and cuts.
Cost: $129 per month ($149 per month for a customized box)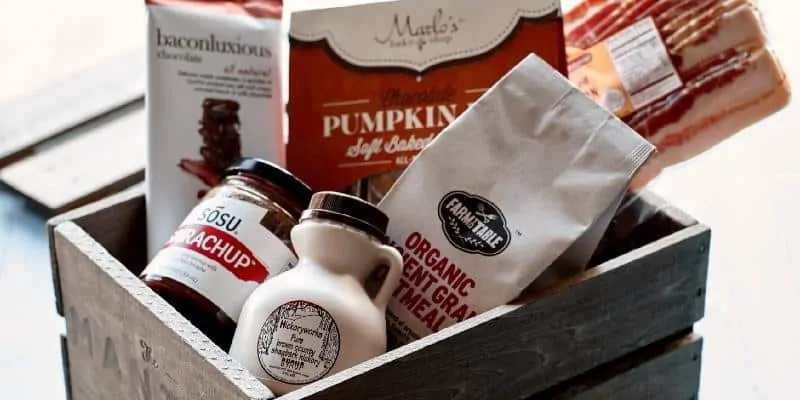 Jerky, BBQ Sauce, and more of America's best artisan foods all delivered in a crate.
Mantry ("the modern man's pantry") is a curated collection of food and drinks built around recipes and meals chosen by the experts at Mantry. Previous boxes included a one-of-a-kind pizza recipe with dough from Arizona, pizza sauce from New Jersey, and smoked pepperoni from Vermont. Each month, expect to engage your taste buds with delicious recipes that are easy to make and delicious to eat.
Whether it's brunch or dinner, with food that comes from across the country, Mantry wants to stake their claim as the best all-encompassing meal package for men.
Who is it for?
For men who love to try new recipes but don't have the time to go to the grocery store.
Customizable?
No.
Cost: $75 a month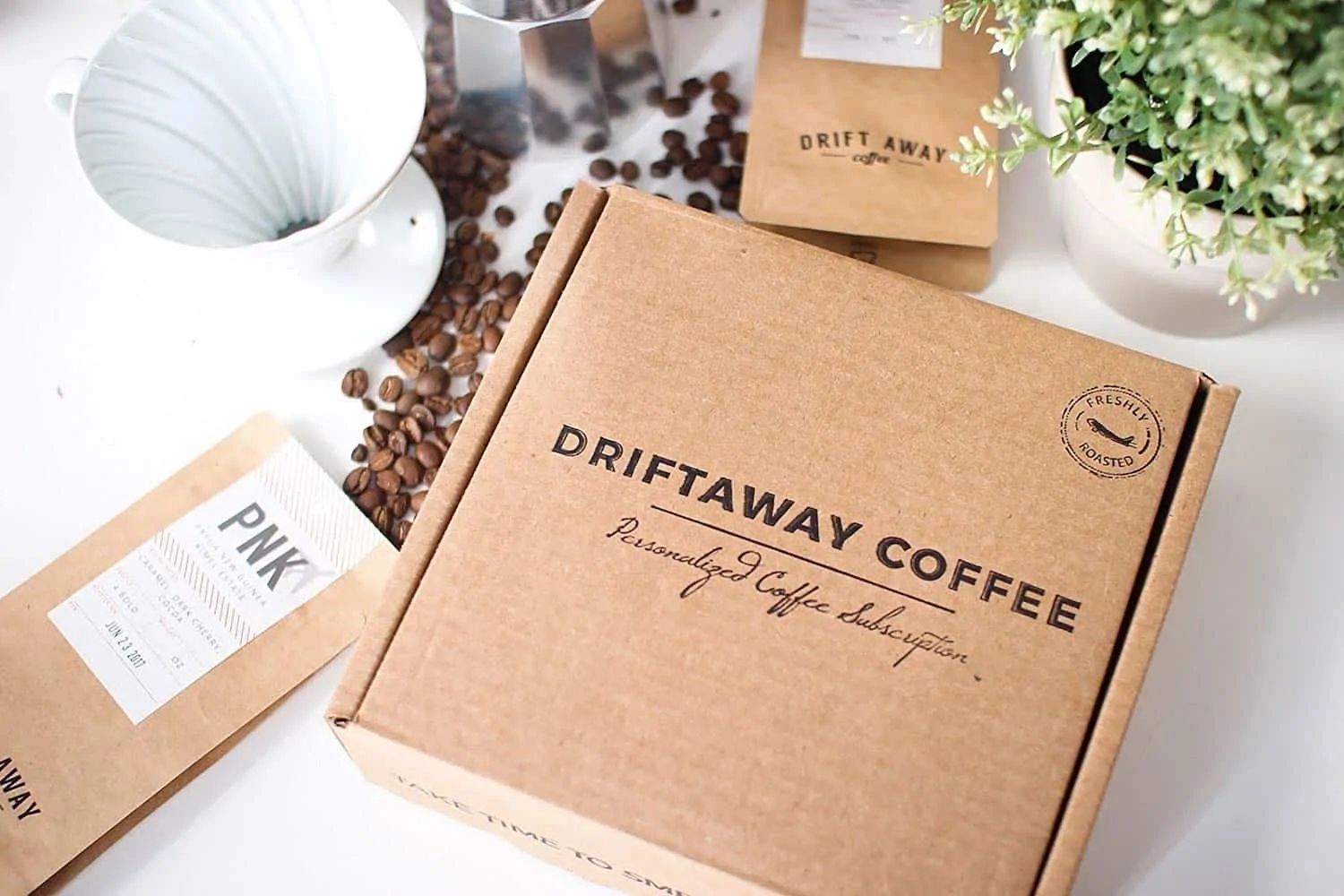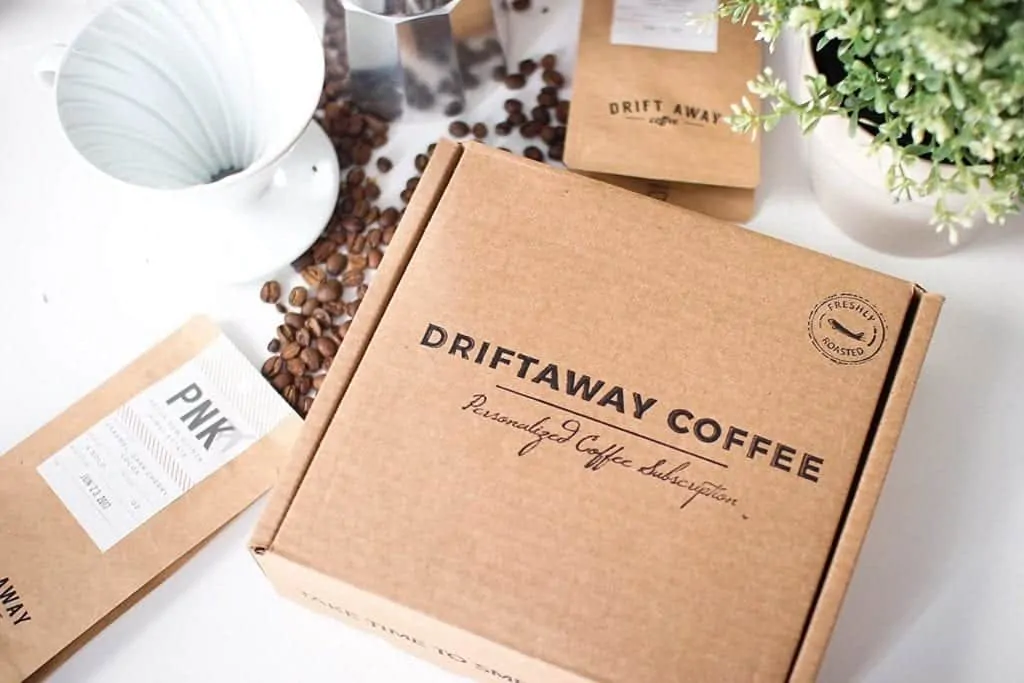 Driftaway Coffee delivers delicious, unique coffee to your home every month.
Each box from Driftaway Coffee offers a collection of whole-bean products curated based on your tastes. Driftaway starts by sending over a few samples of different beans, then you decide what flavors are best, and Driftaway takes over from there.
Depending on your subscription model, you'll receive a freshly roasted package of coffee between seven oz. – 16 oz. portions. Also included in the box is a brief biography of the coffee itself, along with information about the farmer who helped deliver the beans to Driftaway Coffee and to your home. Also, the coffee works with any brewer, including espresso machines.
Who is it for?
For men who need their morning dose of caffeine.
Customizable?
No.
Cost: Varies from $44 every three months to $532 for the year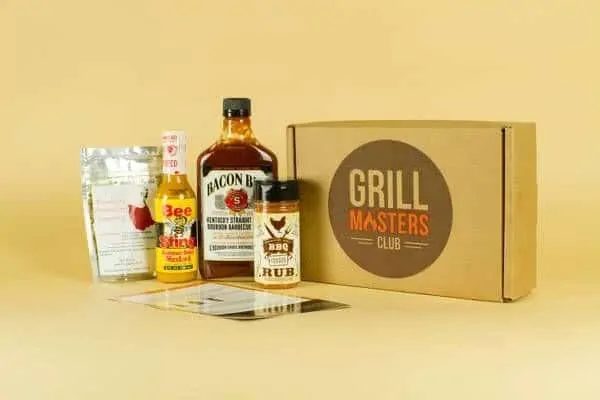 If you're gonna cook some BBQ, you're gonna need the right grilling tools. Grill Masters sets themselves apart as they don't send you the meat itself. Instead, they send you a monthly collection of sauces, rubs, marinades, and grilling accessories to take your grill game to the next level.
Each month, expect to receive four to five items that were researched, taste-tested and vetted by the experts at Grill Masters. This subscription box gives even the most experienced of grillers an opportunity to try out some new recipes and styles for their old classics.
Who is it for?
For grillmasters who want to experiment with new sauces and gear.
Customizable?
No.
Cost: $29 a month ($86.97 for three months, $161.94 for six months, and $299.88 for a year)
Best Grooming Subscription Boxes for Men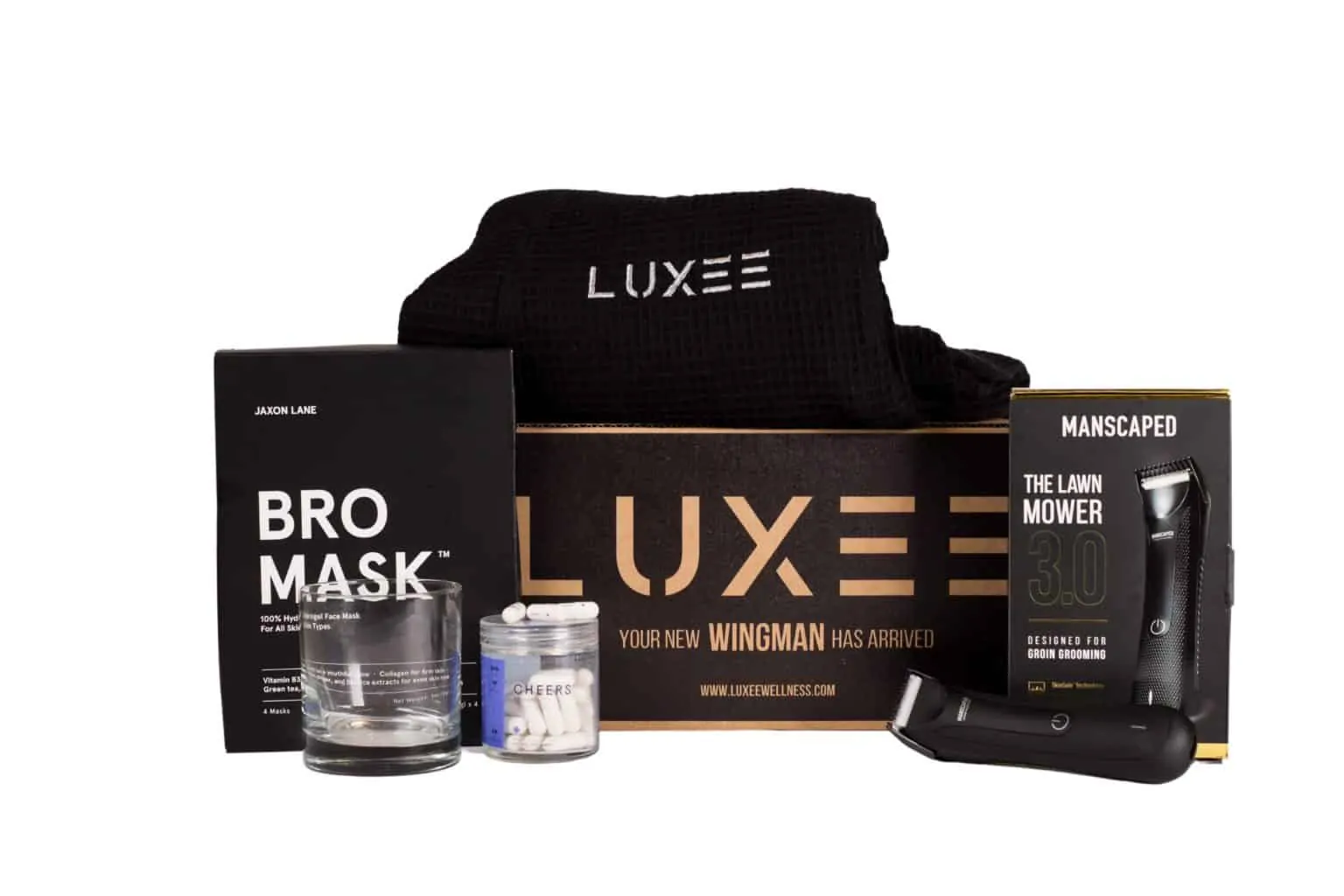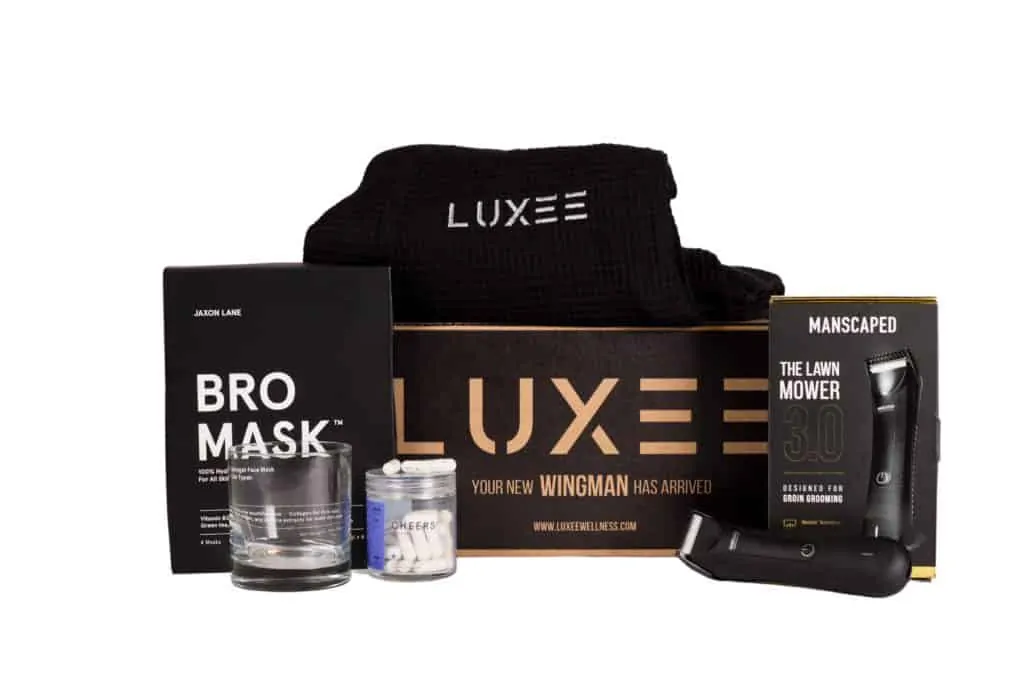 Luxee is the ultimate toolbox for men. There's no better self-care subscription box for men that exists because the Dudes who run Luxee understand what men need. Every quarter, you can expect to get a bevy of items that run the gamut from hangover prevention vitamins to something as big as a Manscaped razor. Seriously, you're getting good quality stuff here.
Help out a good cause and pick up Luxee for yourself, or your partner. Trust me, you won't regret it.
Who is it for?
For men who practice self-care.
Customizable?
No.
Cost: $90 per quarter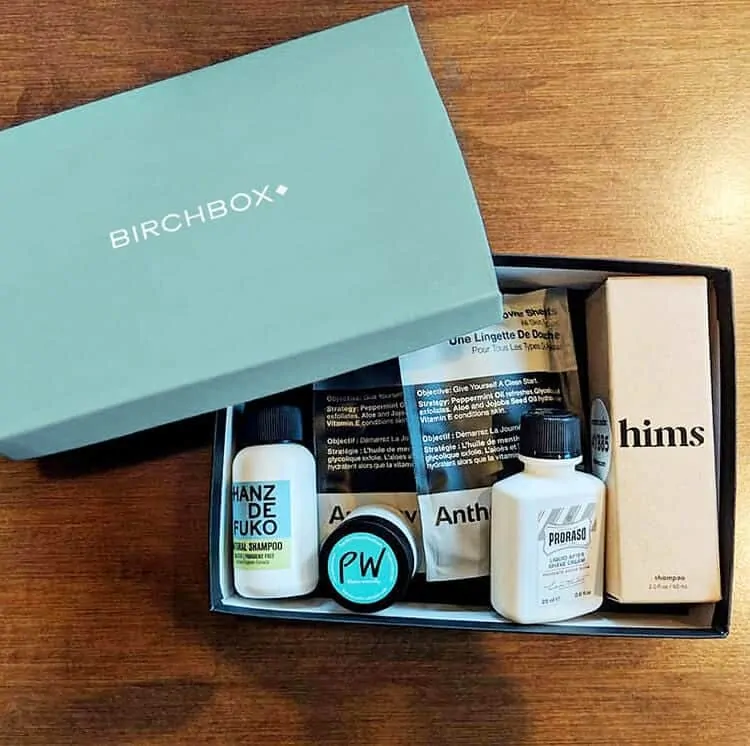 Who says a man can't be pampered? Soft skin is for everyone. Simply set up your account, fill out your grooming profile, and BirchBox for Men takes care of the rest. BirchBox for Men delivers five top-shelf grooming samples alongside the instructions on how to use them. Some boxes will include anti-aging moisturizers, beard care supplies, or hairstyle essentials.
And if those aren't enough, for an extra $10 a month, you can sign up for BirchBox Grooming Plus, which includes everything in the original BirchBox Grooming box plus a hand-picked, full-sized lifestyle item ranging anywhere from a handy tool to a cool gadget.
Who is it for?
For men who want to up their grooming game but don't know where to start.
Customizable?
No.
Cost: $10 a month (pre-paid $60 for six months, $110 for a year)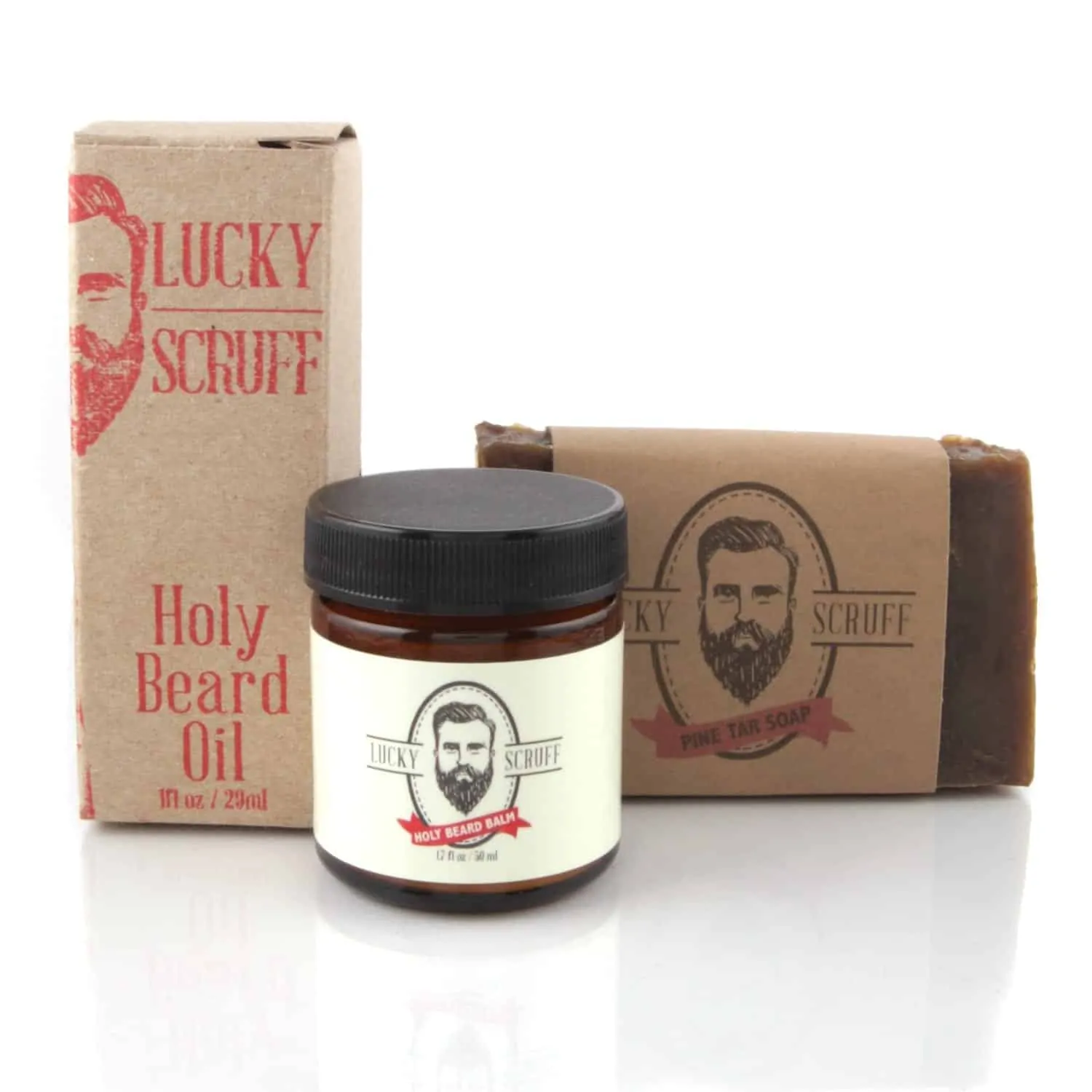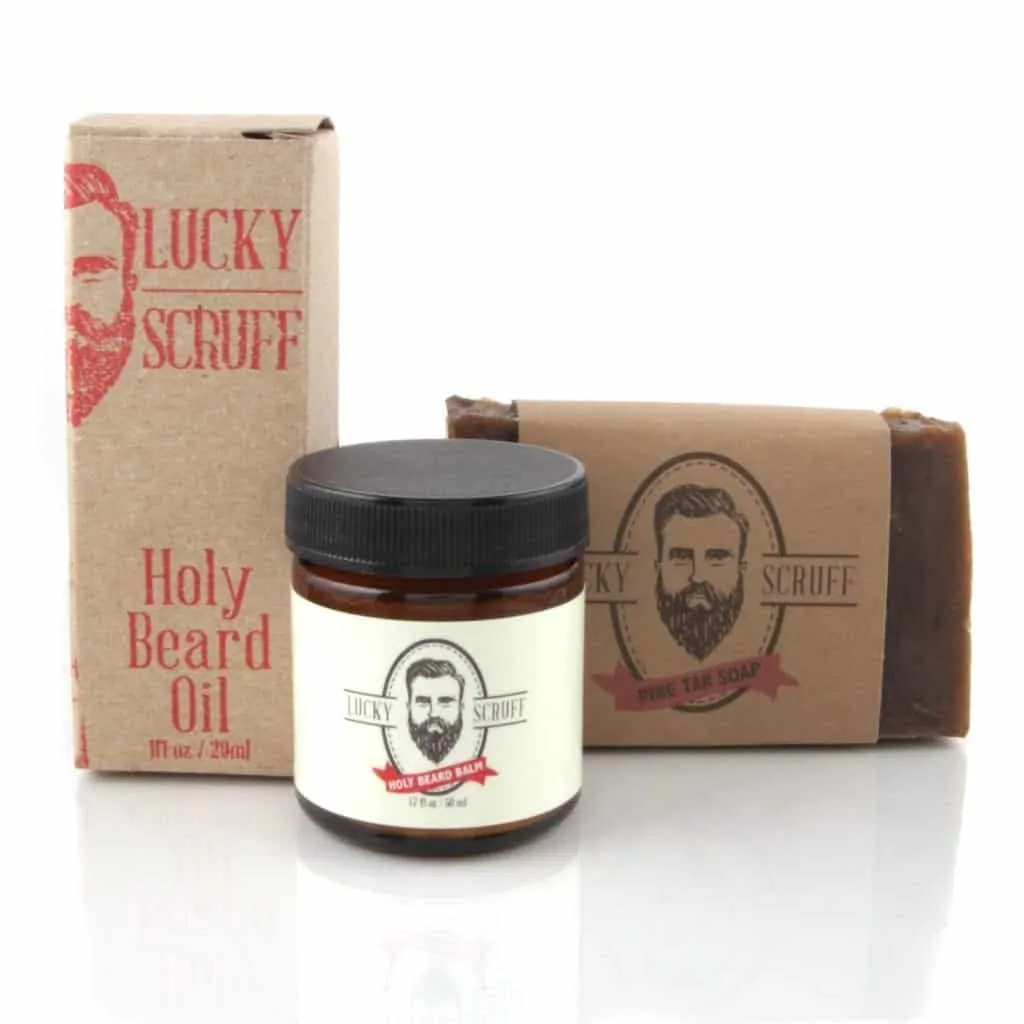 It can be difficult to find top notch beard and mustache care products, and that's where Lucky Scruff comes in. Every month, Lucky Scruff delivers a box that could include beard balms, beard oils, and any beard/mustache related gadget you could possibly need. Every month, you can expect specific beard/mustache care items to make sure your facial hair feels healthy, smells good, and looks even better. Previous boxes have included mustache wax and beard scissors.
Who is it for?
For men who love their beards.
Customizable?
No.
Cost: $20 a month
Here are some other subscription boxes that we looked at that didn't quite make the list this year:
Which boxes did we miss? Do you use and love any of these boxes?
Leave a thoughtful comment below to let other readers know what you think and to help us update this list annually.