Anyone who's read our men's fashion guide knows that every man needs to own a good suit in their wardrobe. And even though we're stuck inside, it's only a matter of time until it's wedding season again, and you'll need to bust out your most elegant attire. What better time than now to start thinking about how you're going to spruce up your fashion game with an all-time classic suit?
Buying a suit is intimidating. You usually aren't buying one for anything other than a significant life event, so the pressure is on to make sure you get the right one. What's a man to do when there are so many options available?
When I struggled to find new outfits for work, I spent a lot of time on Pinterest, just looking at different options featured in movies and television. So for this article, I reached out to some friends to help me pick out the best suits in movies, and I've made sure to include links to where you can buy them.
It's all about fit.
Can't say it any other way, the guide to a perfect suit begins and ends with the fit. You can rarely buy a suit off the rack and have it look incredible right away; your best bet is to take your outfit to your nearest tailor and get it fitted for you.
Men's Wearhouse has a tailor in-store that offers to do fittings as soon as you buy the suit, but you can find a tailor almost anywhere. Before hitting up the first one that pops up on your Google search, I'd first ask your friends for some recommendations. There's a good chance they know someone who knows someone who might know a thing or two about getting the best look out of your suit.
Always remember, fit makes all of the difference.
Damn, I've never seen that color blue.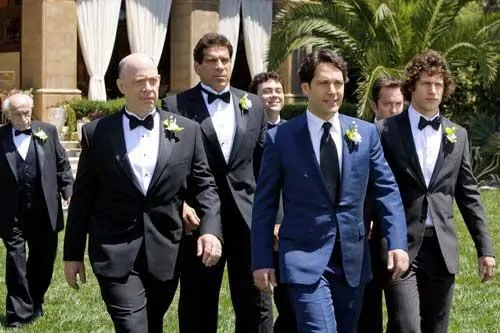 It's your special day, a (hopefully) once in a lifetime event that'll be forever captured in photos and memories. So why not spice up your look a bit and go for a blue suit like Paul Rudd's character in I Love You, Man. Now, if you look at his suit, Rudd's character moves away from the more traditional Navy colored outfit for a more cobalt colored suit coat and pant set, which easily ranks it as one of the best suits in movies.
TheBlackTux.com says that while navy suits are more traditional, "blue wedding suits are also an ideal choice for daytime weddings, and spring or summer weddings."
Also, pay attention to how Rudd's blue stands out from his groomsman's more classic black tuxedos. Not only in color but style as well: the groomsmen are wearing more formal attire with bow ties while Rudd is rocking a black necktie. Details like this will help make the groom stand out during any wedding ceremony. I mean, who says the bride is the only one who gets to look amazing on their wedding day?
Where can I buy it?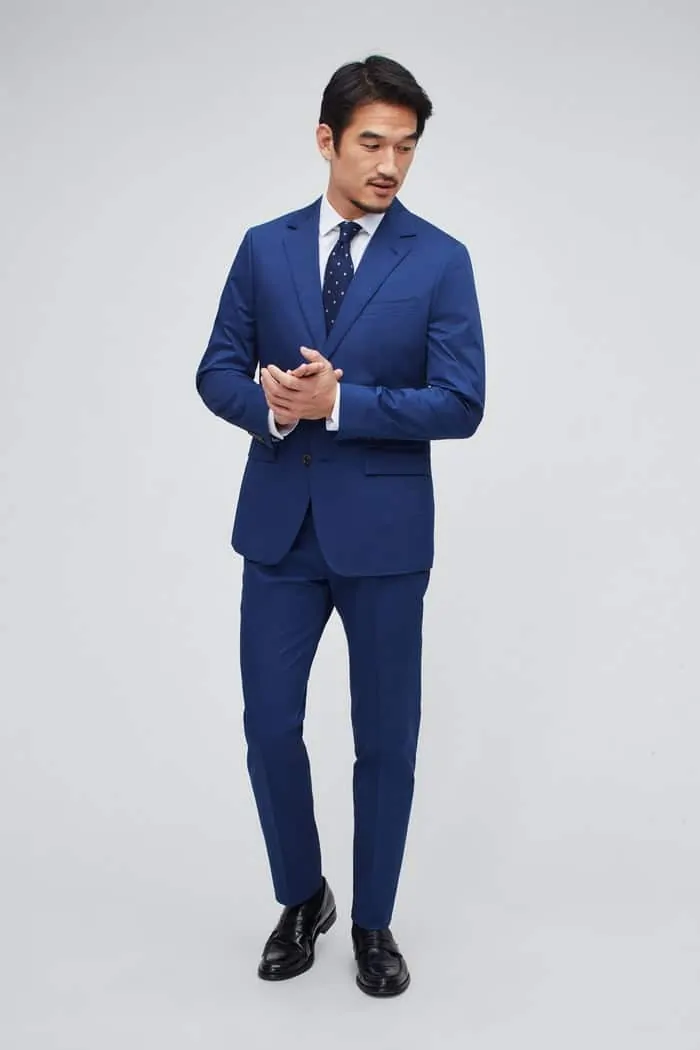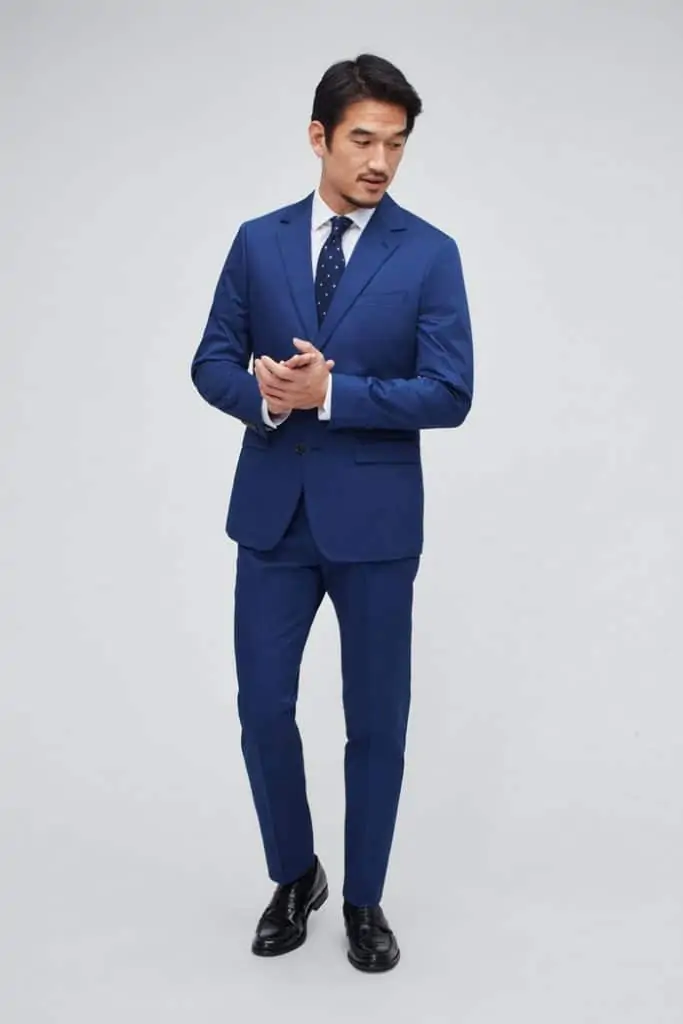 I'm a big fan of Bonobo's Italian Stretch Cotton Suit Jacket (in descending blue) for $350. It's a slim fit, so the jacket will be cut closer to the body, more narrow around the waist, and offers a tighter fit in the arms. The blue is a slightly lighter shade than the one Rudd wears in the film, but just as eye-catching.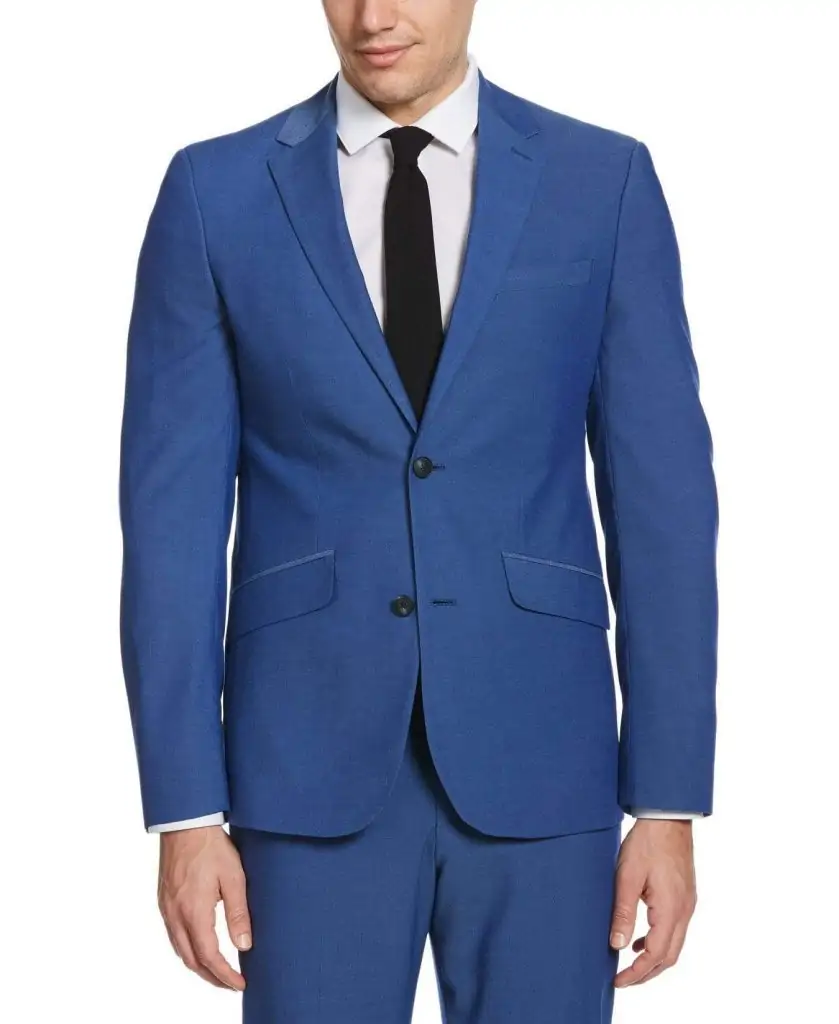 If you're looking for something a little lighter, you can also look for at the Perry Ellis Slim Fit Bright Blue Suit Jacket that's currently on sale for $150 (including pants purchased separately). One suggestion though before purchasing a cobalt suit for your wedding is to make sure that you are matching with the bridesmaids, and hopefully the color scheme of the wedding. It's one thing to stand out in the right way; it's another thing to stand out in a flashy way.
As with most decisions regarding your wedding, talk to your partner first.
A suit made for a spy.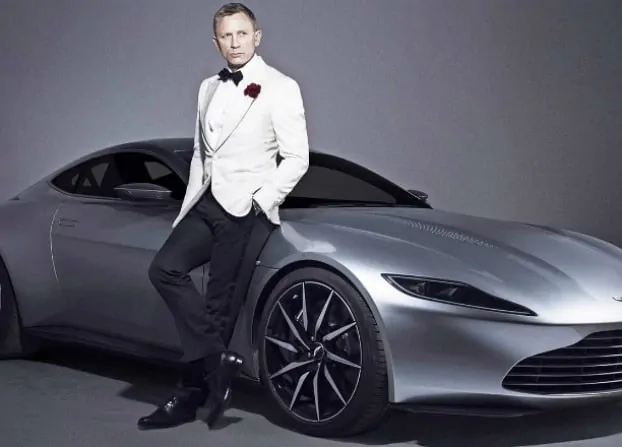 There's no better dressed secret agent in the world than James Bond. When you think of the iconic super-spy, you remember the action, the PP7, the fact that none of your friends should play as Oddjob in Goldeneye. But most importantly, James Bond is all about the style. From the midnight blue Anthony Sinclair suit Sean Connery wore in Dr. No to Piers Brosnan's cream suit in The World is Not Enough, there's just something about the way MI6's finest rocks his formal wear that gets the people going.
But when we're talking about suits that stand out, few stand out more than Daniel Craig's white Tom Ford tuxedo from Spectre. An ode to Connery's white tuxedo in Goldfinger, Craig's version is also complemented with a red rose lapel on the chest. Spectre costume designer Jany Temine told Twitter, "I took my inspiration from Humphrey Bogart in Casablanca."
If you're looking for more information about James Bond's film fashion, I highly recommend visiting Bond Suits. The founder of the site, Matt Spaiser, has done an incredible job cataloging all of the best looks from every James Bond film. Seriously, it's impressive. Check it out.
Where can I buy it?
Like all of the Daniel Craig Bond films, our titular hero is wearing Tom Ford. Ford told the media, "I could not be happier to be dressing Daniel Craig as James Bond again in the upcoming film, No Time To Die. James Bond epitomizes the Tom Ford man in his elegance, style, and love of luxury. It is an honor to move forward with this iconic character."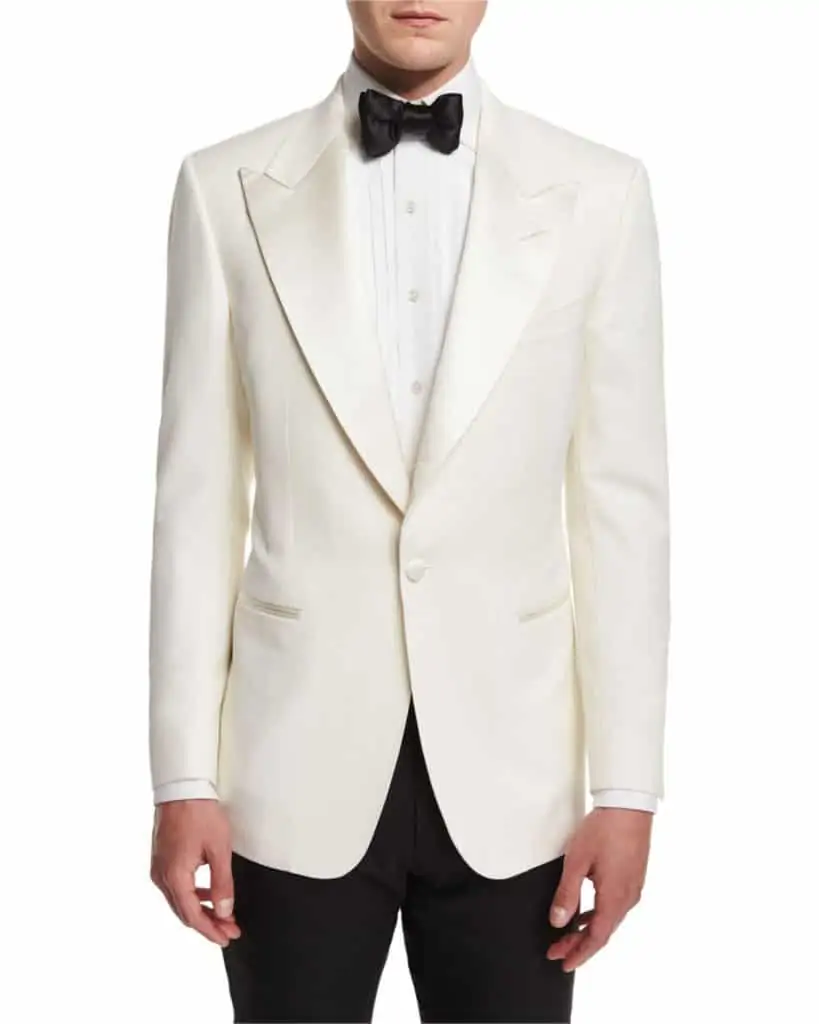 As for purchasing this particular look, it might be a bit difficult. The James Bond Collection for Spectre is no longer available online, and the closest Tom Ford white tuxedo for purchase was this Windsor Base dinner jacket for $3,740 at Neiman Marcus. You'll notice the differences right away, though, as Bond's tuxedo jacket has two buttons, while this only has one.
Jos A. Bank sells a Tailored Fit Formal Dinner Jacket for the much more reasonable $149, but it lacks the flair of Ford's creation. Another option is the Ludlow Slim-Fit Dinner jacket from J. Crew for $525.
Fashionable yet simple.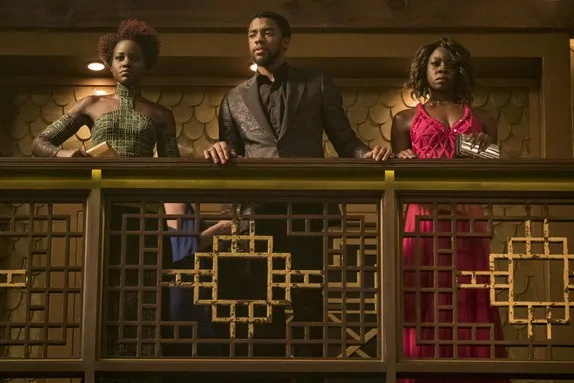 Black Panther sits at the top of the list when it comes to fashionable Marvel Studios films. The movie's costume designer, Ruth E. Carter, won an Academy Award based on the future-forward garb worn in Wakanda. From T'Challa's Black Panther costume to Erik Killmonger's choice of a shearling-lined jean jacket, Carter wanted to make sure that every detail was poured over before hitting the big screen.
This may be no more noticeable than the film's nod to Britain's favorite secret agent, James Bond. The three main characters played by Chadwick Boseman, Lupita Nyong' o, and Danai Guriri enter a casino and ends up with one of the best fight scenes in Marvel history. But on top of that, look at that fashion. Director Ryan Coogler wanted their entrance to be red, black, and green, and as for T'Challa's style, Carter explains, "He needed to be fashioned as a leader, so you didn't want anything to be out-of-place. You wanted to keep everything very simple."
And I mean, come on. Look at that suit jacket. Going tieless can work. There's a particular element of bad-ass that comes by bucking the fashion rules and going tieless. But what stands out is the beautiful embroidery on Boseman's jacket. It adds just a hint of silver reflection under the light that directly contrasts with his black undershirt and lapels. The jacket exudes elegance while also looking just cool enough not to seem overdone at a casino.
Where can I buy it?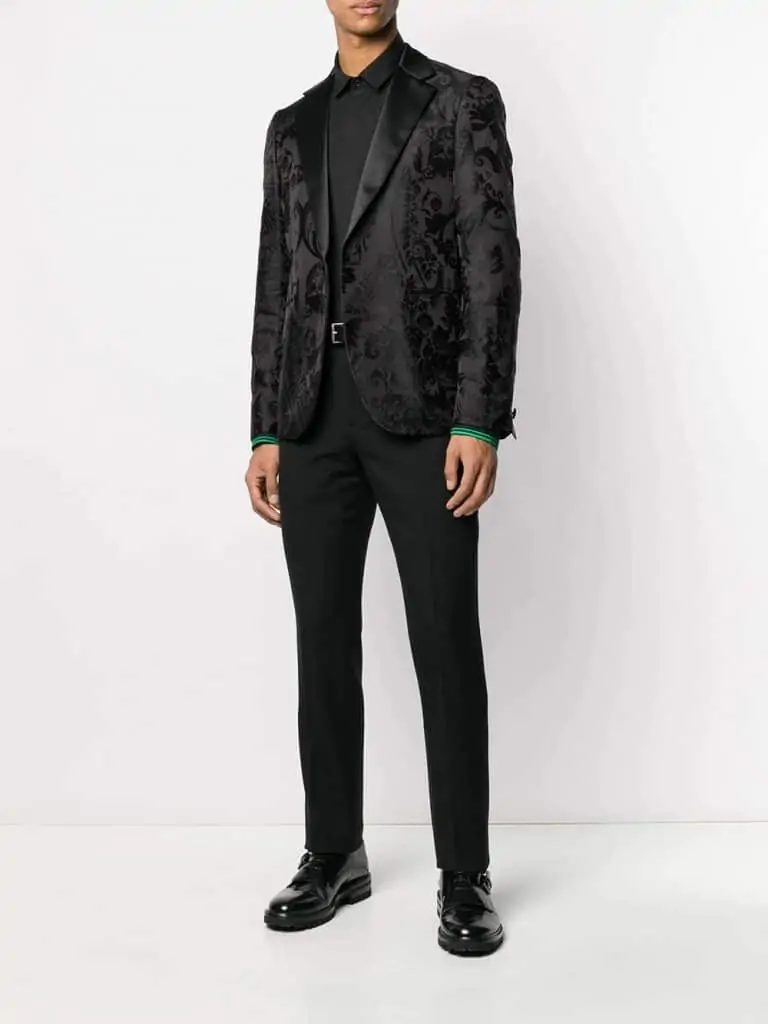 This was probably the hardest article of clothing to find as much of the fashion talk surrounding Black Panther is about the women (and understandably so). But eventually, I came across Spotern, a website dedicated to identifying articles of clothing in film and found a near-identical Christian Pel­liz­zari Jacket. Unfortunately, like a lot of these movie suits, this particular jacket seems hard to find on sale and is currently out of stock. There are a couple "similar" pieces on sale, including this Versace jacket, but it looks a bit gaudy in comparison.
A simple search did pop up this Lyst store offering a selection of embroidered suit jackets that are similar, but not quite as elegant as T'Challa's. If you're looking for the real thing, you might just need to wait it out a bit longer.
Don't be afraid to go old-school.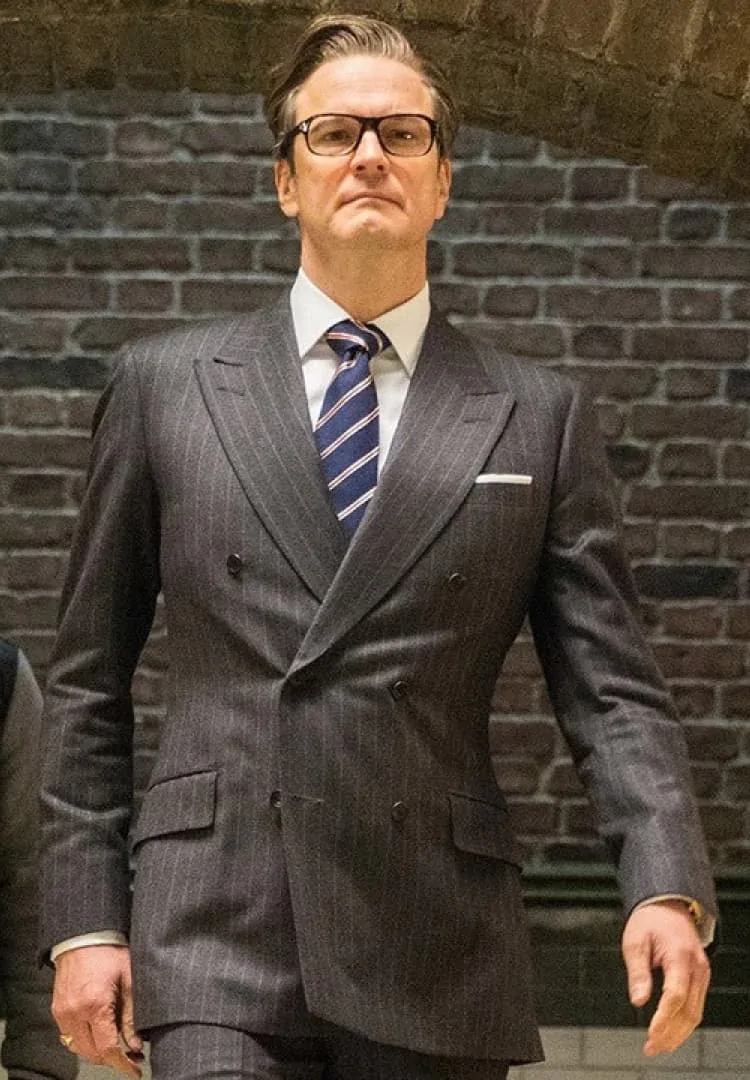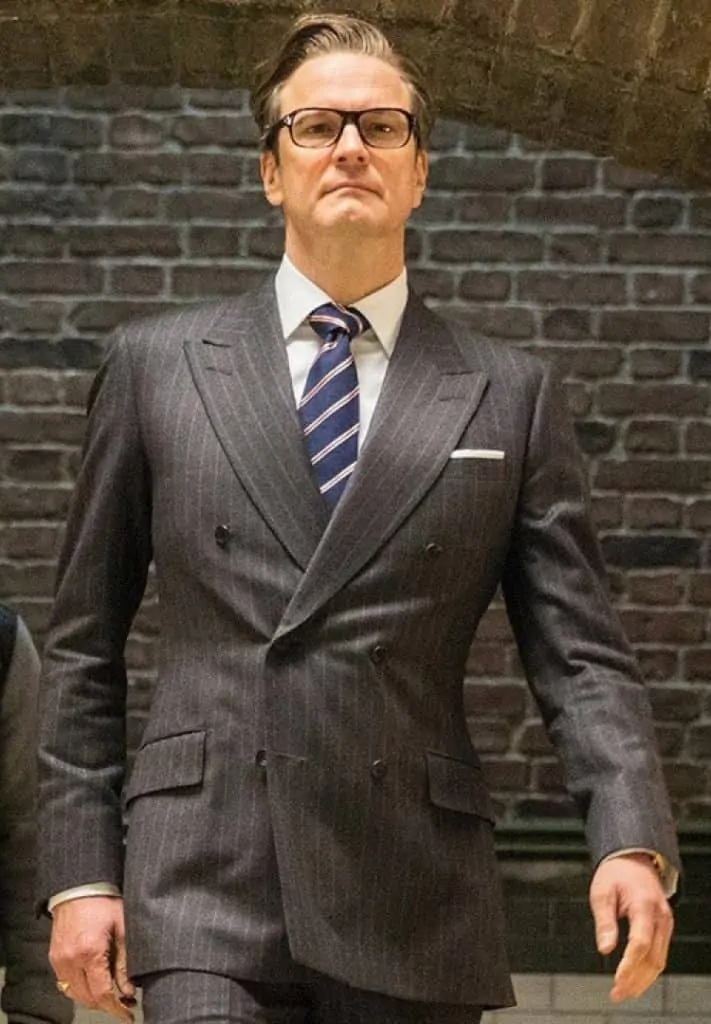 Let's keep it going with stylish English actors who play spies in movies. Academy Award winner Colin Firth, best known for his role in The Kings Speech starred as Harry Hart in the wildly successful Kingsman: The Secret Service. And when people remember Kingsman, it's usually about the impeccable fashion put on display by Firth and co-star Taron Egerton.
Director Matthew Vaughn asked his costume designer, Ariane Phillips, to produce a clothing line that could be used in the movie while also being on sale to the public. Vaughn said, "To be blunt, there aren't many clothing options for men like me, in their 40s. Suits are cut super-skinny and tight, or they're very traditional. I realized there's no men's line smack dab in the middle." So in collaboration with a variety of British clothing companies came the costumes for Kingsman.

One thing to pay attention to with Firth's suit game in the film is that he is typically wearing a double-breasted suit coat, a classic ode to the peacoats "worn by servicemen in European and North American navies."
Where can I buy it?
Phillips, in an interview with W Magazine, said that it isn't necessarily the suit that's the most crucial part of the outfit, but the tailoring. She said, "Proper tailoring makes up for so many flaws in a man's body." And Phillips is right; a well-tailored suit is what separates most men who buy suits. So the next time you purchase a suit off the rack, make sure it is tailored before you wear it out in public.
But let's not forget why we're here: Colin Firth's suit game. Mr. Porter is the official retailer of Kingsman and have a full storefront dedicated to clothing worn and inspired by the film. The store sells a version of Firth's Grey Slim-Fit Double-Breasted Herringbone Wool and Cashmere-Blend Suit Jacket for $1,530. If you're looking for the real deal, this is as about as close as you're going to get.
If you're looking for a double-breasted suit coat, Combat Gentleman has a more affordable Grey Double Breasted Slim Fit Suit for $132. The colors don't quite line up, and the quality will not be as good as the options from Mr. Porter, but excellent tailoring can make this $132 suit look like a much more expensive one.
You can wear white after labor day.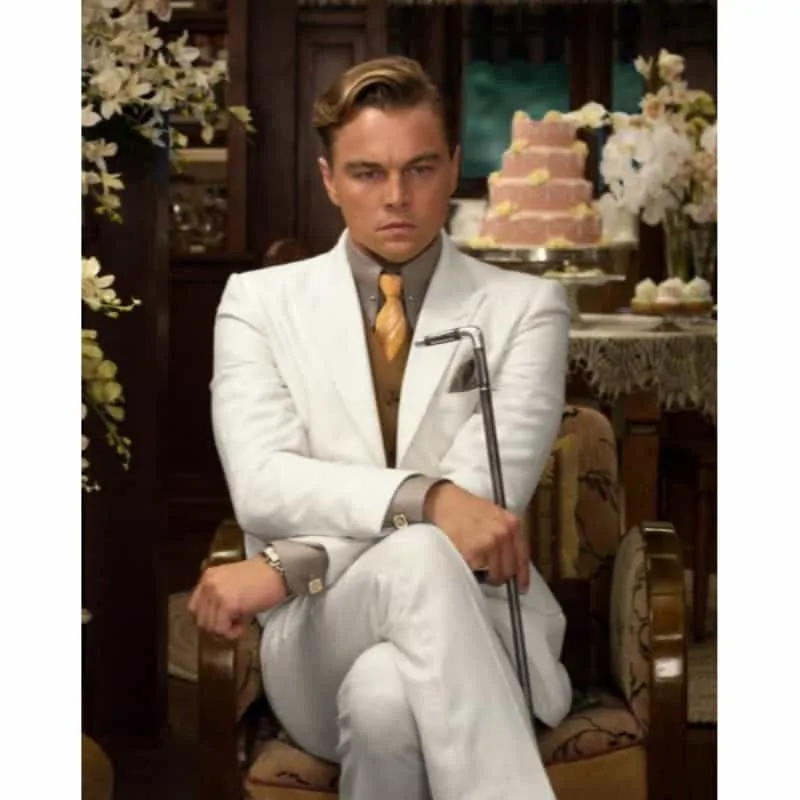 "The flowers were unnecessary, for at two o'clock a greenhouse arrived from Gatsby's, with innumerable receptacles to contain it. An hour later the front door opened nervously, and Gatsby, in a white flannel suit, silver shirt, and gold-colored tie, hurried in. He was pale, and there were dark signs of sleeplessness beneath his eyes." – F. Scott Fitzgerald
When we first imagined Jay Gatsby in 11th grade English Lit, we like to imagine his wealth, his parties, his Daisy. And after casting Leonardo Dicaprio in the titular role of The Great Gatsby, it's impossible not to see the naive millionaire as anyone else.
For the fashion in the 2013 film, Brooks Brothers supplied 1200 suits for just the men in the movie. While costume designer Catherine Martin was allowed to take ideas from the entire 20's decade, "the costumes for the men, we erred on closer to the beginning of the decade because we went for a much slimmer silhouette." And there's no better evidence of this than Jay Gatsby's infamous beige and gold suit.
BAMF Style published an incredibly detailed breakdown of Gatsby's iconic white suit, so I won't try to list out everything they've already written. But to simplify it: the ivory suit immediately pops in a way that a black, or grey suit cannot. Mix in the brown tobacco vest and you have a bold outfit that'd make Tom Wolfe proud.
Where can I buy it?
Brooks Brothers announced "The Great Gatsby Collection" in 2013, but sadly, the collection is no longer for sale. Brooks Brothers don't even sell white/ivory colored suits anymore. A quick Google search reveals that if you're looking for an ivory-colored outfit, your options are going to be limited.
There are a few replica suit jackets available through Film Jackets and Angel Jackets, but I'd hold off on purchasing any kind of suit from a non-reputable source.
So to replicate this look, you are going to have a hard time finding an ivory-suit that works in the same way. Your best bet would be to hit your local thrift shop or check on eBay if you're desperate.
Make your colors pop.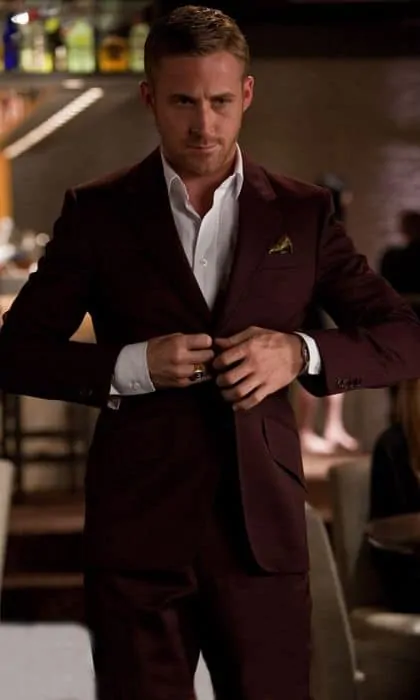 I consider Ryan Gosling to be a fashion icon because, without him, no one would wandering around Buffalo wearing a $150 sain scorpion jacket. And no one can forget his incredible style in one of my favorite romantic comedies, Crazy, Stupid, Love. Gosling plays Jacob, a modern-day casanova who finds himself as something of a mentor for the struggling Cal (Steve Carell).
Most women probably remember the scene from the trailer where Jacob takes his shirt off for his romantic interest for the night, Hannah, I remember something else: Gosling's burgundy suit. Now I've seen different actors pull off different colored suits (Daniel Craig's green suit comes to mind), but this burgundy suit looks like perfection and is easily one of the best suits in movies.
The film's costume designer, Dayna Pink, told GQ magazine, "he's going to be edgier and hipper, without being a hipster. I never thought he was a hipster. He was just cool, you know?… Ryan was a lot of more modern designers." And when it comes to suits, it's hard to find something edgier and hipper than a burgundy suit.
Where can I buy it?
Like I've said for other posts and suits, fit here is critical. These are some beautiful suits, but what makes them stand out is how well they fit Gosling's body. So get yourself to a tailor.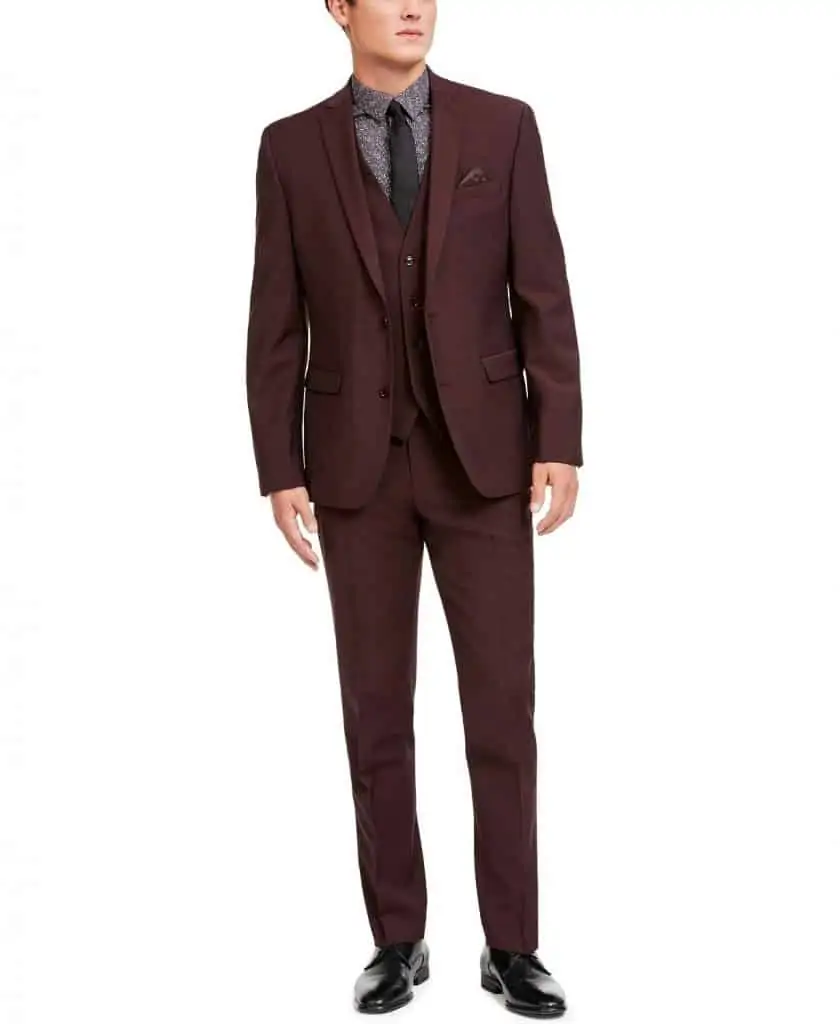 If you're looking for a suit similar to what Gosling wears in the film, I'd check out this Bar III Slim-Fit Active Stretch Suit at Macy's. I actually own a navy version of this suit and I loved the fit of it from the moment I took it off the rack. The other nice thing about this suit is that Macy's usually has big sales on their suit separates, so you might be able to snag this one for around $150. It's easily one of the best deals around when it comes to buying suits.
Conclusion
Whenever purchasing a suit, focus on three things: comfort, style, and fit. Don't be afraid to take a risk (as long as the suit matches the event type, don't wear something flashy at a funeral per se). Good luck, and stay stylish dudes.
What do you think are the best suits in movies?
Make sure to follow us on Facebook and Twitter!
If you enjoyed this, be sure to check out some of my other pieces here on Dudefluencer:
Men's Fashion Guide for 2020
The Best Ethical Men's Suits
The Manly Man's Guide to Rom Coms