Disclosure: This website is reader supported. If you click on a link, I might make a few bucks. Read our disclosure page for more information.
You might have spent New Year's Eve 2020 indoors, but hopefully 2021 will be different and we will be out with our friends in no time. That being said, while your finest suit was gathering dust in the closet, a whole new batch of eco-friendly suits have hit the market to make sure you look good and protect the Earth at the same time.
If there's one thing I learned from my chat with Anthony Orisses, it's that once quarantine is over, more people than ever will be going out dressed to the nines. That's why I looked for the best eco-friendly suits for 2021 so you'll be more than ready for any get-together in the new year.
Why does sustainable fashion matter?
We will create 148 tons of fashion waste by the year 2030. That's 148 Chevy Sparks or around 60 hippopotami. To quote Lil Dicky for a second, "We love the Earth, it is our planet," but if we don't start thinking about sustainable clothing and the waste it produces, the Earth we love won't exist anymore. Like so many of our experts featured in our Ultimate Men's Fashion Guide said, sustainable fashion is the future, and where better to start than with formal wear?
A well-tailored suit is a must for any dude's wardrobe, but with so many formal options available, it's challenging to find the right suit, from the right brand with the right morals. That's why I scoured the internet to find sustainable fashion companies who care about the environment while also delivering high quality, ethical men's suits. But why does sustainable fashion matter?
Simple: because every dude's closet deserves to feature long-lasting clothing that isn't going to rip or tear after it's first wash with the added benefit of helping out the planet.
Sustainable, or ethical fashion is "clothing, shoes, and accessories that are manufactured, marketed and used in the most sustainable manner possible, taking into account both environmental and socio-economic aspects." For a company to produce an article of clothing that is considered ethical, there are some requirements. The materials used must be designed with the intention of a long-use cycle (including repairs, or re-using the product material) as well as the minimization of any adverse environmental factors.
Matthew Zorpas of The Gentleman Blogger advised, "For 2020, we should all buy less and more consciously. Purchase something long-lasting and classic." The goal with ethical fashion isn't to throw away your wardrobe, but to instead work slowly purchasing high-quality, long-lasting products that may be more expensive in the short-term, but will pay dividends in the long-term.
Focus on a nice jacket that you can see yourself wearing in a decade, or in our case, ethical men's suits.
Can fast fashion be that bad?
Yes, maybe even worse.
Fast fashion is mass-produced, inexpensive clothing developed in response to the latest trends. Whereas fashion releases used to run on the four seasons (summer, fall, winter, spring collections), companies like H&M, PacSun, and Express now push out new items of clothing every week, or in the case of Forever 21 and H&M, every day.
Because of this, more clothing items are going into the trash wreaking havoc on our environment.
The New York Times reports, "More than 60 percent of fabric fibers are now synthetics, derived from fossil fuels." If those synthetic clothing items are thrown away and dumped into a landfill, they will not decay and instead release methane gas into the environment. Synthetic clothes not dumped into a landfill are thrown into the incinerator, causing more CO2 to be released into the atmosphere.
Fabric dyeing is the second largest polluter of clean water, and the fashion industry as a whole produces 20% of the Earth's wastewater.
Fast fashion items are designed, created, and shipped out so quickly, the quality of the items suffer. The average fast fashion article of clothing lasts no more than ten washings, which then would be sent off to the landfill only for the cycle to begin again.
Consumers are becoming more aware of their clothing purchases, with "60% of millennials saying they want to shop more ethically," and more fashion companies offering sustainable clothing items.
What do you mean by eco-friendly?
You're going to read and hear a lot about organic, sustainable, and eco-friendly products on this website. When I score a product one through five based on it's eco-friendliness, I am focusing on the following criteria:
Is it made from natural ingredients?
What materials an article of clothing is made of is directly related to how much potential pollution to the environment. An organic cotton t-shirt will score higher than a polyester shirt, but less than a t-shirt made from organic hemp because of the amount of water used. The top scoring items from our eco-friendly category do not use synthetic materials such as polyester or nylon due to their tax on fossil fuel emissions and non-biodegradable nature.
We also take into account whether or not companies use organic dyes as traditional dyes may be toxic and cause harm to the environment.
Is the manufacturing of the product environmentally friendly?
The production of a product is just as important as what it is made out of. The highest rated scores for eco-friendliness are products that are developed in factories that prioritize organic manufacturing and utilize clean energy. We also take toxic runoff and destruction of natural elements into consideration when rating these products.
If a company's product is certified by an eco label. You can find a list of eco labels here. Certifications provide us with clarity and evidence that a company's manufacturing is entirely environmentally friendly.
What are the working conditions for those making the product?
The working conditions for employees who are making eco-friendly products should be paid a livable wage, and work under safe working conditions. While not directly related to the environment, a healthy workplace is essential to the eco-friendliness of a company.
Is the clothing sustainable?
Fast fashion is trendy, cheap clothing that is not meant to last. For a piece of clothing to be sustainable, it must be made from materials that are not only eco-friendly, but built to survive multiple washes/years. Be aware of the dangers of fast fashion and how your clothing might negatively affect the environment.
Who makes ethical men's suits?
When looking for an ethical men's suit, a few qualifiers are in order: the clothing needs to be long-lasting and durable, the suit needs to be made utilizing sustainable materials, and the company needs to emphasize the importance of reducing waste.
One thing you should know though, if you're looking for an eco-friendly men's suit, you're going to need to spend some extra money. Most sustainable suits are from high-fashion brand companies, which means the cost is going to be much more than a traditional suit.
1. Moss Bros Eco-Suit.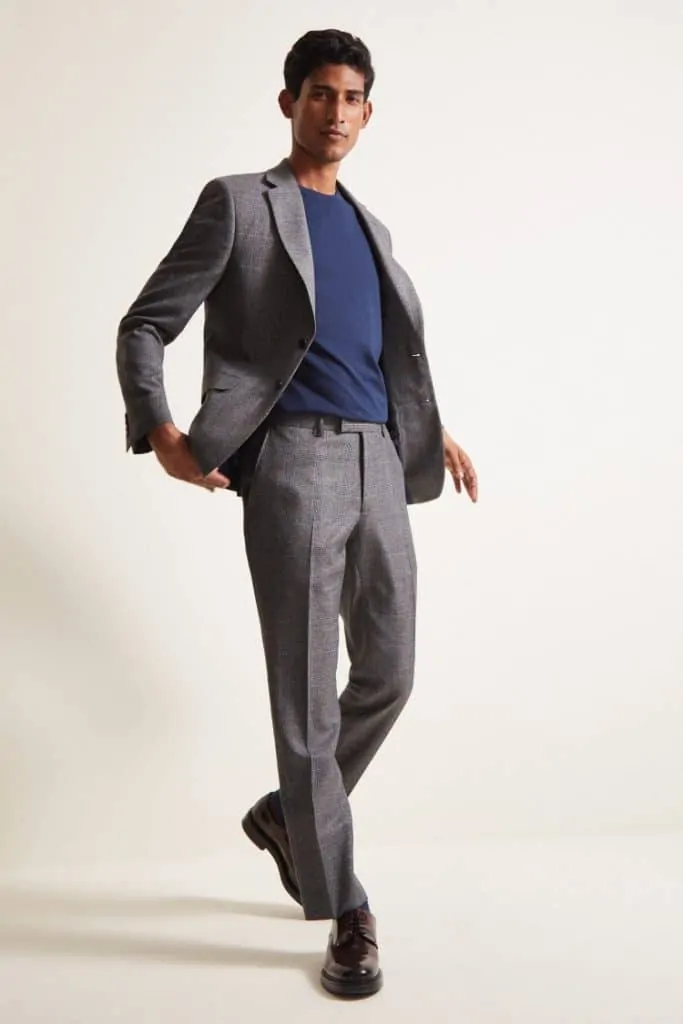 What's more environmentally friendly than a suit made out of recycled materials? Moss Bros has created the ECO suit: formal wear that's built top to bottom with sustainability in mind.
"From lining to thread to buttons to packaging, we've selected every element either because it is recycled or because it's made sustainably (and sometimes it's both)."
Moss Bros claims that up to 45 plastic bottles are recycled to make each suit's fabric. Each supplier of materials for the ECO suit is REACH compliant (governs the impact of chemicals on the environment). Also, every button is made from Corozo nuts, which means they are renewable and biodegradable.
Heck, even their suit bags are biodegradable.
But what's most impressive about Moss Bros and their ECO suit is the company's commitment to sustainability. They've partnered with ReGain, a clothing recycling app, to recycle clothes continuously, so they don't get sent to the landfill.

"The textile industry is one of the worst offenders for polluting the environment. Our goal is to reduce our impact anywhere we can. We're committed to closing the loop and moving towards sustainable manufacturing processes."
The ECO suit costs $338, which is an excellent price for any suit, but especially for one designed with such care for the environment. Moss Bros also offers a collection of dress shirts ($66) and ties ($60) built from the same recyclable materials as the ECO suit.
2. King & Allen Eco-Suit.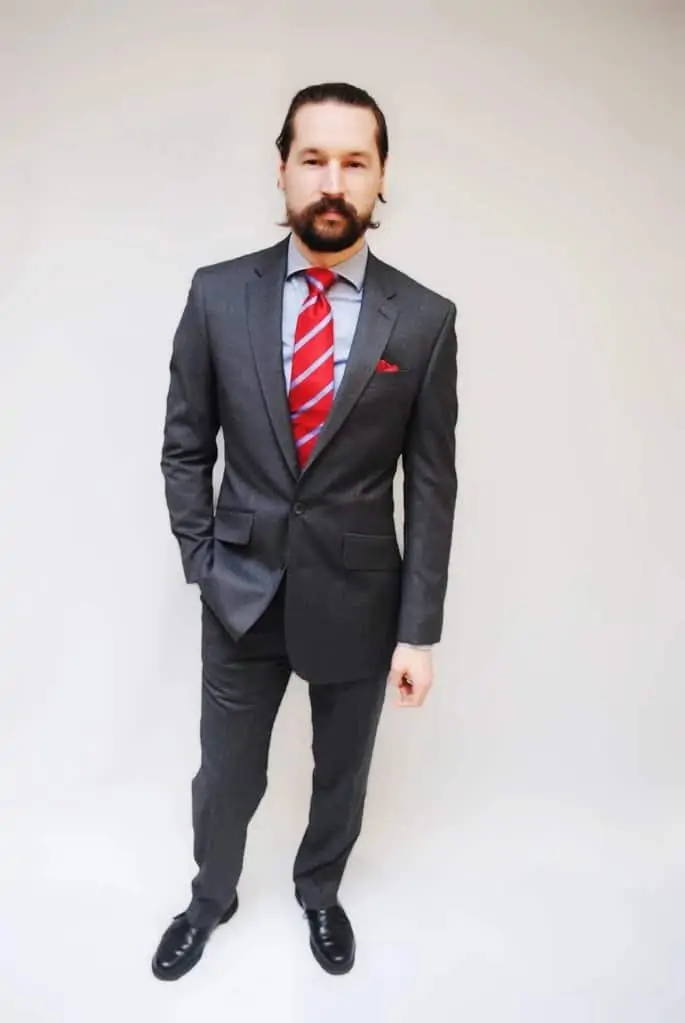 For our dudes in the United Kingdom, King & Allen have you covered with what might be my favorite eco-friendly suit on the market. Let me introduce you to the Eco-Suit by King & Allen. There are two sustainable suit options available for dudes: the italian bamboo suit or the eco suit made from 100% PET bottles. These vegan suits are made free from any animal products.
The goal for these eco-friendly suits is to create clothing that is a "stylish way to complement your vegan lifestyle and embrace a plant-based future." While you can order these suits online, it might be a good idea to find a showroom so you can be fitted for suit perfection.
The other reason why I like the King & Allen suits are how reasonably priced they are. For their bamboo suits, you can expect to pay £699, while their eco-suits are £349. For a custom eco-friendly suit of this quality, you might not find anything better in Europe.
3. Brave Gentleman.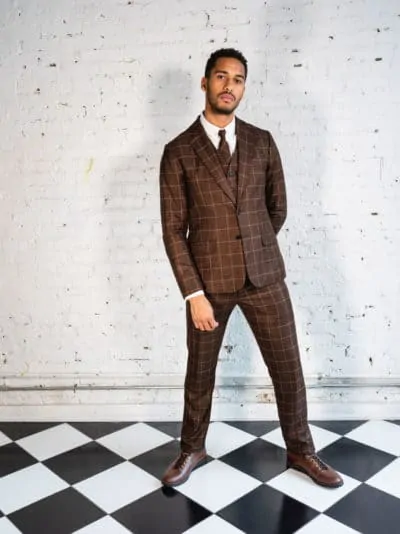 In 2010, Josh Katcher founded Brave Gentleman, the first vegan lifestyle menswear brand in the world. Brave Gentleman openly supports a slow-fashion design process as well as uses vegan materials in every article of clothing. The company also promotes ethical labor for their workers.
"We don't believe animals belong in the fashion production system or any industrial system for that matter. We believe that people making our clothing and growing, developing or processing our materials deserve respect and dignity through safe conditions and a living wage. We believe that ecosystems should not be destroyed in order to make fashion. We believe that the increasing velocity of "fast-fashion" is one very visible manifestation of a much larger and deeper problem. We don't think Brave GentleMan is a final solution, but it is a means by which to replace more problematic systems."
This year, Brave Gentleman is adding an ethical men's suit to their fashion lineup. Made from 100% Italian-Milled Bamboo, these suits feature all the classic stylings of formal wear in Navy, Black, Dark Grey, Brown, and Blue Windowpane.
Brave Gentleman's suit collection begins at $2,500. Brave Gentleman's suits are high quality and meant to last a long time; the cost could price some customers out.
But if you have the money to invest in a good suit, $2,500 isn't a lot if you can wear it for the rest of your life.
4. Hall Madden
If you're looking for something a bit more custom, then Hall Madden's Vegan Suits should be on your radar. Available in a wide-variety of colors and plant-based linens, each Hall Madden vegan suit is custom made for your body. There are eight showrooms across the United States where you can not only fit yourself, you can purchase an entire wedding party suit collection that's vegan.
Hall Madden might be the most luxurious company on this list as any showroom visit needs to be made by appointment only. As for pricing, you can expect to pay over $1300. If you pay attention to the products we often promote on Dudefluencer, that's a ton more. But with that being said, you're paying for quality, hand-crafted, eco-friendly clothing.
5. Hangrr.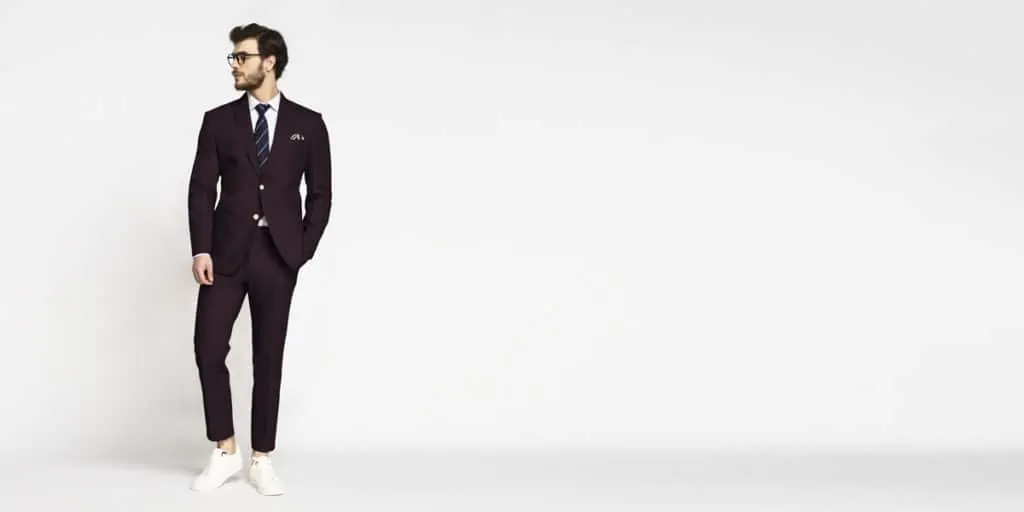 Finding a suit that fits you perfectly is hard, so why not have a computer do it for you? Hangrr is hoping you do just that with their Custom A.I. fitted suits.
Let Hangrr introduce you to Lenna, their high-powered A.I. personal stylist. Lenna predicts 31 measurements from just four inputs. Hangrr also believes in an ethical workplace.
"Under our Sadbhavna Program, we ensure –
Great working conditions
Financial independence
Education Drives
No overtime
No Child Labour
Health and safety workshops."
This year, Hangrr is offering customers the opportunity to purchase vegan suits made from 100% cotton. Because Hangrr's Vegan suits are made from 100% cotton, which keeps the price reasonable at $385. Available in 18 different colors, the vegan suit is entirely custom-designed to fit you exactly how you want it to fit.
Buying second-hand suits.
Purchasing a second-hand suit is the most environmentally-conscious option for consumers as those clothes now get the opportunity to hang in your closet versus being sent to a landfill.
Grailed is an online second-hand store with a wide array of clothing for men, including sneakers, jackets, and, most importantly, a vast collection of second-hand suits. While some items may not be created from environmentally friendly materials, the mere fact that these suits are given a second life provides a boost to our fashion ecosystem.
The Real Real is another excellent option for second-hand suits. A luxury consignment store, The Real Real, promotes a circular economy where consumers help create a sustainable fashion industry by keeping clothing in circulation. The company is also planning on becoming Carbon neutral by 2021 and have already offset 12,200 metric tons of Carbon. Few fashion retailers are doing as much for the environment as The Real Real.
Which suit should I buy?
Dudefluencer recommends either the Moss Bros Eco-Suit or the King & Allen Eco-Suit. Both are high-quality, available in custom fittings, and affordable. For the price of a traditional suit, you can get one that looks great, and helps the environment.
The other option we recommend is to purchase your suit from a second-hand retailer such as The Real Real, who, as a company, has dedicated themselves to developing a circular fashion ecosystem. By purchasing second-hand, you are helping reduce water waste and our carbon footprint at the same time.
Conclusion
Would you rather purchase a new suit or from a second-hand shop? Do you have any favorite brands that are promoting sustainable clothing? Tell us below in the comments.
For more fashion tips, make sure to follow us on Facebook and Twitter!
If you enjoyed this, be sure to check out some of my other pieces here on Dudefluencer:
The Ultimate Men's Fashion Guide For 2020.
9 Essential Tips for Being a Great Groomsman
The 20 Best Subscription Boxes For Men.