On May 22, The 1975 will release their latest album, Notes on a Conditional Form, an epic 22-track collection of songs that infuse the Talking Heads pop stylings with the punk-rock noise of Glassjaw and lyrical vulnerability of…well The 1975. But when fans of the band hit play in two weeks, The 1975's tradition of instrumental self-titled opening tracks takes a detour instead delivering a four-minute and fifty-five-second long spoken-word introduction by Greta Thunberg. The introduction cements The 1975 as one of the most eco-friendly artists in the world.
But it's not just them, artists like Justin Timberlake and Sheryl Crow have been focused on improving environmental conditions for years. Whether it's adjusting their touring schedule or releasing merchandise made out of reusable material, musicians around the world are doing their best to limit their environmental consumption.
As tours are being rescheduled and canceled due to the uncertainty and danger of coronavirus, it would make sense for musicians to rethink how they tour. And for fans of music and the environment, it's nice to know just how eco-friendly your favorite artists are.
Waste in the music industry.
To make a living as a musician, it's essential that you tour. It's still the best way to build a fanbase and sell merchandise directly to the consumers. But as stage designs continue to become more extravagant, the band's environmental footprints continue to grow.
Cambridge University Press equipped five bands with carbon emission trackers and found startling results. Combined, the group added "19,314 kilograms of CO2 to the environment in only 6 months." That's why more musicians than ever are teaming up with Reverb. This company aids artists in creating green-friendly tours by finding ways to "reduce concert and tour footprints from eliminating single-use water bottles to coordinating local farm food to fueling sustainable biodiesel in tour buses to composting and donating food waste." Thanks to Reverb, tours have already reduced 120,000 tons of CO2, as well as eliminated 3.2 million single-use plastic bottles. It's a matter of time before more bands begin to team up with the company to create more eco-friendly touring environments.
Dave Matthews Band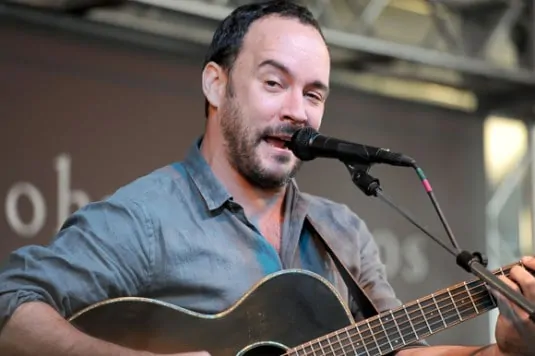 I've been to one Dave Matthews Band concert in my life. While parked at the Garden Center by the venue, I met two women named after constellations, who traded beers for a bag of peanuts, witnessed a car accident, and snuck in one of our friends. And this was all before the sweaty, shirtless guy seductively grinded on me to an acoustic version of "Satellite."
Needless to say, Dave Matthews Band and I have some issues. But one thing I cannot criticize DMB for is their dedication to being an eco-friendly artist. Named a United Nations Goodwill Ambassador for the Environment, DMB partnered with Reverb (whose name you're going to be seeing a lot in this article) to lessen their environmental impact while on tour.
In an op-ed published in Variety, Dave Matthews said, "Part of that is trying to change the model of how musicians tour. It's my version of thinking globally and acting locally, and it's not just touring: When I stay in hotels I think, 'How can I convince these hotels to start recycling and initiate a program where they will separate their garbage?'" By moving onto biodiesel and continuing to educate fans on how to lessen their carbon footprint, Dave Matthews Band continues to lead the way as one of the most eco-friendly musicians on the planet.
P!nk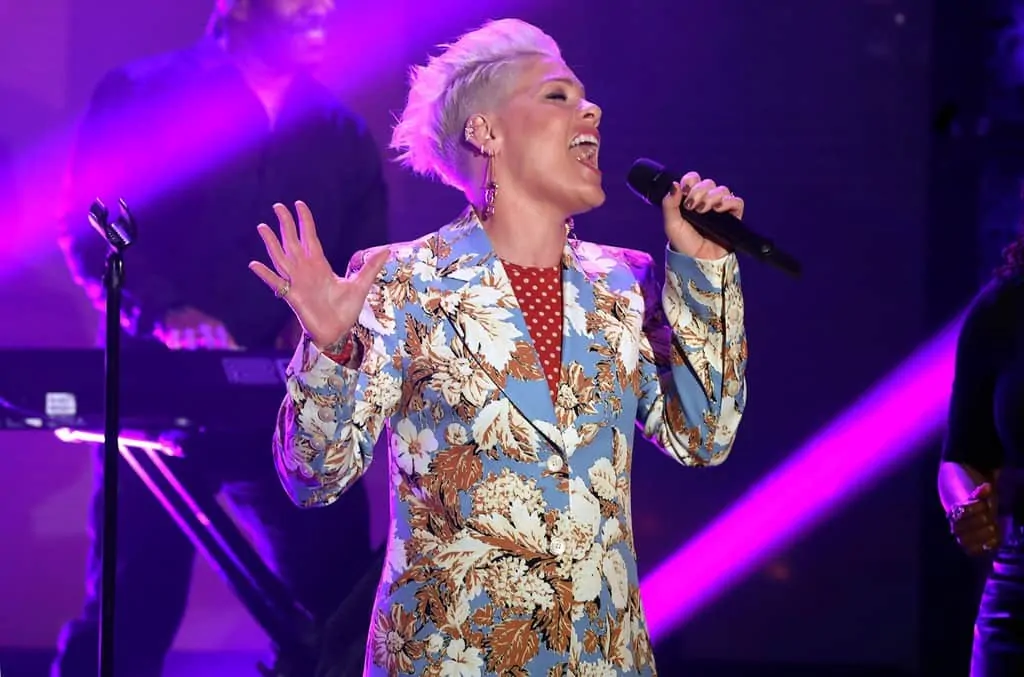 P!nk, the former rapper turned pop superstar, has taken on her next challenge: cleaning up the environment one concert at a time. Teaming up with Reverb, P!nk designed her Beautiful Trauma 2019 World Tour around practicing healthy environmental activities and raising awareness for her audience. According to Reverb's environmental impact statement about the tour, P!nk diverted nearly 4,000 gallons of waste from landfills, collected 3,900 pounds of compost backstage, and avoided 3,200 single-use plastic bottles backstage.
But what's interesting about P!nk and her collaboration with Reverb is that the company set up an action village in the concourse of every tour stop. That means fans entering the show would walk past the pop-up shop and have access to plastic water bottles, re-fill stations, and donate to a variety of different charities. Reverb has found a way through partnering with musicians of all sizes and fanbases to educate about the dangers of carbon emissions, climate change, and world hunger.
P!nk also tries to maintain a mostly vegan diet, but most importantly, she keeps her own garden. By doing so, P!nk is limiting the number of harmful chemicals that pollute soil, air, and waterways. If there's one small step every person can take to help the Earth, it's making time (and space) to create a small garden to produce your own vegetables. By being a leading example, P!nk is one of the most eco-friendly artists around.
The 1975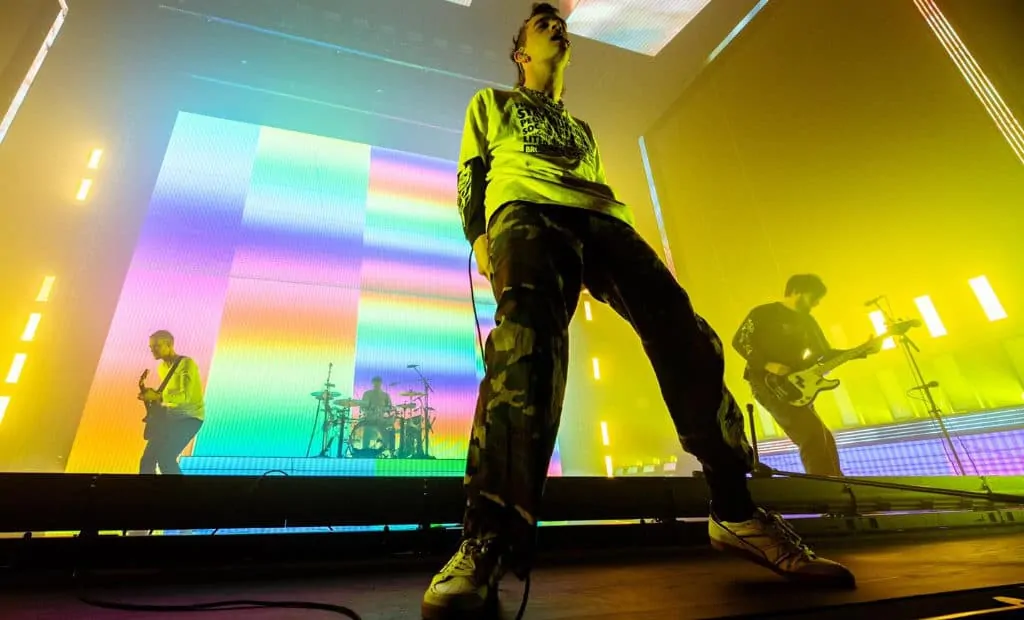 I've already touched on The 1975 in the intro, but lead singer Matt Healy and company are doing more to help be environmental leaders than hopping on the latest bandwagon. Before an album cycle begins, bands traditionally push merch along with singles to get their fans more excited. For their latest record, The 1975 did something a little bit different by not selling any new clothes in preparation of the release Notes on a Conditional Form.
Instead, the band took leftover merchandise from previous tours, album releases, and early shows, reprinted new logos overtop in highlighter yellow, and in turn, created some of the most unique 1975 merch you can find. At the Reading festival, the band also provided free reprinting on any old The 1975 shirt brought to their merch stand.
Unfortunately, the band's upcoming gig in Finsbury Park had to be canceled due to COVID-19, but it was on track to be one of the greenest festivals shows ever performed. "Organisers say it will be the first time in the UK that traceable, sustainably sourced HVO fuel which stands for Hydrotreated Vegetable Oil will be used to power an entire event." When the band plans out their next tour, The 1975 are looking to keep their environmental footprint as small as possible by utilizing biodiesel for their tour bus and bringing along an energy-efficient set design.
Pearl Jam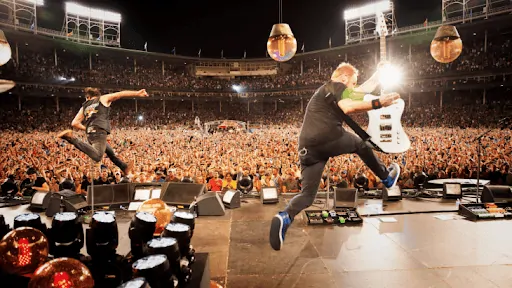 No list of the most eco-friendly musicians would be complete without Pearl Jam. The band's rise to fame started in 1991 at the release of their album Ten. Introducing the world to grunge, a new introspective genre of music that pushed back on the hair metal bands of the 90s, Pearl Jam spent most of their career pushing back on fame. That meant limiting interviews, not producing music videos, and, most importantly, suing Ticketmaster. Despite that, Pearl Jam became one of the most influential bands ever and was inducted into the Rock and Roll Hall of Fame in 2017 (their first year of eligibility).
Outside of their musical talents, Pearl Jam is dedicated to making the world a safer, greener place. Lead singer Eddie Vedder often participates in fundraisers for environmental groups, with a lot of work conducted for Surfrider Foundation, a group dedicated to ocean relief efforts. Guitarist Stone Gossard developed the band's Carbon Portfolio Strategy as a way for Pearl Jam to have "0 percent net emissions for all tours and band businesses."
For merchandise orders, you'll notice Pearl Jam sends out their fan club materials in "100 percent recyclable boxes held together without tape and printed with soy-based ink." They also sent fan club members luggage tags made from biodegradable materials. And that's not even including the massive donations Pearl Jam has sent to Cascade Land Conservancy, managing a forest in Madagascar, and partnering with Green Dot to develop biodegradable merch. Pearl Jam continues to not only be one of the most influential rock bands of our generation but leaders in the battle against global warming as one of the most eco-friendly artists in the world.
Billie Eilish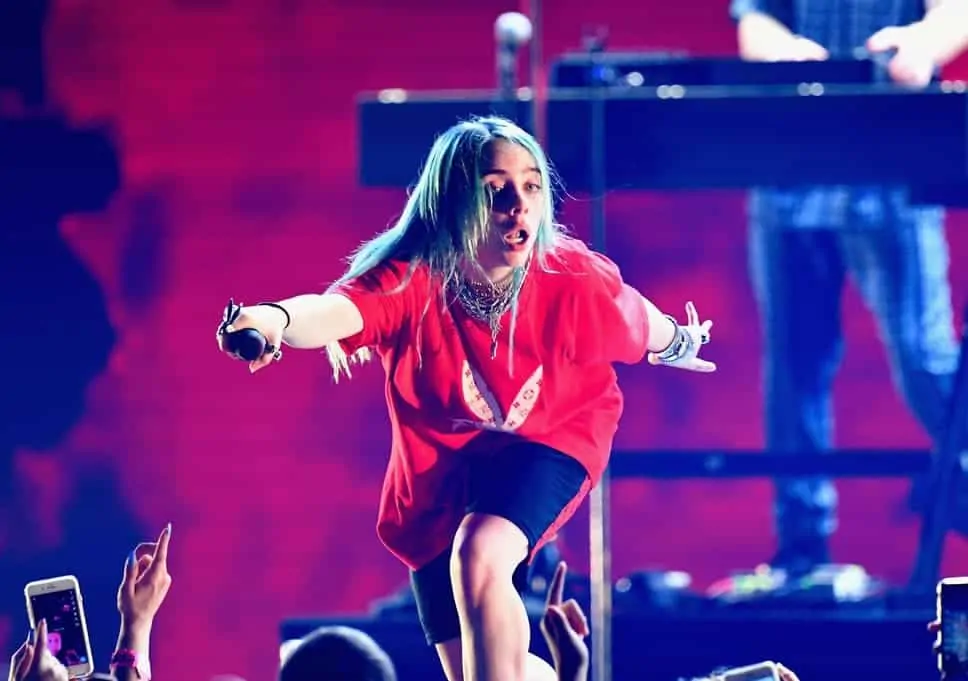 When I was 17 years old, I worked part-time at a pizzeria, played amateur dodgeball at a local YMCA, and made immature dick jokes with my friends. Billie Eilish, on the other hand, has 40 million Instagram followers, has a number one record, and organized her 2020 tour around being as green as possible. In a battle between who's accomplished more, I'd say the eco-friendly Eilish wins this round.
Her 2020 tour was destined to be one of the most environmentally friendly concert events of the decade by making fans bring their own water bottles, scattering recycling bins throughout each venue, and making sure no plastic straws were on the premises. With a youthful audience, Eilish understands the importance of educating and influencing a younger generation of music fans to take better care of the environment.
Eilish also planned on building small "Billie Eilish" eco-villages around the globe that fans could visit to learn more about climate change, and how to live off the land. "Millions of people around the world are taking to the streets on a climate strike, demanding our leaders listen to the science and act…cutting out meat and dairy from your diet and reducing plastic use." The 1975, Eilish is hoping that her popularity can help inspire an entire generation of young people to incite change and make global warming a priority. While her tour has been postponed due to COVID-19, if Eilish continues her quest to stop global warming, there's no doubt she's one of the most eco-friendly artists around.
It's time to go green.
If you're interested in volunteering for Reverb (I promise, this isn't a sponsored post), you can sign up right here to help set up their eco-village or just donate to the cause.
Would you be more interested in going to a concert knowing if the band was eco-conscious? Who are some of your favorite eco-friendly musicians?
Make sure to follow us on Facebook and Twitter!
If you enjoyed this, be sure to check out some of my other pieces here on Dudefluencer:
The Relationship Between Music and Masculinity
The Best Ethical Men's Suits for 2020
This Blink 182 Untitled