If you've checked out my men's fashion guide, you should know that one of the best things you can do for yourself is focusing on improving your grooming habits. And as I mentioned in my article about men's grooming, a good skincare routine needs to be a staple of every dude's morning. But because the grooming industry's advertising is so focused on products for women, it's challenging to find a well-developed skincare product for men.
Enter Geologie. Since I've been researching and writing about men's grooming, my Facebook feed has been inundated with ads for products, but few actually stand out. Geologie's skincare routine product absolutely stood out so much that I decided to finally take the plunge to finally start a skincare routine.
For dudes on the fence about men's skincare, or who haven't ever had a skincare routine, is Geologie the company that's going to break through the noise to change men's grooming? More importantly, what does Geologie do differently from other skincare companies on the market? Find out my thoughts and more as I break down Geologie's 4-part skincare routine to see if it's the best men's skincare product on the market.
Who is Geologie?
Geologie was founded by Nick Allen and Dave Skaff in 2018. The company believes in the importance of men's skincare and the individuality within each of our bodies. Their website sums it up best, "you're particular about the way you get your haircut. You're particular about the way you like your whiskey served. You're even particular about which dry cleaner you'll trust to wash your good jeans. It's about time you get particular about what you put on your face." Whereas other companies offer universal solutions to your skincare problems, Geologie boasts of a more personalized approach.
To get started, Geologie asks you to take their diagnostic test. It's simple enough, asking for your age, whether or not you have a skin routine, and what you're hoping for with a new skincare routine. These answers are then plugged away into their system to produce a regimen specifically to what your needs are. Suffering from oily skin, expect an exfoliating face wash. Maybe you have sensitive skin. The diagnostic test will pick it up and choose the right regimen for you.
As for different regimens, there's a wide variety that they mix and match together but always include the same four types of products: Everyday Face Wash, Vital Morning Face Cream, Repairing Night Cream, and Nourishing Eye Cream. While Geologie says you can use any of these products independently, they've been formulated to work best together. All you need to do is follow the instructions provided with your specific skincare regimen sheet, and you're all set.
Why should you trust me?
A couple of months ago, Geologie was kind enough to send me a sampling of their products. As soon as I got the package, I immediately started incorporating their entire regimen into my morning routine: Everyday Face Wash and Vital Morning Face Cream in the morning, Repairing Night Cream and Nourishing Eye Cream in the evening. I've stuck with their program and have frequently checked on my results through photographs.
Other helpful pieces of information:
Dudefluencer was not paid for this post. We do not accept paid or sponsored reviews.
Geologie did not ask us to write this review.
Geologie sent us complimentary samples for this review.
This website uses affiliate links which means if you buy a product from a link on our site, we might make a couple of bucks.
Geologie is not reviewing or editing this review prior to publication.
Geologie Skincare Review
For this particular review, I'm going to be talking about the four products included in every specific regimen: Everyday Face Wash and Vital Morning Face Cream in the morning, Repairing Night Cream, and Nourishing Eye Cream. I'll take some time to highlight whether or not the product works, how it affected my skin sensitivity-wise and its eco-friendliness.
Personalization
Whereas many skin moisturizers are designed for universal solutions, Geologie aims for something different: they want to help with your specific skin issues. The way this works is anyone interested in trying out the product can go online to their website, answer a couple of questions, and boom, your products will be delivered to your door.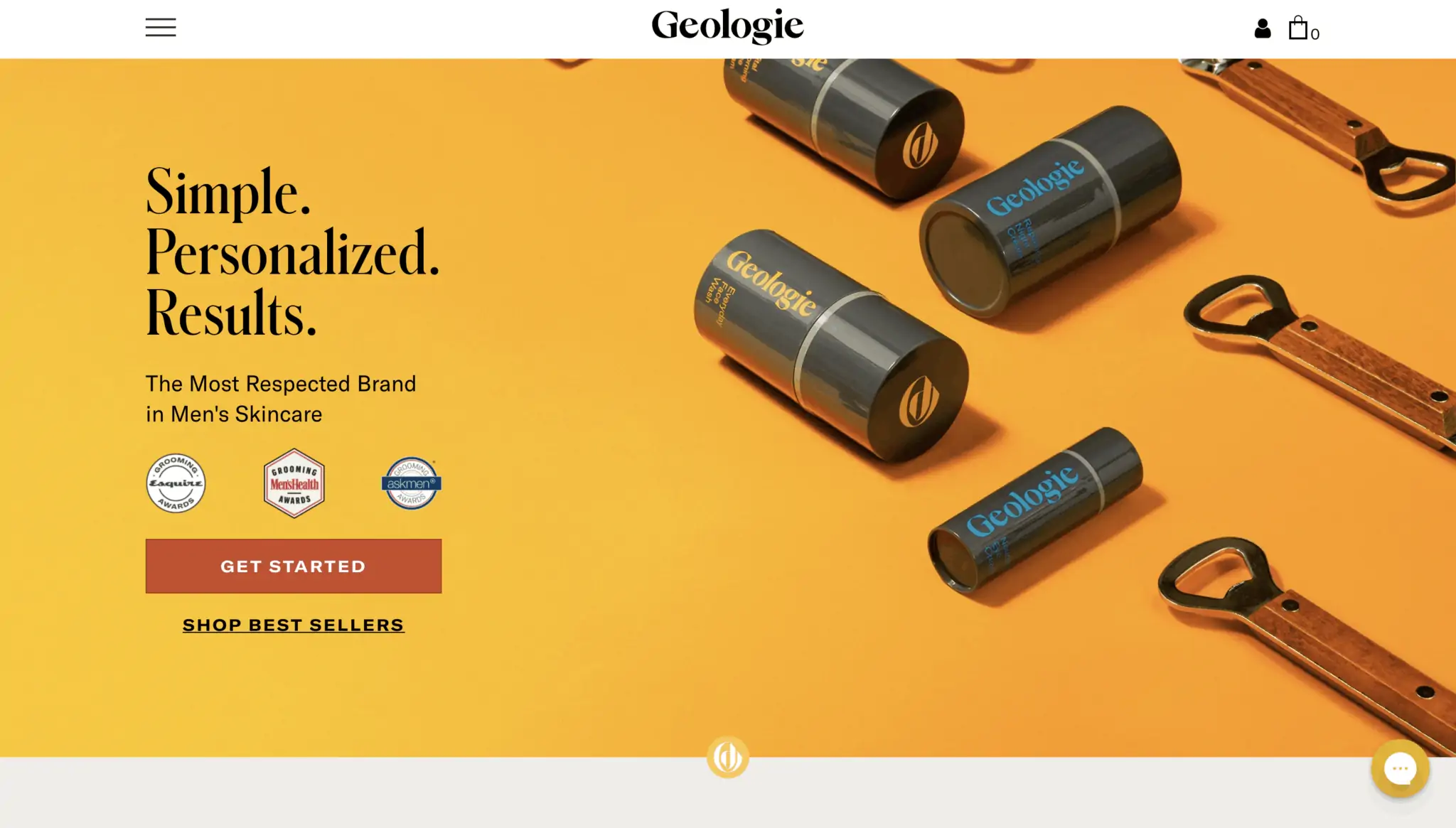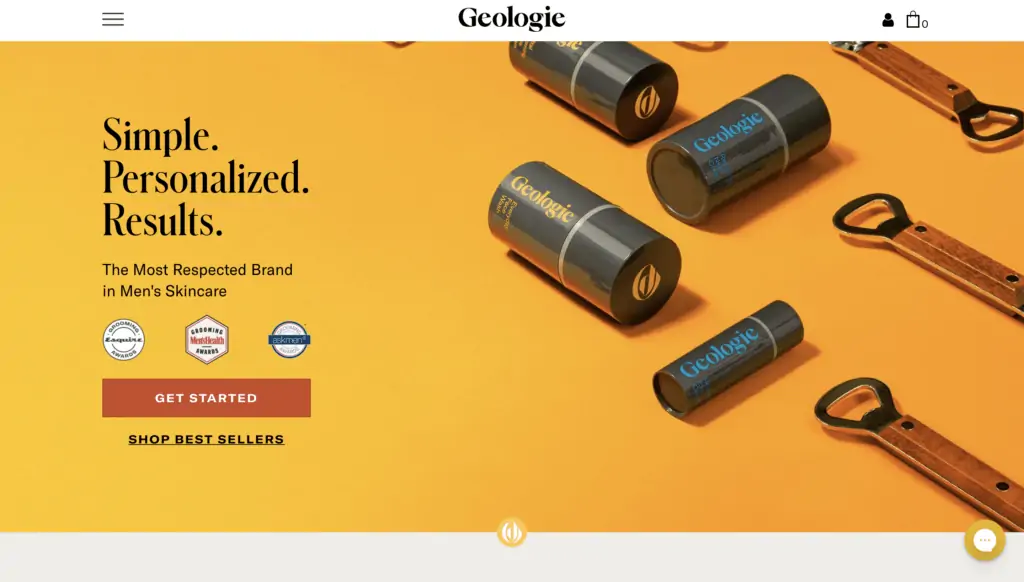 I do wish there was a bit more transparency in the process. I ended up with regimen #19, and quite frankly, I have no idea what that means. There isn't anything about the differences in regimens online through their website. The Frequently Asked Questions page offers limited answers.
The company does believe in its diagnostic test, though. It offers anyone who might be having a bad reaction to reach out to their customer service so they can adjust the products enough for a pleasurable experience. I appreciate that, and I understand that the Geologie Skincare products have been manufactured with my needs in mind. That being said, I'd love it if there was a bit more information widely available about the differences in regimens or how they are chosen.
Skin Results
This is the big question that anyone looking up a Geologie review wants to know: does it actually work? And I can proudly say yes. My skin has never looked better than when using Geologie's personalized regimen for my sensitive skin.
For the past couple of weeks, I've been maintaining a mustache in part because I've been working on a review about razors. Because of that, I've needed to shave nearly every other day to avoid any weird patchiness and to make sure that I'm actually using the products I'm reviewing. But also, that opens me up for a lot of opportunities for skin irritation.
I can honestly say since I've been shaving every day and using Geologie's skincare routine, everything has been working as planned. My skin looks cleaner and feels softer to the touch. Even my wife noticed the difference. This is probably the best my skin has looked in over a decade, and a lot of it has to do with the improvements from Geologie's regimen.
Sensitivity
Going through the instructions for my particular Geologie regimen, they mention that there could be some skin irritation when using the Repairing Night Cream for the first couple of weeks. That's because some of the ingredients (Retinol) could be harsh, and the company suggests using the night cream every other night for the first two weeks.
I followed those instructions and suffered from skin irritation anyways. I can't say specifically if it was the night cream, but I had a small acne flare-up and increased redness throughout the day for the first few days. After the second week, though, all of that faded away, and my skin began to clear up better than before.
A small thing I appreciated was that because my diagnostic noted I had sensitive skin, the products delivered to me were fragrance-free.
Sensitivity to Geologie is going to be challenging to figure out, considering everyone's skin is different. Based on my experience, outside of an initial (warned) flare-up, everything has been working as advertised.
Eco-Friendly
Like the issues I have with the lack of information about Geologie's diagnostic test, there isn't a ton of information about what's in the products themselves. Searching through the website, I can find the ingredients list for versions of the face cleanser, night cream, and other items, but I, unfortunately, don't know how those ingredients are modified for each individual regimen.
Based on the list of ingredients featured on the individual products themselves, a few make Geologie not the most eco-friendly skincare line around. Just because something is natural does not necessarily mean that the product is better than one with formulated ingredients.
Geologie does promise that they strive to include as many natural ingredients as possible while also making sure their skincare line is free of parabens, phthalates, and sulphates.
Price
For a trial set (30 day supply), Geologie charges $60, and if you want a 90 day supply, you can expect to pay around $165. When thinking about a men's skincare routine, this is right around the middle of these products' price ranges. The products you purchase from a pharmacy might be a little cheaper. Still, you also won't be getting the personalization that Geologie's products offer. Along with the morning face wash, a nighttime cleanser, the eye cream is an added bonus for the price.
Is Geologie's Skincare Regimen worth it?
The $165 question, should you buy Geologie's skincare regimen? I say absolutely give it a shot. There's no more personalized product on the market at this price point. Suppose you're looking for something a little more eco-friendly. In that case, I'd definitely look around to find men's skincare products that offer more natural solutions.
But for its price, personalization, and the fact that every product works well, Geologie's skincare regimen is the perfect starter set for dudes getting ready for their self-care routine.