Dudefluencer is reader-supported. When you buy through links on our site, we may earn an affiliate commission.
Considering most of us have spent the majority of our time indoors for the past few months, it's hard to believe we're almost ready for summer. Summer: a time to emerge from our quarantine dens, see others at a socially and medically acceptable distance, and reveal that we haven't thought about our personal appearance all that much while cozy in our home. 
Once we're given the go-ahead to head back outside, it's going to be sweltering heat, and it's essential to look your best for your first appearances back into society. Think of your return to social gatherings like the first day of school after a long vacation: except this time, you spent your entire break Zoom-chatting work meetings while not wearing pants. This summer is coming at a time of uncertainty, but one thing's for sure: you're going to want to read our men's summer fashion essentials guide.
Like our previous men's fashion guide, I reached out to some of the best men's fashion influencers in the world to give us the best tips to make sure you look good this summer.
3 COVID-19 fashion changes to keep in mind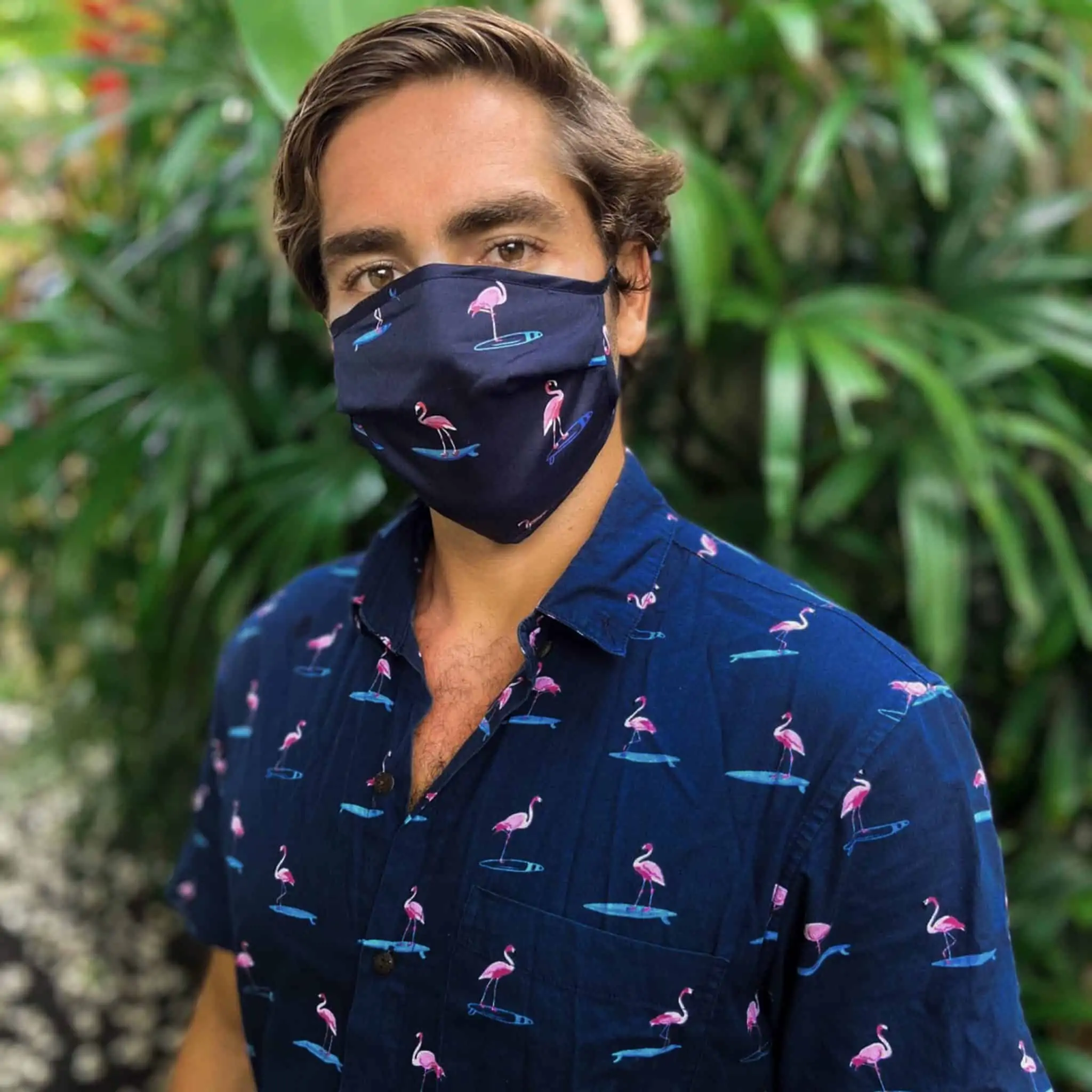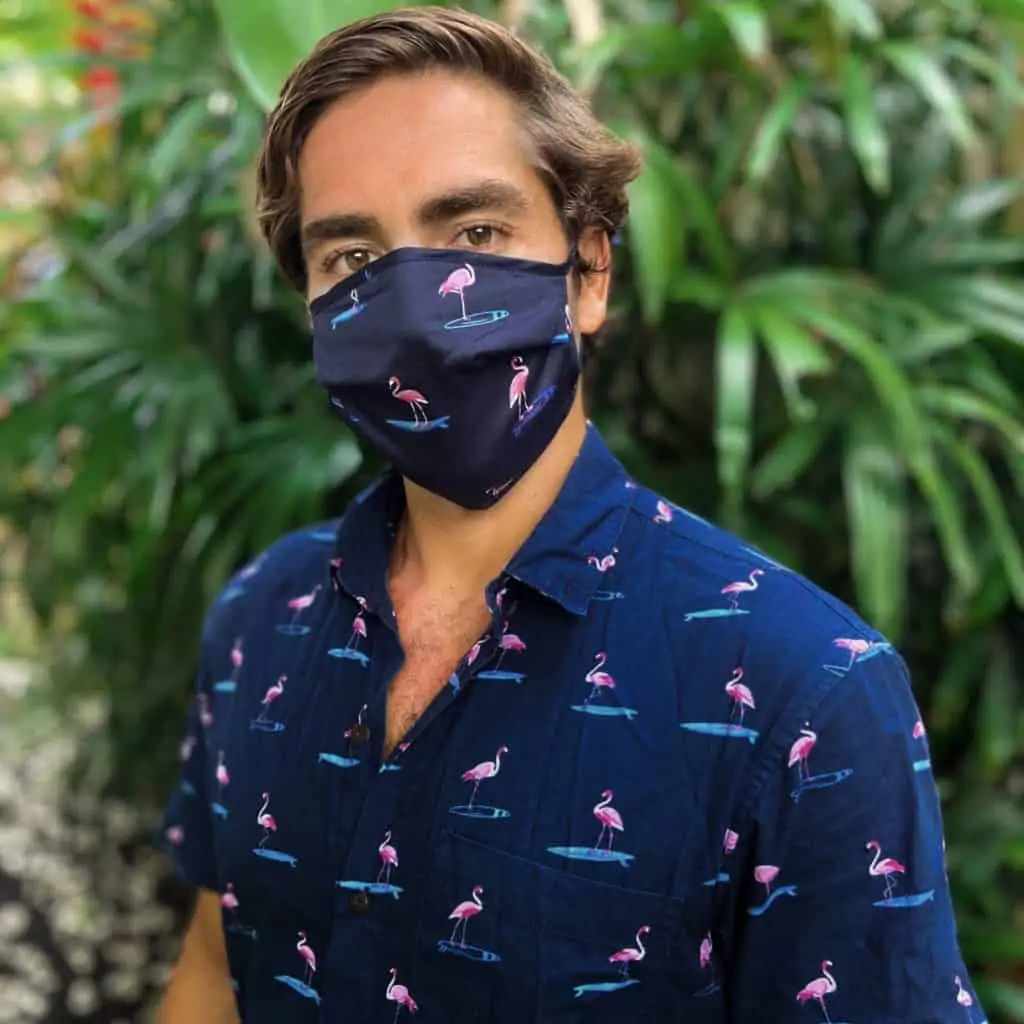 It's hard enough to know what day it is during the coronavirus quarantine, let alone put in any effort into what you're wearing. We're all thinking the same thing: no one's going to see me not wearing pants today. And while our fashion game has taken a bit of tumble these past few months, I think it's important to take a look briefly at where we are right now in terms of coronavirus fashion.
1. Home-style haircuts
I've never had glorious hair. In fact, I have a massive widow's peak, a blonde spot on my right side, and an enormous cowlick that refuses to stay down no matter how much hair glue I put on it.
But thankfully, I've found a few hairdressers in the neighborhood who manage to do a fantastic job wrangling this tangled mess of jet-black hair. But as the quarantine evolved, all of them had to shutter their doors for the time being, which meant we were all at the mercy of our partners when it comes to haircuts. These hairstyles have been unofficially dubbed "coronacuts" and have become the subject of more than one Instagram account.
As my hair grew longer and more unkempt, I finally had enough and asked my lovely wife, Rachel, for her assistance in giving me a brand new coronacut. Rachel owns a small haircutting set that she's used to cut her own hair before, as well as her brother's long hair. But my hair is neither long nor simple, so I asked Rachel to keep it simple: buzz it off.
Rachel had her own plans.
You know how sometimes after you watch a YouTube video tutorial, you think you're an expert until you actually attempt to give it a shot? Well, that's kind of what happened after Rachel watched a barber's tutorial on undercuts.
I sat in the chair anxiously as Rachel mushed and layered my hair. For a moment, I confused her with a professional due to how well she bounced from side to side as locks of brown hair fell to my shoulders. She even used the small brush to clean off my nose.
Have I mentioned how much I love my wife? I love my wife a lot.
After about an hour of fussing, Rachel stopped and squirmed a bit. She pointed towards the mirror, and…well.
Here is what I saw in my reflection.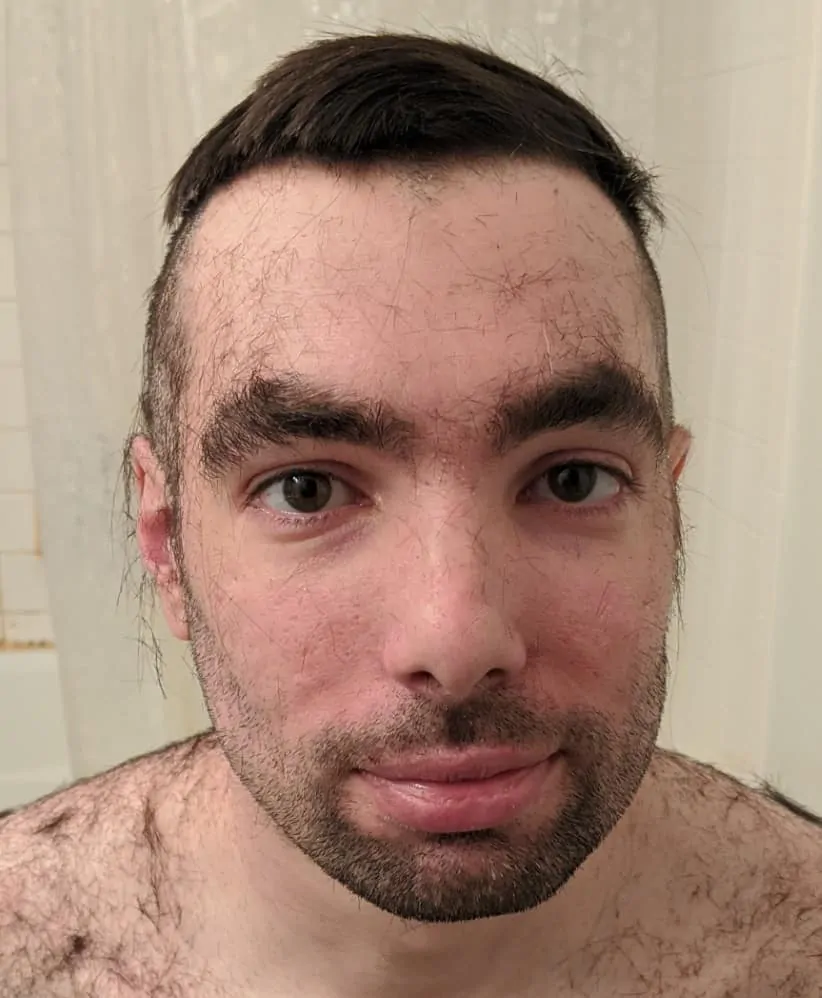 I don't even know where to begin.
It took a couple more minutes of Rachel attempting to save her haircut attempt before agreeing to just buzz it all off. And right before I said, "Let's use a number 2 on top," I heard the razor's hum glide right through the front of my hair. With the number two attachment still in my hand.
For the first time in my life, I became practically bald. I wondered aloud if my hair would ever grow back (yes, it will). But within a couple of hours, I appreciated my coronacut. In fact, I'm probably going to ask Rachel to shave my head again before we start returning to the office.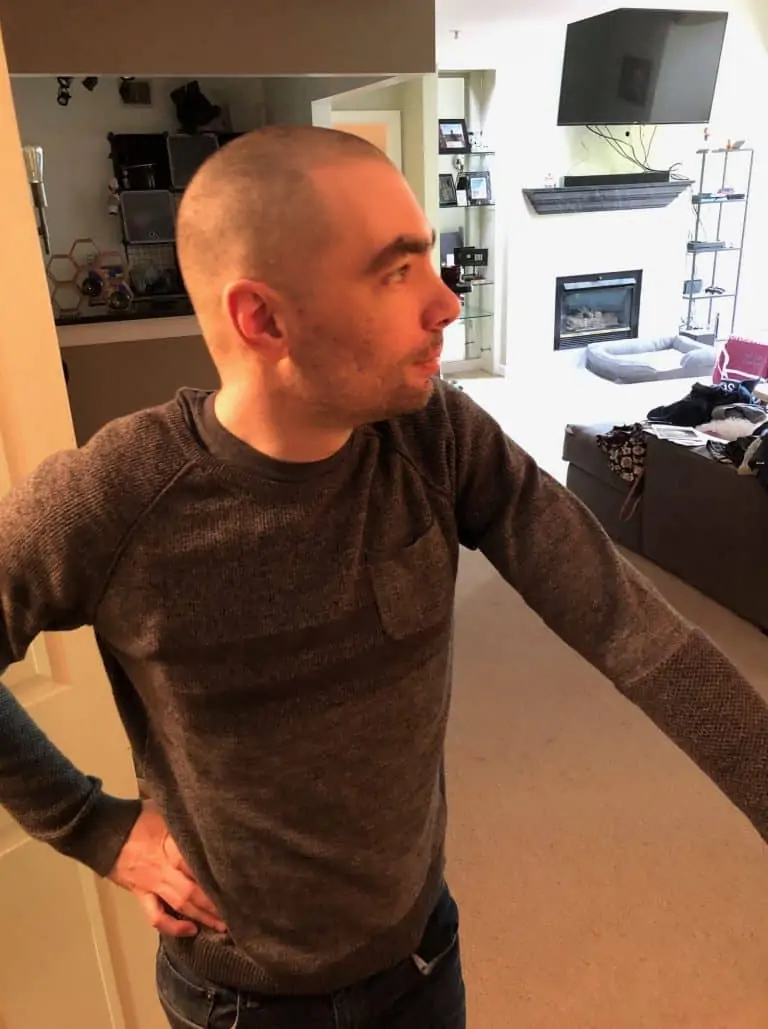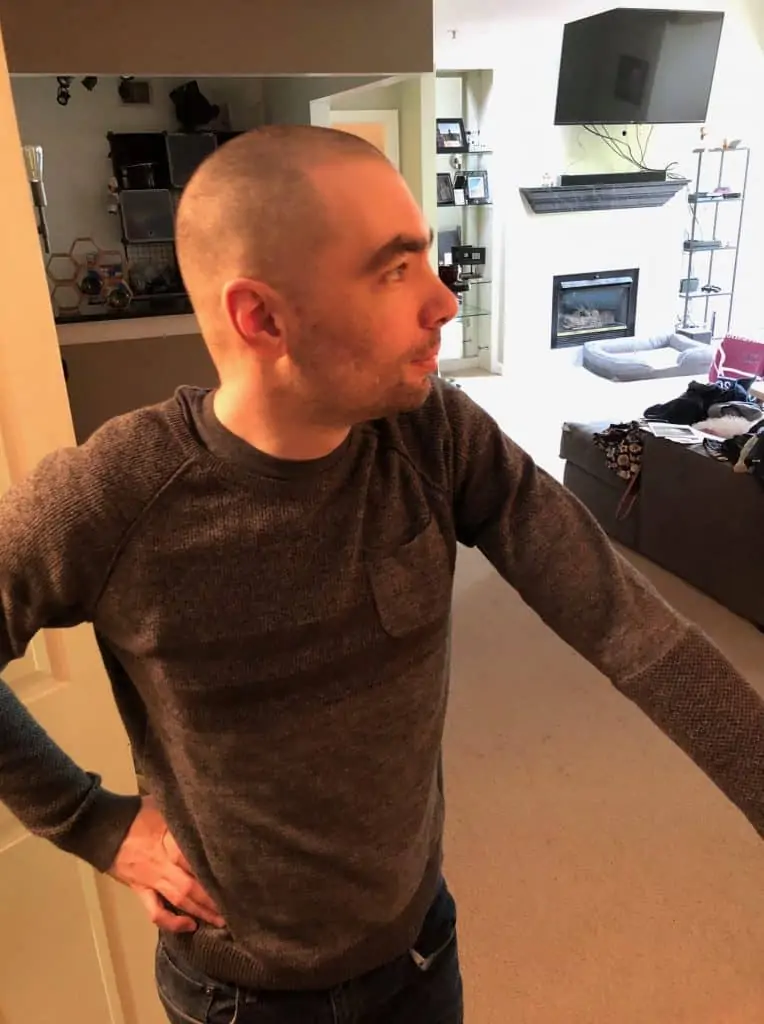 Life without barbers has become a stressor for men who like to keep their hair well-coiffed. But good news: by the time we get back outside, your hair will have grown back or even better, it'll be buzzcut season. Anyways, here are some celebrities rocking buzzcuts to make you feel a little better.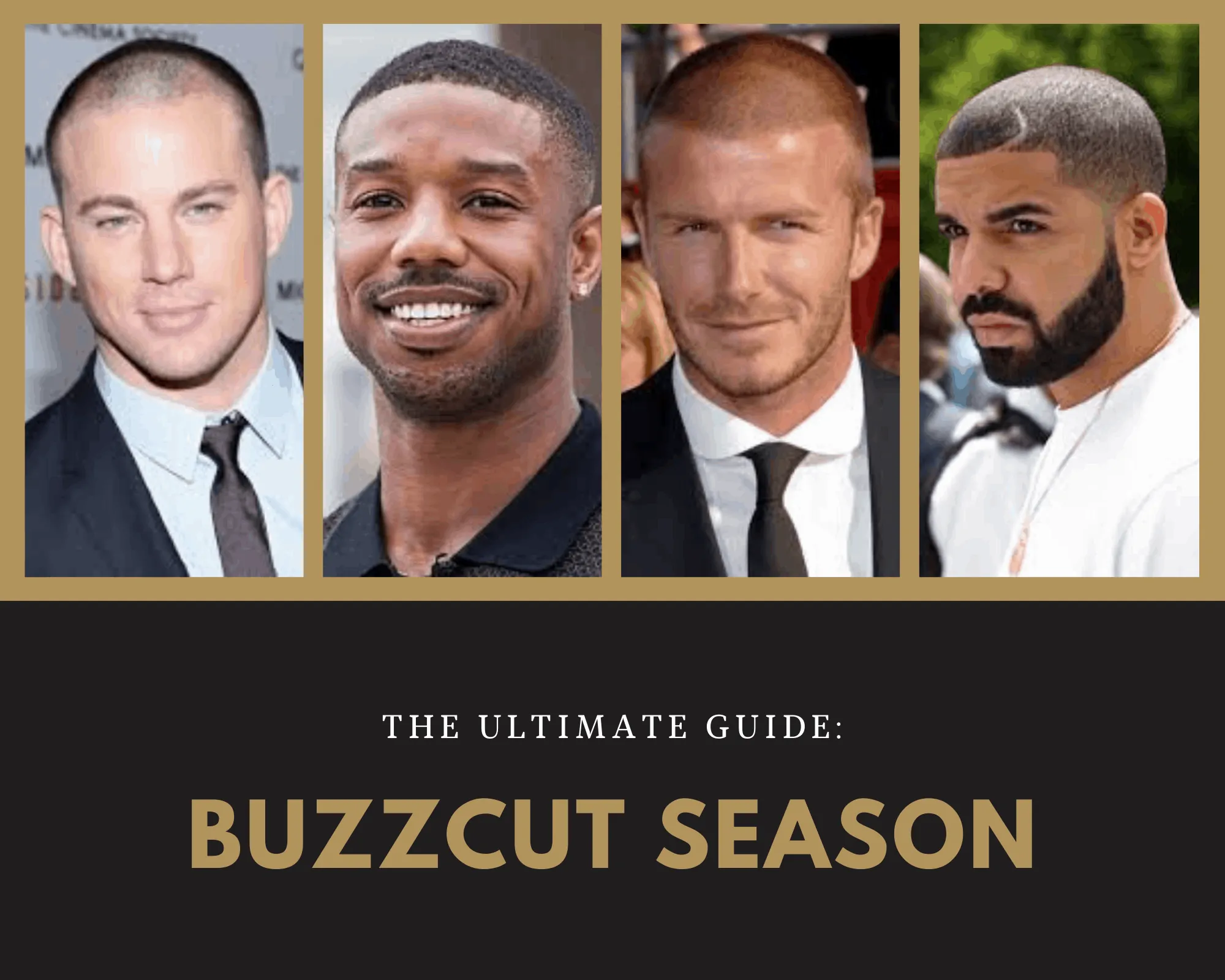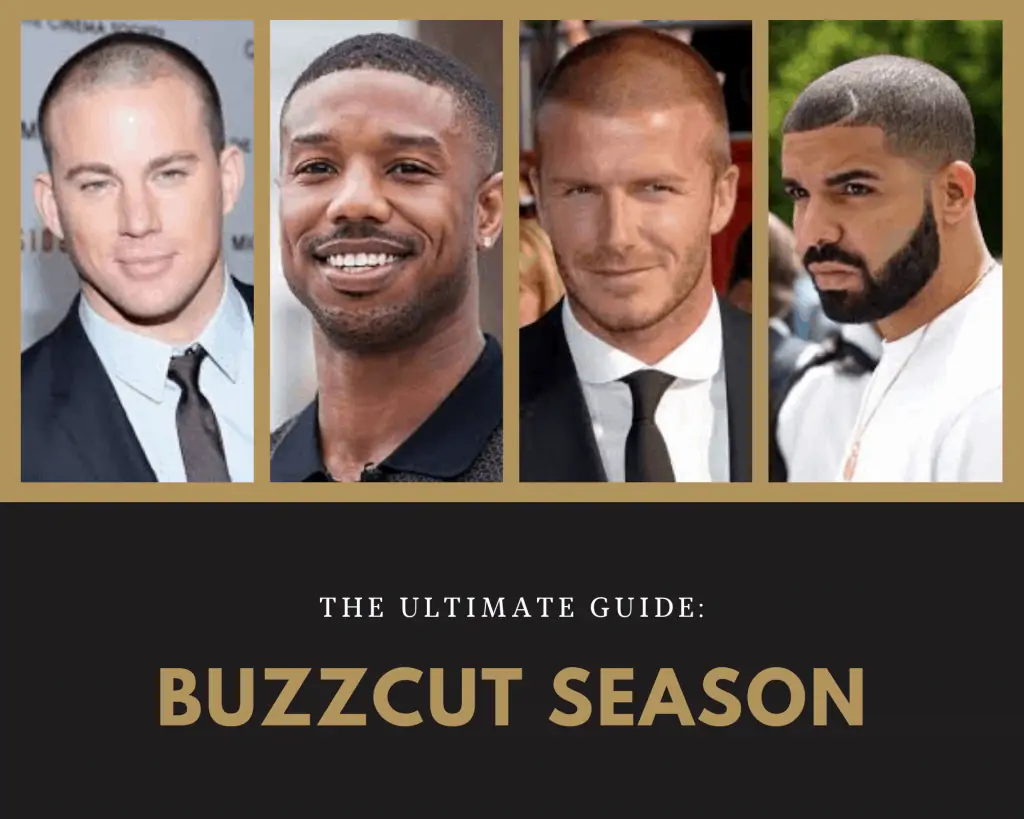 2. Face mask fashion
The CDC recommends using cloth face coverings to help slow the spread of coronavirus. Us Dudefluencers know the importance of safety when going out in public, so we make sure to never leave home without bringing our trusty mask.
Just because you need to wear a mask doesn't mean you can't look good at the same time. Companies across the country are producing cloth face masks that not only protect others from COVID-19 but also remain stylish and have quickly become a men's summer fashion essential for 2020.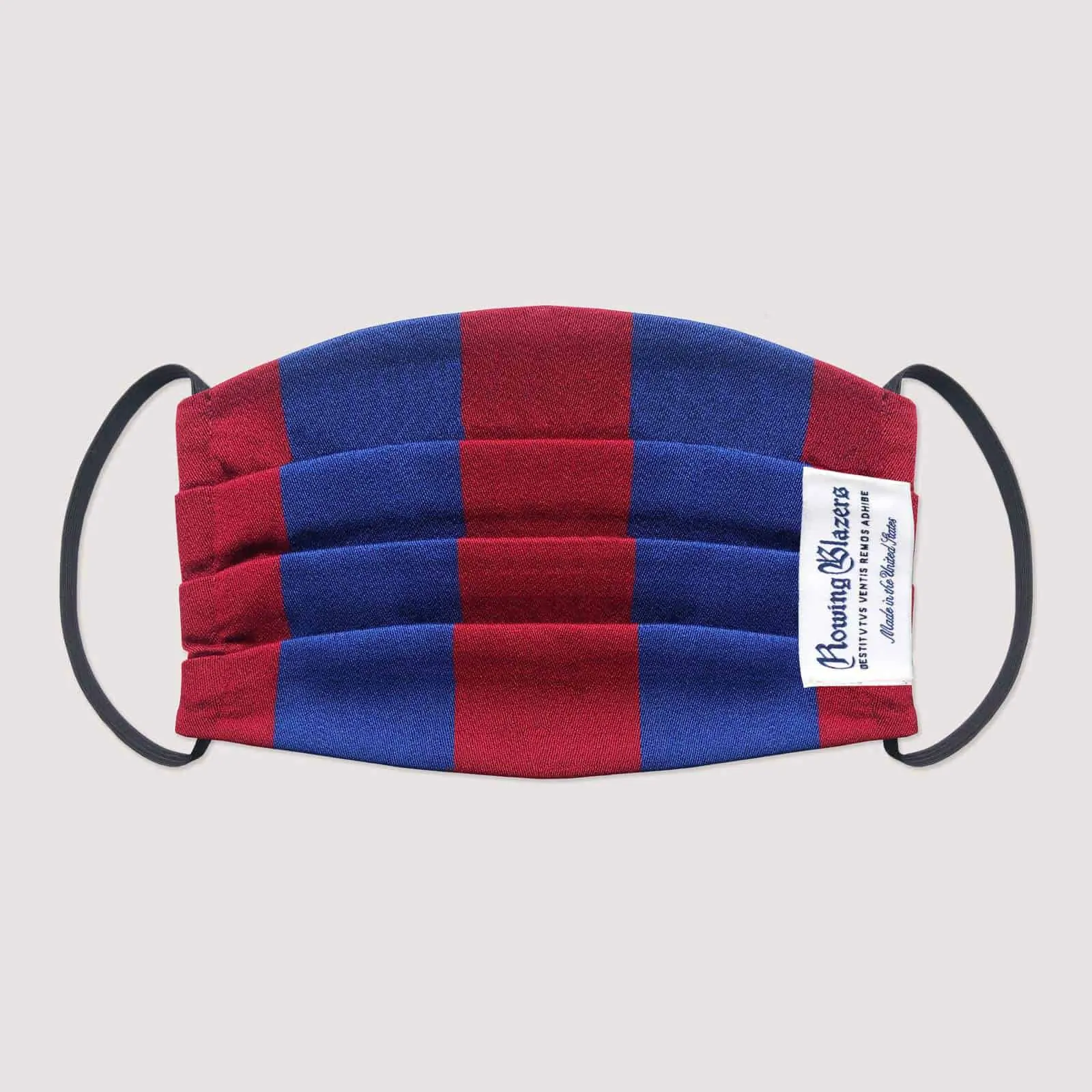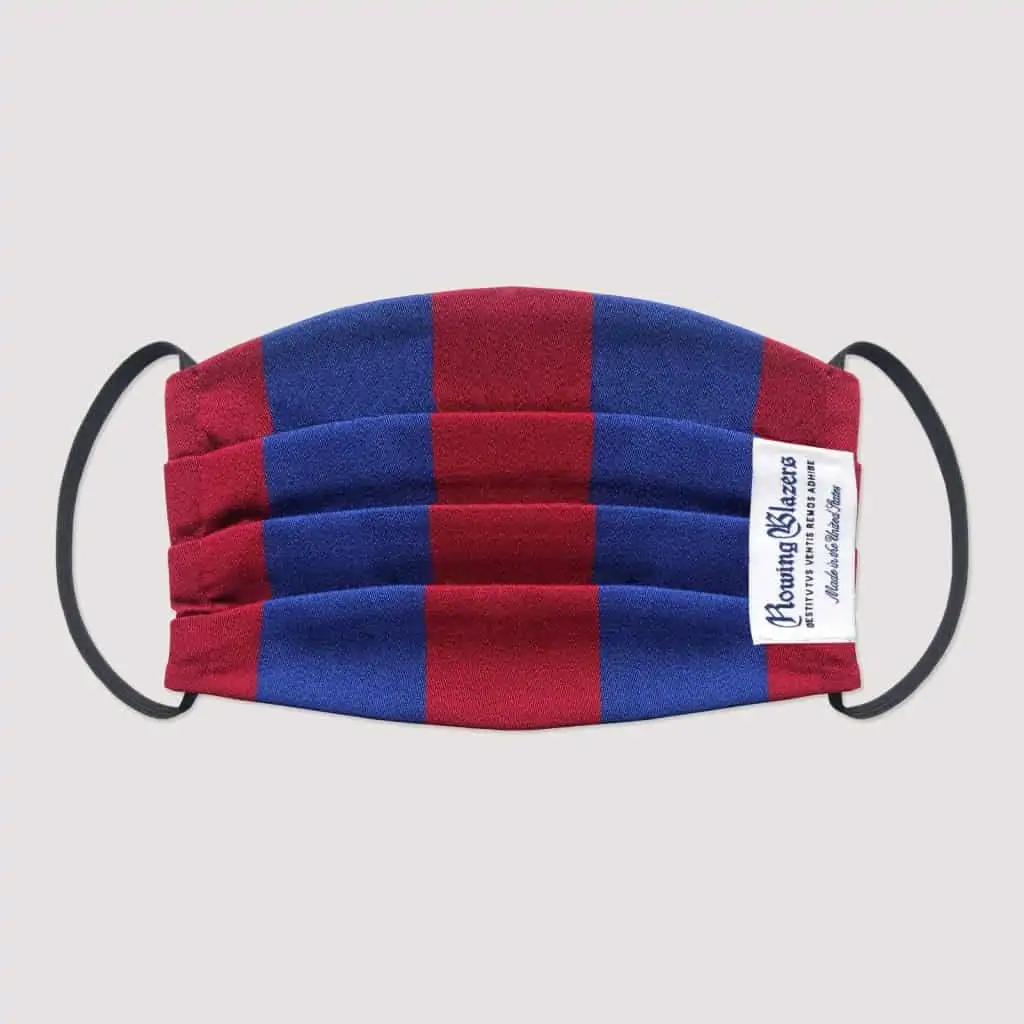 One of my favorite collections comes from Rowing Blazers, who, with every purchase, is donating one mask to the NYC Food Bank. Made from leftover scraps of material from blazers, suits, and shirt fabric, these masks are not only high quality, but their preppy stylings make them look unique and formal. I'm personally a fan of the Red Blazer Mask and Bloke Stripe Mask, but there's a ton of options to choose from.
For something a bit more summery, Kenny Flowers is producing a collection of reusable, non-medical masks that feature colorful patterns perfect for warm weather. The three-pack includes one pink flamingo print, one tropical floral print, and one sort of Aztec/flamingo hybrid. Kenny Flowers promises that "for every mask you buy, we'll donate a mask in Bali (to individuals, families, and communities in need) and remaining proceeds will be donated to Direct Relief – non-profit delivering medical-grade masks and other protective gear to healthcare organizations on the frontline across the USA." What I love about these masks is that the prints are perfect for the summer.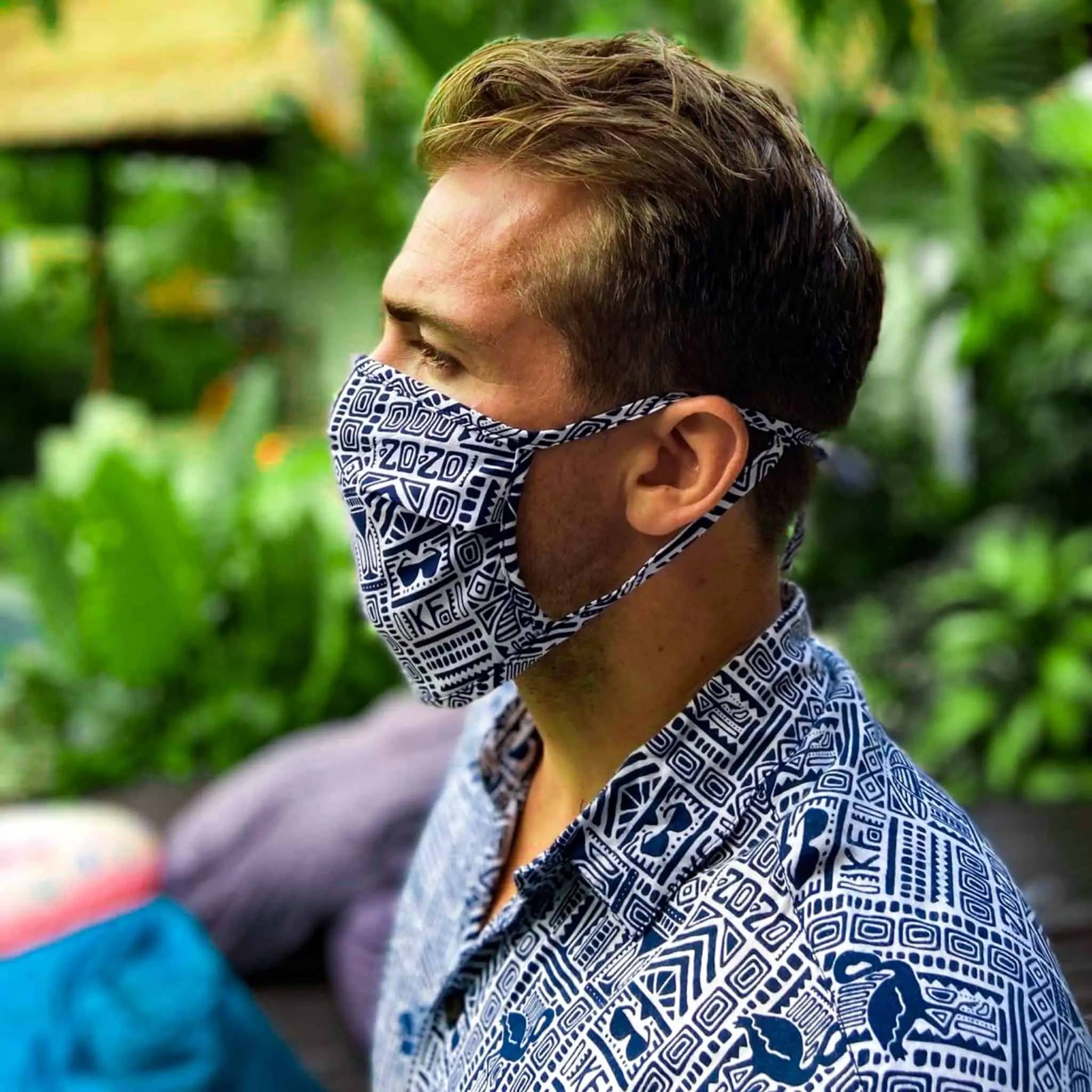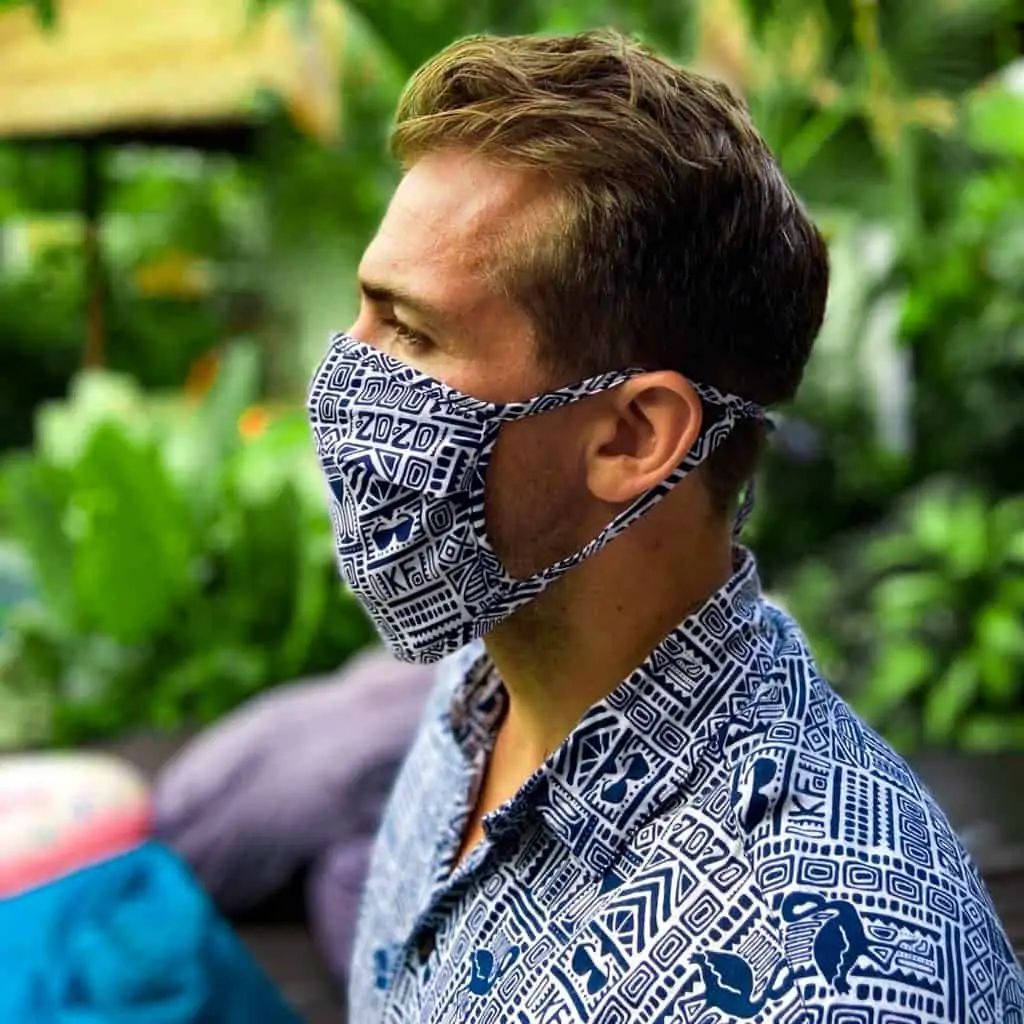 If you're looking for something that will match just about anything, Rendall Company's Sentry Mask might be what you're looking for. Made from cotton, the masks come in four colors: Wabash Dot, Indigo Denim, Moss Ticking Stripe, and Indigo Chambray. The Sentry features an "Embedded copper noseband that bends for a snug, custom fit (and reduces eyewear fogging)."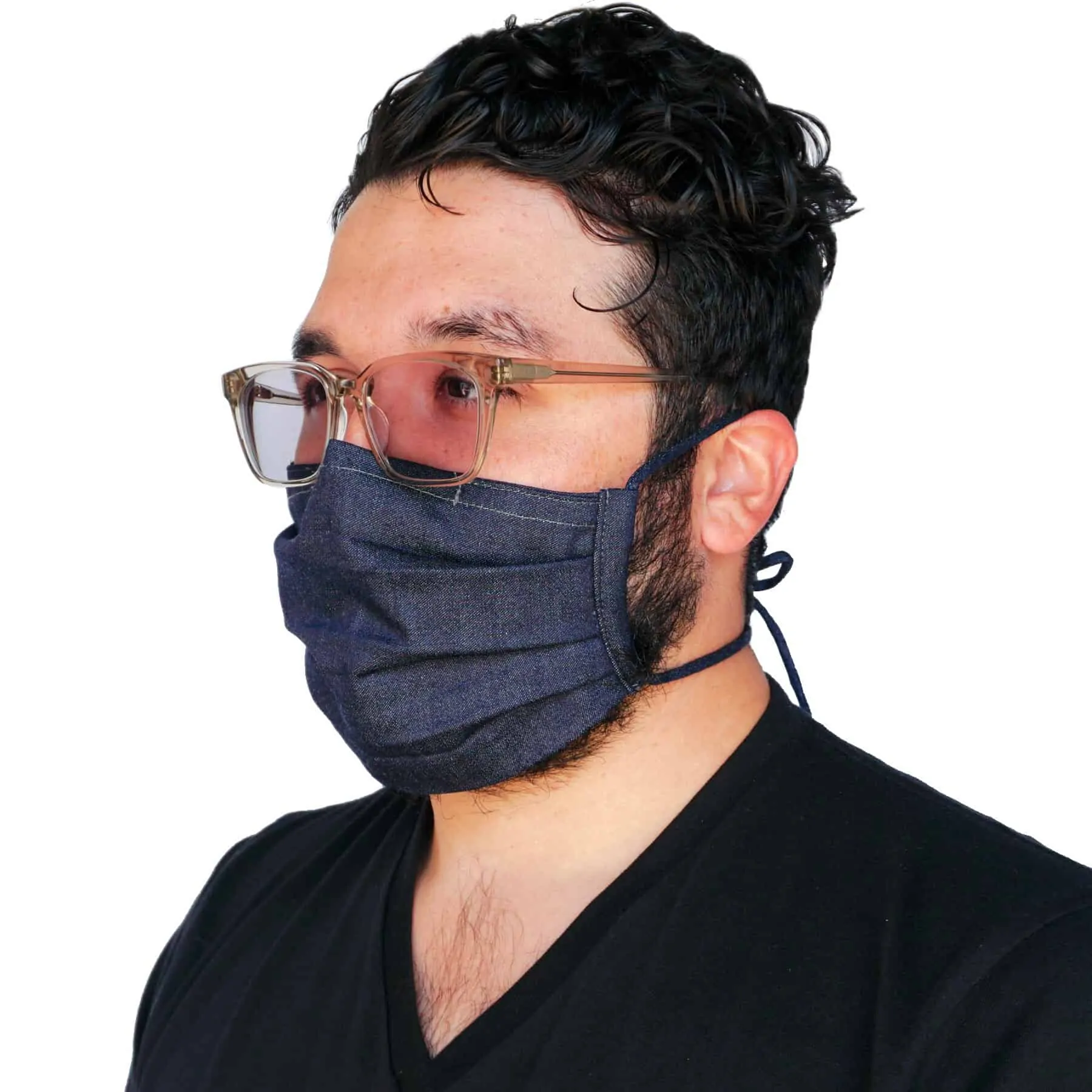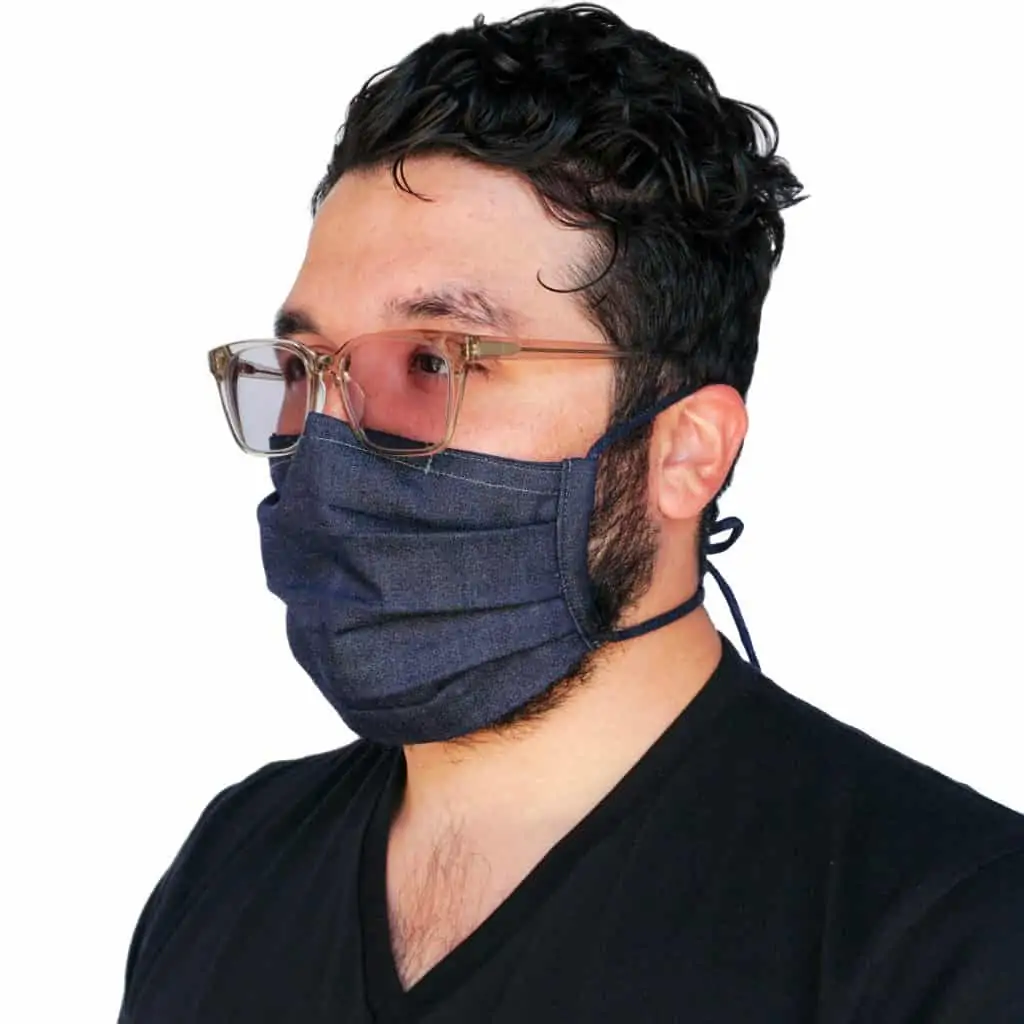 There's also something for those mask wearers who are looking for something that shows off their fandom. Mask Club, a newly launched company that offers novelty themed face masks that include Batman, Star Trek, and other popular television programs while Etsy has a variety of different sports team face mask options available. Even professional wrestling is getting into it with All Elite Wrestling and World Wrestling Entertainment selling their own brand of face masks.
This summer, you're going to need to wear a mask to go just about anywhere, so why not make your mask a part of your wardrobe?
3. Hand hygiene
While most people are adhering to rules mandating masks in public, our good friend Sven Raphael Schneider of The Gentleman's Gazette is surprised more people aren't wearing gloves. Schneider tells us, "Most who do (wear gloves) wear gardening gloves or knitted nylon gloves, but they are actually quite warm. Instead, a pair of unlined leather gloves can be a great way to protect yourself and be more stylish than a pair of rubber or fabric gloves."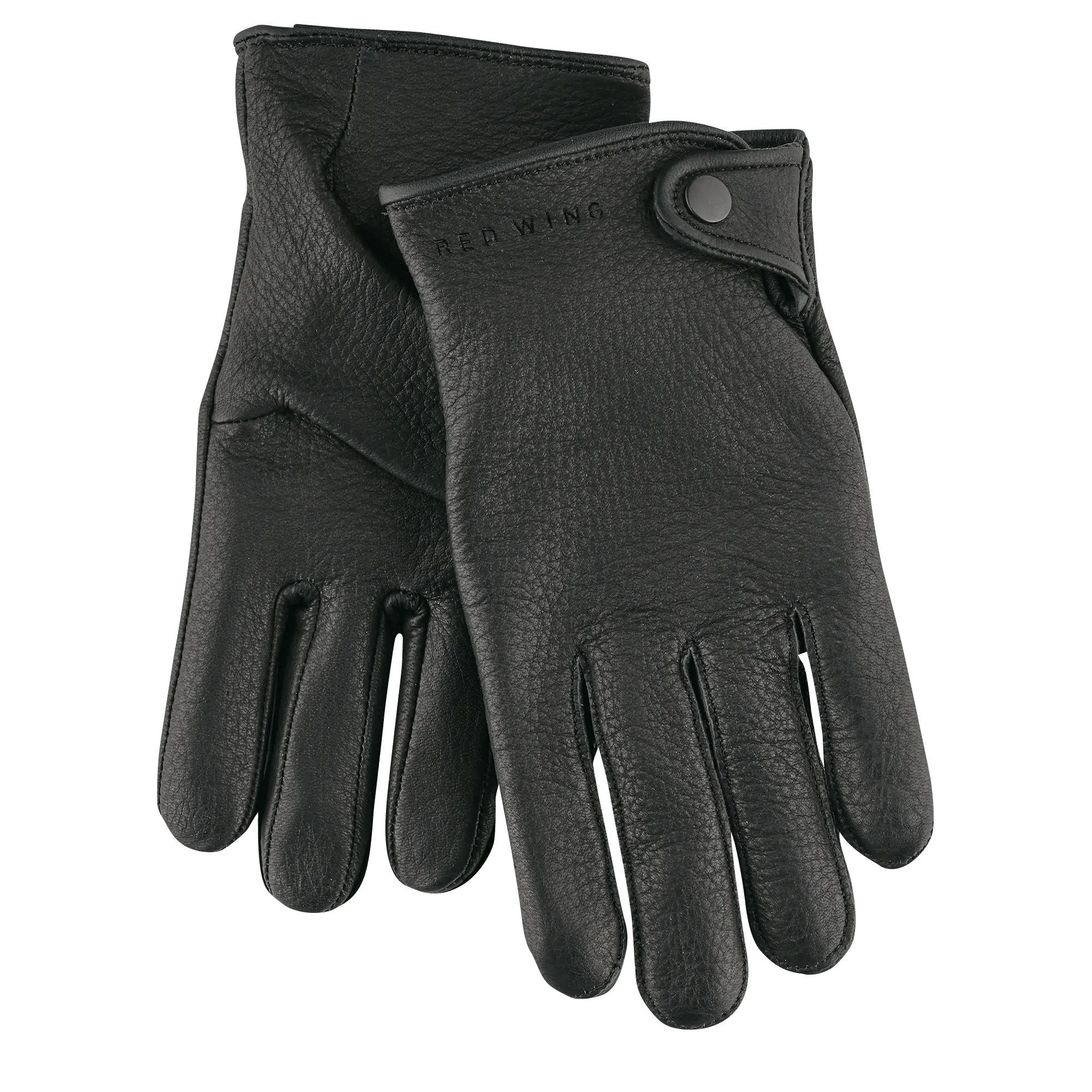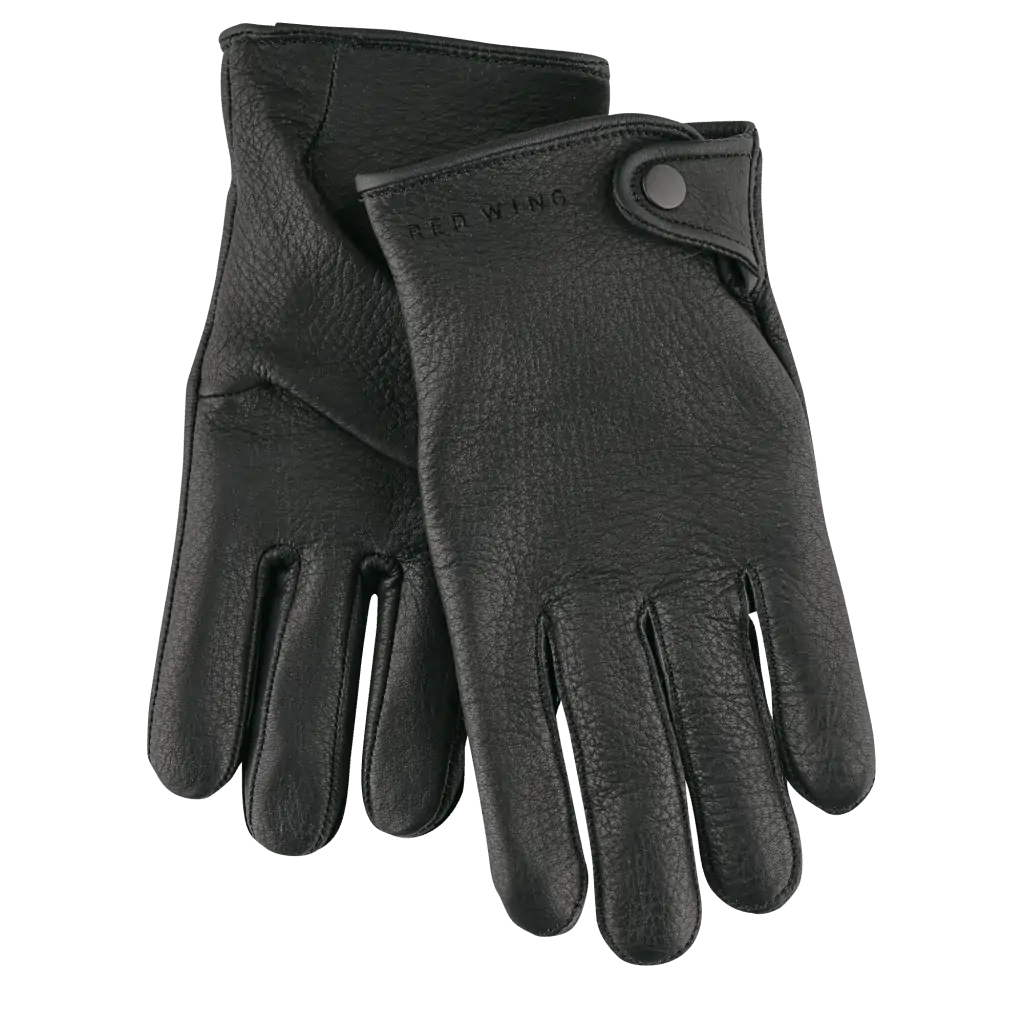 If you're looking for a long-lasting unlined leather glove, it's hard to go wrong with the Red Wing Driving Glove. Made from deerskin leather, these gloves offer comfort and a luxurious fit while providing the high quality you'd expect from Red Wing Shoes. These driving gloves are available in black and tan and retail for $134.99.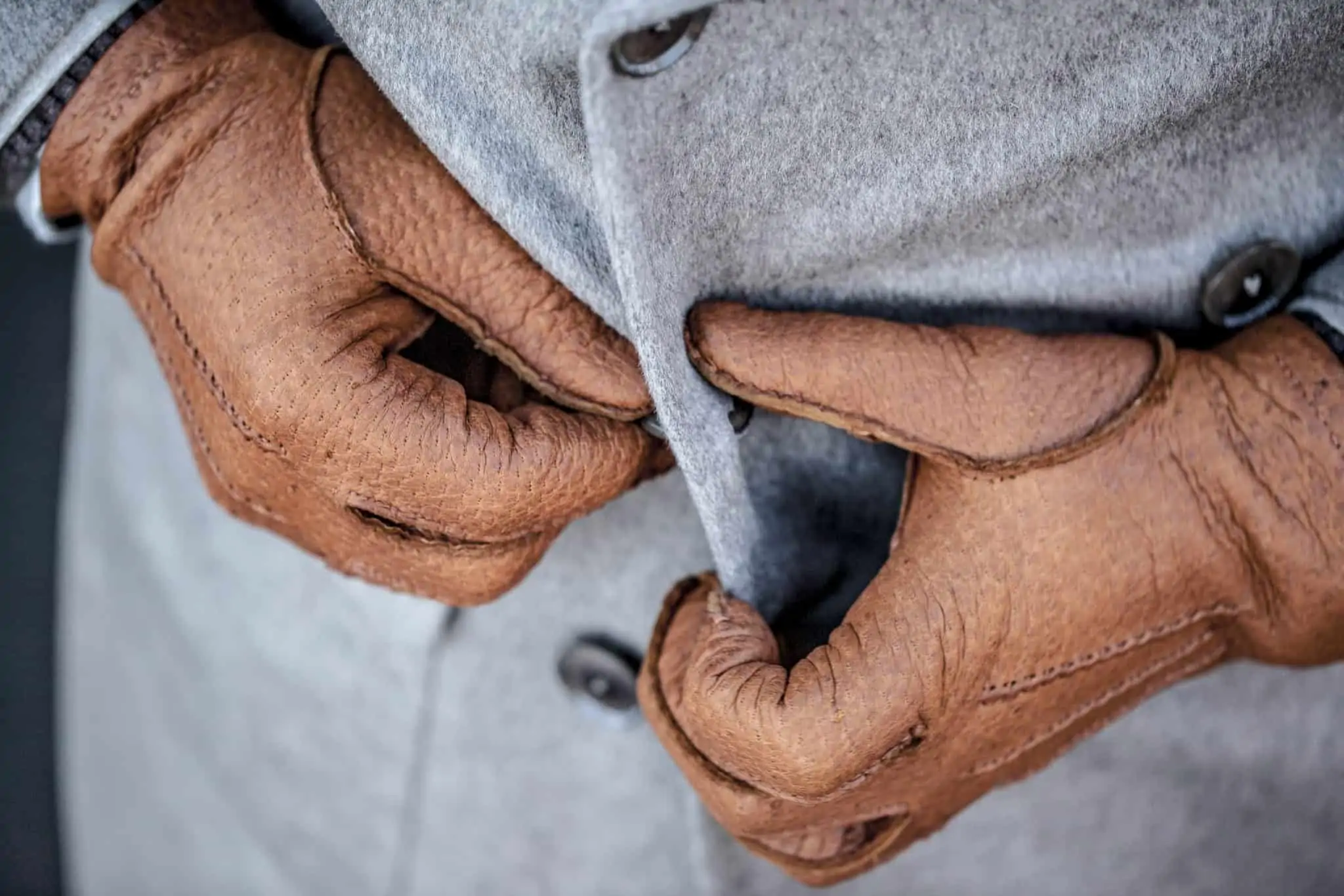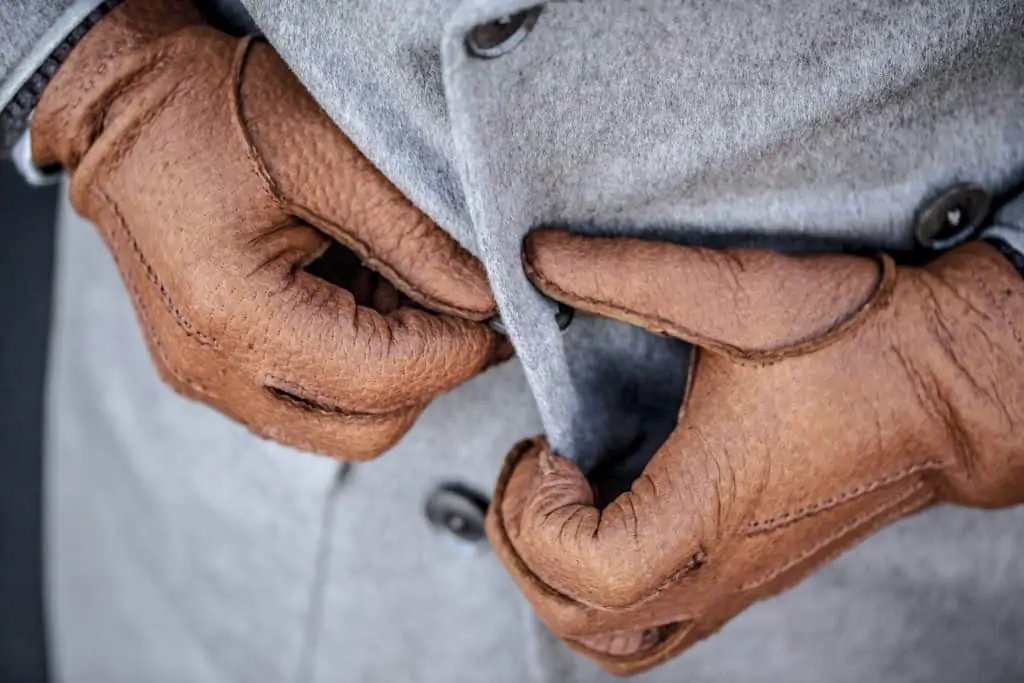 Looking for something a bit fancier? Then look no further than the Peccary Handsewn Gloves by Hestra. These gloves cost a bit more than the Red Wing gloves, but these table cut gloves promise to get softer (and more supple) with each use. Outside of their high quality, the design of the Peccary gloves is immaculate with a little triangle between each finger for comfort and a vent on the palm to make the gloves slide on and off easier. And the best part is that they are available in a variety of colors including classics like black and brown or for men who like to spice things up a bit, green and burgundy.
And for men who idolize James Bond, Dents Gloves will have what you need. On their online store, men can purchase the same gloves seen in Skyfall and Spectre. But they also have a collection of some of the most elegant gloves in the world. Dudefluencer recommends Milton, a hair sheep leather glove that is designed for longevity and comfort. Made in England, these gloves are available in a variety of sizes and colors that will look good at any time of the year.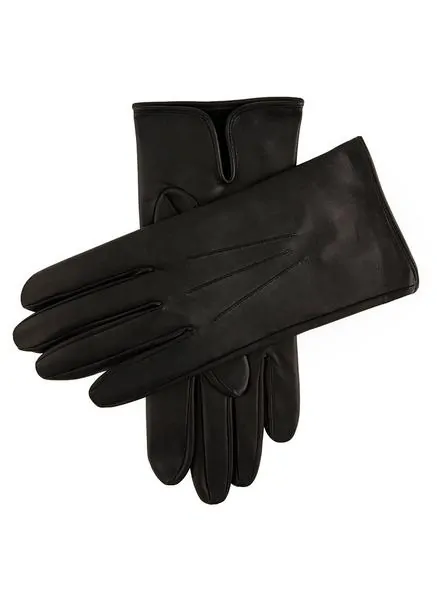 With those men's COVID-19 fashion drivers in mind, let's move on to the meat of this article: how we move forward with our men's summer fashion essentials guide for 2020.
Men's Summer Fashion Essentials for 2020
For summer 2020, I decided it was time to call on the experts to let me know what to buy for when we're allowed outside again. As always, they came through with some great advice and shopping tips to help make all of us look better this summer.
Men's summer fashion essentials come down to four things: shirts, shorts, shoes, and fit. Below, I'll break down everything you need to know about each, from which styles are in to how to wear them to how to avoid common male summer fashion faux pas. As per usual, I interviewed several men's fashion experts to get the facts right, and I only recommend eco-friendly brands to continue supporting sustainable fashion. (If you're looking for more formal fashion advice, check out my guide to ethical men's suits!)
Here are my biggest takeaways:
1. Summer is for casual shirts
I know you've been taking your quarantine workouts seriously, and you definitely want to show off your jacked upper body as soon as you're allowed. Suns out, guns out, right?
Well, not quite. Shirtless equals okay only for these situations: you're on the beach, you're in the water, or you're Ryan Gosling. For the rest of us, that means we're going to need to put on a shirt for most of our day. Thankfully Dudefluencer is here to help you out with some men's summer fashion essentials.
Shirt tip #1: Rock the Chambray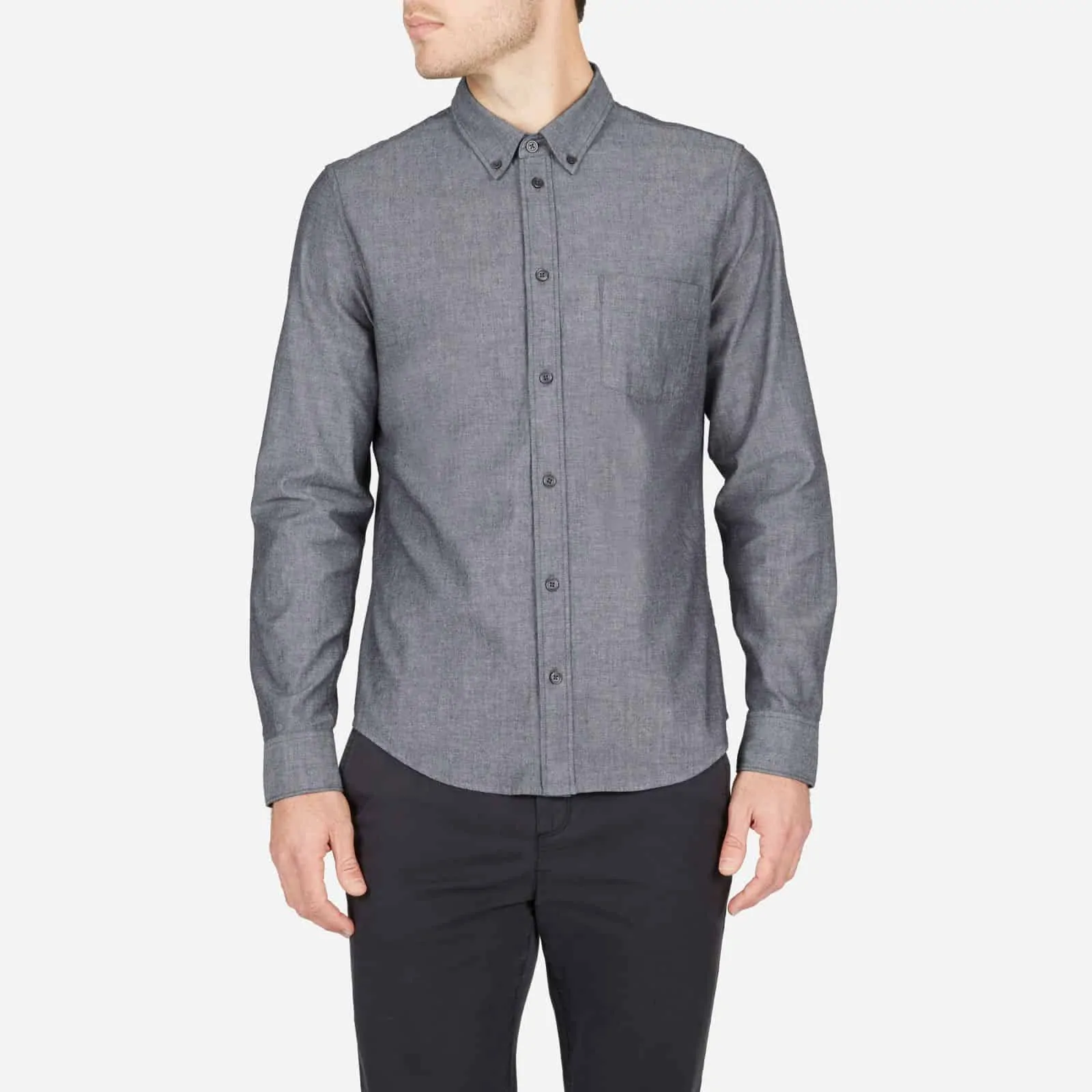 Once thought of as a passing trend, the Chambray shirt has declared itself as a must-have for men's wardrobes, and what better time to rock one than in the summer? While it has the look of denim, it's softer and lighter. It is the perfect shirt for easing back into the summer social scene.
We are big fans of the Everlane Chambray Button-up shirt as it mixes excellent style with affordability. And besides, with a shirt made from material as versatile as Chambray, you're going to make sure you buy one made of good quality because it'll be an integral part of your wardrobe for a long time.
Shirt tip #2: Printed shirts are perfect for summer evenings
The button-up short-sleeve shirts have gotten a bad reputation over the years thanks to less than fashionable takes in the office. But for summer 2020, printed button-up shirts are back on the scene. And while the Chambray shirt is a bit more traditional and universal, the printed button-up is meant to be a colorful spark to your outfits.
Take, for example, one of our favorites here at Dudefluencer: the short sleeve printed shirt from Sandro. It mixes various hues of blue together while not looking too obnoxious. Uniqlo also has an extensive collection of short-sleeve button-ups that vary in color, material, and bagginess. In terms of fit, aim for a sleeve that ends around the bicep with a one finger cushion all around. The old-time baggy works if the shirt is meant to be a Camp Collar fit.
Shirt tip #3: Look like a movie star with a Henley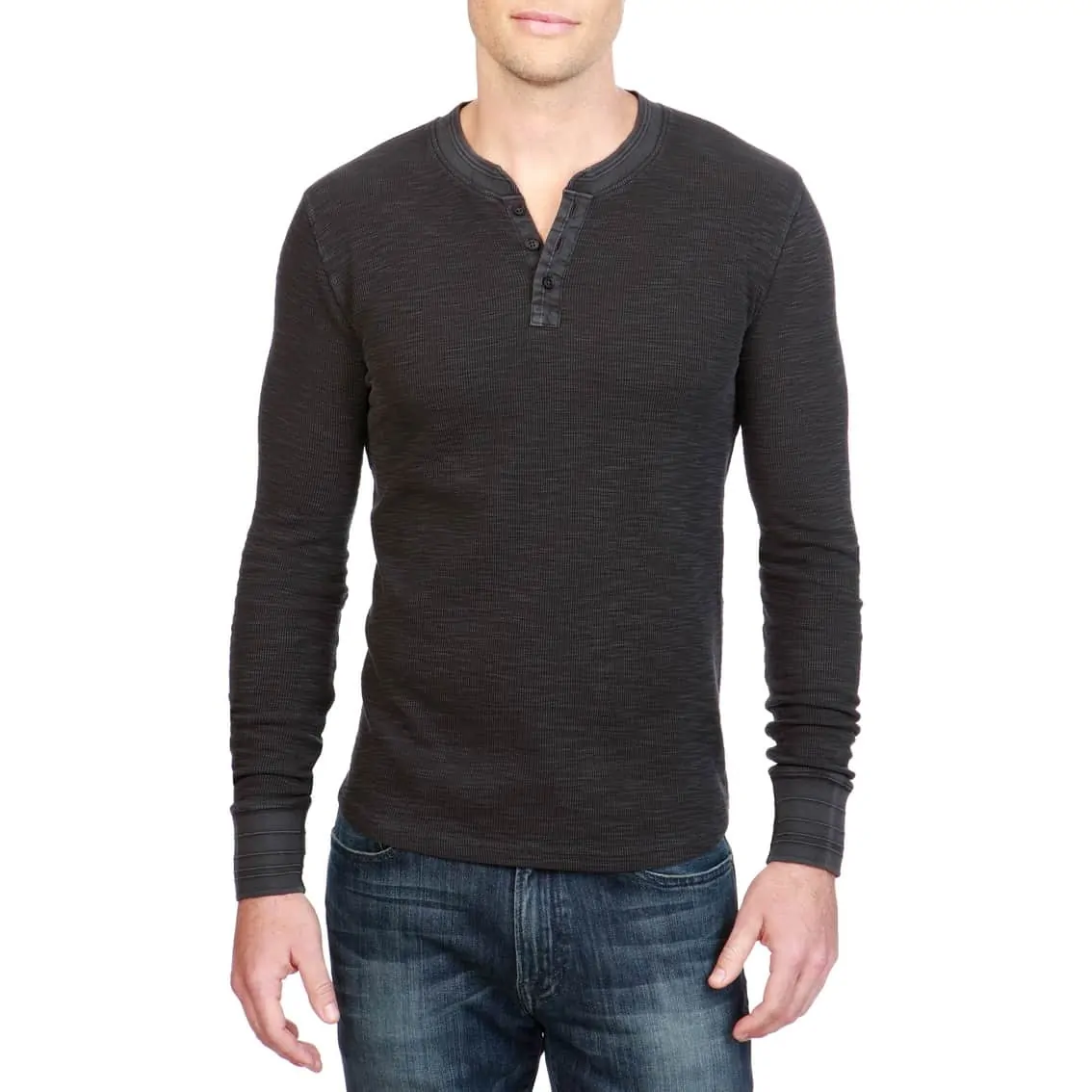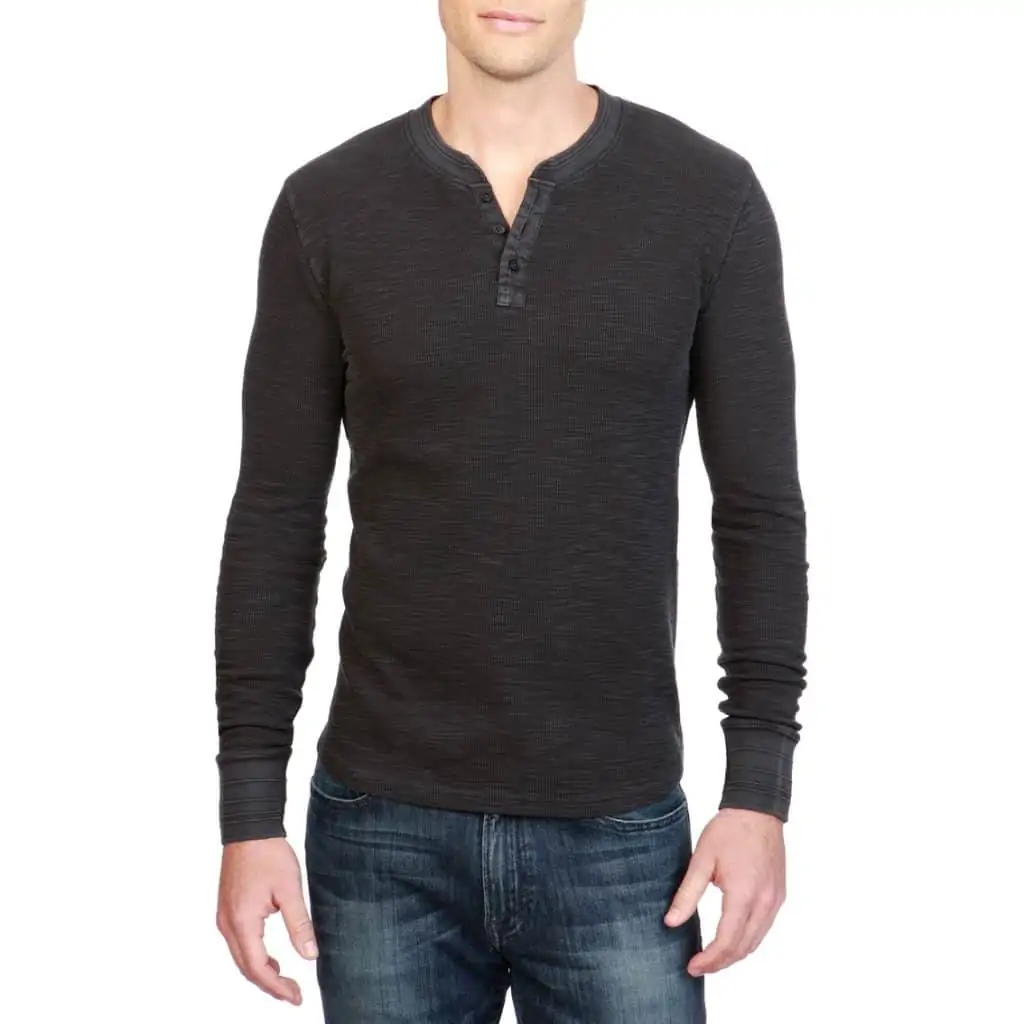 Andy from Ask Andy About Clothes suggests: "Henleys instead of tee shirts (they are really only undershirts!). Henley or Wallace Beery has a collarless ringneck that is split in front to allow two or more vertical buttons. Derived from crew racing shirts worn for the famous rowing regatta established in 1839 at Henley, England (southwest of London). Wallace Beery (1889-1949), a tough, ugly but easy-going, mostly comic actor often wore this type of shirt in his movies."
Dudefluencer recommends these men's henleys from Lucky Brand Co. Available in a variety of colors, these henleys were designed for you to show off your upper body and look good doing it.
2. Beware of the shorts effect
I've never been much of a shorts guy. Between my bow legs and Sasquatch-Esque amounts of hair, I just didn't find myself wearing shorts in Western New York other than in the middle of the occasional heatwave. But when I moved to Virginia and the summer heat started in mid-March, I realized that I needed to buy some shorts. And like real shorts, because wearing athletic shorts out in public only works if you look like you just got back from the gym, or are going to the gym.
(In my case: it was neither.)
Thankfully Andy from Ask Andy About Clothes let me know everything I needed to know about shorts for our men's summer fashion guide. He warns of the "shorts effect." He explains: "Shorts provide a horizontal line at the knee that can make you look shorter. Great for tall guys, but short men should be aware of this effect." Finding the right shorts are integral to all men's summer fashion essentials list.
Andy made sure to provide a few simple rules for men to think about when purchasing shorts.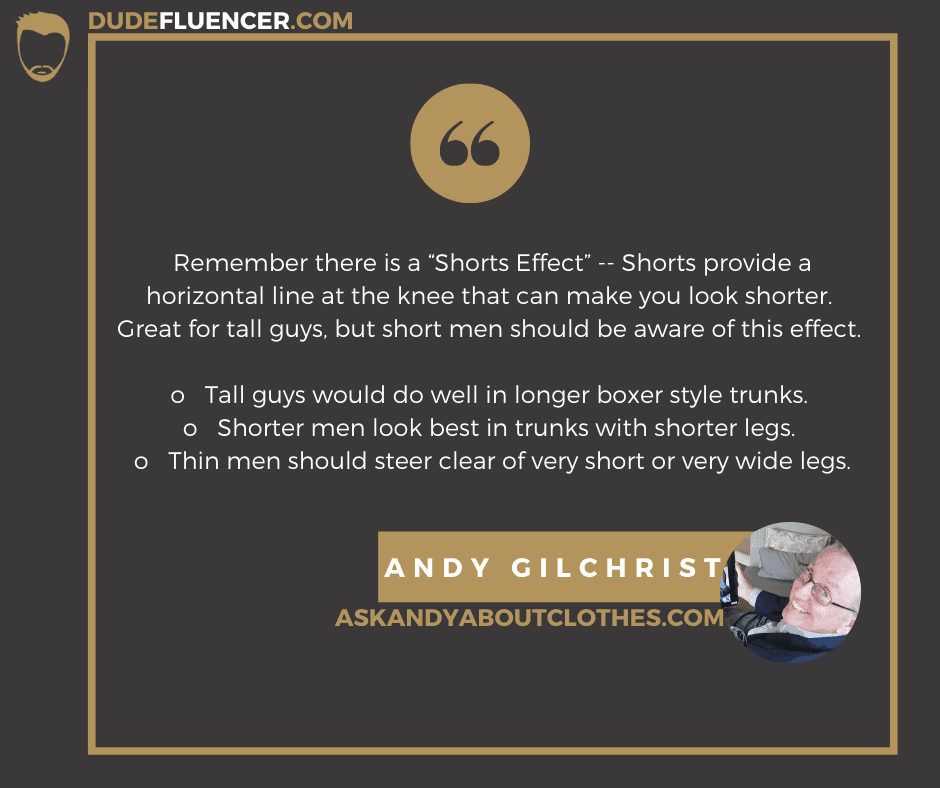 Shorts tip #1: Tall guys do well in boxer-style trunks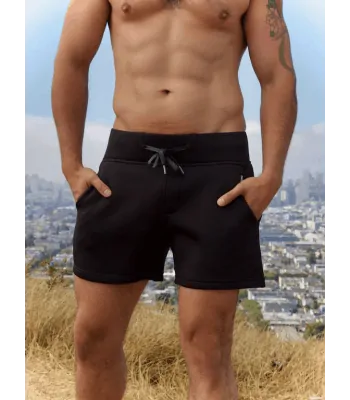 You want to avoid short shorts if you're a tall guy for one reason and one reason only: you don't want to look like you've got disproportionately long legs.
By wearing shorts that are just a little bit longer, and baggier, it makes your proportions seem more even. Andy suggests looking for trunks that make your proportions will look good, but you'll also stay comfortable.

Shorts tip #2: Shorter men look best in shorter trunks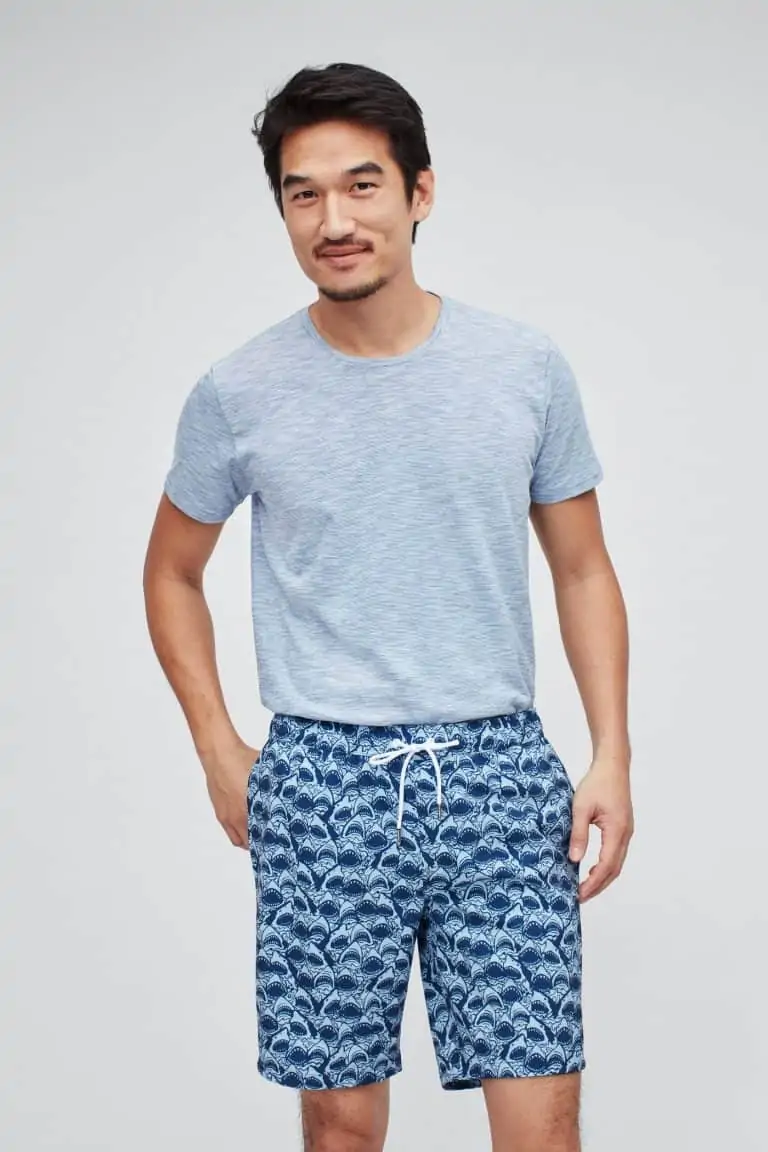 Good news for those on the shorter side as short trunks is back in style. The shorter you are, the shorter your trunks can be, which is perfect because shorts are getting fashionably shorter by the season.
If you think about it, shorter-length shorts make a lot of sense. The longer the short, the smaller you'll look. And if they're way too long, it'll look like you're wearing an oversized pair of Jnco shorts and nobody wants that.
To avoid all that trouble and make sure that when you're buying shorts, you look for a length just above the knee.Uniqlo offers a great chino short at an affordable cost. Made from 100% cotton, these chino shorts are a bit more casual but provide great value.
If you're looking for a more eco-friendly option, check out the Bonobos Riviera Recycled swim trunks. Made from 85% recycled polyester, these ethically made swim trunks are designed to be the perfect shorts to wear to the beach. I absolutely love the style of these trunks; the variety of fun patterns is going to be perfect for beach cookouts this summer. These shorts are must have men's summer fashion essentials.
Shorts tip #3: Thin men should steer clear of very short or very wide legs.
Again, it's all about proportions here. The shorter the short, the skinnier your leg will look. Same if you go for those very wide leg options. Your best bet is to search for something that sits around the knee and feels comfortable. No matter what advice is given, make sure you're comfortable in the clothing you're wearing.
I'm also a big fan of the Johnston and Murphy shorts. Available in plenty of styles and colors, Johnston and Murphy are comfy, cozy, and always fashionable.
And while shorts are great for the beach, Andy reminds us: "I do not recommend shorts for wearing to dinner, or most public places." Keep shorts for casual strolls outside, beach adventures, and sporting events. But if you're going out to a nice dinner or bar, it's still a good idea to find a nice pair of chinos to complement the rest of your outfit.
3. Make sure your feet are comfortable
I love shoes. Whether it's a pair of burgundy Red Wing boots to wear in the winter, or a clean pair of Sperrys for the summer, there's just something about finding the right shoes to match your outfit that makes all of the difference. And the right pair of shoes for warm weather are definitely a men's summer fashion essential.
Before we go into the shoes you should be buying, let's talk a little about what you should immediately Marie Kondo out of your closet forever.
Footwear faux pas #1: Wearing sandals (most of the time)
Sandals are not cool. They carry no sort of fashionable style, nor do they look particularly fancy. And besides, who wants to see your feet anyway? That being said, knowing when or where to wear sandals isn't tricky.
Are you on the beach? Yes, wear sandals. Are you at a spa? Yes, again. Do you think your feet will be wet at any point in the next hour? Please wear sandals.
Are you going out to dinner? Leave the sandals at home. What about heading over to an office meeting? Never. What if I am planning to be chased by a large animal this afternoon? For goodness sake, run barefoot. You'll have a better chance of survival anyway.
Sandals aren't the worst article of clothing ever invented, but their use directly correlates with where you're going to be. For the best discussion around wearing sandals, I highly recommend this article about sandals for men by The Gentleman's Gazette.
Oh yeah, and stop wearing socks with your sandals too.
Footwear faux pas #2: Mother-loving Crocs
I understand: you're just reading an article about John Cena hanging out in a park and you notice he's wearing Crocs. Then another article, this time with Shia LaBeouf and he's wearing Crocs too. Bad news guys: you're not John Cena nor Shia LaBeouf or Croc connoisseur Mario Batali, and Crocs are still not cool.
When it comes to comfort, Crocs rank at the top. The problem is there are few places where wearing a pair is fashionably acceptable. So for summer 2020, it's best to keep your Crocs in the back of the closet.
So what should I buy?
We know what not to wear, but where should we be spending our money? Our men's summer fashion guide for 2020 recommends purchasing something a bit more relaxed.
Footwear tip #1: I'm on a boat (shoes)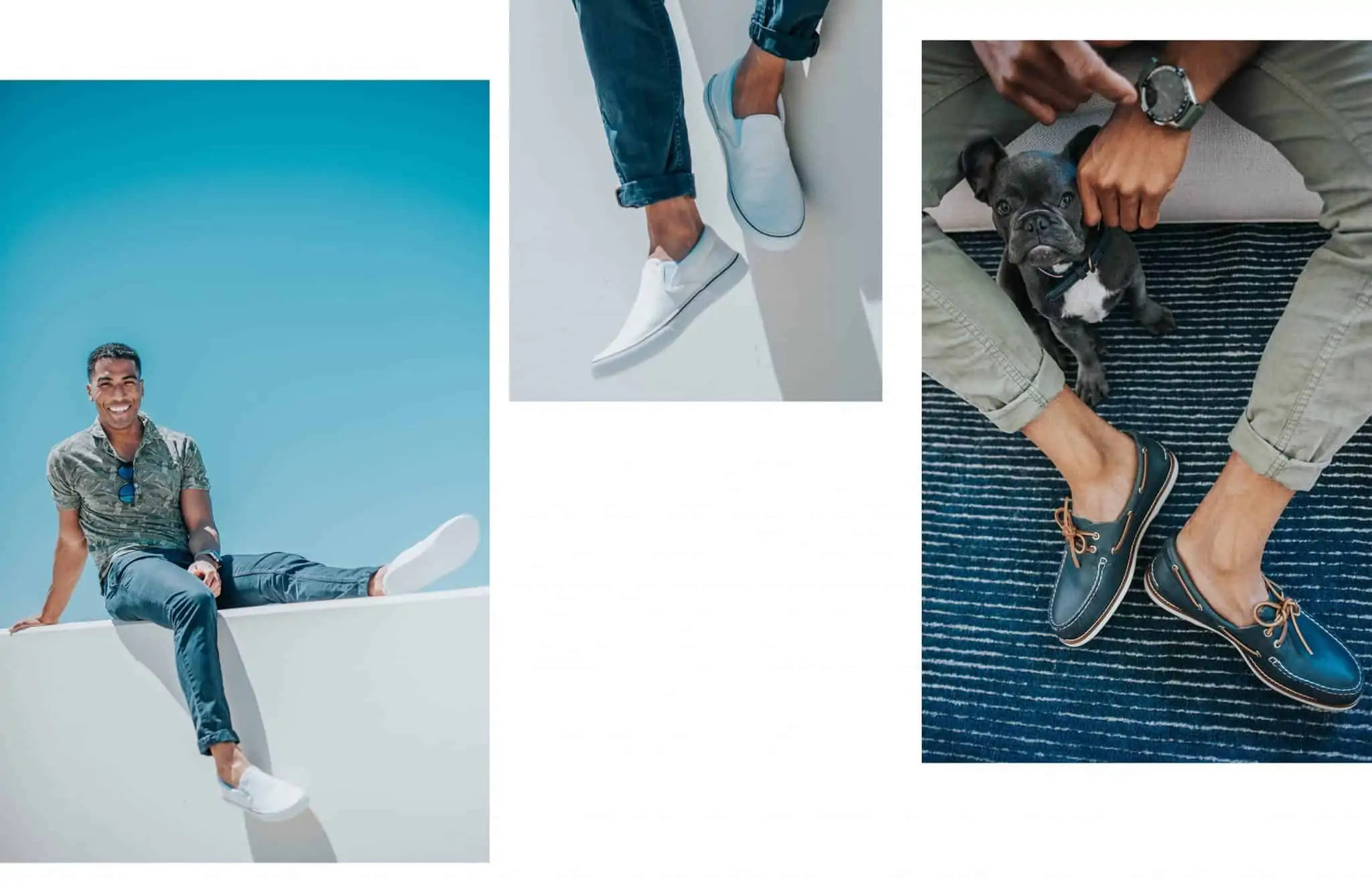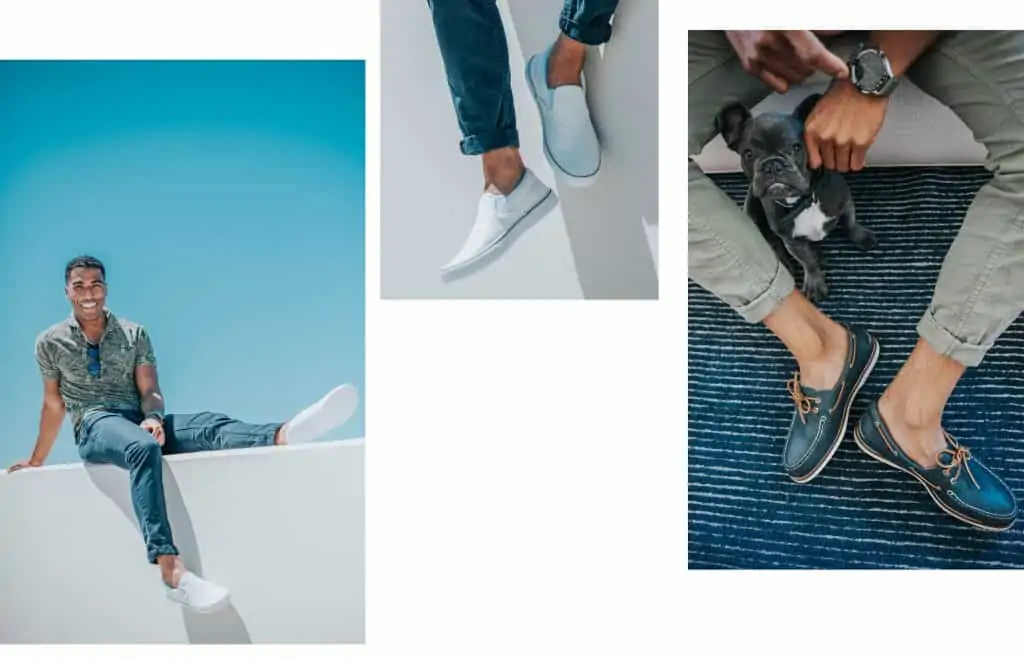 Our first suggestion comes from our own experience: boat shoes. I love the way they look, the way they fit, and just how easy it is for them to match most outfits.
Available in a variety of colors, these shoes are perfect for summer strolls across the boardwalk or bar hopping in the evening. Dudefluencer recommends going with the original Sperry boat shoe.
Personally, I love the look of the Blue Plushwave with dark blue leather and brown accent laces. As someone who's owned multiple pairs, After a brief break-in period, Sperry's become extremely comfortable and great shoes for nights out on the town with your friends.
Footwear tip #2: Casual loafers are a great summer fit
Tommy Lei from MyBelonging suggests, "My advice would be to not be so impulsive to spend your stimulus checks on new apparel right away but rather a great pair of comfortable slippers or loafer that are ideal for your next vacation at a resort setting. It will take some time for the economy to recover but nothing signifies getting back onto your feet than some new soles. Shoes are always a sound investment!" The keyword here is relaxed. Summer is meant to be stress-free, and after this winter and spring, we deserve a stress-free summer. And if your plan is to do lots of walking outside to make up for lost time, then finding a relaxed slipper or loafer might be your best bet.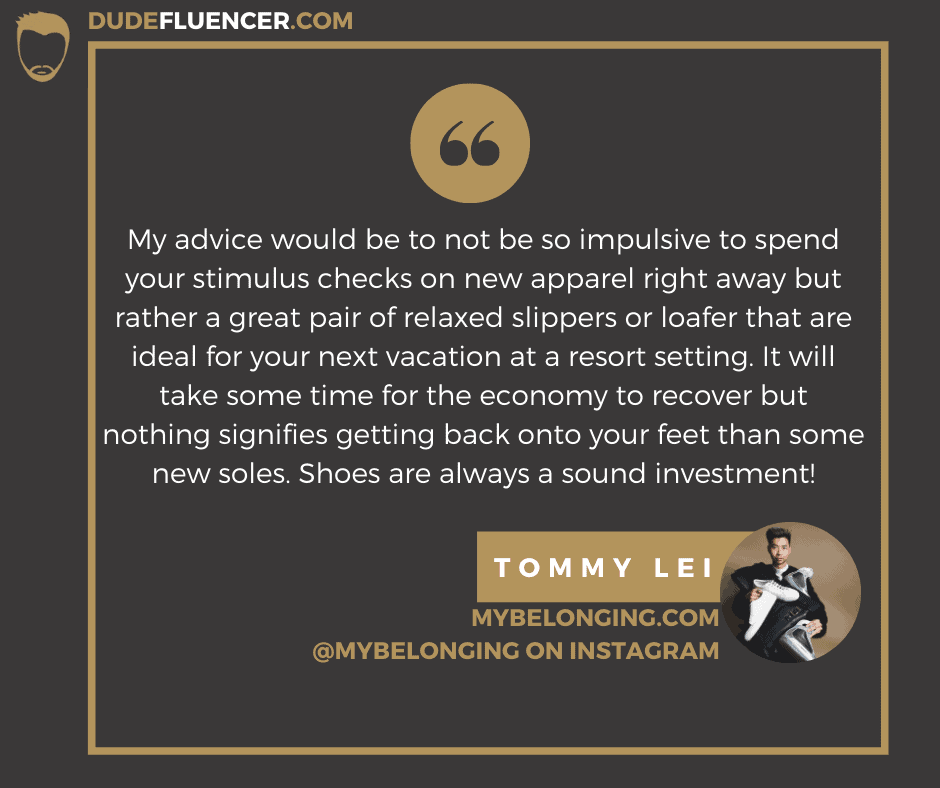 Sven Raphael Schneider of The Gentleman's Gazette recommends "a pair of suede loafers in a bolder color such as light beige, blue, green or red can be a fun way to mix things up." Loafers are classic and must-have items for any man's closet. And the best part? You can dress loafers up, you can dress them down. Loafers are the utility men of footwear.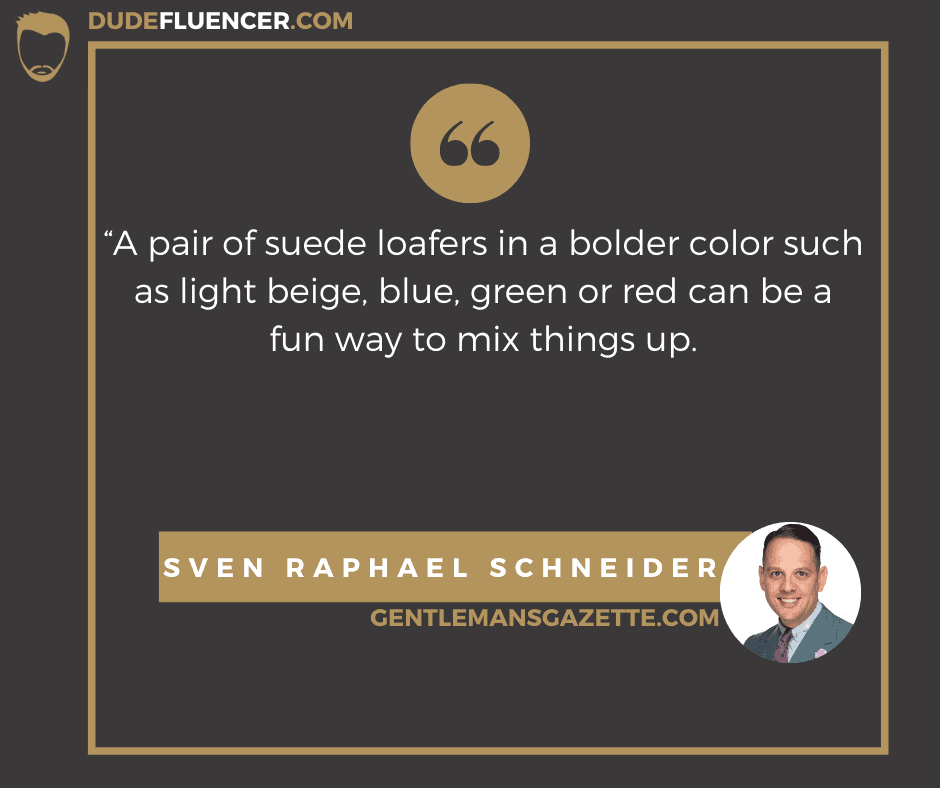 When looking for stylish loafers, make sure you try and find a color that will match most of your outfits. Bold colors like greens and reds work well with most summer attires. Classic suede loafers in beige are pretty universal in that they'll match just about any outfit you pair them with.
Dudefluencer loves the men's loafer options from Aldo. Available in a variety of colors and styles, Aldo loafers are also well known for their high-quality production. The Daywen in dark orange is one of my favorites because the color is perfect for summer evening outfits, and the buckle on top adds just enough extra pizazz to make you look extra classy. One thing to keep note of though, Aldo shoes do require a brief break-in period (suggested around 3-4 uses before break-in).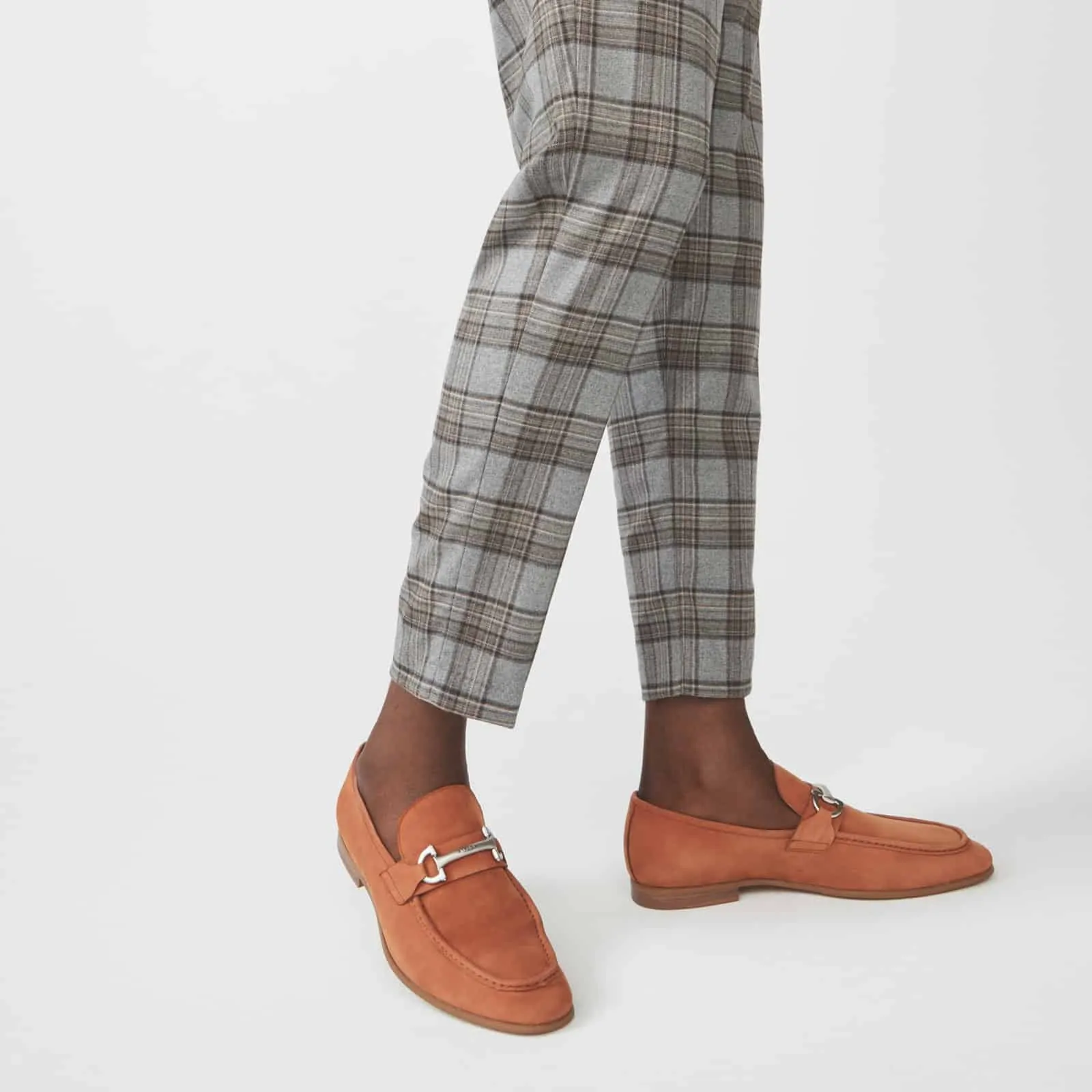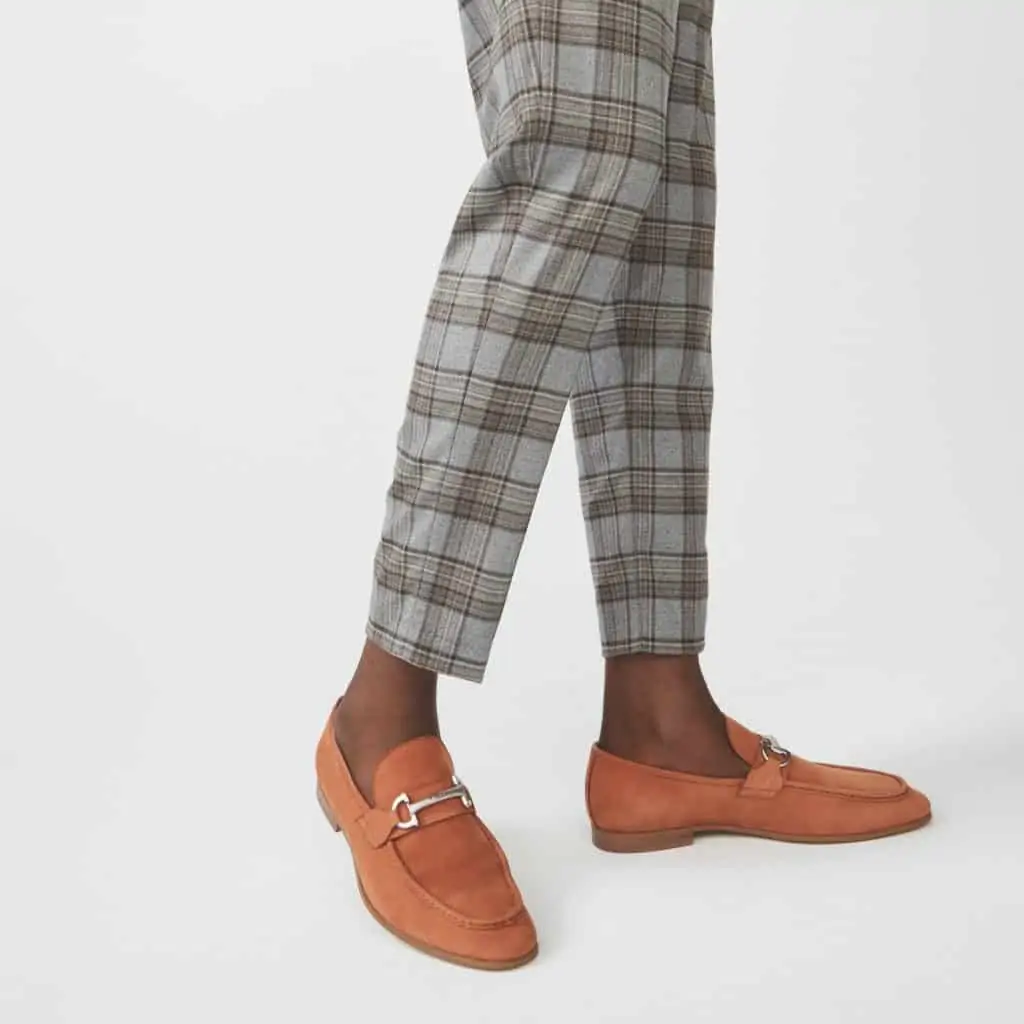 Lei is a big fan of these Bottega Veneta loafers from Mr. Porter. While a bit more expensive, these Italian inspired shoes meant to last for a long time. Our men's fashion guide suggested quality over quantity, and that's precisely what you'll find with the Bottega Veneta loafers.
Footwear tip #3: Don't forget your socks!
While socks and boat shoes aren't a good match, it's often recommended that you wear socks with loafers. Trendspotter features a great article detailing eight different ways you can wear socks with your loafers, including mixing and matching colors, formal sock options, and throwing in some neutral tones.
Brock McGoff from The Modest Man recommends "letting your ankles and legs breathe a little bit, especially if you've been stuck inside for a while. Try no show socks for a sockless look without sacrificing comfort. Cuff or hem your pants for no break, and wear shorts that end above the knees. These small details will make you look and feel effortlessly cool (literally and figuratively)." The Modest Man has a great list of options of no show socks that will help make sure your feet stay dry, stylish, and comfortable in the summer.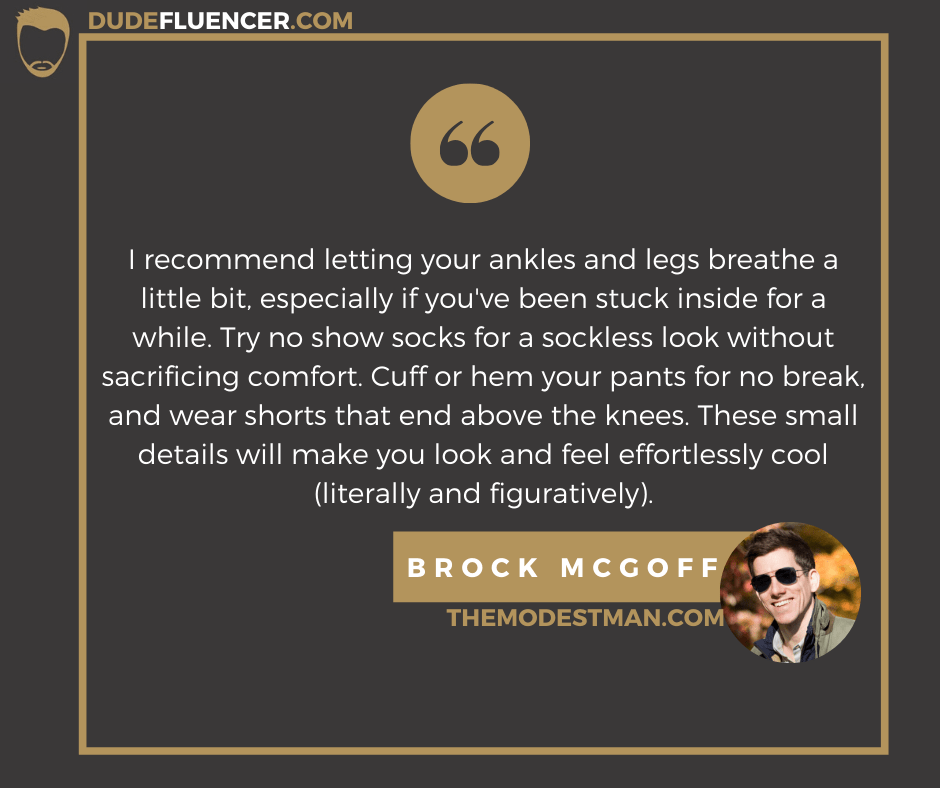 4. Fit and fabric, and fun
We've talked about it in our guide to men's suits, our guide to men's shirt fits, and our guide to men's fashion: the number-one thing that you need to remember for any piece of fashion is to make sure that it fits you correctly. Being comfortable is key for any men's summer fashion essential.
Barron Cuadro of Effortless Gent reminds us that "most guys trying to stay cool in the summer wear really loose clothing, which I understand, but it tends to look sloppy if not done well. The trick to looking stylish in the warmer months is to stick with the same fits and silhouettes, but switch to lighter fabrics." If you're looking for a fabric that is lightweight and breathable, then cotton might be your best bet. But remember, cotton soaks up sweat easily and definitely will show armpit stains over the course of a wearing. Cuadro recommends "linen or lightweight cotton shirts, instead of heavyweight twills and flannels… lightweight stretch cotton shorts… summer-weight chinos and linen dress shirts for the office."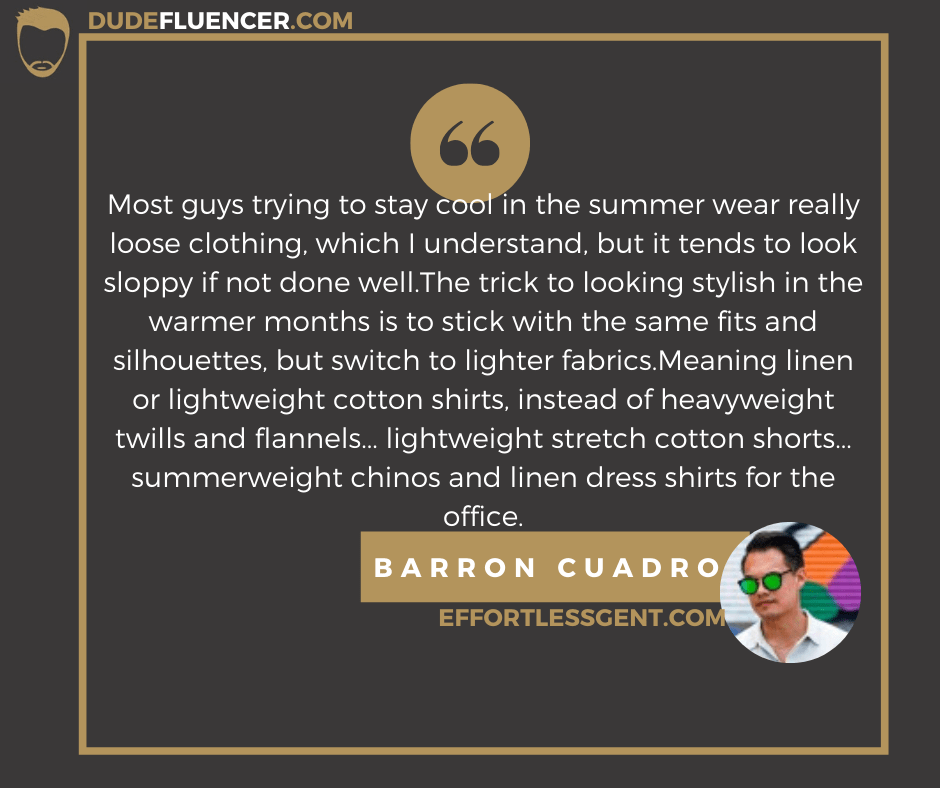 And while you're looking at fabrics, don't forget about texture. Andrew Snavely from Primer Magazine suggests "more so than the other seasons due to our layering being pared down as little as possible, great summer fashion is all about texture. Fabrics like linen knit polos and patterns like gingham or stripes create visual interest for outfits only comprised of a shirt, shorts, and shoes." Primer Magazine has a great in-depth article on summer fashion options including some outfits you're definitely going to want to replicate.
But perhaps most importantly for summer and your return to socialization, keep your clothing options interesting. Men's summer fashion essentials should stand out a bit.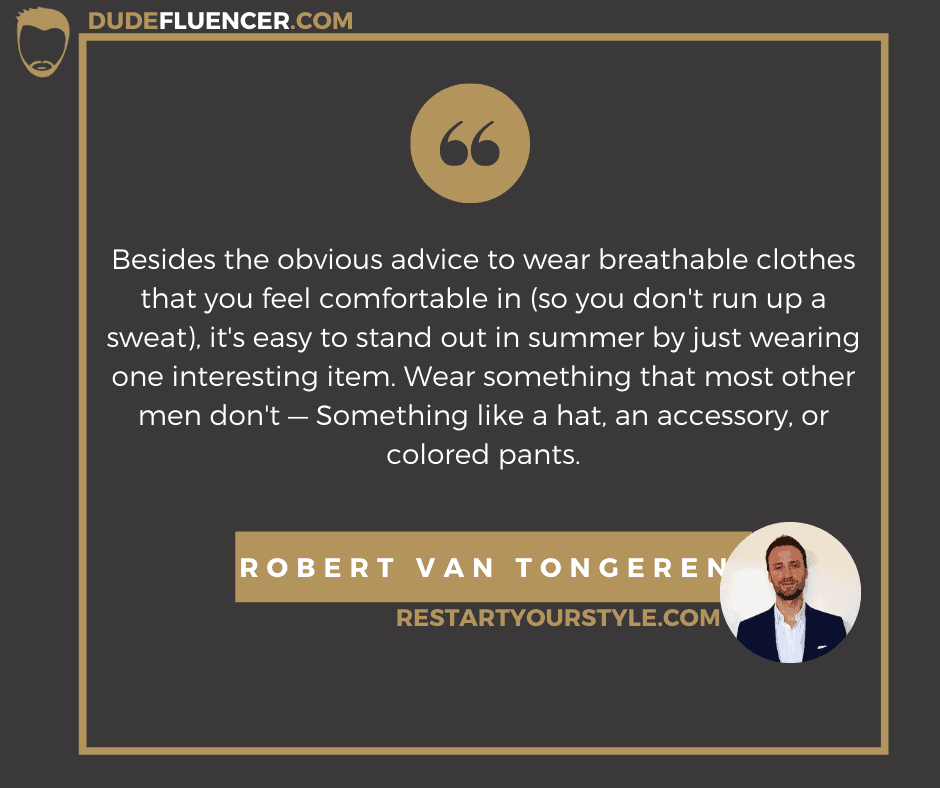 Robert van Tongeren of Restart Your Style tells us, "Besides the obvious advice to wear breathable clothes that you feel comfortable in (so you don't run up a sweat), it's easy to stand out in summer by just wearing one interesting item. Wear something that most other men don't: Something like a hat, an accessory, or colored pants."
Conclusion
Men's summer fashion essentials are key to making sure you look good once quarantine ends. Follow our advice and you'll be looking and feeling good in no time.
Make sure to follow us on Facebook and Twitter!
If you enjoyed this, be sure to check out some of my other pieces here on Dudefluencer:
The Ultimate Men's Style Guide
The Best Ethical Men's Suits
Everything You Need to Know About Positive Masculinity