Making Dudefluencer's list of positive male role models requires a certain set of qualities that highlight positive masculinity. That includes building a sense of community, displaying emotional courage, and emphasizing strong communication. These beliefs on positive masculinity are the backbone of what Dudefluencer is all about. I wanted to be a part of the conversation that redefines what it means to be a man and to help other men live healthier and happier lives.
Thankfully, other men in pop culture have taken notice, and I wanted to make a list of positive male role models worth celebrating.
To qualify for this list, Dudefluencer looked for men who were out in the world, who displayed qualities of positive masculinity. Whether it's talking about mental health, male loneliness, or head injuries, these men exemplify what it means to be a man in the 21st century.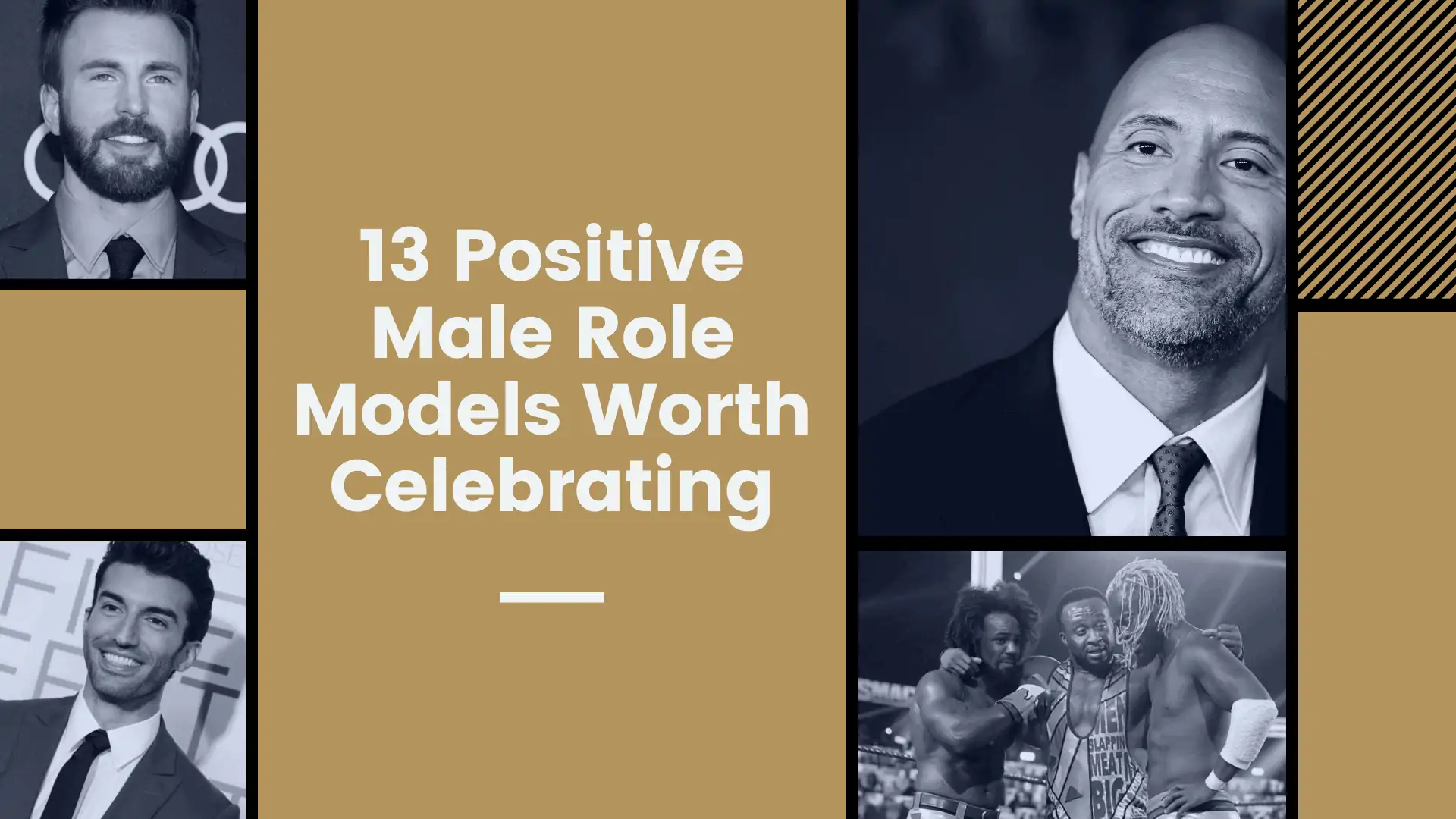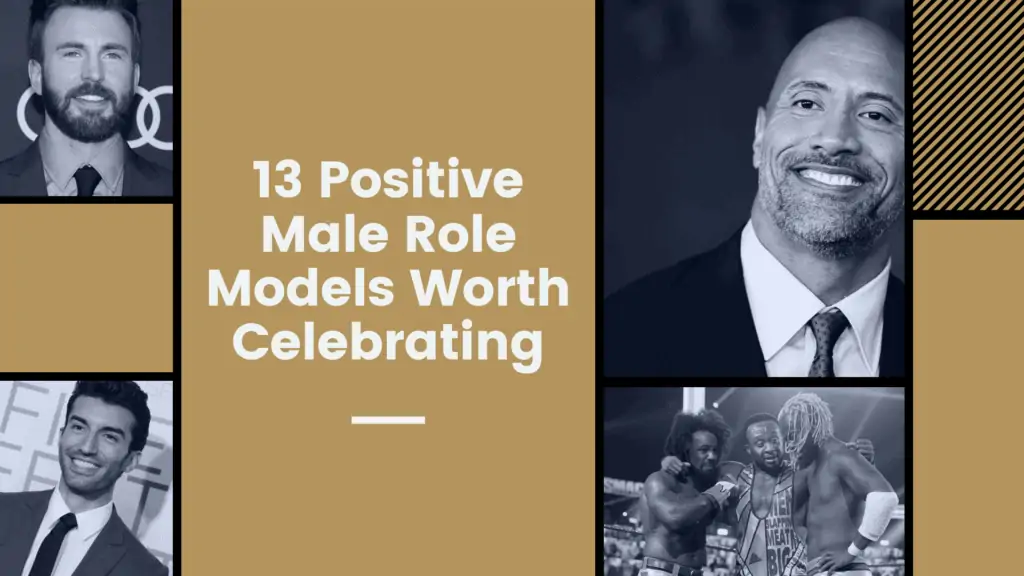 Quick Hits
If you're looking for more information about the positive male role models below, then check out their takes on masculinity in their own words by picking up any of their books.
1. Dwayne Johnson
I love Dwayne "The Rock" Johnson. I love him as a professional wrestler, love him as Hobbs in the "Fast and the Furious" saga, and love him as an inspiration for all men. Immediately, Johnson looks like a hulking mass of protein shakes and pumping iron, but there's always been more beneath the surface when it comes to the Rock.
During the press tour for his film Rampage, Johnson opened up about his struggles with depression. "The key that I found, the revelation [is] for us to be okay in embracing [it]. Especially us as guys, as men. There's just a DNA, there's a wiring in us and a constitution that oftentimes doesn't let us talk about if we're scared or vulnerable or things like that."
One of the reasons why Johnson makes the list as a positive male role model is because he pushes back on the narrative that men need to suffer in silence because it is the masculine thing to do. Instead, the Rock said, "But no, you've got to talk about it. You're not alone. I was an only child and I kept that bottled in, like, deep, deep down. It wasn't good, so I'm happy to share my story." Men do not, and should not have to struggle with their mental health alone, and Johnson is an example for men around the world on how to start those conversations.
2. Trevor Noah
Trevor Noah artfully filled the shoes of his "The Daily Show" predecessor Jon Stewart in more ways than one. Quickwitted and intelligent, Noah also isn't afraid to talk about the hard things. Comedy and depression frequently go hand in hand, so while receiving the Comedy Person of the Year award at the Just for Laughs Festival in 2017, Noah opened up about his depression and how fellow comedian Jim Carrey helped him recognize he needed help.
Noah's outspokenness around relationships and consent are equally as important to him being a positive male role model. In an interview with The Breakfast Club, Noah tells the hosts, "Men don't take rejection well because it's somehow tied to their ideal of how manly they are. And if you think about it, this was the messaging we got as men growing up." Being a positive male role model means acknowledging the masculine norms that have always existed, and telling the world that they are flawed. Noah's comments highlight the importance of how men view relationships with women but, more importantly, introduces a conversation about consent. He says that a discussion around consent is one that needs to happen sooner than later and further emphasizes the importance of consent in all relationships.
3. The New Day (Xavier Woods, Kofi Kingston, Big E)
I've previously mentioned WWE's The New Day in my article about the importance of male friendship, so it's no wonder they make this list of the best male role models. Kofi Kingston (real name Kofi Nahaje Sarkodie-Mensah), Xavier Woods (real name Austin Watson), and Big E (real name Ettore Ewen) continuously find ways to one-up themselves as role models not just for wrestling fans, but for human beings in general. The New Day consistently embody what it means to be a part of a community, but their podcast has really shined a light on how these three men are changing the world.
On June 8, 2020, The New Day podcast released their episode, "A Conversation About Racial Injustice." All three members of The New Day and activist Andreas Hale all spoke to their experiences with racial injustice, and delivered impactful truths all throughout the episode. This is a much watch for everyone.
I also wanted to highlight another recent episode about their late friend Jon Huber, also known as professional wrestler Brodie Lee. Every professional wrestler on the show, bigger than life on television, displays an honest reflection on grief, and love of their friend.
More men should be as emotionally honest with themselves as The New Day because they are a prime example of the power, and positivity that comes from emotional vulnerability. If you're looking to pump up your emotional fitness, then Kofi, Xavier, and Big E are the perfect personal trainers.
4. Terry Crews
The 6'2″, 254 pound Terry Crews sat in front of the Senate to speak about H.R. 5578, or more commonly known as the Sexual Assault Survivors' Bill of Rights. Crews was there to discuss his sexual assault to raise awareness around male sexual assault. After initially publically revealing his story over a series of tweets, Crews told the panel about how society had attempted to minimize his story, "I was told over and over that this was not abuse. That this was just a joke. That this was just horseplay. But I can say that one man's horseplay is another man's humiliation. And I chose to tell my story and share my experience to stand in solidarity with millions of other survivors in the world. That I know how hard it is to come forward. I know the shame associated with assault." Crews' openness with the story of assault has helped push back on the notion that men cannot be the victims of sexual assault.
The Rape, Abuse & Incest National Network reported that one in 33 men have been the victim of attempted or completed assault. The stigma around male sexual assault boils down to the theories perpetuated around masculinity: to be assaulted makes you less of a man. Crews remains outspoken about sexual assault and hopes to continue changing the discussion around the topic. A positive male role model is someone willing to step up and risk everything to help comfort and encourage men: Crews fits that definition and then some.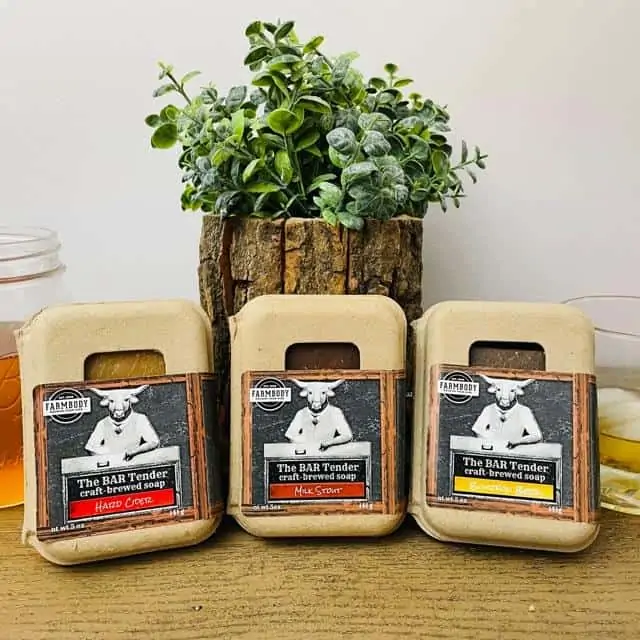 Real breweries put real beer into real handmade soap for our Brewer's Bundle Triple Pack.
5. Kevin Love
March 6, 2018, Kevin Love wrote an article for The Players Tribune entitled "Everyone Is Going Through Something" about experiencing his first panic attack. Love tells the story of the November 5, 2017 game against the Atlanta Hawks when it came out of nowhere. "I felt my heart racing faster than usual. Then I was having trouble catching my breath. It's hard to describe, but everything was spinning like my brain was trying to climb out of my head. The air felt thick and heavy. My mouth was like chalk." Not only did Love's panic attack change his feelings on mental health, but by speaking openly about his struggles, Love helped shift the conversation for young men around the world. "I want to remind you that you're not weird or different for sharing what you're going through."
It wasn't that Love had a panic attack that makes him join this list, it's that he, alongside other NBA players, have become outspoken about their struggles. They've allowed themselves to become vulnerable to change the stigma around what it means to have anxiety and depression. Love ends his article with this quote, "So if you're reading this and you're having a hard time, no matter how big or small it seems to you, I want to remind you that you're not weird or different for sharing what you're going through." By acknowledging his own anxiety publically, and not shying away from the fact that he needed help, Love became a positive male role model for all men.
6. Chris Evans
Not allowed on my list of the best male Disney characters, Chris Evans finds himself on our list of positive male role models worth celebrating. Evans most popular role, Captain America, is a positive male role model himself, but the actor playing him is no slouch either. Evans proudly took on the job of being the face of Marvel's Avengers and utilized his power to visit children (alongside Chriss Pratt) at Seattle Children's Hospital.
What I love about Evans though isn't just that he understands how impactful Captain America is to the lives of many, but how Evans embodies the character's spirit himself through honest vulnerability. Before accepting the role of Captain America, Evans thought about quitting acting all together. "I do struggle. I get anxiety about certain things and press, things like that. I asked every human being in my life what they thought, and they said I should do the movie, and then I went to therapy. I thought, 'I'll talk to my therapist! See what they have to say!'" By being open and honest about his mental health, Evans has provided an example for all men to recognize that there is strength in vulnerability, and maybe more importantly, there is strength in asking for help.
7. Kumail Nanjiani
You may have first noticed Kumail Nanjiani on "Silicon Valley," or as the lead in the film The Big Sick but once movie theaters open back up, Marvel fans will get to see Nanjiani on the big screen as Kingo in The Eternals. Like most of the other male characters in the Marvel Universe, the role required Nanjiani to go through an entire body change. But what was different this time was how open and honest Nanjiani was about male body image throughout.
In an interview with Men's Health, Nanjiani said, ""I don't want to discount people who genuinely have debilitating body issues. I don't have that. But I did start getting some body dysmorphia. I'd look in the mirror and I'd see my abs—and when I looked again, they would fade. I would just see the flaws." Add in his comments about exercise and working out on this infamous Instagram post, it is obvious that Nanjiani understands the danger in trying to have the perfect body. Exercise is a good thing, feeling attractive is a good thing, but neither of those should come at the cost of your health- mental or physical. Ninjiani's honesty in speaking out about male body image is exactly why he's on our list of positive male role models worth celebrating.
8. Lebron James
I sometimes sit back and think about how lucky my generation is to have an opportunity to watch NBA megastar LeBron James perform his art on the court 82-plus times a year. Not only is he a once in a lifetime athlete, but he's such a positive male role model across the board. James started the LeBron James Family Foundation that helps children from his hometown of Akron, Ohio. He opened his own school. James continues to be outspoken around social issues and advocating to improve the lives of millions of young men.
Even though it is on the basketball court that James gets most of his attention, his ability to be a great dad should not be overlooked when thinking about positive male role models. James enthusiasm watching his kids play basketball is infectious, "Then it went from, like, just sitting there, and then it went from like, to this, like 'Let's Go!' And then it went from me sitting on the bench to me getting in an argument." And when James misses one of his kid's games, he feels it, "But missing my son, missing LeBron Jr., missing (younger son) Bryce's first game the other day when we left for Orlando, missing my daughter at gymnastics and things of that nature, I understand it's the business, but it sucks." Fatherhood is a lot of things, and James is a reflection of what being a good father looks like.
9. Lin-Manual Miranda
No one on this list is more creative than Lin-Manual Miranda, writer, and star of Hamilton. Originally pining to be a filmmaker, Miranda was introduced to Rent at the age of 17, which changed the course of Broadway history. Inspired by Jonathan Larson, Miranda began writing musicals soon after. Miranda's creativity and ingenuity immediately took hold of New York City with his Tony Award-winning musical, In The Heights. His artistic ability to write emotionally honest productions, poems, and songs makes him a positive male role model for all young artists.
Miranda also makes a place for all people in his productions explicitly. The LA Times states, "Miranda wants his audience — especially the non-white, youthful segment of his audience — to connect with the story of America's creation, so he gives them hip-hop instead of harpsichords and diversity instead of literal representation." His unwavering belief in the power of people, and more importantly, the power of community inspires young men of all races, all ages, and all backgrounds to write, sing, or dance. Being a positive male role model means building communities up, and that's precisely what Miranda completes through his art.
10. Justin Baldoni
One of the stars from television's "Jane The Virgin," Justin Baldoni, made waves in 2017 at the TEDWomen event. Baldoni's Ted Talk from the event, "Why I'm Done Trying to be Man Enough," has garnered over two million views on Youtube and countless more on the official Ted Talk website. Baldoni's Ted Talk about masculinity tells the story of his relationship between his father and masculinity, and how Baldoni got it all wrong. "But I don't have a desire to fit into the current broken definition of masculinity, because I don't just want to be a good man. I want to be a good human. And I believe the only way that can happen is if men learn to not only embrace the qualities that we were told are feminine in ourselves but to be willing to stand up, to champion and learn from the women who embody them."
Soon after the video was posted online, Baldoni helped create "Man Enough," a website and online television series that "explores the heart of traditional masculinity in America." Baldoni doesn't want just to be a part of the conversation, he wants to be the one who starts it. The goal of the program is to build communities of men who are willing to be introspective, vulnerable, and held accountable for their past actions. Whether Baldoni realizes it or not, by being emotionally honest and creating a space for men to have real conversations about masculinity, he has already become a positive male role model for millions.
11. Karamo Brown
Karamo Brown, the culture expert on the Netflix reboot of Queer Eye for the Straight Guy, focuses his work on removing a lot of the toxic behaviors of toxic masculinity. This stems from an early interaction between Brown and his father, where his father told him to stop "walking like that." Brown said that moment was a pivotal moment where he changed his behavior because of it.
The reason why Brown is a positive male role model is because of his dedication to making other men become better men. Many of the men featured on Queer Eye struggle with aspects of masculinity in their lives: whether it is there discomfort around gay men, or inability to emotionally vulnerable with their partners, Brown takes the lead in introducing these men to new, healthier lives. "What I've noticed most is that the majority of the men—whether they're of color, or white, or trans—need people in their lives who are empathetic listeners. If you can listen to someone empathetically without feeling as if you need to solve their problems, but allowing them instead the space just to share, well, that's really a key step to giving men a space to feel and to be without the pressures of society." His interactions often move the men to tears and illustrate that Brown, by example, is a positive male role model.
12. John Legend
John Legend told Cosmopolitan Magazine ″[Men] are afraid of talking about their fears and insecurities. They're afraid of expressing emotion beyond anger, dominance, or power, and they're afraid of getting in touch with their feminine side." Legend believes that too often men are policing themselves based on what society expects, and in turn, doesn't allow them to be who they indeed are.
Backing up his talk, Legend has partnered with AXE to create the Find Your Magic Initiative, intended to help men find the magic within themselves and highlight what makes them unique. Their website states, "As a champion of self-expression, AXE believes there's no one way to be a man and is launching The Find Your Magic Initiative to address this important issue." Legend is a positive male role model in that he pushes back on negative masculine stereotypes in the media while also joining groups of men to help combat the issues of masculinity.
13. Daniel Carcillo
A Youtube search for the name Daniel Carcillo still leaves remnants of his past life: the brawling, punching prizefighter of the Philadelphia Flyers. Visual mixtapes and fight compilations feature Carcillo grabbing and jabbing at opponent's jerseys, his head rocking back every time a fist meets his face. Hockey players used to take pride in their toughness, their ability to take hits and check harder than their opponents. But those days feel like ages ago.
Carcillo revealed in a video for The Players Tribune that he has been suffering from head trauma after years of playing in the National Hockey League. "What's the point of playing professional sports, it supposed to be for the memories. And if you can't remember that anymore, that's really scary."
He tells the camera that he struggles with mood swings, slurred speech, and depression symptoms as a result of his years playing hockey and getting concussed. By admitting that he is human and because years of conforming to traditional forms of masculinity have cost him his health, that's why Carcillo is a positive male role model. He wants young kids to know about the dangers of sports, and more importantly, the risk in having the attitude that real men tough it out because the consequences of those actions will come back to hurt you.
Conclusion
Here are just 13 positive male role models worth celebrating in popular culture, who do you think is missing from this list? Have any of these men made a positive impact on your life?