While there are plenty of reasons to be frugal, never skimp out on anything that stands between you and the ground. That means don't walk around in socks with holes in them. Buy a good mattress. And importantly, always own a good pair of shoes (or, if you're like me, multiple pairs of shoes). When someone from Beckett Simonon reached out to me to chat about their shoes, I was intrigued to learn more.
After multiple conversations with various people in the company, I quickly understood that Beckett Simonon was more than just a shoe company. They were revolutionaries in the shoe industry; they were cultural agitators who not only wanted to make the best footwear but create a brand that emphasizes self-care, personal- growth, and the importance of community. And oh yeah, they make beautiful shoes too.
So instead of a formal review, I want to take a bit more time to not only talk about Beckett Simonon's footwear but about their process of creating their shoes and the cultural impact they hope to have on the world. Men's fashion isn't just about clothing, but also the belief systems around enclothed cognition and positive masculinity. Beckett Simonon isn't just a footwear company: they're dedicated to improving the lives of their employees and customers, one handcrafted shoe at a time.
The People and Culture of Beckett Simonon
I love to meet and chat with the companies and people I work with. It's imperative to learn about the people I work with and the products I use because those belief systems matter to me. I don't want to work with companies that treat their employees like garbage or ignore their environmental effects. That's why I loved chatting with Matt from Huron, Tyler from Geologie, and the Wigo brothers from Opok because I got to hear their stories.
Now, I can add Beckett Simonon to my list. A couple of months ago, Adela reached out to me to talk about an eco-friendly shoe company. While yes, we talked about shoes. More importantly, we spoke about our ideals regarding positive masculinity and wanting to make a difference. From our short conversation, I quickly learned that Beckett Simonon's employees' and customers' wellness was at the forefront of their company.
A couple days later, Tigre, another member of the Beckett Simonon team, reached out to chat. Again, we had another great conversation about the company's belief system and how it aligned with the idea of helping men become the best version of themselves.
In both of these conversations, we could have just spoken about shoes, and it would have been fine by me. But instead, I learned to understand who the people working for Beckett Simonon were. Both Tigre and Adela were honest, kind, and willing to answer the tough questions. When you're working with a company, these are the types of people you want to showcase.
But I do want to take a minute or two to highlight "The Right Foot," Beckett Simonon's blog. I'm a sucker for companies that deliver outstanding products and great articles (like Harry's and Dollar Shave Club). Within "The Right Foot," the writers at Beckett Simonon highlight self-care opportunities as well as mindfulness activities. Produced in short burst articles with actionable advice, there's a lot to love about the content they make.
More importantly, it shows you, the customer, what they value. They value positive masculinity. They value self-care. They value you as a person.
And throughout my journey with Beckett Simonon, those values shined through. They never made me feel like just another customer, but I was a part of some more significant movement.
The Process at Beckett Simonon
So in a couple of months, I'm going to re-write this section as I am currently in the middle of getting a pair of custom-made shoes. There is a really cool customer journey that takes you through each part of the shoe-making process. Since I've just started that aspect, it wouldn't be right to share everything about that experience until it's complete.
But, I can tell you a bit of how Beckett Simonon makes their shoes. First off, every shoe that Beckett Simonon sells is made to order and hand-made. That means they have a team of dedicated shoemakers handcrafting your footwear. All of their raw materials are sourced directly.
While yes, these shoes are made from leather, that doesn't make them 100% eco-friendly. They are developed to maximize sustainability. Because every shoe is made to order, that limits the amount of waste produced. Since each pair of shoes is handcrafted, they are designed to last longer, limiting waste. Plus, every piece of footwear is created under ethical and responsible conditions.
I'm going to include a couple of videos from the various artisans who make Beckett Simonon shoes so you can get an idea of their process and the people making what's on your feet.
These little insights provide value in that you get to feel as if you're a part of your shoes' creation, and to me, that matters a lot because it adds a level of personalization that you just don't find in the clothing you wear.
Why should you trust us?
Dudefluencer was not paid for this post. We do not accept paid or sponsored reviews.
Beckett Simonon did not ask us to write this review.
Beckett Simonon sent us complimentary samples for this review.
This website uses affiliate links which means if you buy a product from a link on our site, we might make a couple of bucks.
Beckett Simonon is not reviewing or editing this review before publication.
The Shoes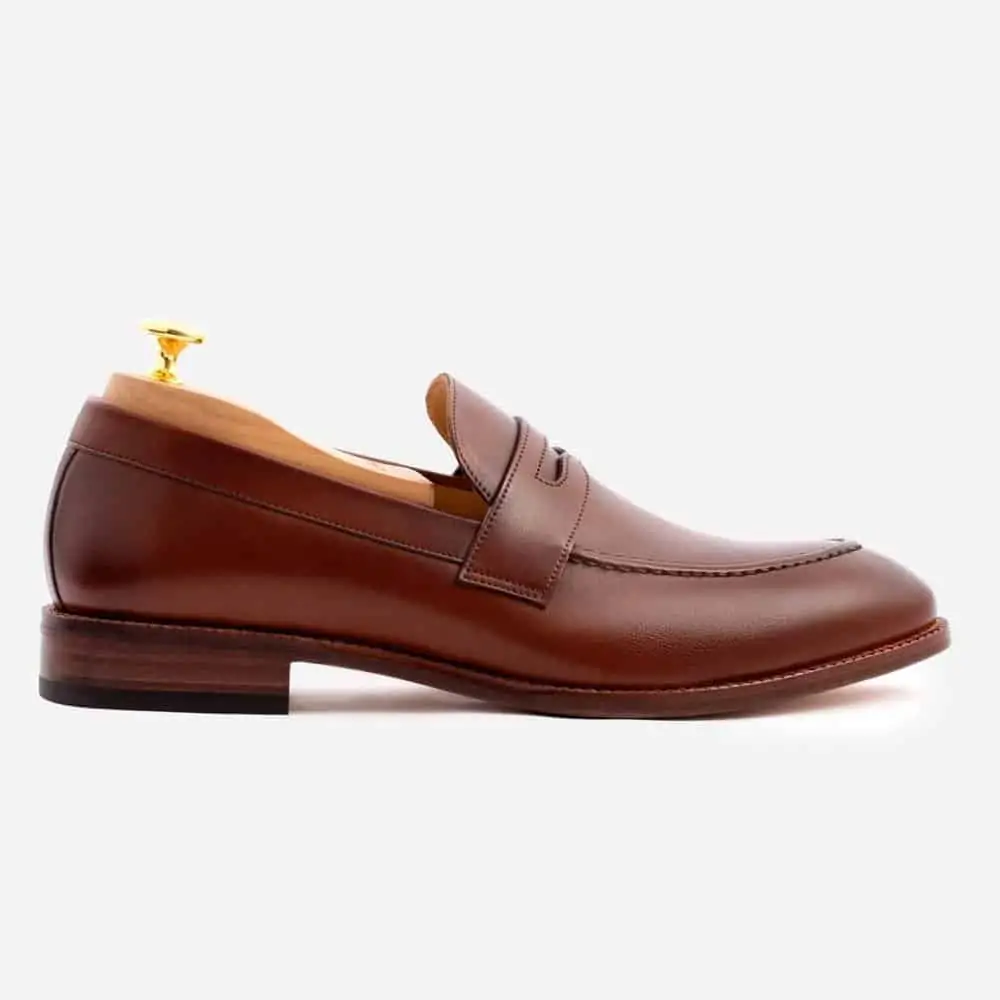 I'm going to say it right now: these are the most beautiful shoes I've ever owned. Seriously. Granted, I used to own multiple pairs of Etnies Skate Shoes and other pairs of gaudy clown shoes in my day. Still, I've really learned to appreciate the finer qualities of a nice pair of shoes over the years.
And the two pairs I've gotten from Beckett Simonon are one word: incredible.
For this article, I received two pairs, Cohen Loafers and Reid Sneakers. In my subscription shaving company review, I wrote that something that stood out was when I opened up a package; it felt like an experience. It made me feel like I wasn't just buying a product. When I received my shoes from Beckett Simonon, it once again felt like an experience.
Every pair of shoes comes in a straightforward black box, but as soon as you lift the lid, you are greeted with the smell of leather. Inside is a small black booklet that details the conditions in which your Beckett Simonon shoes were made, the ingredients used to make your shoes, and general product care suggestions. Since I had already had the opportunity to speak with Adela and Tigre before purchasing, I knew of the employees' working conditions inside the workshops and office space. Needless to say, it's nice to see a company so straightforward with this information.
It's these little touches that separate a pair of Beckett Simonon shoes from something you buy off the shelf. They make you feel like you're a part of a larger community.
As for the shoes, they come enclosed in black, Beckett Simonon canvas bags. I don't know a better way to describe them, but my friend Jenna told me, "That is how nice shoes are packaged." As Jenna is someone who's owned more nice shoes than me, I'm going to take her word for it. There's also an extra insole in every box just if the shoe doesn't quite fit right.
Now once you get the shoes out of the bag, that's when the real fun begins. Let's start with the Cohen Loafers: made from soft leather, these shoes are beautiful. I know I've said that before, but I needed to repeat it.
Leather that's conditioned with shea butter and carnauba wax highlights the gorgeous Oak leather as well as the timeless design. These loafers aren't trying to redefine loafing (is that even a phrase?); they just take a classic footwear piece and perfect it. As an added bonus, they are easily resoleable, which means you can wear the Cohen Loafers for a long time without worrying about replacing the whole shoe.
Fit-wise, they've taken a bit of time to break in, if I'm being honest. That's been my experience with most nice shoes/boots, though. After a couple of wears, the stiffness seems to go away, and they are just as comfortable as any other pair of shoes. I needed to throw in the complimentary insoles only because my feet didn't quite fit into the size 11's. Still, since then, I haven't had any issues with sizing or comfort.
Likewise, again, have I mentioned just how great these look? I'm almost afraid to wear them because I don't want to accidentally step into mud or a puddle or something. I've worn them out on a couple of date nights, and I don't want to say they've been the star of my outfits, but they're the star of any outfit I throw together.
The Reid Sneakers, like the Cohen Loafers, are handcrafted and well made. If you're looking for an athletic sneaker, these are not what you're looking for. Beckett Simonon's sneaker selection is much more for fashion than functionality, so don't expect to rock the Reid's if you're going on a hike. But when you need a fresh pair of white sneakers to pop, the Reid Sneakers aren't a bad option.
I'm not someone who builds his outfits around his sneakers, so I'm less inclined to wear the Reid's. That being said, it's not because of quality, but more of my personal preference.
Both the Cohen Loafers and Reid Sneakers are built with long-lasting use in mind, and especially the loafers might be the most luxurious pair of shoes I've ever owned/worn.
Conclusion
If you're willing to spend a little bit more money (and not a lot more) on quality footwear, I recommend spending that hard-earned cash at Beckett Simonon. You're not only paying for some of the sleekest, cleanest shoes around, but you're getting a pair built just for you.
More than that, you support a company who believes in helping men become the best version of themselves through positive masculinity.