To support Dudefluencer directly and get great products in return–check out our store.
Who doesn't love that fresh feeling of getting out of the shower, your hair a little wet, and the smell of clean just radiating off of you? It's a top 10 feeling for me, and I imagine more dudes than not love to stay clean and smell great. This is why it's so important to think about the body soap you're using in the shower.
The problem is that there are just so many different options to choose from depending on cost, skin-type, and scent preference. And that doesn't even get into the differences between bar soap and body wash and how each of them affects men's skin. Now more than ever, there's a men's soap renaissance as companies embrace the challenges of men's skincare to develop better and better products.
After spending some time thinking about soaps for our men's grooming guide, I decided that putting together a list of the best body soaps for men would help those looking to improve their self-care routine or find the right soap for their skin type.
What is the difference between bar soap and body wash?
Whether you realize it or not, the soap you use in the shower matters. The first goal of any soap is the same: dissolve the dirt on the surface of your skin. From there, we might be tackling dryness, clogged pores, or just that nasty smell after a long run. But the apparent difference between bar soap and body wash is that one is a liquid, and the other is, well, made into a hard bar.
There are good reasons for choosing either kind as a body soap for men, but it really comes down to what you need from your soap and what you want. For example, if you're looking for the most eco-friendly solution, you will want to go with a bar soap because once you're done with bar soap, there's nothing to throw away. Plus, the ingredients lend themselves to be more environmentally friendly than body washes.
Another benefit of using bar soap is if you have any allergies. These soaps tend to feature fewer ingredients (and a lot more herbal/natural options).
On the other hand, if you have dry skin or another chronic skin condition, you're going to want to pick up a body wash because they tend to feature more hydrating ingredients than a traditional bar of soap.
As for usage, you can obviously just rub the soap all over your body or throw it on a washcloth. But if you're using the body wash, there's the option of a loofah, or sponge which can help exfoliate your skin.
In my opinion, there isn't one better between body soap and bar soap, and your choice is really dependent on the needs of your skin.
What should I look out for in a body soap?
Let's start here: there is a difference between men's and women's skin. One of the most significant differences is that men's skin is 25% thicker than women's skin due to testosterone stimulation. Sebum production is increased in males after puberty resulting in longer-lasting acne and more oily skin.
But if I'm being honest, the biggest difference between men's and women's body soaps is the marketing. We've all seen them: slapping a manly name onto a black or grey bottle of traditional body wash and calling it a men's soap. Looking at the ingredients, you'd be hard-pressed to find many differences between the two. You can also expect men's body soap to offer a more masculine scent: woodsy, naturey, manly.
What you're looking for in a men's body soap will be basically the same stuff you're looking for when picking an excellent overall soap. First things first, the fewer the ingredients, the better. You don't want to end up washing with more chemicals that can clog your pores and seep into your skin. That's why the soaps on this list are eco-friendly, meaning they come from natural ingredients proven to help the environment and protect you at the same time. Let's try and avoid as many chemicals as we can.
From there, the body soap you choose is dependent on your skin needs. If you have dry skin, you're going to absolutely want to avoid sodium lauryl sulfate because it can have a drying effect on your skin. Also, look for non-scented soaps and ones without synthetic dyes. Instead, look for plant oils, lanolin, or glycerin in the ingredients as any of three provides enough moisture to prevent dry, itchy skin.
For dudes with sensitive skin, once again, you're going to want to avoid any and all sulfates (as mentioned in my article about the best men's shampoos). That goes for parabens too. Here, look for soaps that offer a gentle experience. One suggested a group of recommended ingredients, including "chamomile, glycerin, coconut oil, colloidal oatmeal, comfrey, allantoin, calendula, and aloe."
On the other end of the spectrum, dudes with oily skin need to find a soap of their own. You're looking for a body soap that doesn't strip away your natural oils, causing your body to overproduce more in response. Plus, this can lead to an increase in acne flare-ups. That's why you will want to find something natural and avoid any soaps with harsh detergents.
Be aware that just because a soap advertises itself as for sensitive, oily, or dry skin, that doesn't mean they actually are best for your skin. The best body soaps for men trend towards being made from fewer, more natural ingredients, which is why I made sure to include plenty of different, eco-friendly options.
How did we choose this list?
I've had sensitive, oily skin most of my life. I dealt with terrible, cystic acne throughout high school, which resulted in a lot of self-esteem and confidence issues. I know and understand how tough it is to find the right soap, one that doesn't irritate your skin or cause flare-ups. That's why for this list, I wanted to only include soaps I've used before or my friends have used/recommended. For a more in-depth look at any of these soaps, please stay tuned as full reviews will be releasing over the next couple of months.
Each men's body soap on this list has been chosen because they have been proven to work with various skin options and are made from eco-friendly/natural ingredients. I wanted to make a list that offered a nice mix of body wash and bar soaps. Having both options available is beneficial depending on personal needs.
What do we mean by eco-friendly?
You're going to read and hear about many organic, sustainable, and eco-friendly products on this website. When I score a product one through five based on its eco-friendliness, I am focusing on the following criteria:
Is it made from natural ingredients?
Simply put, are the ingredients in this product au natural? In body soaps for men, the critical components for looking out are sulfates, parabens, and dyes. Each of these ingredients can damage the environment by infiltrating water pipes or poisoning sewers. Also, fragrances have an enormous environmental impact which is something we'd like to avoid.
Is the manufacturing of the product environmentally friendly?
Does the product come in an eco-friendly container, or are there conscious decisions made in producing the product to help protect the environment? This also includes manufacturing the product itself: what are the factory conditions like, and do employees receive a fair wage?
Was the product tested on animals?
This one's pretty obvious. Are the products tested on animals, yes or no?
Introducing the Dudefluencer Store
Something I realized early on in my grooming journey was just how essential it was to find the right products, at the right prices, with the right ingredients. Sure, your grocery store might have an entire aisle dedicated to grooming products, but can you guarantee which ones work, what they smell like, or even what they're made from?
Let's get to the point, you deserve the best. That's why I opened the official Dudefluencer Store. Here you'll be able to find eco-friendly men's grooming products like bar soaps to beard oils.
We're currently selling a collection of soaps from Farmbody which include a honey-bourbon mixture, a soap crafted from milk stout, and quite a few more. We also recently stocked some body wash from The Immaculate Beard. Each bottle is hand-poured and made from as eco-friendly ingredients as possible (it's harder to do with liquid soaps versus bar soaps). If you're interested, check out the Dark Blend, a carmel-honey-tobacco blend that absolutely rocks.
The 12 Best Body Soaps for Men in 2021
Disclosure: This website is reader supported. If you click on a link, I might make a few bucks. Read our disclosure page for more information.
Without further adieu, here are the 11 best body soaps for men in 2021. Included are both bar soaps and body washes, as well as body soaps that could work for a multitude of skin types.
1. Farmbody Craft Brewed Beer Soap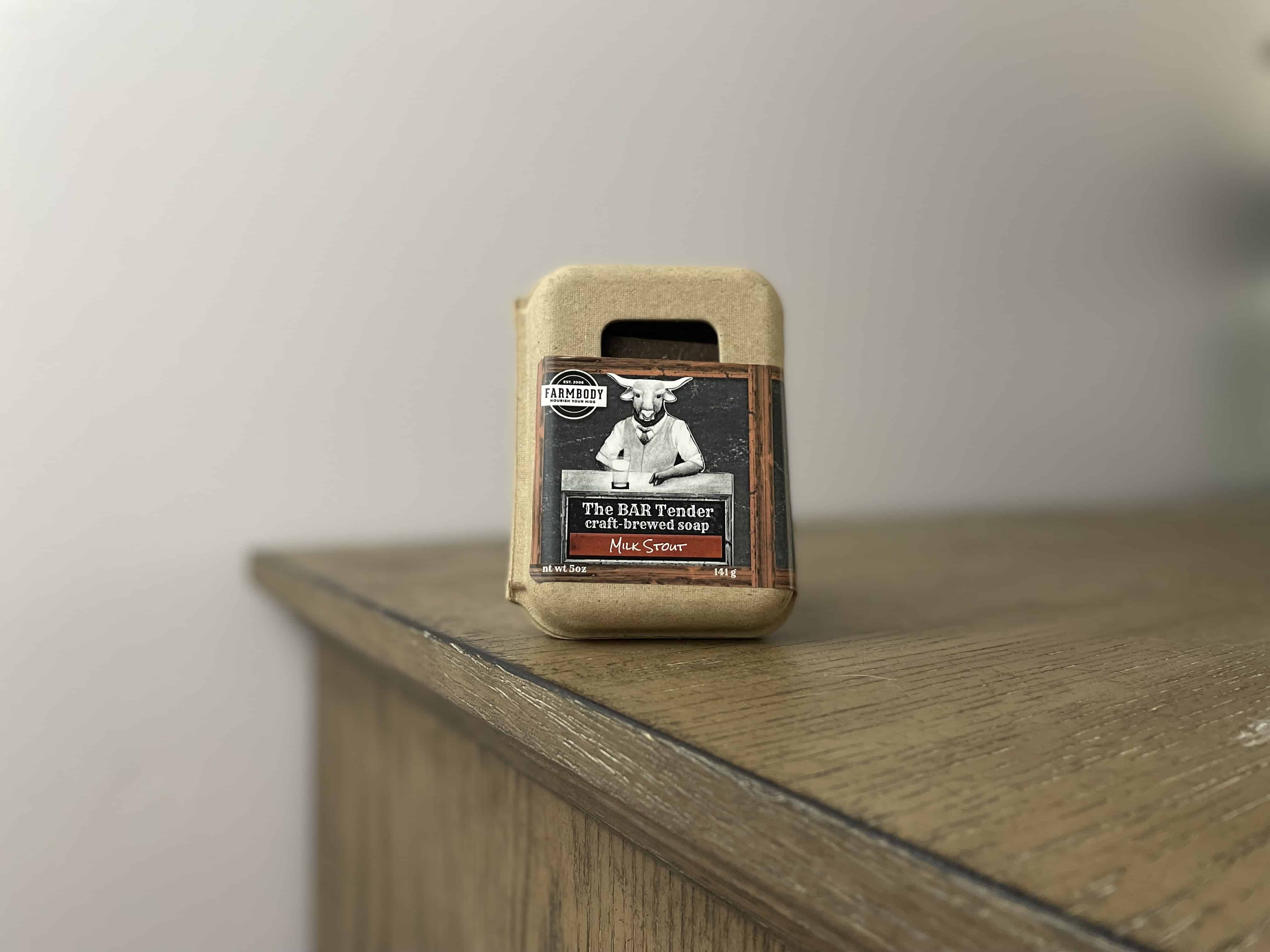 Ingredients: Goat milk, coconut oil, olive oil, rice bran oil, water, sunflower oil, beer, palm kernal oil, sodium hydroxide, castor oil, cultured cream, mango butter, honey, colloidal oatmeal, fragrance (phthalate free)
My wife loves Milk Stout and I love the smell of it so it was a no-brainer for me to try out some of Farmbody's Craft Brewed Beer Soap. What's great about this product is that after talking with owner Cindy Allyn, there is dedication in the art of making this beer soap. Handmade and developed from natural ingredients, this Craft-Brewed Beer Soap smells great and is as eco-friendly as can be.
Did I mention Farmbody's soaps are handmade? Take a tour through Allyn's workshop and you'll notice all of the details that make her products special (you'll find plenty more at the official Dudefluencer Store). Made from real milk stout beer, the smell lingers just long enough. Plus, the inclusion of goat milk and locally sourced honey makes this a great choice for those of us with sensitive skin.
That being said, Farmbody's Craft Brewed Beer Soap is Dudefluencer's best body soap for men because it features a limited amount of ingredients (and no iron oxides), works well for most skin types, and smells incredible.
2. Huron Refreshing and Invigorating Body Wash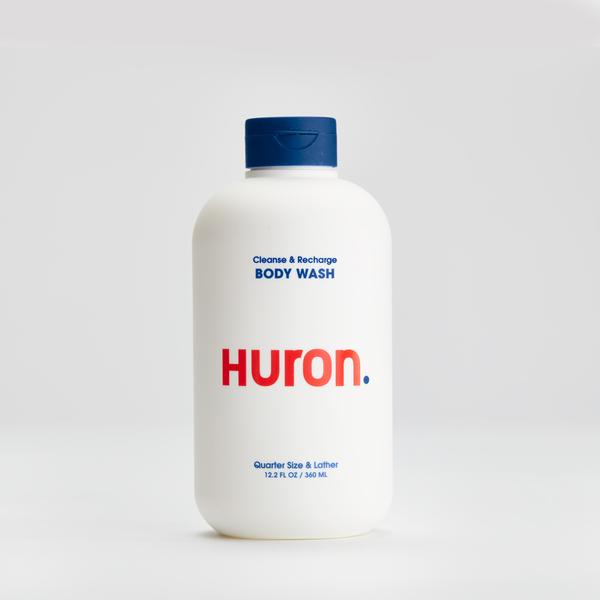 Ingredients: Water (Aqua), Sodium Lauroyl Methyl Isethionate, Cocamidopropyl Betaine, Glycerin, Fragrance (Parfum), PEG-40 Hydrogenated Castor Oil, PEG-150 Distearate, Aleurites Moluccana Seed Oil, Aloe Barbadensis Leaf Extract, Benzoic Acid, Butylene Glycol, Chamomilla Recutita (Matricaria) Flower Extract, Citric Acid, Cocos Nucifera (Coconut) Oil, Disodium EDTA, Ethylhexylglycerin, Eucalyptus Globulus Leaf Oil, Hamamelis Virginiana (Witch Hazel) Water, Hedera Helix (Ivy) Extract, Hippophae Rhamnoides Oil, Hydroxypropyl Guar Hydroxypropyltrimonium Chloride, Juglans Nigra (Black Walnut) Leaf Extract, Macadamia Ternifolia Seed Oil, Menthol, Panax Ginseng Root Extract, Panthenol, Phenoxyethanol, Polyquaternium-10, Polysorbate 20, Quillaja Saponaria Bark Extract, Tocopheryl Acetate, Potassium Sorbate
When the winter months dry out my skin, I traditionally switch over to Huron Refreshing and Invigorating Body Wash, my favorite men's body soap (in body wash form). Matt Teri, one of the founders of Huron, has worked for decades in the beauty industry and spent a lot of time crafting and perfecting the formula behind this body wash, and it shows. It's one of the best body soaps for men because Teri designed everything about this body wash for men's skin, and I always will keep a bottle in the shower nearby.
As for being eco-friendly, Huron's Body Wash does the best it can as body washes go. There are no parabens, sulfates, phthalates, silicones, or aluminum, and it's vegan, cruelty-free. The bottles are also entirely recyclable, which is a pleasant surprise. Also, I love the subtle use of witch-hazel in this soap; it does a great job protecting me from any unwanted smells or stinks.
Huron Refreshing and Invigorating body wash are one of the best body soaps for men in 2021 because, as a body wash, it offers a lot of eco-friendly options, refreshes and heals your skin, and is formulated specifically for men.
3. The Immaculate Beard Dark Blend Body Wash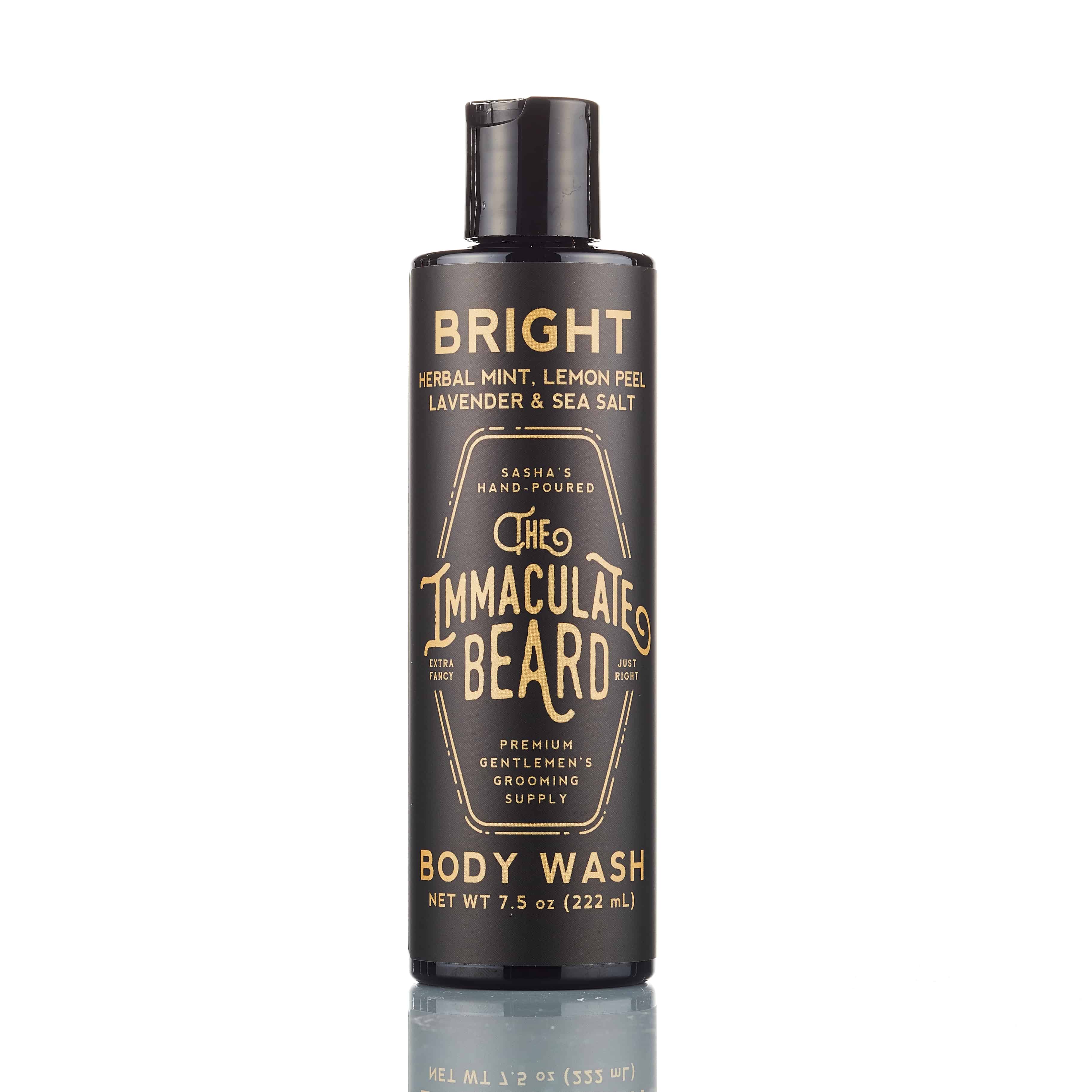 Ingredients: Water, Sodium Laureth Sulfate, Cocamidopropyl Betaine, Xanthan Gum, Phenoxyethanol, Fragrance
There's just something special about knowing the soap you're using is handmade/hand poured. That's why The Immaculate Beard's Dark Blend Body Wash is our pick for one of the best body washes for men. Made in Texas, the first thing you'll notice is just how smooth the smell is. A blend of honey, caramel, and tobacco lingers in the air just enough to make your shower smell masculine, while fresh. Seriously, it's the best smelling soap on this list.
As for eco-friendliness, The Immaculate Beard does a good job of trying to use as many natural ingredients as possible considering they are making a liquid soap. Every bottle is handmade, and hand poured which gives each body wash a more personalized touch. If you're looking for a body wash that smells incredible, then you've got to try The Immaculate Beard's Dark Blend.
4. Squatch Grapefruit IPA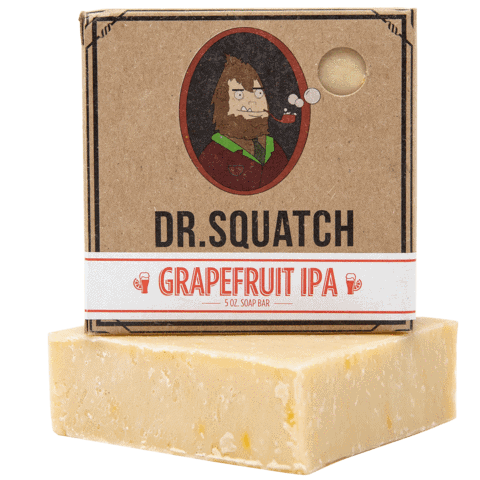 Ingredients: Saponified Oils of (Olive, Sustainable Palm, Coconut), Beer, Natural Fragrance, Shea Butter, Distilled Hops, Annatto Powder, Kaolin Clay, Sea Salt.
As you may have read in previous reviews of beer-based shampoos, I've become a bit obsessed with IPA soaps which, of course, means Dr. Squatch's Grapefruit IPA Bar Soap is my number one body soap for men. Between body washes and bar soaps, I like to switch it up, and right now, this IPA infused bar soap has been my go-to shower soap because it smells great (warning: there is a more robust than regular scent to this particular soap) and works well with my oily skin.
Add in the fact that Dr. Squatch's Bar Soap is eco-friendly. This organic mixture is perfect for people with sensitive skin, made from natural glycerin, coconut, and olive oils. There are no harsh chemicals, or preservatives and the ingredient list is less than 10. Available in various scents and styles, just be aware that some of their bar soaps feature iron oxides that aren't always the safest soap coloring ingredient.
Best Body Soaps for Men with Dry Skin
Dry skin really sucks. I get it. That's why when we are looking for body soaps, we want to try and find something that is a moisturizer or features shea butter as one of its ingredients. Either one of those will help trap the moisture inside your skin instead of drying it out.
5. Oars and Alps Organic Shea Butter Soap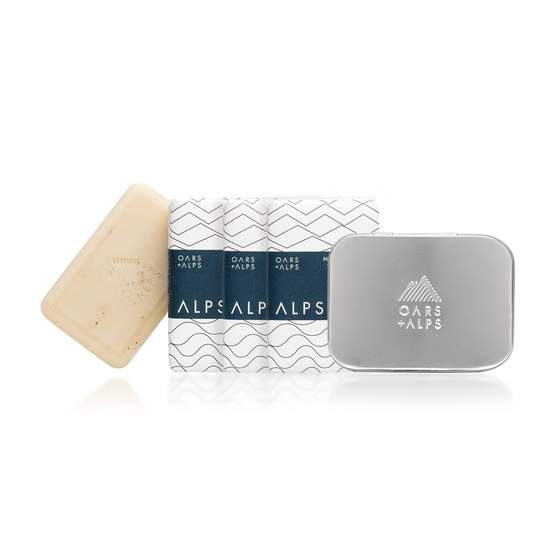 Sodium Palmate, Derived from Rainforest Alliance certified™ palm oil, this ingredient helps give our soap its solid form. Sodium Cocoate (Or) Sodium Palm Kernelate, Water (Aqua), Glycerin (Plant-Derived), Coconut Acid, Butyrospermum Parkii (Shea) Butter, Fragrance (Parfum), Sodium Chloride, Galactoarabinan, Sodium Gluconate, Tetrasodium Glutamate Diacetate, Cladonia Stellaris Extract (Alpine Caribou Moss), Kaolin, Simmondsia Chinensis (Jojoba) Seed Oil, Juniperus Communis Fruit (Juniper Berries).
One of the best tools to fight back against dry skin is shea butter which is why Oars and Alps Organic Shea Butter makes our list of the best body soaps for men. After only a couple uses, you'll soon notice the difference as your skin continues to soften and moisturize, thanks in part to the shea butter infusion into this body soap. Oars and Alps Organic Soap also utilizes Larch tree extract to create a barrier on the skin to keep moisture locked in.
Every ingredient used in Oars and Alps Body Soap has been chosen with the environment in mind. Whether it's the fact that the shea butter adheres to the Global Shea Alliance or that the palm oil is Rainforest Alliance Certified. I know people who suffer from dry skin swear by this particular body soap. The natural ingredients manage to do an excellent job at protecting and moisturizing your skin which is Oars and Alps Organic Shea Butter Soap is one of the best body soaps for men in 2021.
6. PLANT Start Happy Organic Body Wash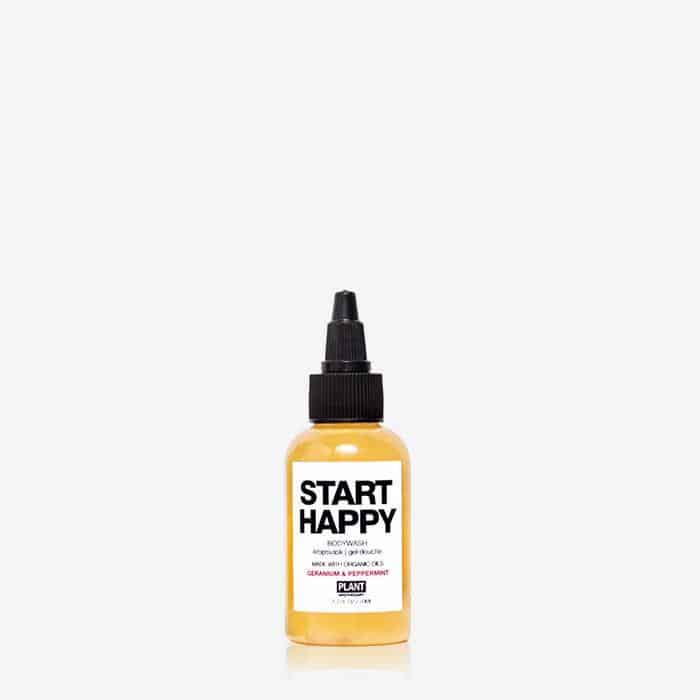 Ingredients: Potassium Cocoate (Coconut Oil Soap),* Potassium Olivate (Olive Oil Soap),* Potassium Jojobate (Jojoba Oil Soap),* Glycerine (vegetable), Cyamopsis Tetragonoloba (Guar) Gum,* Aloe Barbadensis Leaf,* Rosmarinus Officinalis (Rosemary) Leaf Extract, Mentha Piperita (Peppermint) Oil,* Pelargonium Graveolens (Geranium) Oil.*
Look at the label. How can you not want to give a body wash a shot that says in big letters, "Start Happy." Thankfully, PLANT Apothecary's Start Happy Organic Body Wash doesn't just energize your day. Still, it also contains a ton of great ingredients that help capture and maintain the moisture to prevent dry, flaky skin. The formula behind this particular body wash is gentle, so you can use it if you also have sensitive skin.
PLANT Apothecary made sure that their body washes featured only eight ingredients, making them more natural and eco-friendly while maintaining their cleaning properties. It's also completely free of parabens, SLS, petroleum, silicones, and harsh, mysterious chemicals. Dry skin sufferers, give PLANT Start Happy Organic Body Wash a go the next time you're having a flare-up as it makes a list as a best body soap for men.
Best Body Soaps for Men with Oily Skin
This next category is a tricky one for me as many body soaps for oily skin weren't as chemical-free as I would have liked. The two listed below are, in my opinion, good soaps but with some flaws. If you have oily skin or are more prone to acne flare-ups, my recommendation would be to check with your dermatologist to see what soaps they recommend first.
7. Baxter of California Exfoliating Body Bar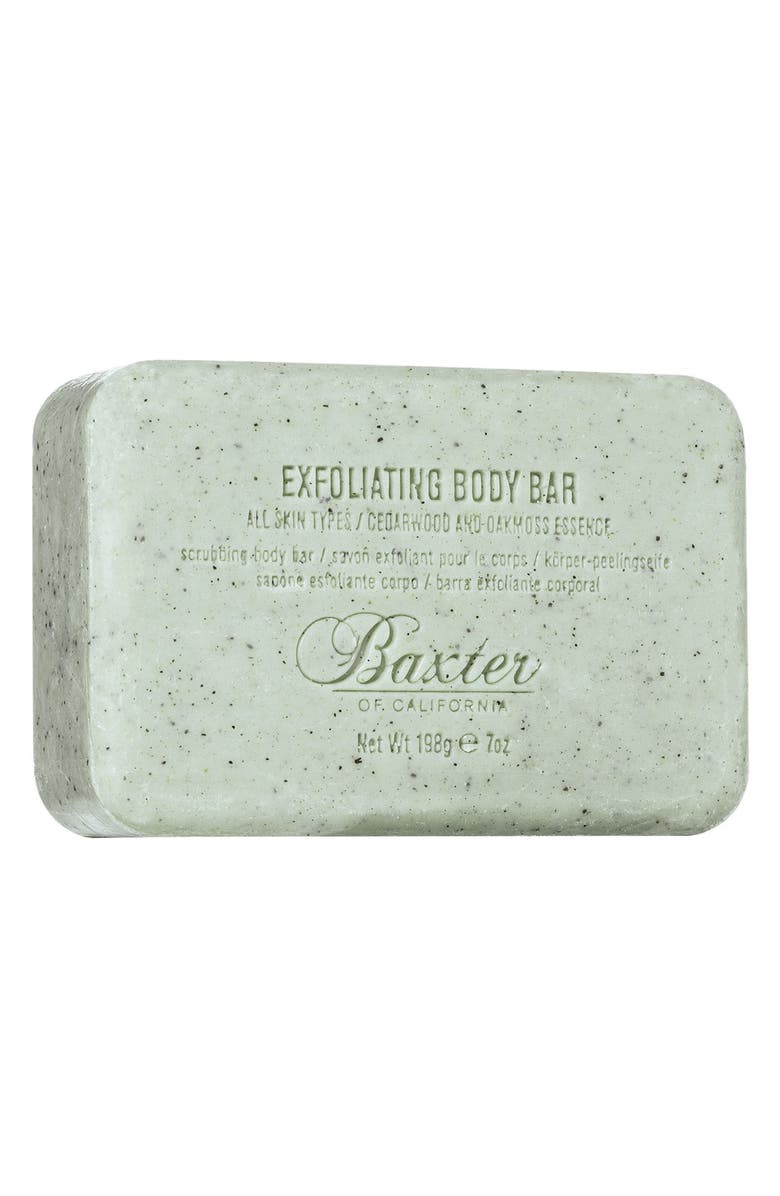 SODIUM PALM KERNELATE, SODIUM PALMATE, WATER, POTASSIUM PALM KERNELATE, PALM KERNEL ACID, PUMICE, FRAGRANCE, POTASSIUM PALMATE, COCONUT ACID, SODIUM GLUCONATE, SIMMONDSIA CHINENSIS (JOJOBA) SEED POWDER, GLYCERIN, PALM ACID, SODIUM CHLORIDE, TITANIUM DIOXIDE (CI 77891), OLEA EUROPAEA (OLIVE) SEED POWDER, YELLOW 7, IRON OXIDES, GREEN 5.
When looking for a body soap for oily skin, one solution is to find one designed to exfoliate your skin, precisely what Baxter of California's Exfoliating Body Bar was designed to do. Using jojoba meal and olive seed, this body soap works wonders preventing too much sebum and washes away any impurities. Baxter of California's Body Bar lasts a long time and maintains a healthy musk after your shower.
As for eco-friendliness, Baxter of California does boast of its natural ingredients. That being said, some iron oxides and other derivatives make me a bit hesitant to go as far as this soap is entirely eco-friendly.
8. Native Charcoal Body Wash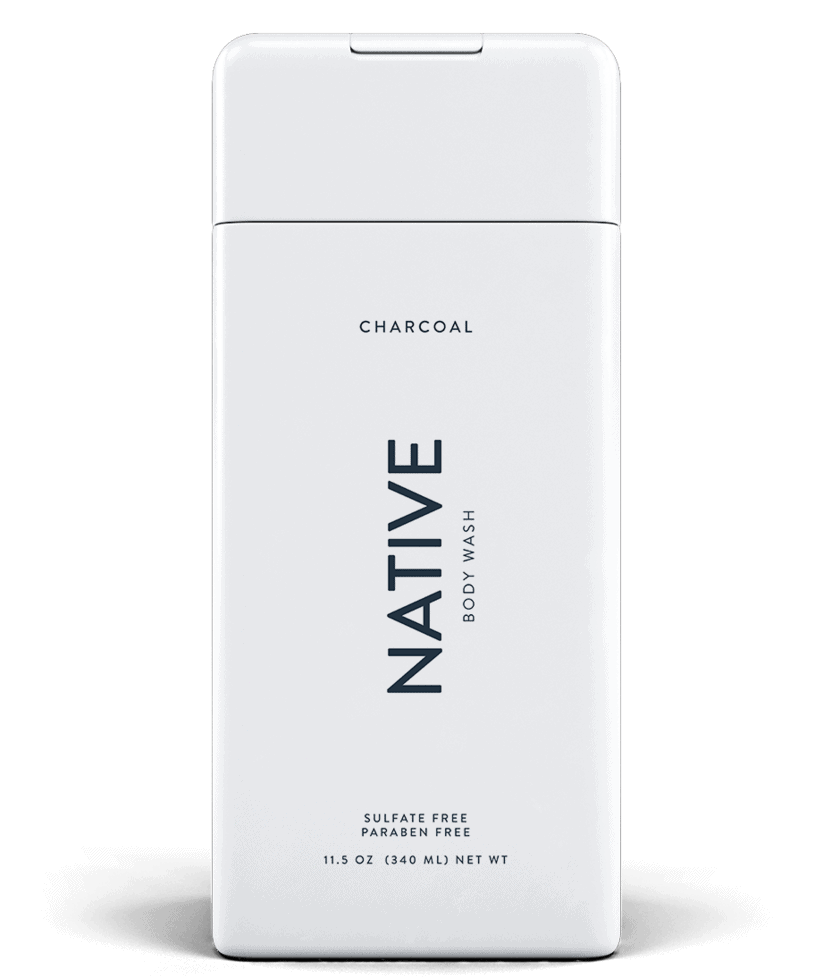 Water, Cocamidopropyl Betaine, Sodium Lauroyl Sarcosinate, Sodium Chloride, Sodium Cocoyl Isethionate, Fragrance, Sodium Salicylate, Sodium Benzoate, Citric Acid, Charcoal Powder
The other ingredient to look for when choosing a body wash for oily skin is charcoal. Native's Charcoal Body Wash fits that description as its active charcoal does the work to help exfoliate and treat oily skin. This body wash is residue-free and will leave your skin feeling soft after a couple of uses.
Similar to the above body soap, Native does an okay job with eco-friendliness. The bare minimum: no animal testing and no sulfates are achieved, which is good, but there are still a few chemicals woven into the production that once again makes me a bit skeptical to say this is an eco-friendly body wash. That being said, Native's Charcoal Body Wash is one of the best body soaps for men as it does a tremendous job protecting against oily skin.
Best Body Soaps for Men with Sensitive Skin
If you're someone like me who gets a rash from nearly everything, finding an excellent, sensitive body soap for men is essential. The two-body soaps listed below are here because of how gentle they are on your skin, and as an added bonus, do well with dry and oily skin as well.
9. Kiehl's "Made for All" Gentle Body Cleanser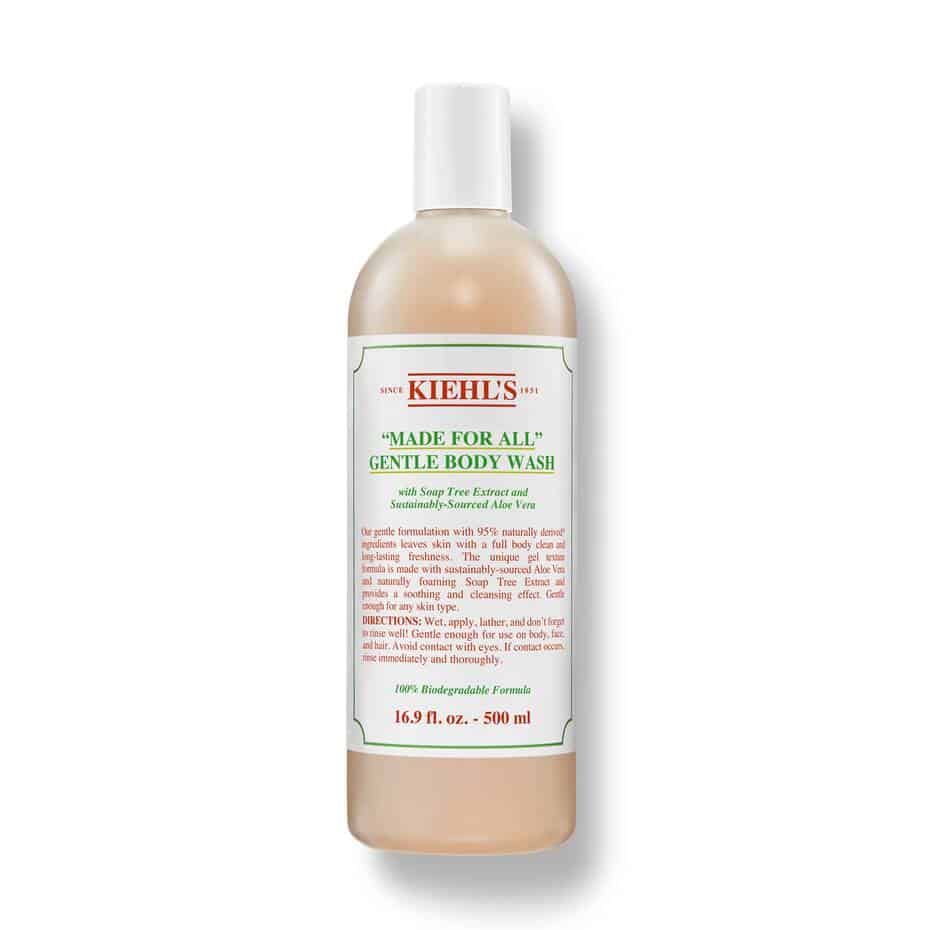 Aqua/Water, Disodium Cocoyl Glutamate, Coco-Betaine, Glycerin,Hydroxypropyl Starch Phosphate, Sodium Cocoyl Glutamate, Xanthan Gum, Parfum/Fragrance, Sodium Chloride, Sodium Hydroxide, Citric Acid, Sodium Benzoate, Salicylic Acid, Quillaja Saponaria Wood Extract, Aloe Barbadensis Leaf Juice Powder.
Add another body wash to our list of the best men's body soaps for 2021 with Kiehl's "Made for All" Gentle Body Cleanser. I put this particular body wash on the list because of how well it works for folks with sensitive skin. Designed for this specific skin type in mind, Kiehl's biodegradable formula doesn't leave you feeling slimy after its use and has been "dermatologist- and pediatrician-tested for tolerance."
Like other body washes, there are only so many natural ingredients you can include. Still, I believe Kiehl's Gentle Body Cleanser does a better job than most as its base is made from naturally sourced aloe-vera. Kiehl's is also committed to making a better future by incorporating various eco-friendly steps in their production system. Suppose you or someone you love has susceptible skin. In that case, I can't speak highly enough of Kiehl's Gentle Body Cleanser as it will help you feel clean while not irritating you in the shower afterward.
10. L'Occitane Extra-Gentle Vegetable Based Soap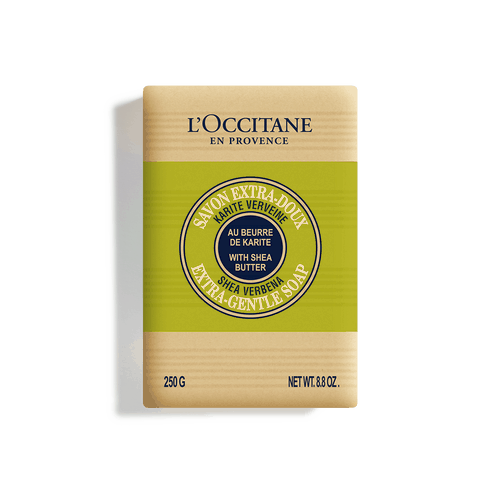 HELIANTHUS ANNUUS (SUNFLOWER) SEED OIL - COCOS NUCIFERA (COCONUT) OIL - STEARIC ACID - PALMITIC ACID - SODIUM HYDROXIDE - AQUA/WATER - BUTYROSPERMUM PARKII (SHEA) BUTTER - LIPPIA CITRIODORA LEAF EXTRACT - SODIUM CHLORIDE - CITRIC ACID - TETRASODIUM GLUTAMATE DIACETATE - SODIUM BENZOATE - PARFUM/FRAGRANCE - CITRAL - LIMONENE - LINALOOL - GERANIOL - HEXYL CINNAMAL - CITRONELLOL
Those dudes with sensitive skin are looking for a bar soap alternative, then pick up a bar of L'Occitane Extra-Gentle Vegetable Based Soap. This is one of the gentlest, softest soaps I've ever tried. I almost feel like I'm in a spa every time I've taken a shower and washed up with a bar of L'Occitane soap. The company does have a couple of bar soaps explicitly designed with men in mind. Still, honestly, I think their vegetable-based soap is a better alternative.
Made from vegetable oils, L'Occitane Bar Soap is made from primarily natural ingredients. My favorite part is that this is infused with shea butter, and if you've ever used shea butter before, you know just how soft that will make your skin feel. While not technically a body soap for men, L'Occitane Extra-Gentle Vegetable Based Soap needs to be on this list if you're looking for a sensitive skin soap that will soften you up the same time.
Best All-in-One Body Soaps for Men
Sometimes you just need a body soap that's going to do everything all at once, which is why I've included two 3-in-1 soaps. Try it out as a body wash, or shampoo doesn't matter because they'll work all the same.
11. Dr. Bronner's Bar Soap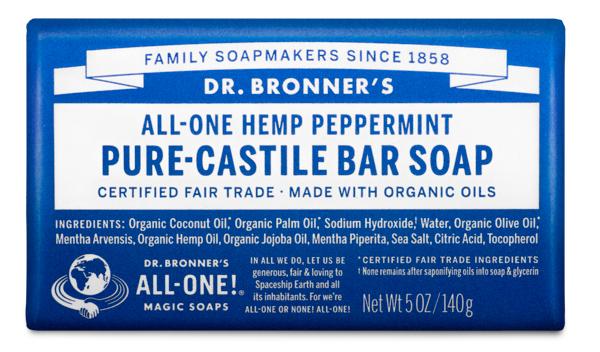 Organic Coconut Oil*, Organic Palm Oil*, Sodium Hydroxide**, Water, Organic Olive Oil*, Mentha Arvensis, Organic Hemp Oil, Organic Jojoba Oil, Mentha Piperita, Sea Salt, Citric Acid, Tocopherol
Dr. Bronner's Bar Soap might be the most eco-friendly body soap for men on this list. What's nice about any soap you pick up from Dr. Bronner is the versatility offered. Want to use this soap for your hands? Sure. How about as a shampoo? Absolutely. You'd think with so many uses that it'd lower the quality of your clean, but that's just not true. Dr. Bronner's Bar Soap is one every dude should try.
Made from the organic U.S. grown Hemp Oil, Dr. Bronner's Bar Soap is certified vegan, non-GMO verified, and never tested on animals. Plus, the soap will obviously disintegrate while the packaging is entirely biodegradable. Everything about this soap has the environment in mind. What's nice is if you pick up a bar, Amazon offers a bar soap variety pack to try out all of the scents. For dudes who are looking for a bar soap that's all-in-one and environmentally friendly, then give Dr. Bronner's Bar Soap a shot.
12. Brickell Men's 3 in 1 Body Wash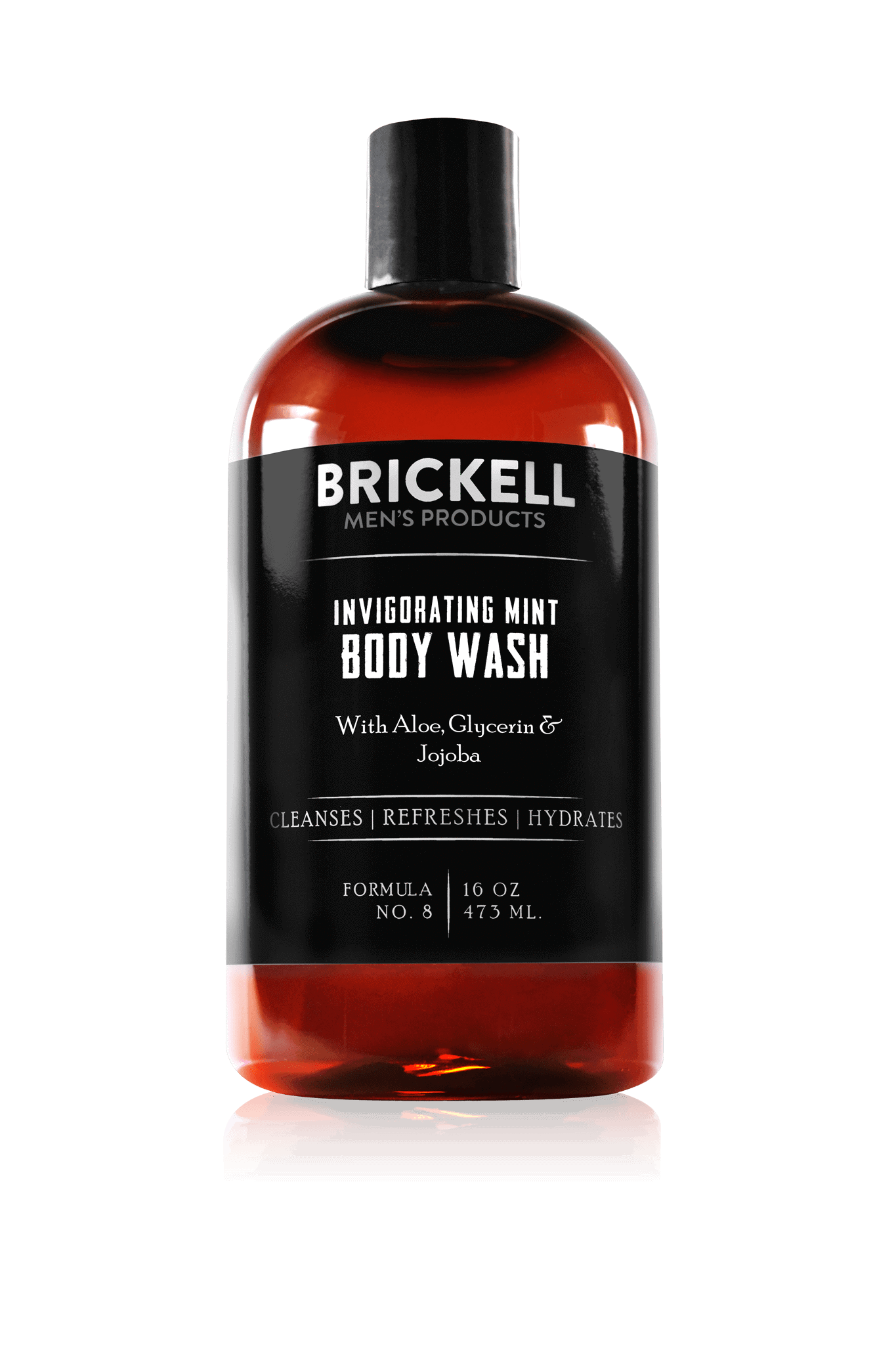 Aloe Leaf Juice*, Pro-Vitamin B5, Lavender*, Silk Protein Amino Acid Blend, Sodium Lauryl Sulfoacetate, Disodium Laureth Sulfosuccinate, Vegetable Glycerin, Cocamidopropyl Betaine, Phenoxyethanol, Roman Chamomile Distillate, Hydrolyzed Protein, Rosehip Fruit Oil, Jojoba Seed Oil*, Vitamin E, Tetrasodium EDTA, Peppermint Essential Oil, Tea Tree Leaf Essential Oil.
Maybe you want an all-in-one soap, but bar soaps aren't really your thing. Brickell Men's 3 in 1 Body Wash has you covered then. Plus, this body soap has been designed with men in mind, perfect as it does a beautiful job cleaning and energizing your skin and hair. Available in three different scents (Evergreen, Spicy Citrus, and Fresh Mint), Brickell's Body Wash is definitely the best all-in-one body wash for men on the market.
Every ingredient in this body wash is natural and organic. There are no sulfates, petrochemicals, parabens, or synthetic colors/fragrances. The company boasts on their website that they "make the purest products a man can use with 100% assurance you're not putting suspect chemicals in your body." I'd definitely choose Brickell's Body Wash if you're looking for a body soap for men that fits all of your needs in a body wash form.
Conclusion 
Do you have a favorite body soap that didn't make the list? Let us know in the comments below.