Dudefluencer is reader-supported. When you buy through links on our site, we may earn an affiliate commission.
You've got your shirt, your shorts, and now all you need to complete your outfit is a pair of perfect summer shoes. I always struggled in the summer because I've got some ugly-ass toes: like little elbow macaroni with tiny hairs and cracked toenails. They're a disgrace. That's why it was important for me to make a list of the best men's summer shoes so I can stay fashionable while hiding my ugly toes.
This list focuses on three categories: men's summer sneakers, boat shoes, and loafers: all men's summer fashion essentials to complement any gathering you might be going to. Whether it's a beach party, or just a night out with your partner, keeping your feet comfortable and looking good should be at the top of your fashion priorities list.
And with this guide to the best men's summer shoes, you'll be strolling in style in no time.
Men's Summer Sneakers
A list of the best men's summer shoes isn't complete without a beautiful collection of sneakers.
And good news, sneakers aren't just meant for long runs through the park or lifting at the gym: a good pair of sneakers is a sign of strong fashion sense. That is as long as you wear them at the appropriate time (i.e., don't wear sneakers to a wedding or out at a nice restaurant).
Also, when buying a pair of sneakers, make sure that they fit your current wardrobe. You want to purchase a pair that compliments what you already own, as opposed to trying to find a new wardrobe that would fit your sneakers.
Old Skool by Vans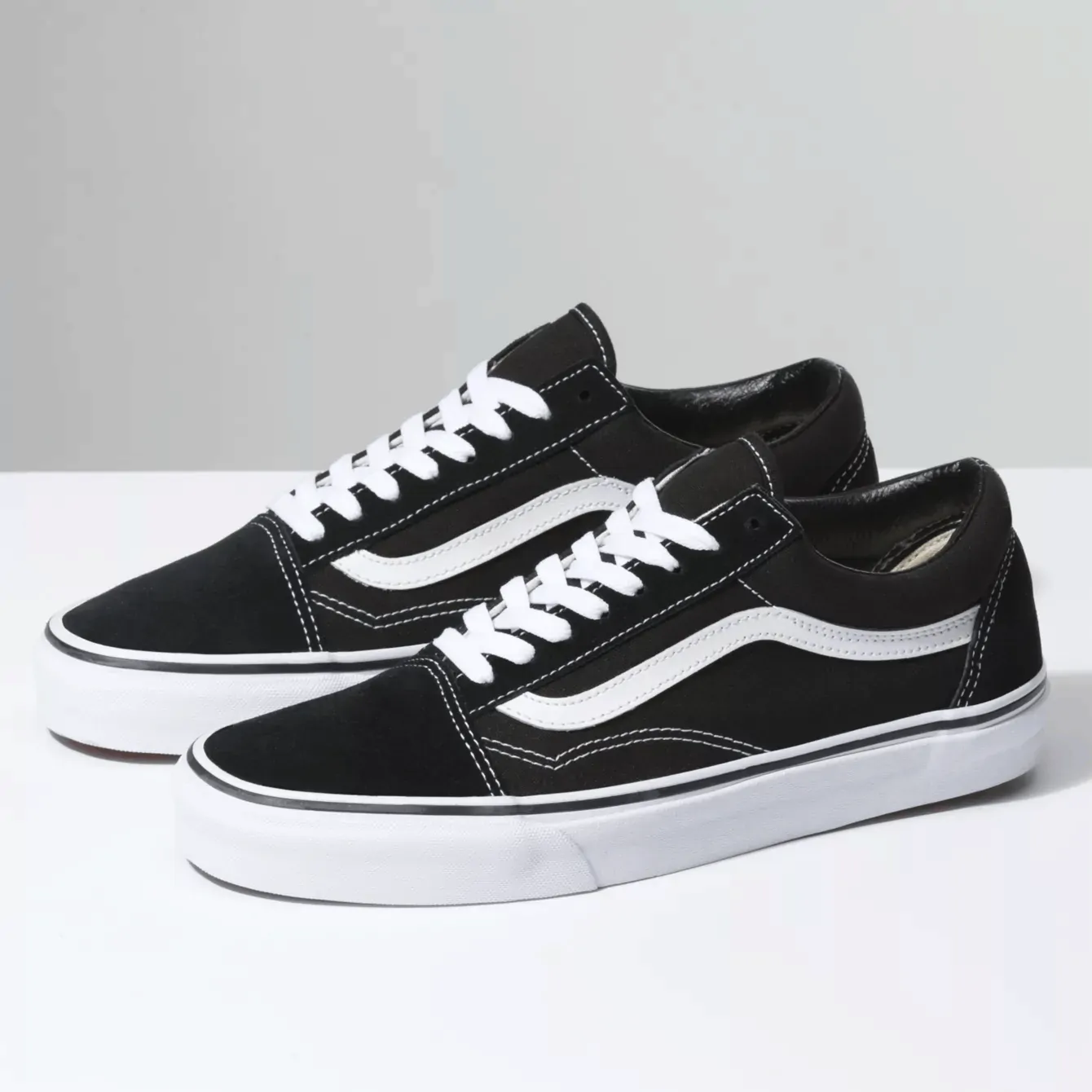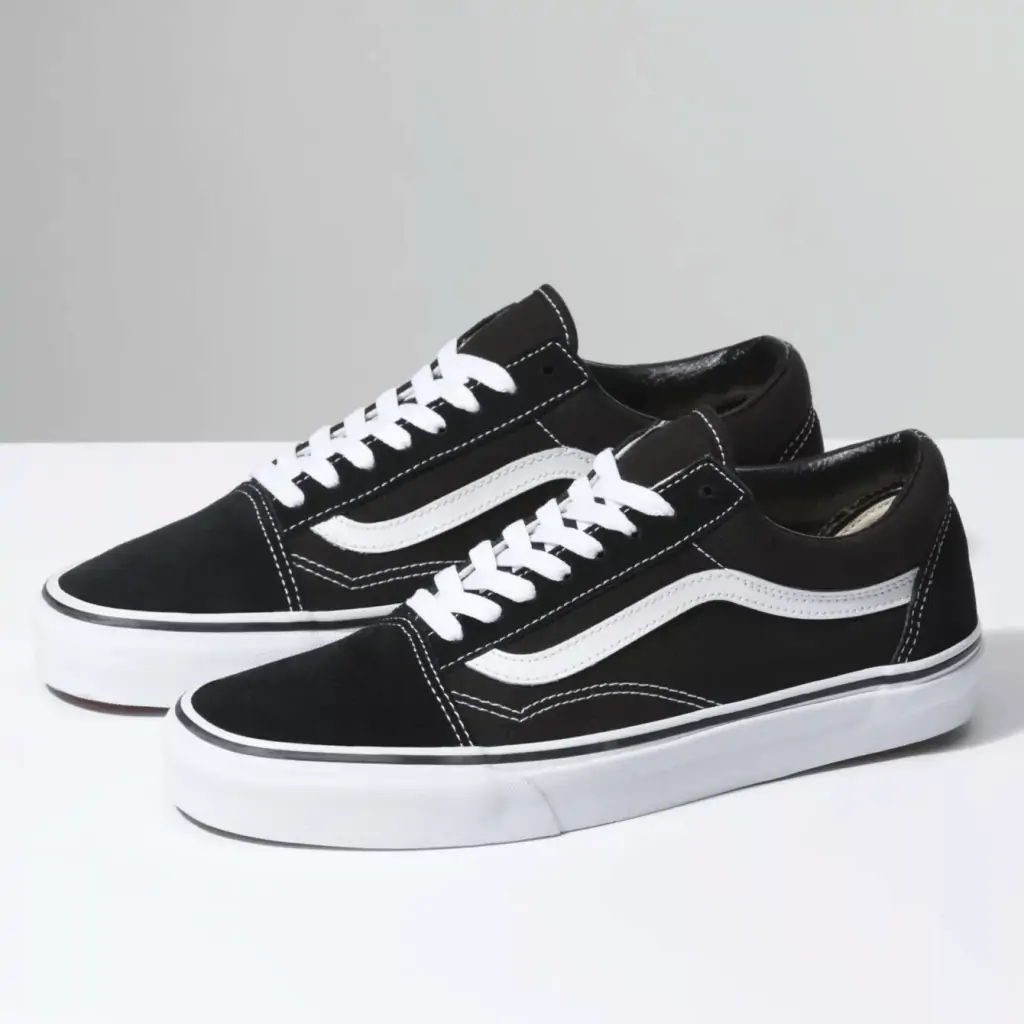 There are only a few sneakers in the world that make me more nostalgic than a pair of Old Skool Vans. I remember summer nights skateboarding through Buffalo while listening to The Ataris; I remember my first kiss while wearing a pair of sneakers adorning the trademark stripe.
The first skate shoe, these Vans maximize comfort and classic style to create a great addition to your closet. Featuring a padded tongue and signature waffle sole, the Vans Old Skool was initially designed for skateboarders but has become an American staple of summer culture.
Available in 32 different colors, you'll be hard-pressed to find a pair of Old Skools that won't fit your current wardrobe, making them one of the best men's summer shoes available today.
Air Jordan 1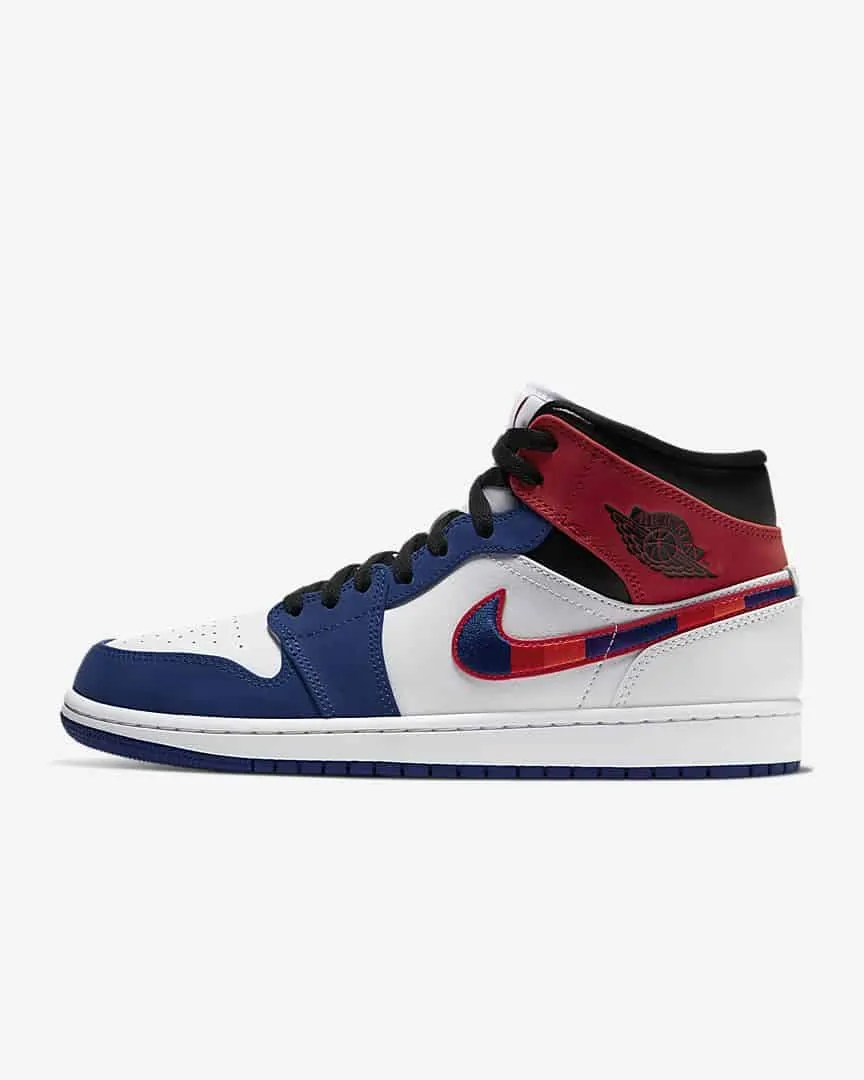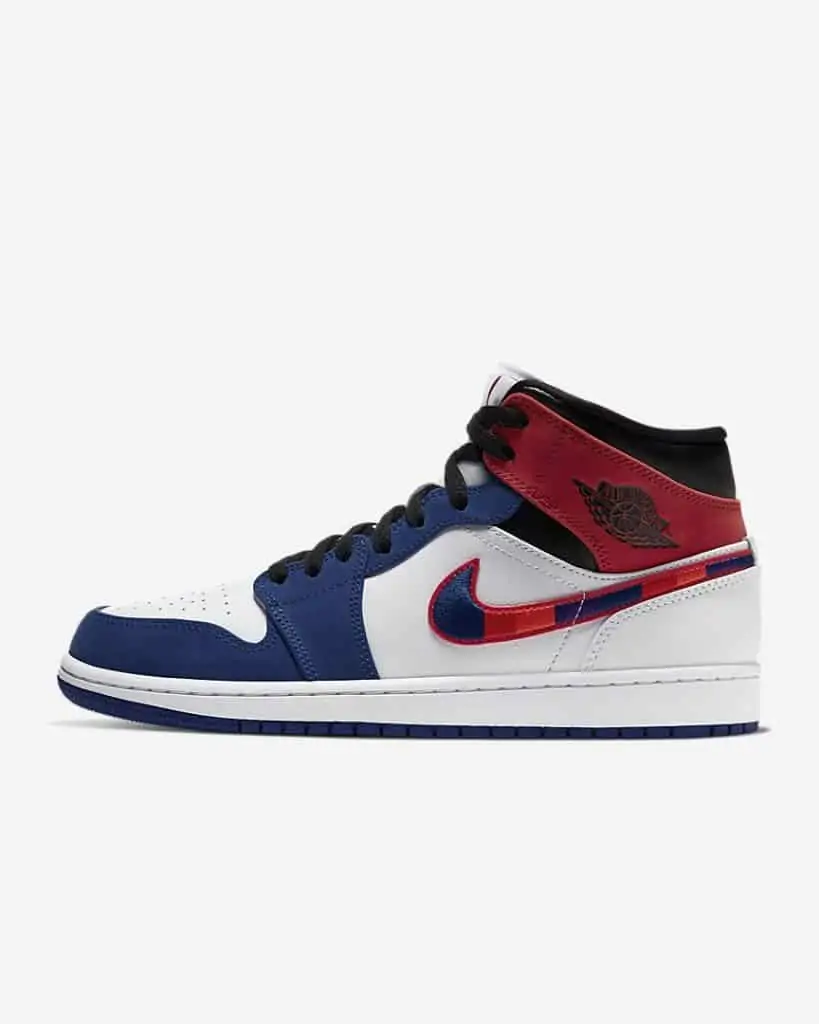 Step one: watch The Last Dance. Step two: buy a pair of classic Air Jordans. And it would only make sense that the greatest basketball player of all time would have a signature shoe on a list of the best men's summer shoes. NBA fans across the country have been obsessed with the Michael Jordan documentary series, and now is the perfect time to add a pair of his trademark sneakers to your summer wardrobe.
What's incredible about the Air Jordan 1 is just how versatile a selection Nike has made available. If you want a mid-size, check out the Air Jordan 1 Mid Special Edition (we like the red, white, and blue version of the sneaker). But there's also lo-tops, hi-tops, and well…whatever the Air Jordan High React Shoe is.
No matter, a shoe design that's been around since 1985, the Air Jordan 1 is a classic that will never go out of style.
Chuck Taylor All-Stars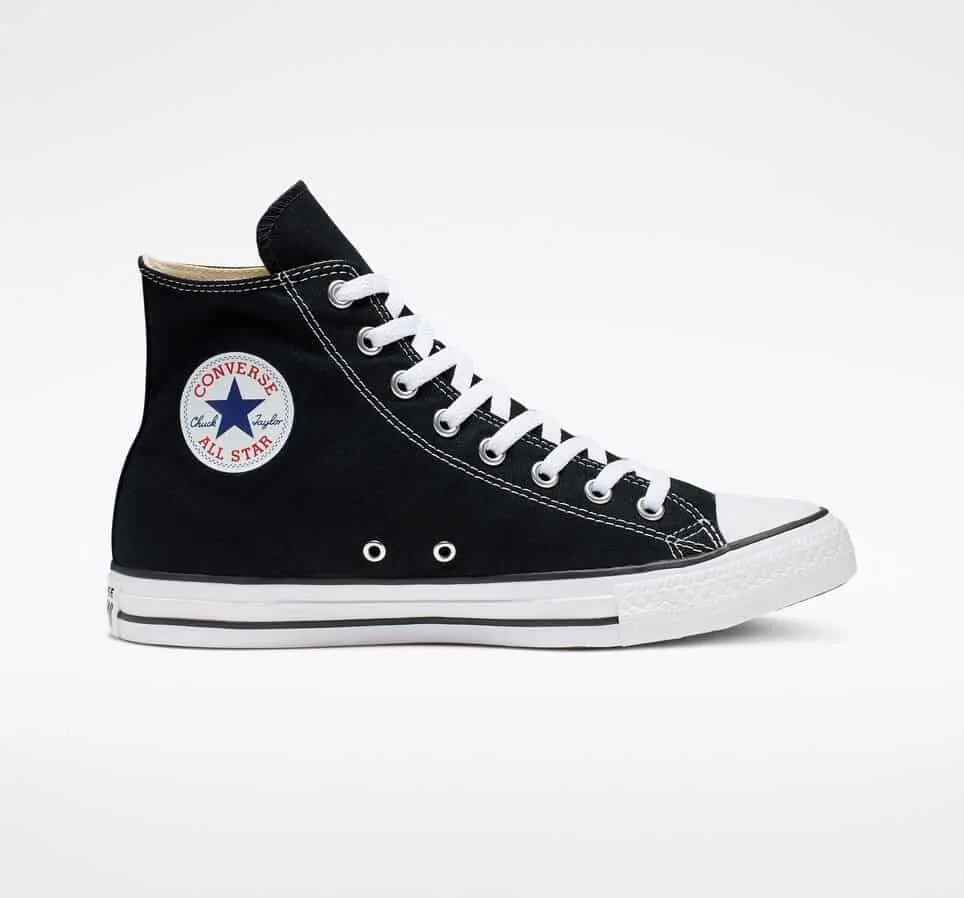 If you've noticed anything about the other two shoes on our list so far, it's that when it comes to the best men's summer shoes, versatility, and a timeless style matters. And quite possibly no men's summer sneaker fits that bill more than the Converse Chuck Taylor All-Stars.
When I say you can wear a pair of Chucks with anything, I mean anything: whether it's with a suit, or for a more casual look, All-Stars will always look good. Over 100 years old, Chuck Taylor All-Stars are one of the most popular pairs of sneakers ever made.
Something great about the All-Stars is that because they've been around forever, whatever outfit idea you're thinking of has probably already been done before, so there are lots of inspirational images out there already. Even the Converse page features a ton of different looks that you can borrow from that can help you decide on just the right color for your Chucks.
574 Core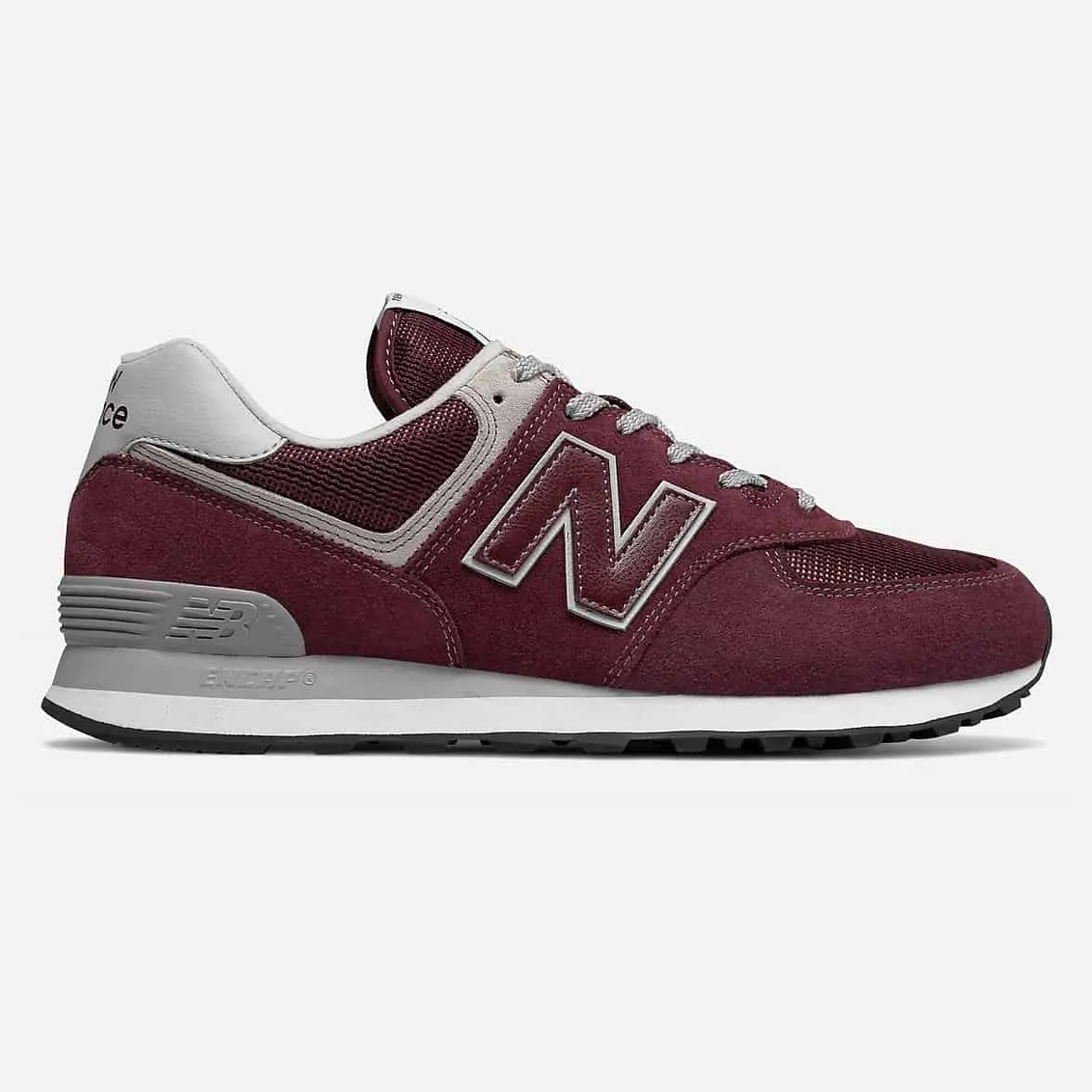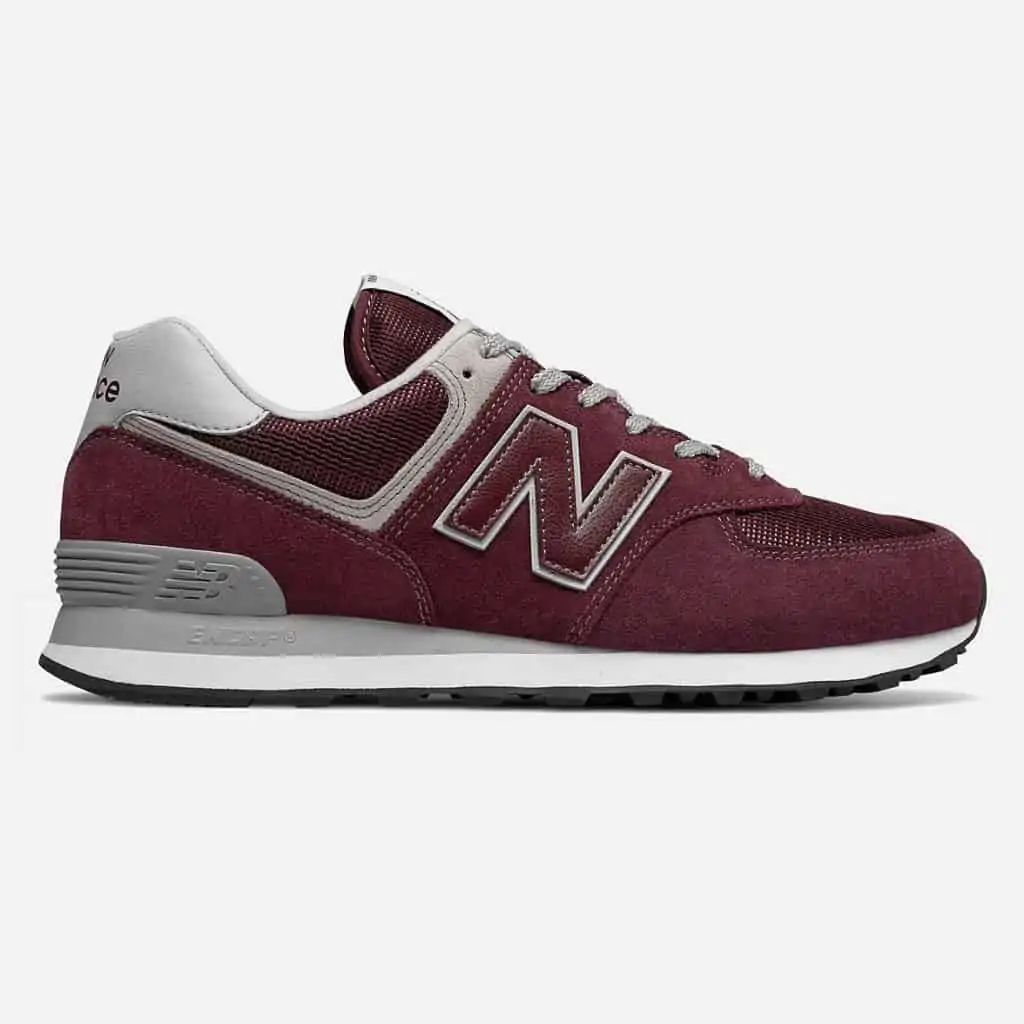 I love the New Balance 574 Core sneakers. Simple in design, I've owned many pairs of these shoes over the years in a variety of colors since college. They are comfortable, cozy, and quite durable. A throwback to the New Balance sneakers of years past, the 574 Core mixes a classic design with modern technology to create a formidable sneaker that makes its way onto the list of the best men's summer shoes.
If you're looking for something more traditional, then the Black or Blackout version would be the one to pick. But if your wardrobe features a lot of darker colors, spice things up with the Burgundy version of the 574 Core as a little bit of color will make your outfits pop all the more.
Designed with comfort in mind, the 574 Core is a sneaker that you can wear all day without worrying about coming home to blistered feet or pain. New Balance also features a couple different variations on the 574, including the more colorful 574 Split Sail, or the just the 574. No matter which option you choose, you're guaranteed to now own one of the best men's summer shoes of 2020.
Americana Low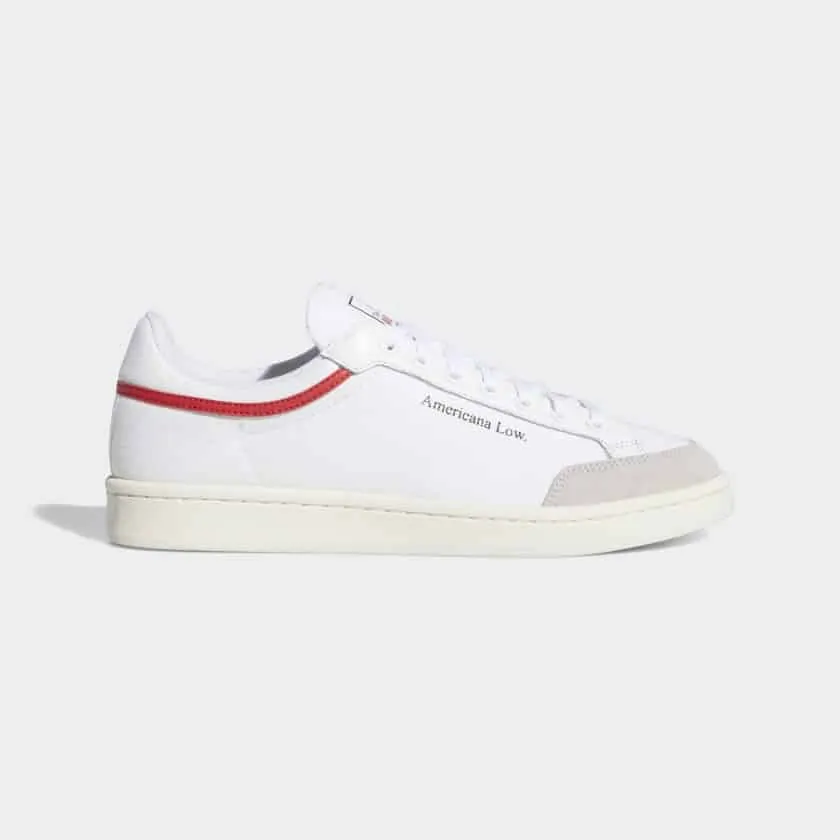 There's just something about summertime and a pair of clean white sneakers. And the Adidas Americana Low is just that. While their three-strip counterparts are more famous, it's hard to overlook the sleekness in the Americana: all white leather with a single red line across the top of the shoe and the words "Americana Low" in grey. It's hard to find a sleeker summer sneaker on this list.
One of the original basketball shoes on the market, the Americana Low features everything you love about Adidas. But the best part of owning a white sneaker is that you can rock it with almost any style out there. Maybe you're going for a more preppy look, then the white sneaker works, or how about white a pair of tan shorts, the white sneaker is your friend. More versatile than you can imagine, the Adidas Americana Low is one of those pairs of sneakers you buy that fits with anything in your closet.
Just remember, though, if you're wearing a pair of white sneakers as a fashion statement, make sure that they stay clean. Part of the appeal of a white sneaker is their brightness, so before putting on your Americana Lows, think about your surroundings and whether or not you'll be able to keep them shining in the sunlight.
Men's Summer Boat Shoes
If you're going to wear boat shoes, it's crucial to think about your socks. Some boat shoes advertise that they are meant to be worn without them, but just remember that your feet will get sweaty and sticky during the summer heat. That's why it'll be important to also purchase a pack or two of no-show socks so that you'll keep your boat shoes nice and fresh this summer, and for summers to come.
Sperry Plush Wave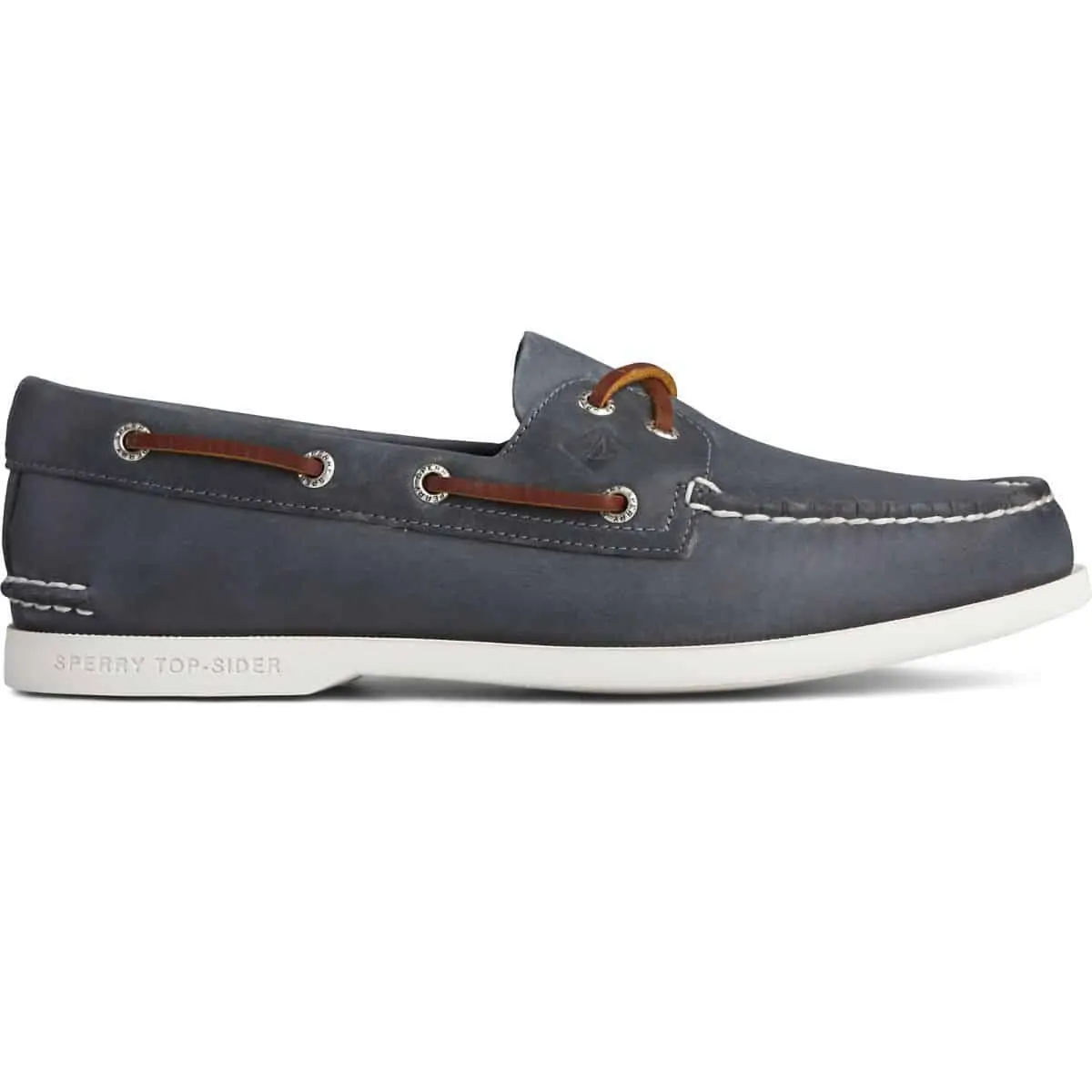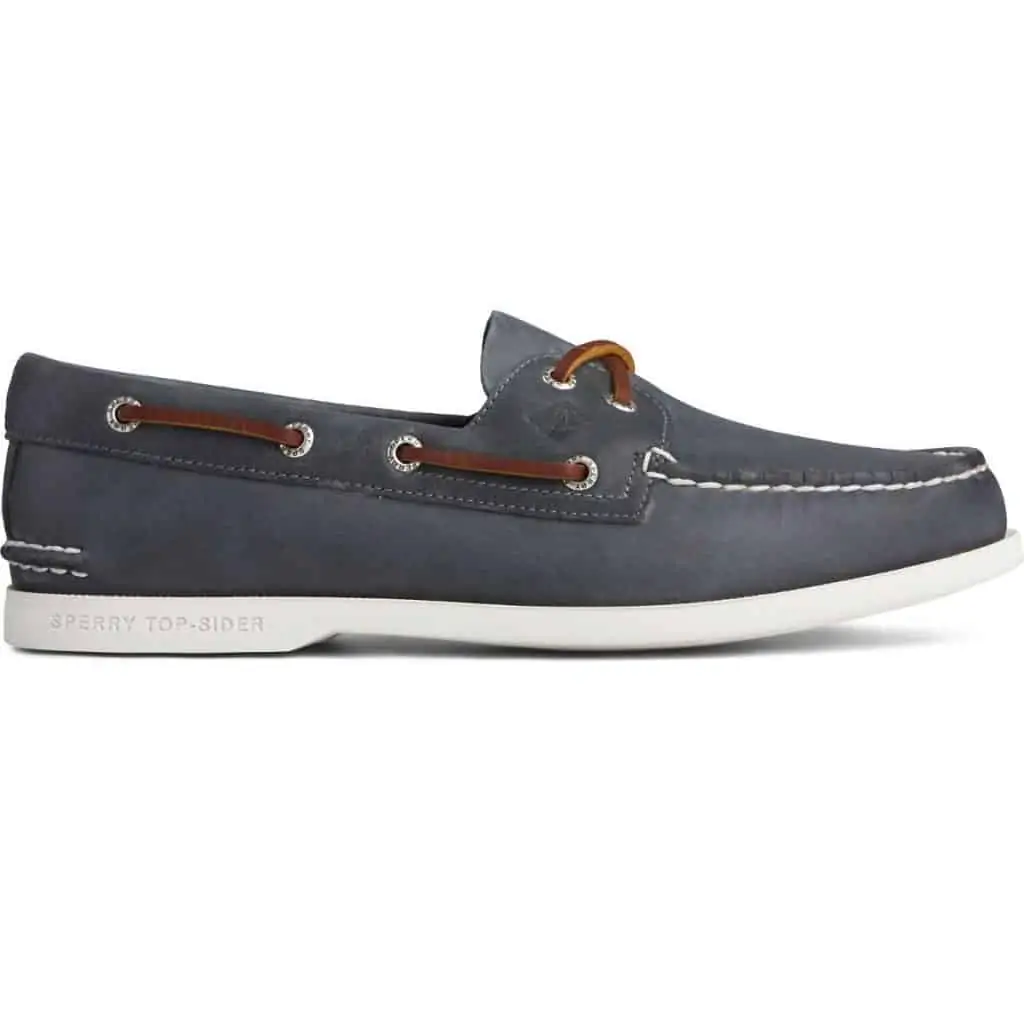 Everyone already knows how much I love my Sperry Plushwaves, and there's no way I could make a list of the best men's summer shoes without including them near the top. With a dark blue leather sidewall and brown accent on the top, the colors mesh well with almost any attire.
But what makes the Plushwave so unique is Sperry's dedication to comfort. Each shoe features an ultra-cushioning sole to make sure that your feet feel okay after a long day of wearing while also maintaining their lightweight, flexible construction. Available in five colors, the Plushwave is a great, affordable option when it comes to looking good this summer.
If the boat shoe version isn't your style, Sperry also offers a variety of different Plushwave options, including sneakers and loafers. I can personally attest to the fact that I've loved every pair of Sperry's I've ever owned and wore them until they've literally fallen apart. So if you're looking for a pair of men's summer boat shoes, it's hard to go wrong with the biggest name in boat shoes.
Clarks Un pilot Lace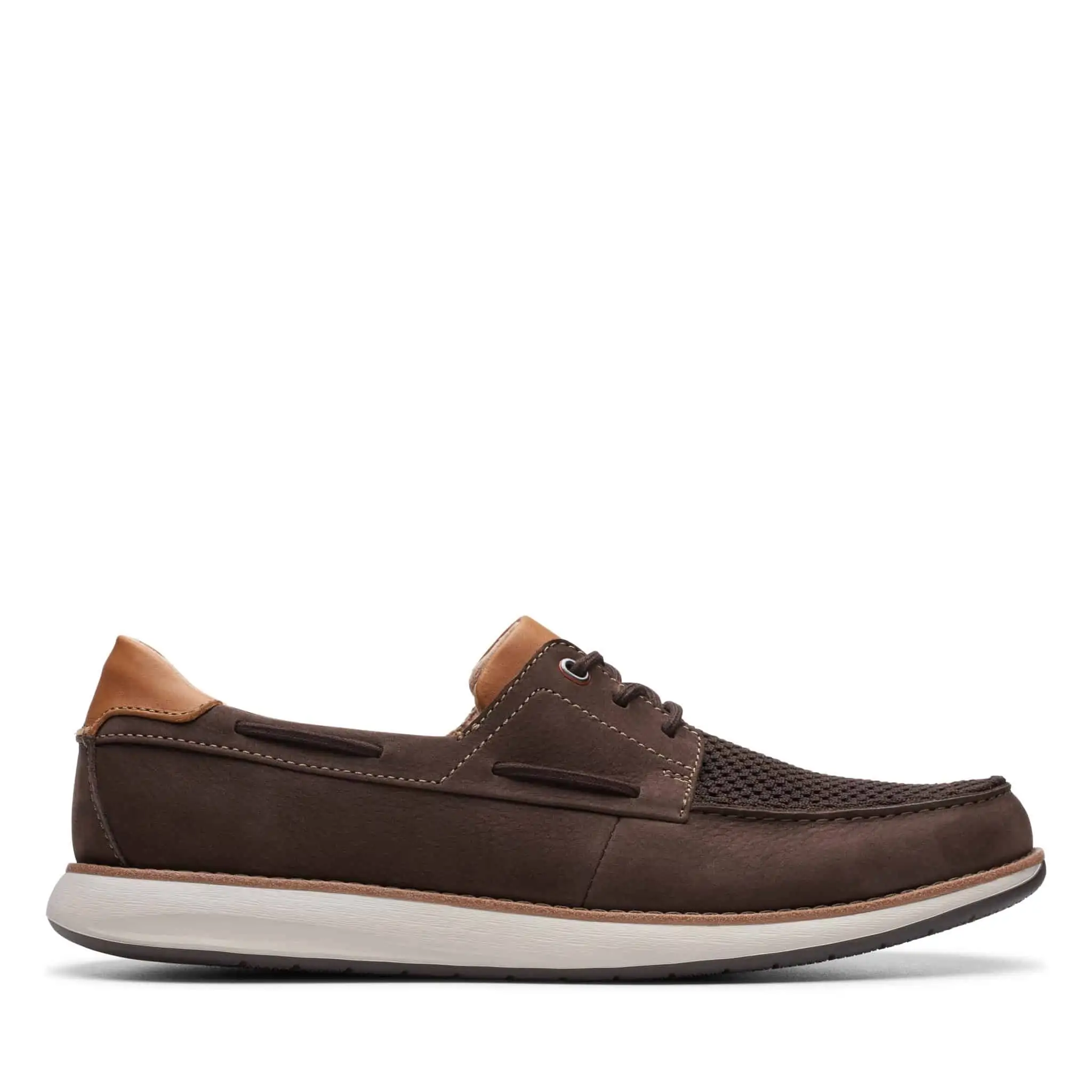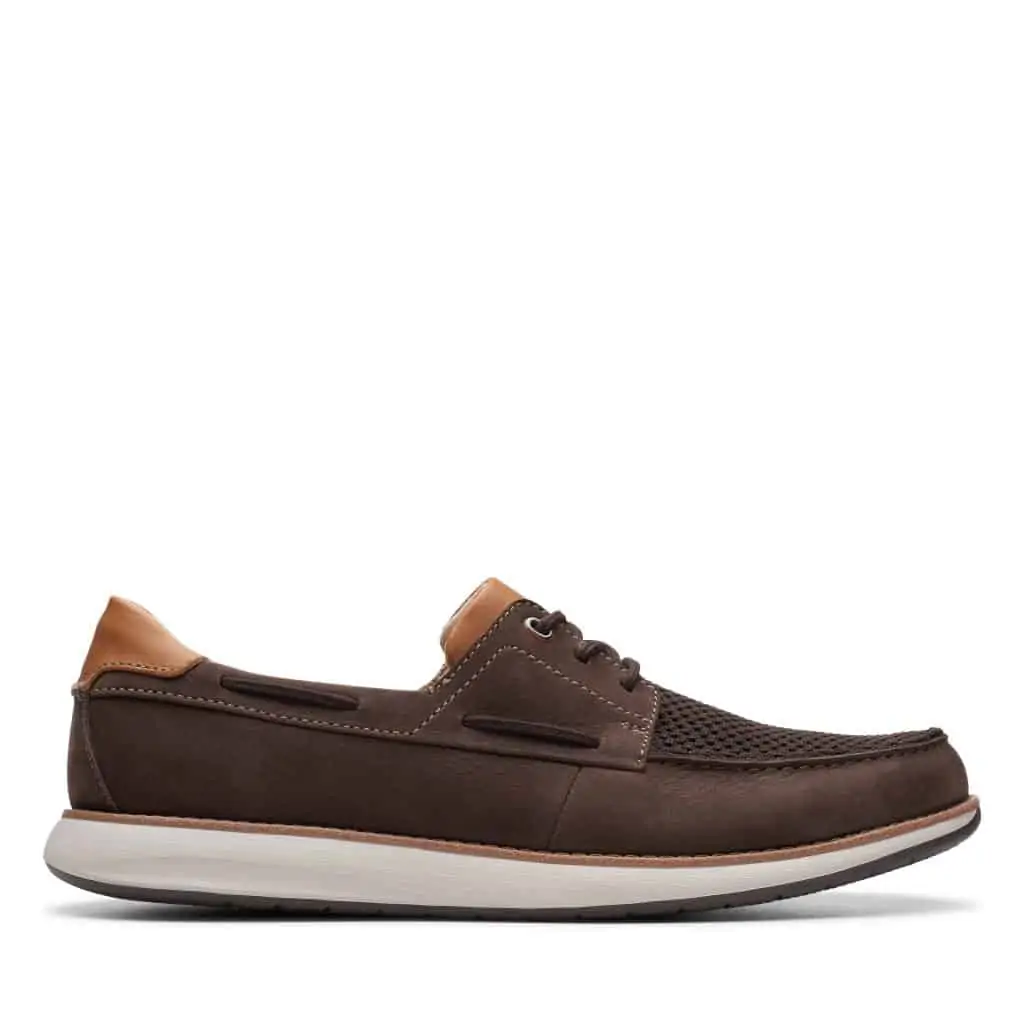 The Clarks Un Pilot Lace does something that few shoes on the market can: take care of your bare feet. Boat shoes are meant to be worn with either no socks or no-show socks. But the problem is that our feet get sweaty, sticky, and smelly. That's where Clarks Ortholite Footbed comes in.
Meant to wick away moisture to keep our feet smelling fresh and shoes staying dry, the Ortholite Footbed is a Clark's original. When out on a warm summer day, you won't need to worry about your feet getting wet or your Un Pilot Lace's getting ruined because Clarks has already planned for it. It's ingenious, and the technology works great.
Anyone who's ever worn a pair of boat shoes with socks knows how uncomfortable it can be, and that's why I am so thankful for the Un Pilot Lace's addition to my closet. Available in three colors, I particularly like the tan leather option as they work well with a lot of blue color outfits. So when thinking about the best men's summer shoes, it'll be essential to think about your sweaty feet too.
Sebago Docksides Portland Baracuta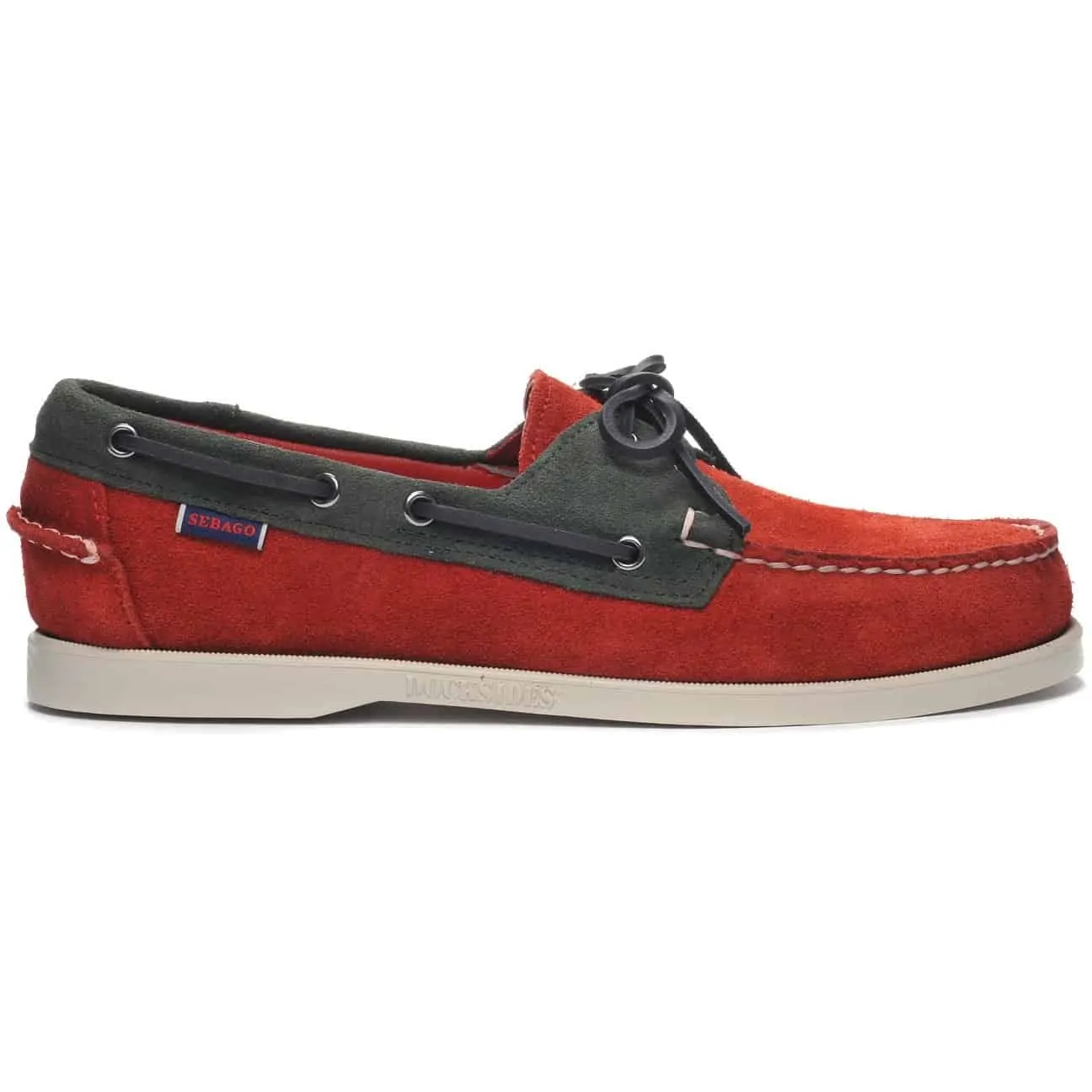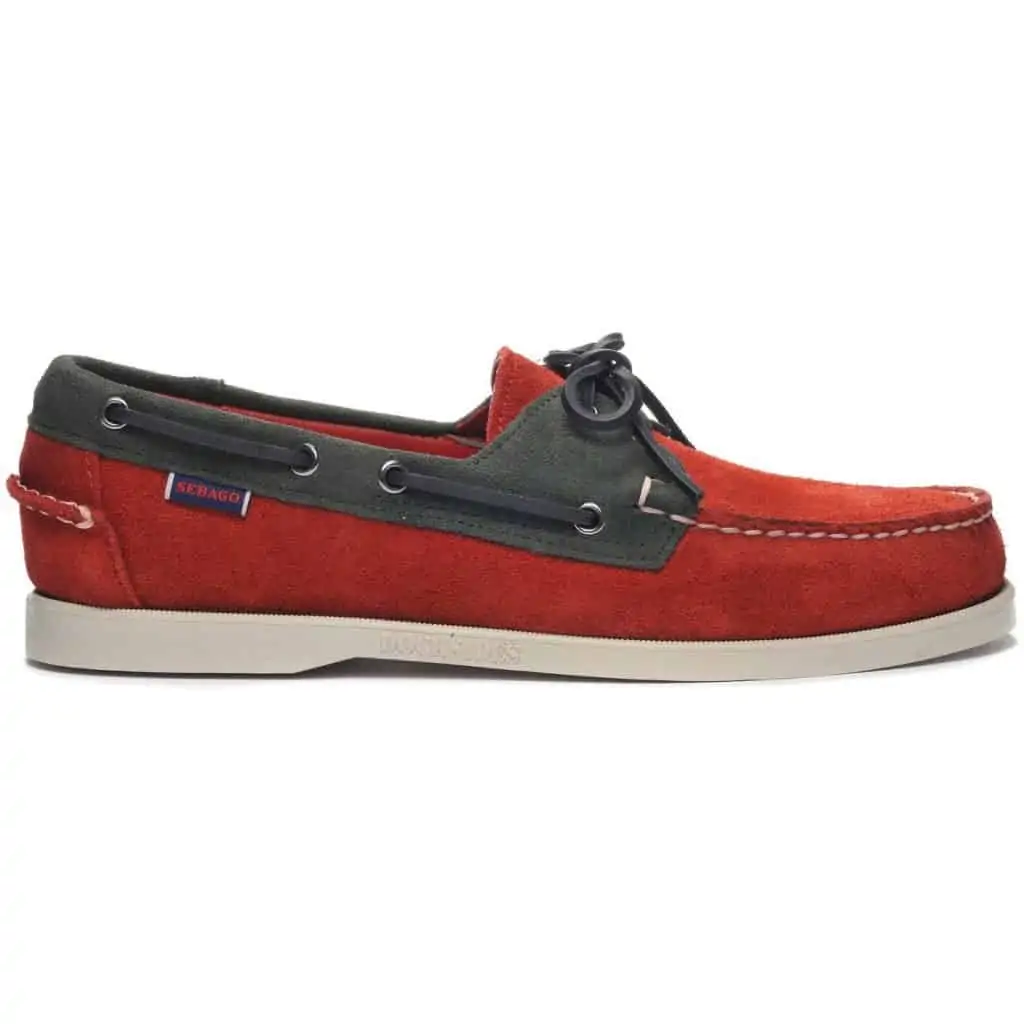 If you're looking for a pair of boat shoes that are a bit more colorful, then the Sebago Docksides Portland Baracuta is the perfect fit for you. Whether it's the navy/red combination, or the red/yellow/blue version, Sebago's boat shoe mixes modern style with a classic design.
Made from fine comb suede and handsewn, Sebago's shoes are meant to last. And for the price point, that's the expectation. When looking for a pair of boat shoes, you don't want to skip over the quality of production because a good pair of boat shoes can be a fashion staple of your wardrobe for a long time.
And as great as all of the color options on the Portland Baracuta look, it's still important to think about how they will match your current clothing options. The light grey options would go well with any outfit, as well as the dark green. But if your fashion sense begs for more color, then the multicolored Baracuta's are going to be one of the best men's summer shoes for you.
Brooks Brothers Leather Tru-Moc Boat Shoes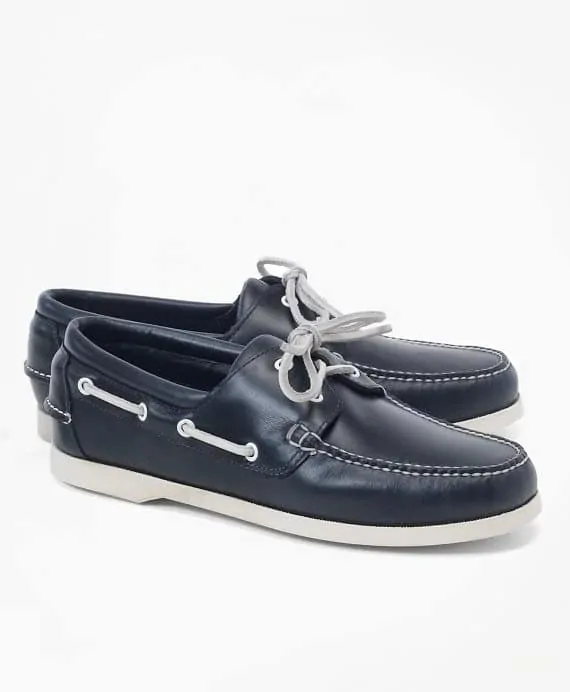 There's a lot of things you think of when someone says Brooks Brothers, and I doubt boat shoes is one of them. But what do you know, one of the best men's summer shoes on the market today is the Brooks Brothers Leather Tru-Moc Boat Shoe. With an all-leather design and handsewn construction, the Tru-Moc is a beautiful looking boat shoe.
While this particular version of the shoe is only available in navy, Brooks Brothers also sell navy and white calf-skin boat shoes as well as a pair of contrasting leather boat shoes. But for our pick, we're going to stick with the navy leather because we love deep blues for the summer (and especially going out onto the water).
And for anyone who knows Brooks Brothers, it's all about quality. These shoes are meant to last a long time, so if you're looking for a classy looking pair of boat shoes, you can't go wrong with the Tru-Moc Boat Shoe.
Adidas Climacool Boat Shoes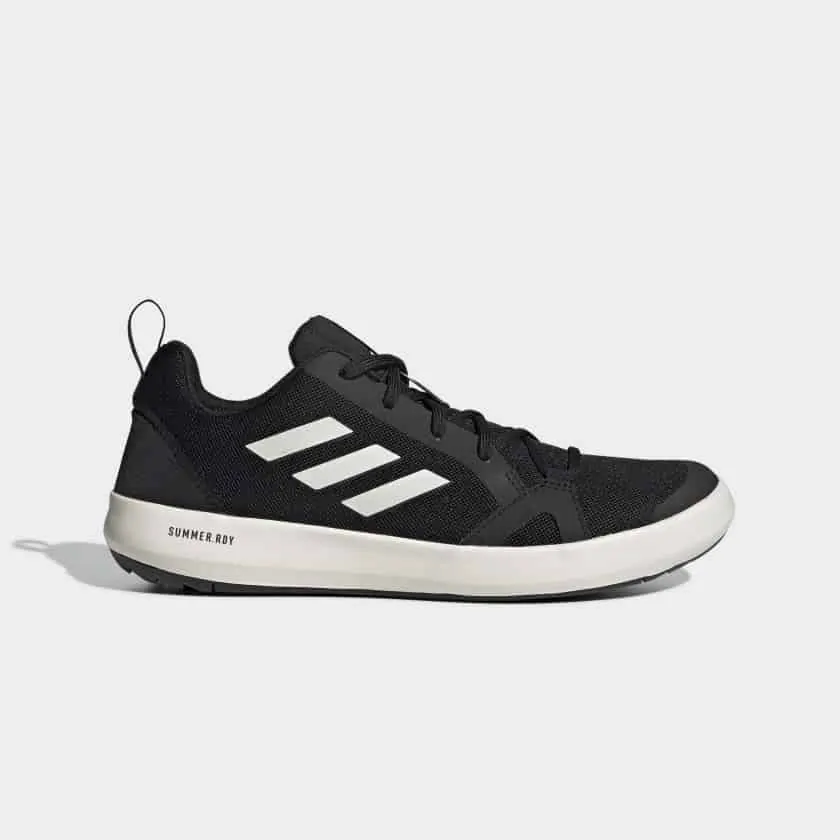 Now, if you're looking for something a little more sneaker-esque, then look no further than the Adidas Terrex Boat Shoe. Forgoing the traditional look of a boat shoe, Adidas instead designed the Terrex like a hiking sneaker, which allows for a bit more versatility in usage.
Built with Climacool technology, these boat shoes are meant to keep your feet fresh and dry no matter how hot it is in the summer. The Terrex also features a drainage system in the midsole and outsole to provide some extra comfort around water. And adding to the shoe's versatility, the outsole is designed for optimal grip on hikes.
The Terrex isn't just a boat shoe, and that's what makes it one of the best men's summer shoes on the market today. You can throw these on and go boating, or hiking, or whatever outdoor adventure you'd like without having to worry about your feet. No shoe on this list is capable of doing more than the Terrex.
Men's Summer Loafers
Invented in Norway in 1930, the loafer has become a staple of men's fashion and something every man should have in his wardrobe arsenal. If you're looking for a way to sharpen up your denim outfits, loafers are a great place to start as they make you look good, while also a bit dressier/fancier. Just remember, your denim should be a bit shorter if loafers are going to be your choice of footwear, baggy and long jeans do not look good.
Jack Erwin Hunter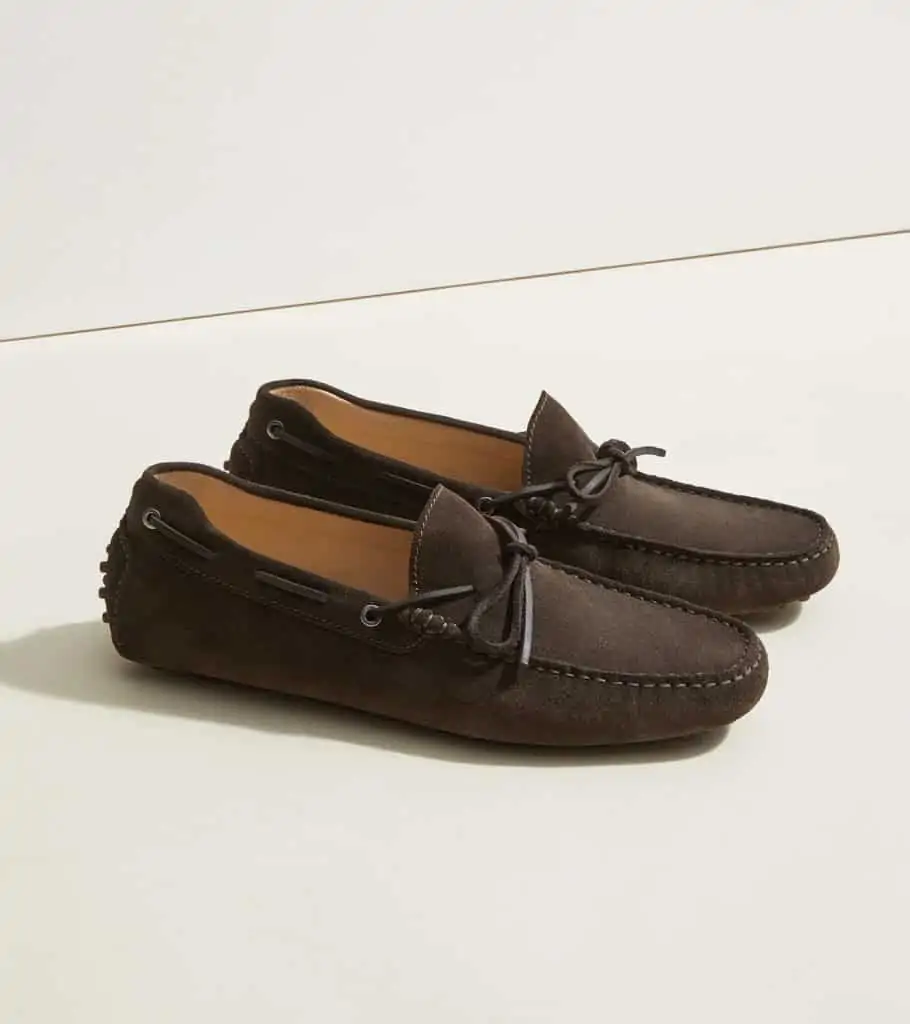 Let's start our list of the best men's summer loafers with the Hunter by Jack Erwin. A bit more traditional in design with laces up top, the Hunter shines in how it just does everything right. From its suede upper to Arneflex micro-foam support at the bottom, this loafer is one of the best men's summer shoes available.
Available in three colors, I personally love the Ash Grey Suede version because grey is definitely a color that's different enough to pop, but also matches just about any summer attire you're wearing. Hunter's design is traditional, it doesn't attempt to break any new ground, and that's why it works so well. Classics are classics for a reason.
When looking to purchase a pair of loafers, it's important to think about long term style: what will work well in your closet one year, five years, or even 10 years from now? That's why you need to take a look at Jack Erwin's Hunter; a loafer destined to be a mainstay fashion staple for years to come.
Daywen Dark Orange Loafers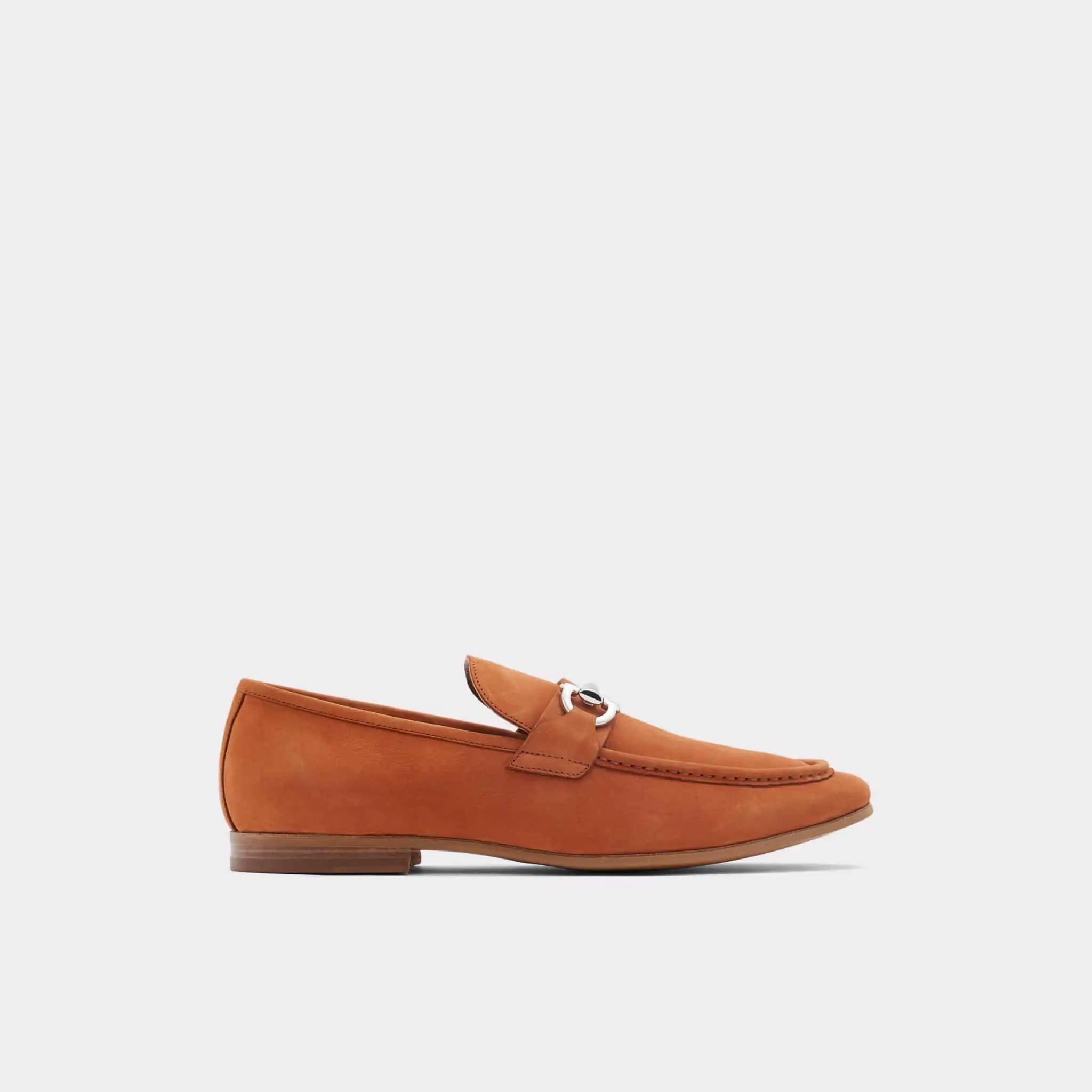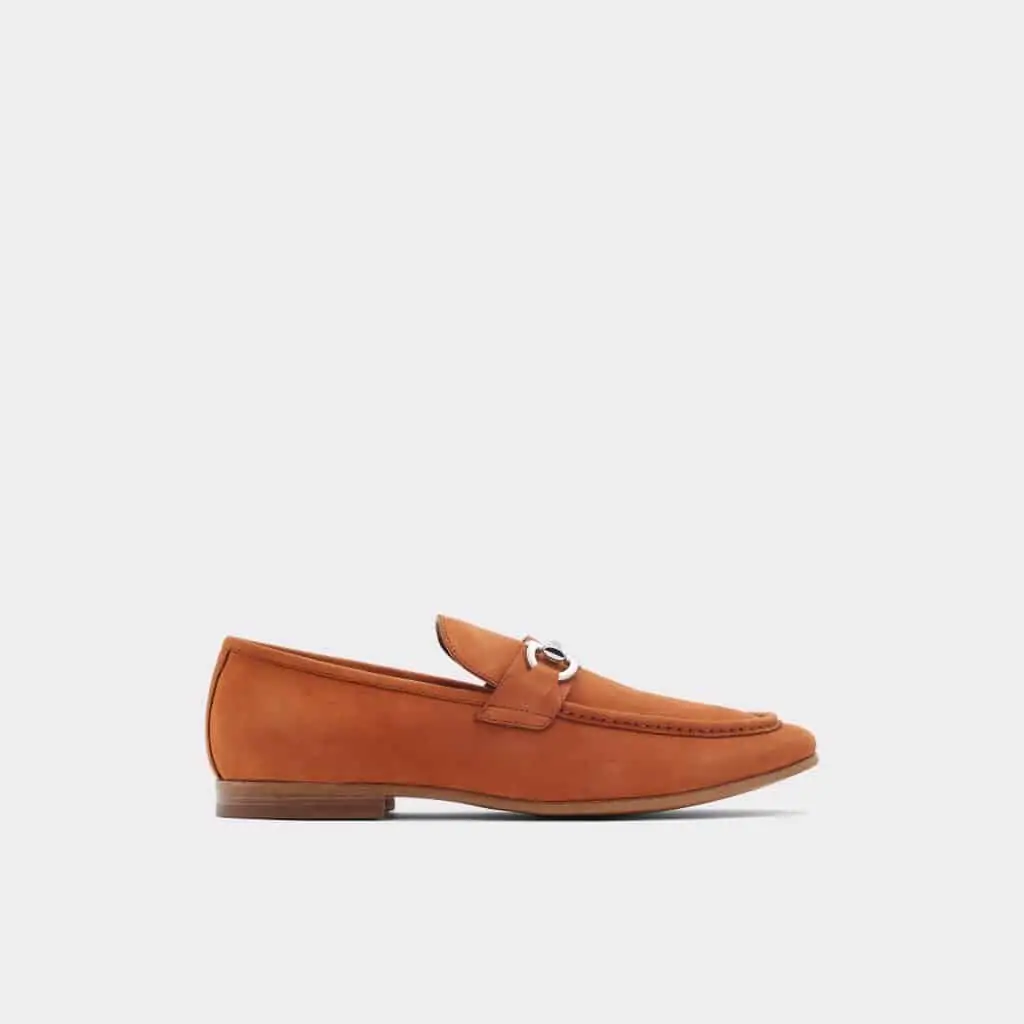 We've already talked about the Daywen Dark Orange Loafers in our summer essentials guide. Still, it bears repeating, these shoes from Aldo are freaking awesome.
The Daywen in dark orange is one of my favorites because the color is perfect for summer evening outfits, and the buckle on top adds just enough extra pizazz to make you look extra classy. One thing to keep a note of though, Aldo shoes do require a brief break-in period (suggested around 3-4 uses before break-in).
Made from suede, these orange loafers pop when you put them on your feet. That does make it trickier to match, that's why I suggest looking at your closet and Pinterest before purchasing a pair of dark orange loafers. Aldo has created an incredibly comfortable loafer that will allow you to put these on in the morning, and not worry about your feet for the rest of the day.
Bottega Black Leather Loafers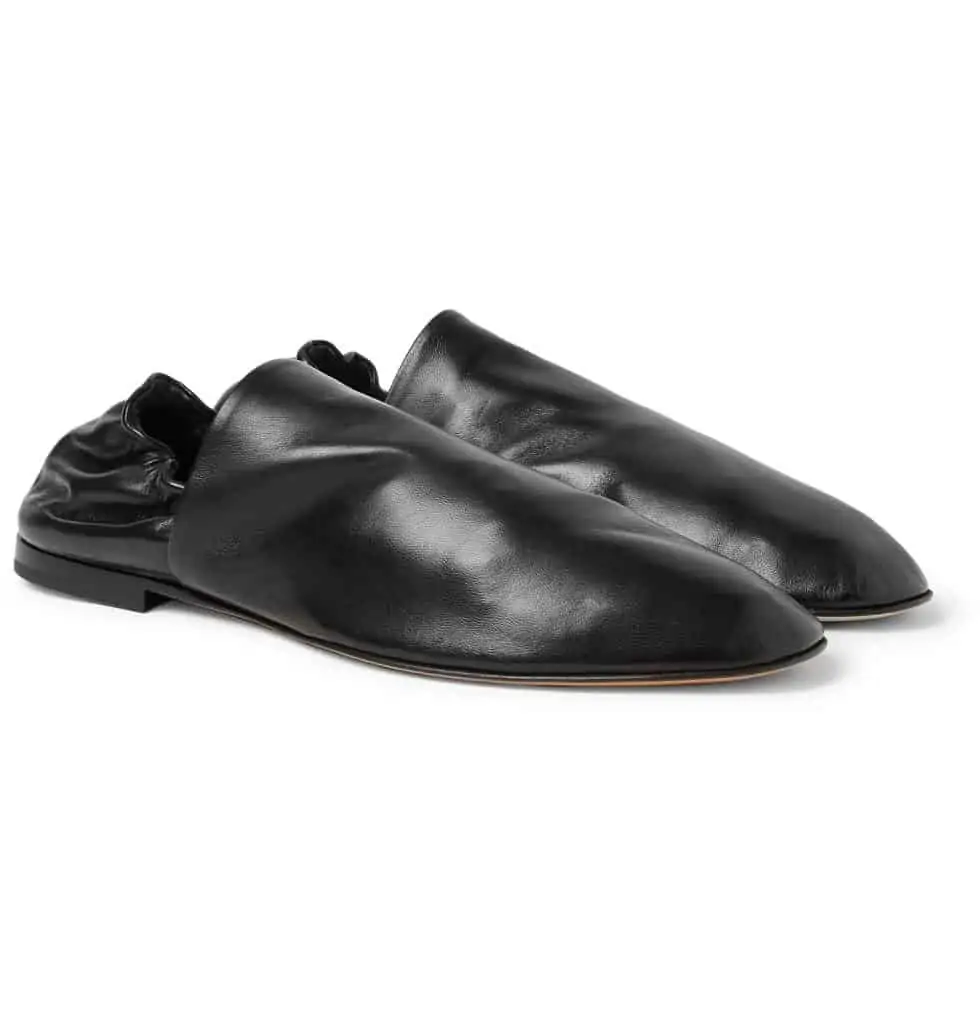 Tommy Lei from MyBelonging put these Bottega Veneta loafers from Mr. Porter on our radar. While a bit more expensive, these Italian inspired shoes meant to last for a long time. Our men's fashion guide suggested quality over quantity, and that's precisely what you'll find with the Bottega Veneta loafers.
The Bottega Veneta loafers are certainly the most unique loafers on our list of the best men's summer shoes in that they bypass a lot of the traditional design motifs, instead of focusing on a level of sleekness that is unmatched. The body is made entirely of leather, and the heel is elasticated for ease and comfort. They look and feel more like slippers than a pair of traditional loafers.
While expensive, these loafers are supposed to last for a long time. Each pair comes with a dust bag for upkeep during the winter, and their black leather is timeless. That being said, it would make sense to look at a variety of loafer options before putting down the $750 towards a new pair of Bottega Venetas.
Cole Haan Hamlin Traveler Penny Loafer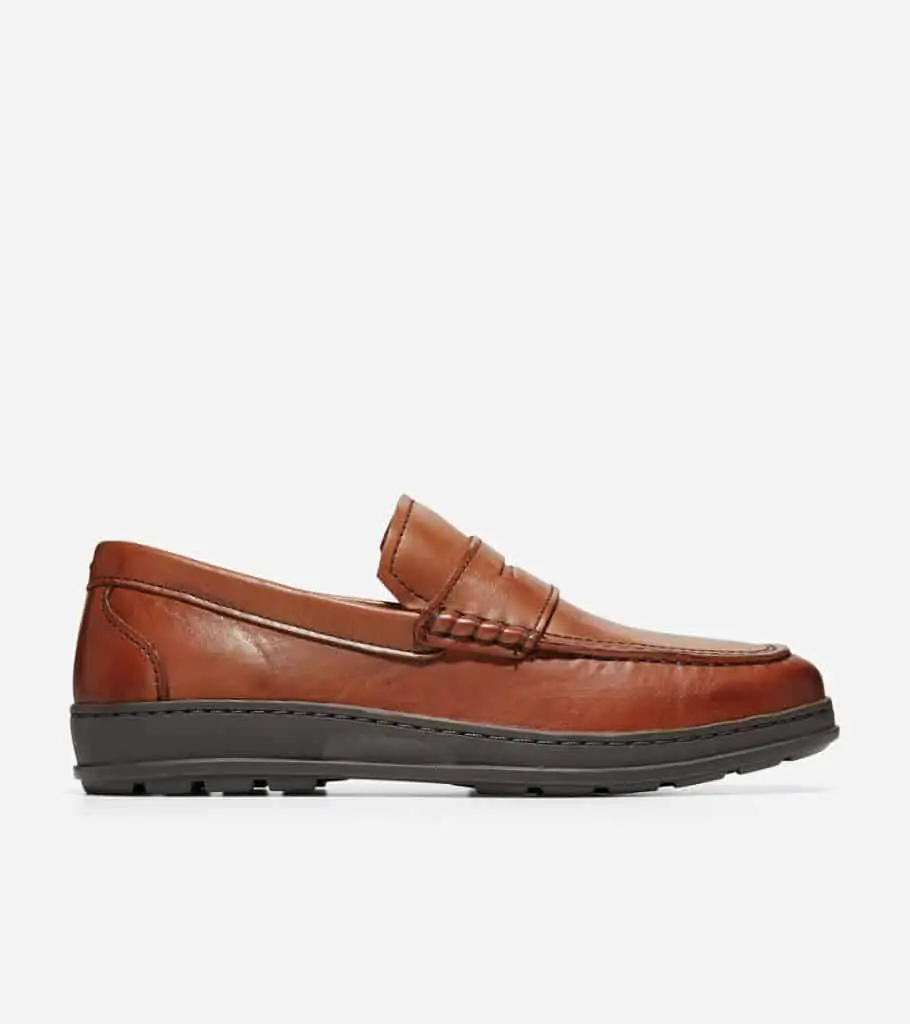 A more classically styled loafer, the Cole Haan Hamlin Penny Loafer, will definitely not go out of style anytime soon. With a breathable lining, these shoes can be worn with or without a pair of socks. That's an absolute game-changer as going sockless is definitely the way to go if possible.
Designed with comfort in mind, these loafers are perfect for the office, relaxing, or traveling. Basically, whichever quasi-relaxing event you're going to this summer, the Hamlin Penny Loafer wants to be on your feet. And with Cole Haan's proprietary GRANFØAM technology, your feet will feel supported and comfortable no matter what this summer.
The Hamlin is available in three colors, but we love the black ones in particular. They are classy enough to wear with your business casual attire while also able to look relaxed enough for an evening out. The Hamlin Traveler is easily one of the best men's summer shoes available.
Charles Tyrwhitt Flexible Tassel Loafer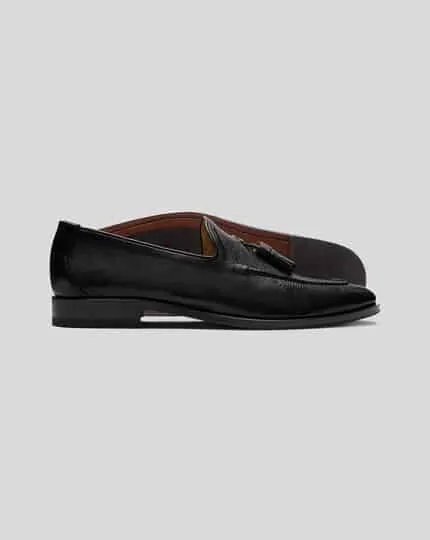 Maybe you want something a little classier, then check out the Charles Tyrwhitt Flexible Tassel Loafer. Nothing screams fancy like a nice glass of wine and a tassel on your feet. What's nice about these men's loafers is the padded insock that allows the loafer's insides to conform to your foot, making sure that they are the perfect fit (after a short break-in period obviously). And if we're talking about the best men's summer shoes, anything that promises an ideal fit has to be on this list.
Made out of leather, these particular loafers look best with fancier attire, you can rock them with a suit or whatever nice outfit you're planning on wearing. They are just a bit too formal for the beach or casual summer outings. If you're looking for a loafer that can double as a pair of dress shoes, the Flexible Tassel Loafer is definitely the one you should be looking for.
Conclusion
Now that we're starting to reopen and get back together, what are some of your favorite shoes to wear in the summer? Let us know in the comments below.
Make sure to follow us on Facebook and Twitter!
If you enjoyed this, be sure to check out some of my other pieces here on Dudefluencer:
The Ultimate Men's Style Guide
The Best Ethical Men's Suits
Men's Summer Fashion Essentials