Dudefluencer is reader-supported. When you buy through links on our site, we may earn an affiliate commission.
Disclaimer: In the spirit of transparency, I want to let readers know that while I had no obligation to review Kennington Ltd.'s boardshorts, the company did send out a complimentary pair to try out while researching for this post. Thank you.
You've got your men's summer essentials guide loaded up, your sunscreen on the counter-top, and all you need this beach season are a couple of new pairs of swim trunks. But if we're going into the water this year, it's crucial that not only do we look good, but we make sure that our gear is eco-friendly. That's why I've made this list of 13 of the best sustainable swimwear brands for men.
When Dudefluencer is looking at sustainable swimwear brands for men, we're looking for a couple of things: we want to make sure the company is doing their part to create clothing that is ethically made, the company cares about the environment, and of course, the trunk's style needs to be on point.
Everyone I know is ready to back out onto the beach (when it's safe, of course, and we socially distance ourselves), which makes now the perfect time to think about picking up a couple pairs of board shorts or swim trunks. So take a look at some of the best sustainable swimwear brands for men and get ready for summer 2020.
All of these boardshorts are amazing, and are presented here in alphabetical order.
Bluebuck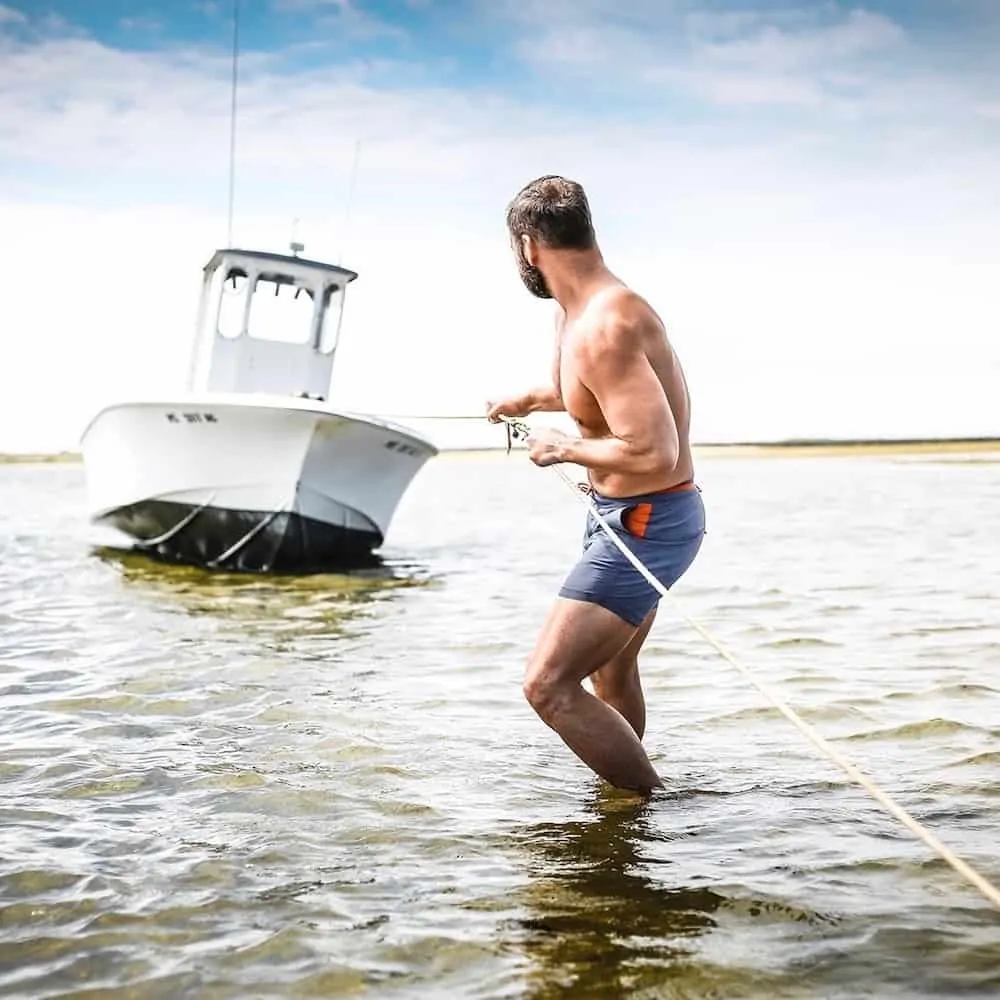 I've already mentioned in another article that Bluebuck is absolutely killing it in the ethical men's underwear game. Now, what if I told you that they also make some badass swim trunks? Everything about Bluebuck has conservation in mind: factories powered by renewable energy, clothing made from organic cotton, and all with intent to last for a long time, reducing everyone's carbon footprint.
Bluebuck keeps it simple with their swim shorts. Single color with maybe a highlight color over the pockets. The Navy Swim Shorts are made from SEAQUAL upcycled marine waste. So your shorts are put together using a collection of recycled bottles and plastics found at the bottom of the ocean and turned into some rad swim trunks. And that includes the lining inside. If you're looking for a swim trunk that embodies rugged manliness and conservation, Bluebuck is one of the best sustainable swimwear brands for men.
Che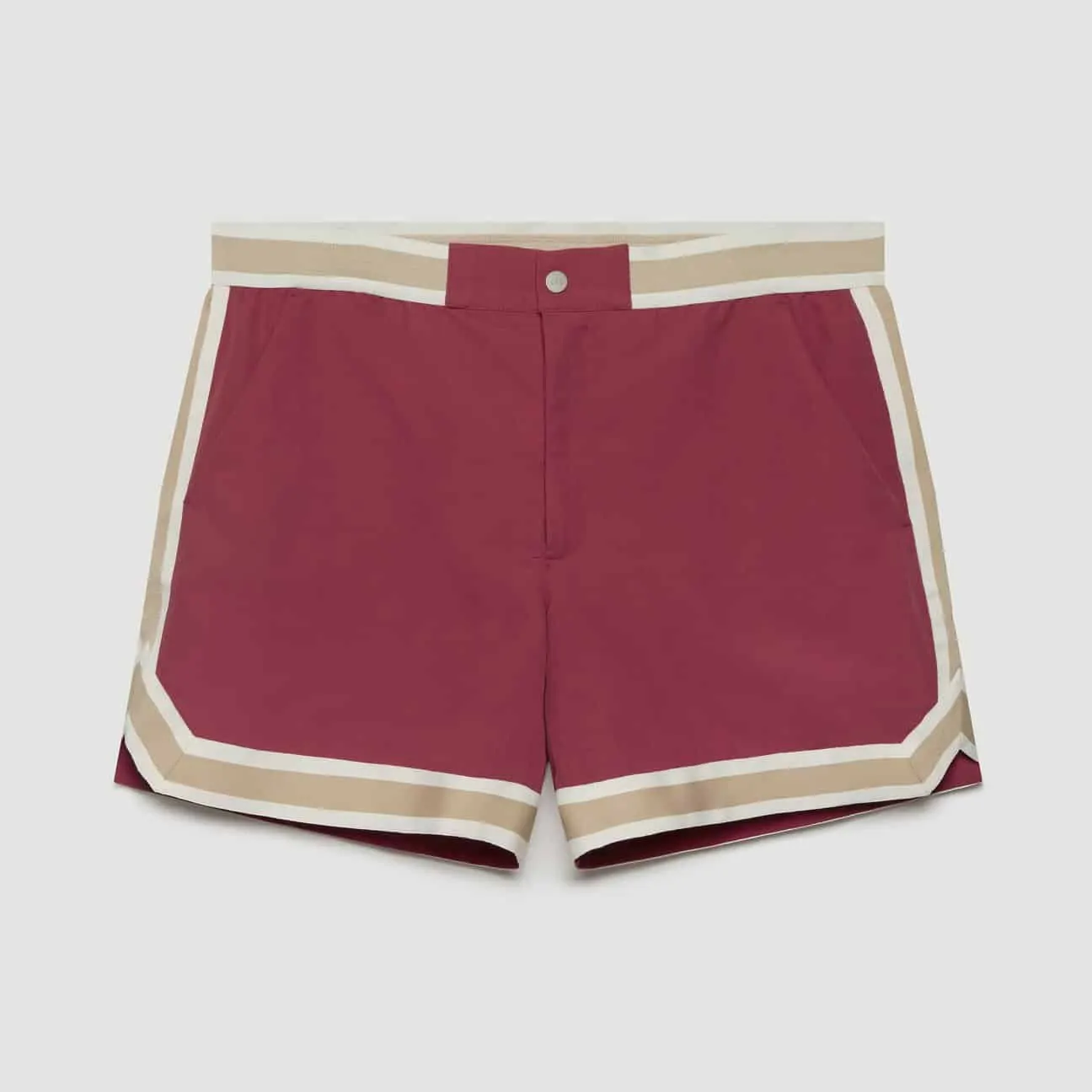 If you're looking for sustainable swimwear brands that offer eco-friendly options with a modern flair, then you definitely need to check out Che Swimwear. Every short is made from 100% recyclable nylon. Leftover scraps of yarn and fabric are then collected, recycled, and put back into another pair of shorts. Che's goal is all about creating long-lasting, dependable swimwear that reduces environmental damage, and that's precisely what you'll get.
What's fascinating about Che's swim trunk design is how classic and modern they look. Take, for example, the Red Baller Swim Shorts. If you didn't know it, these swim trunks look straight out of gym class at Ridgemont High. And I love it. Inspired by 1970's basketball uniforms, the Baller swim short has a zipper in the front and a zipper pocket in the back to make sure all of your valuables stay put while out on the water. These are definitely more stylized than functional, but come on, just look at them. The nostalgia is real, and Che's eco-friendly approach to design makes them one of the best sustainable swimwear brands in the world.
Ecoalf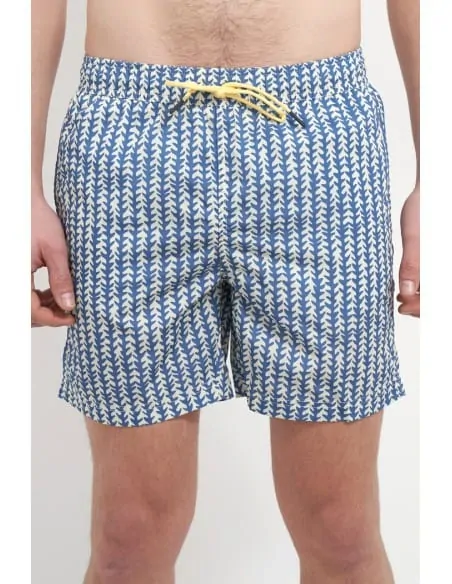 Any company that has the word "eco" has to be eco-friendly. And that's precisely Ecoalf's mission. Started in 2009, Ecoalf was created to be an entirely sustainable fashion brand. Most of the clothing in their shop is made from recycled materials. Still, their most exciting project is the Upscaling the Oceans Project. Ecoalf's goal is to recover trash from the bottom of the ocean and turn it into usable yarn for their clothing. It's so fucking cool, and that's why they made our list of the best men's sustainable swimwear brands.
The Swimsuit Printed is our choice for favorite sustainably made swim trunks. Made from 100% recycled materials, these trunks are available in four designs. We love the uniqueness of the seaweed print, but the others are just as good. Ecoalf isn't going for anything splashy (PUN!) here, instead of focusing on a classic, timeless style. Featuring a convenient velcro back pocket, these trunks are definitely worth the extra cost.
Finisterre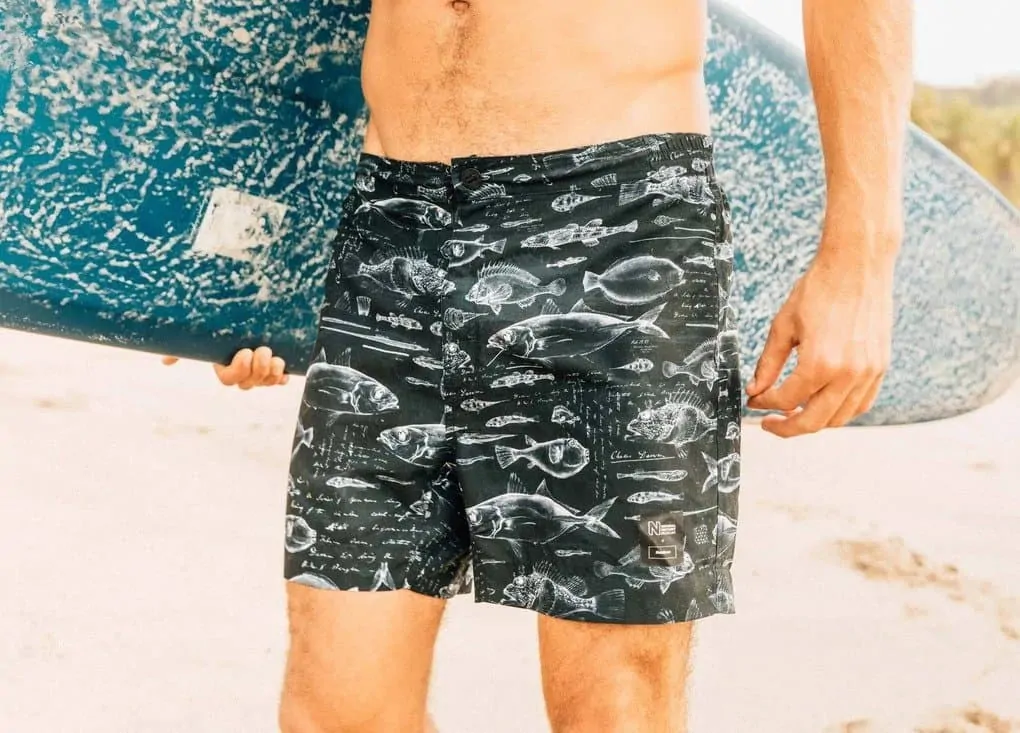 Finisterre has been in the business for over 15 years. During that time, they've learned a couple of things about designing and selling sustainable clothing. Whether it's using organic cotton to cut down on water waste, or having clothing built-in safe, ethical factories, Finisterre is dedicated to being one of the best sustainable swimwear brands for men. They've also developed ECONYL, which collects nylon waste from around the world and reuses it to make a new fabric that is just as comfortable, and long-lasting as any other fabric.
Our pick for favorite short from Finisterre has to come from their unique collaboration with the Natural History Museum. Allow us to present to you the Darwin swim short. Made from 100% recycled polyester, these trunks feature the drawings (and writings) of Charles Darwin. I love how these shorts incorporate history with modern design. The Darwin features a super-soft touch to make sure your skin feels as good outside the water as they do inside the water. Finisterre's commitment to sustainability quickly makes them one of the best sustainable swimwear companies for me.
Kennington Ltd.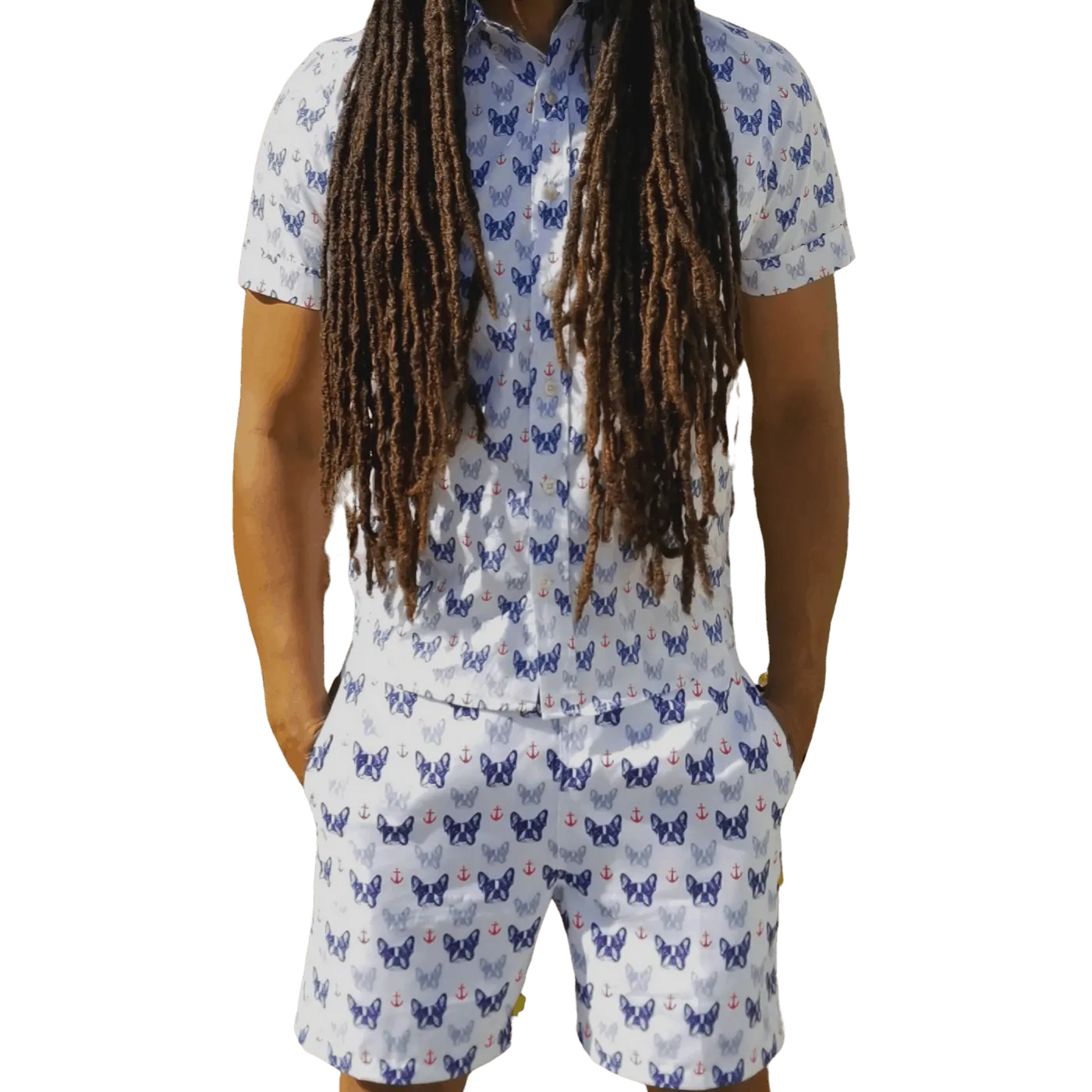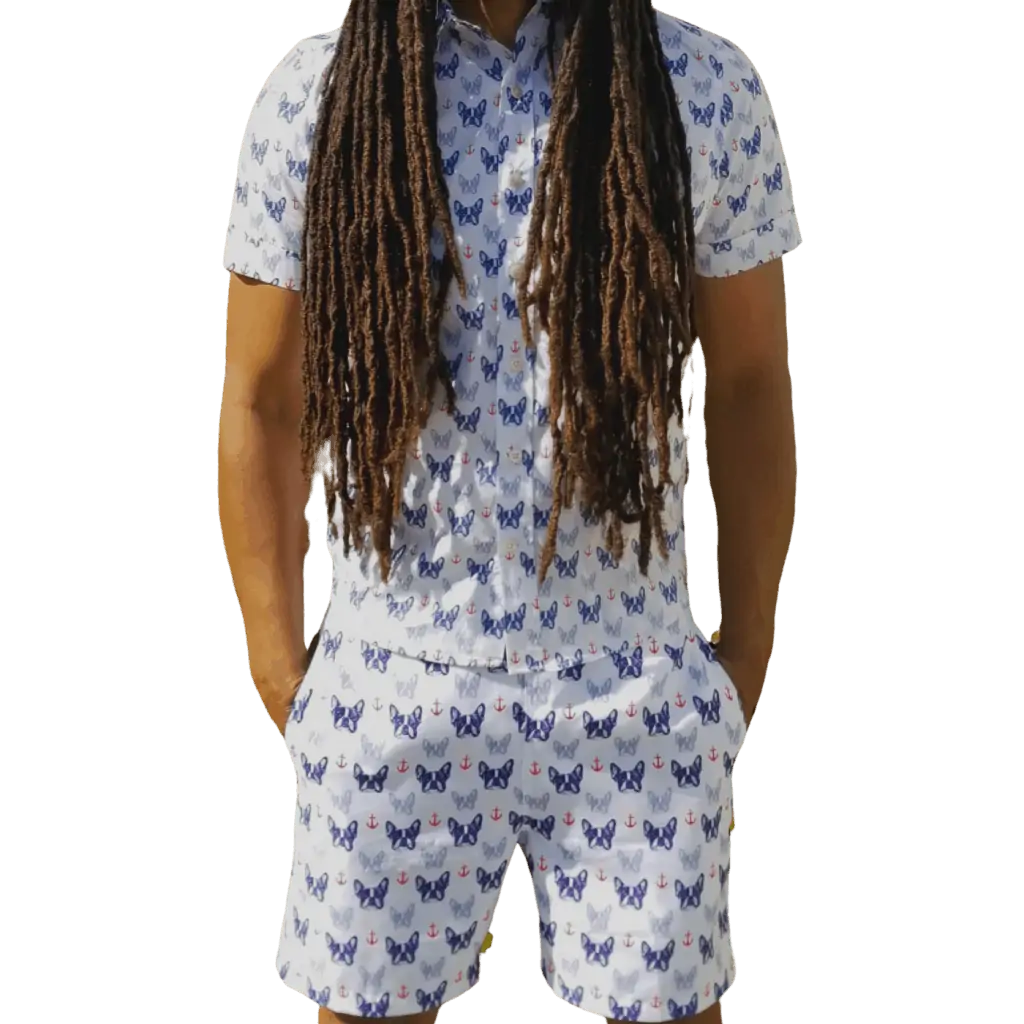 Kennington Ltd. wants you to think of California every time you put on a pair of their sustainable swim trunks. All of their swim trunks are not only made from 100% recyclable material, but those fibers are made from solar-powered machines. That's a sustainable swimwear brand. Dedicated to using factories that have a low carbon footprint, Kennington Ltd. will be known for their classic, distinct prints and new use of technology to create sustainable clothing.
While all of their designs are unique, it's hard to find a cooler short than the Ruff Swim print. With two slant pockets and one more in the back, these swim trunks are great for more casual strolls than surfing. The Boston Terrier's are so freaking cool, I mean who doesn't want to walk around the beach with an ice cold beer and some sweet doggos on your shorts? I love these shorts, they're so soft, comfortable, and eco-friendly.
Outerknown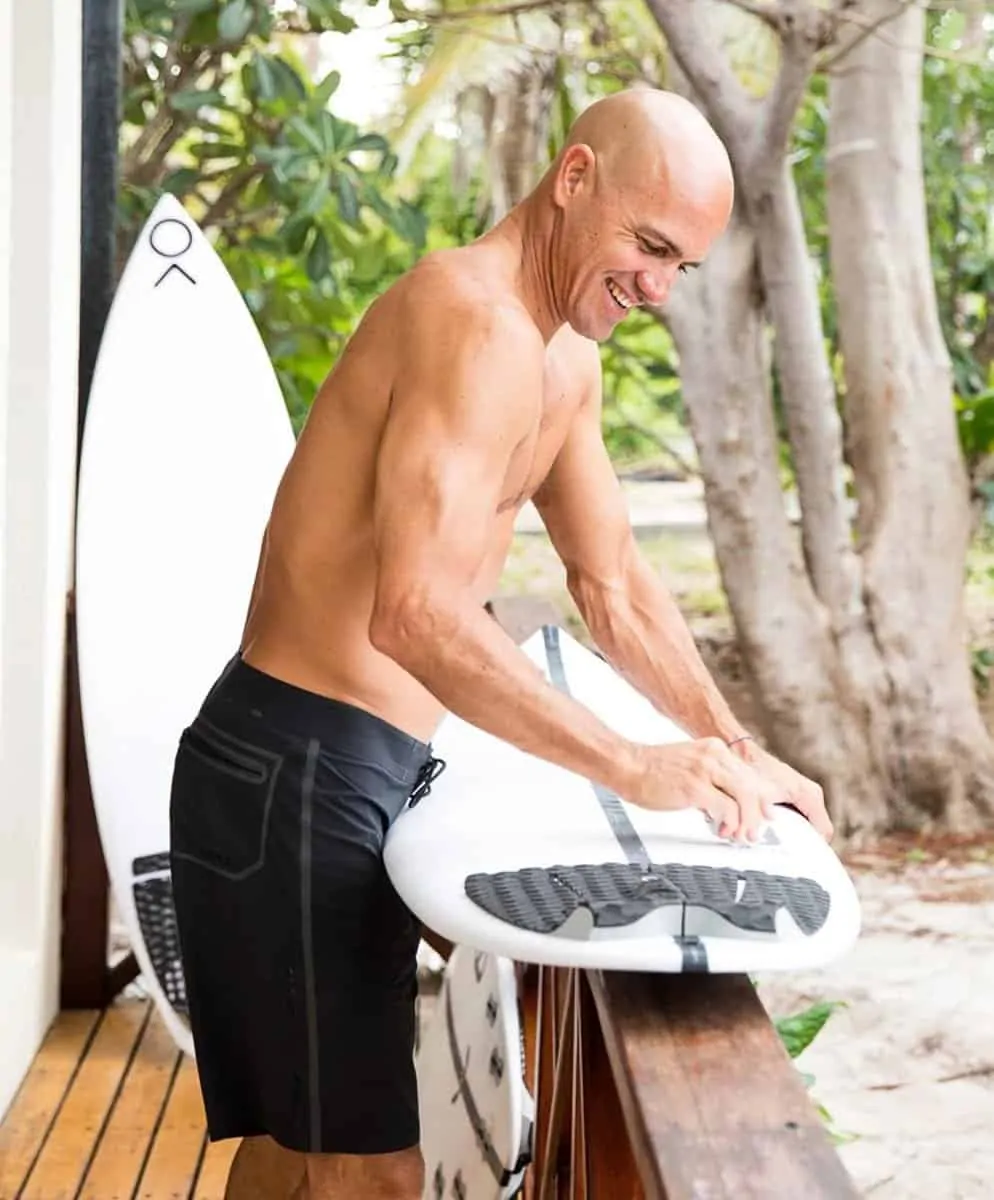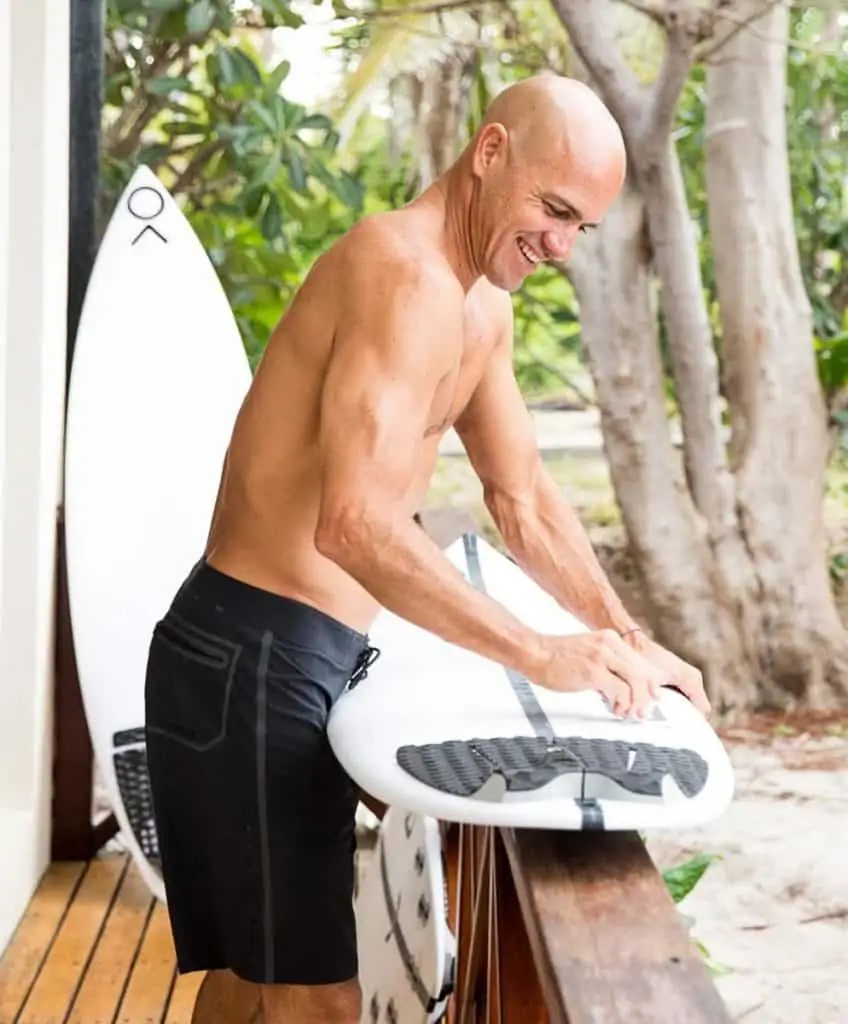 Outerknown is all about sustainability and style. 90% of the fibers they source are organic, recycled, or regenerated: 100% of their swim trunks are made from recycled or renewable fibers. What's even better is that the company has on its website its sustainability strategy for 2030, which includes details on how their manufacturing plans make a difference by leading innovation and designing timeless garments that are meant to keep for many summers.
Outerknown offers a nice mix of board shorts and swim trunks, but one of our favorites here at Dudefluencer is the Apex Trunk by Kelly Slater. Armed with a zipper back pocket and quick dry technology, these board shorts are made entirely from recycled seam tape. They are the official signature short of swimming legend Kelly Slater. Definitely check out the Cobalt Surfature option as it's one of our favorite designs from our list of sustainable swimwear brands.
Prana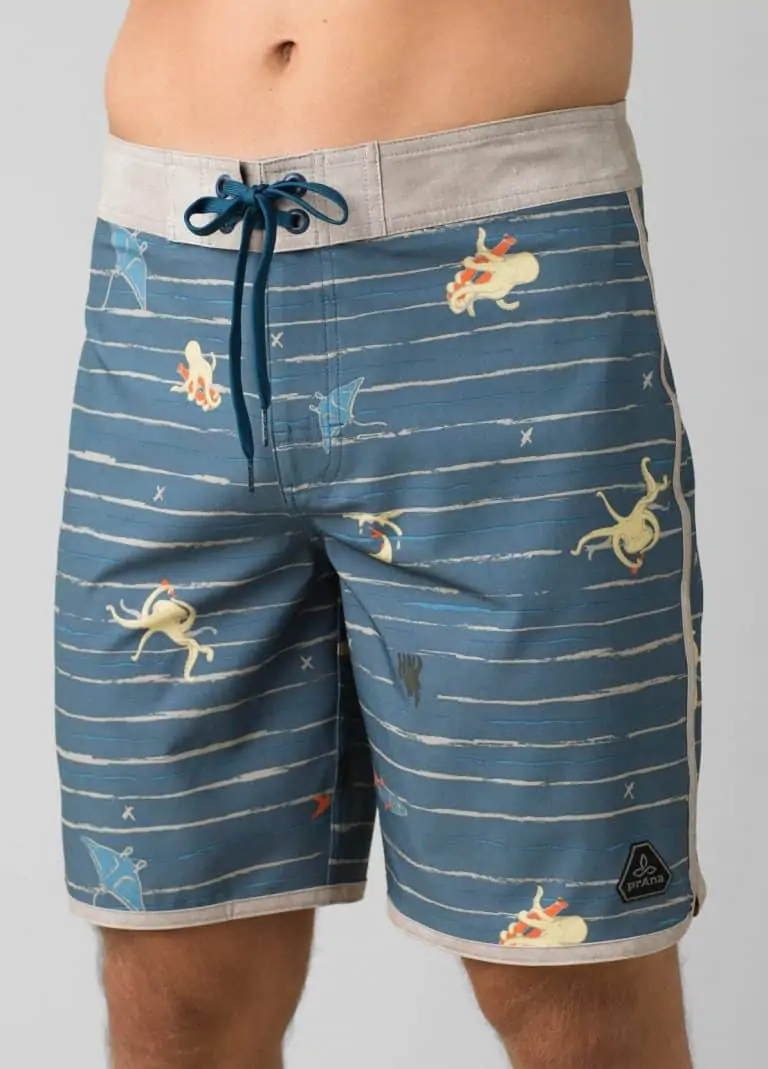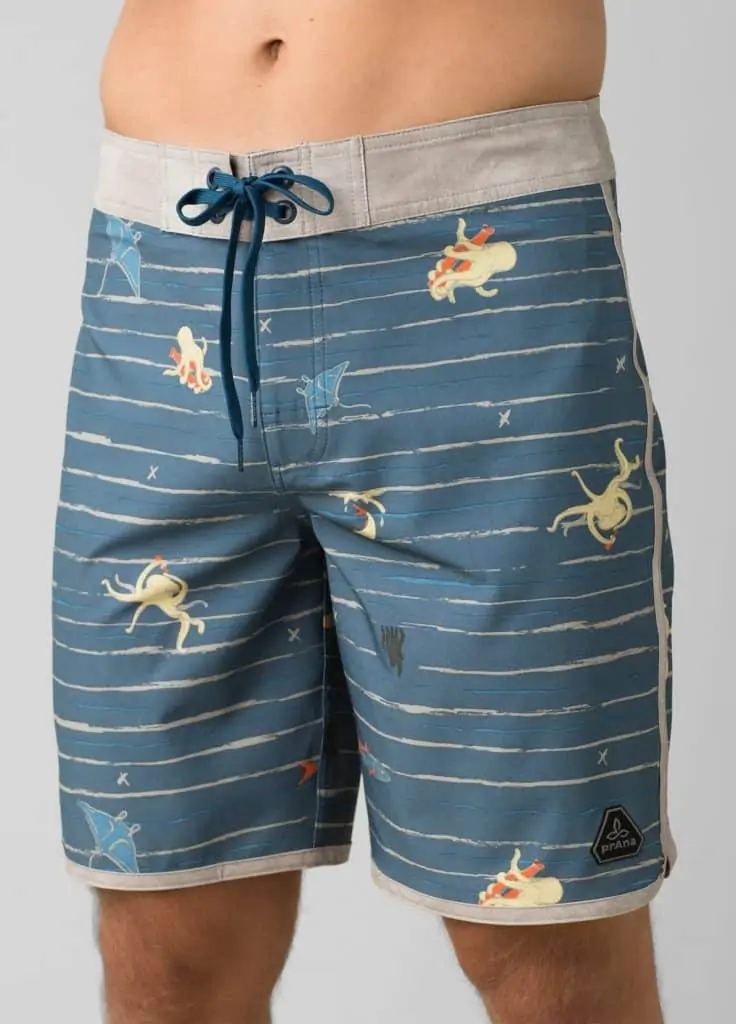 If you're a boardshort company, there's a good chance you care a lot about the ocean, and that's what prAna is all about. To make our list of sustainable swimwear brands, you must care about the environment. Alongside Bluesign, prAna aims to clear up the ocean from harmful chemical leftovers. Through their partnership, prAna promises that all chemicals, people, environment, and factories are protected by managing what chemicals are used in the production of materials and using organic cotton.
There are only a few options available on prAna's site for board shorts, but each one is awesome in its unique way. We adore the High Seas Boardshort in the Nickel Beached. With beige horizontal stripes and grey waistband, the fun octopi and stingrays just float on by. It's by far the coolest swim trunks design in their shop. Made from 85% recycled polyester, prAna's high quality, eco-friendly trunks make them one of the best sustainable swimwear brands for men.
Picture Organic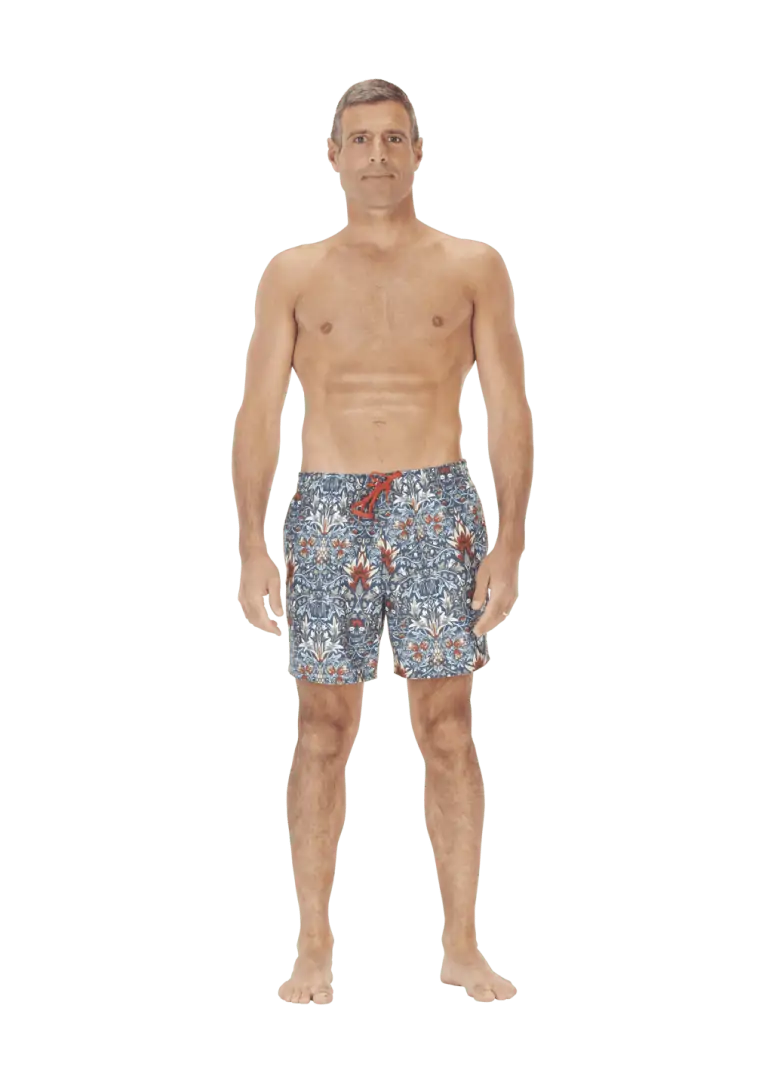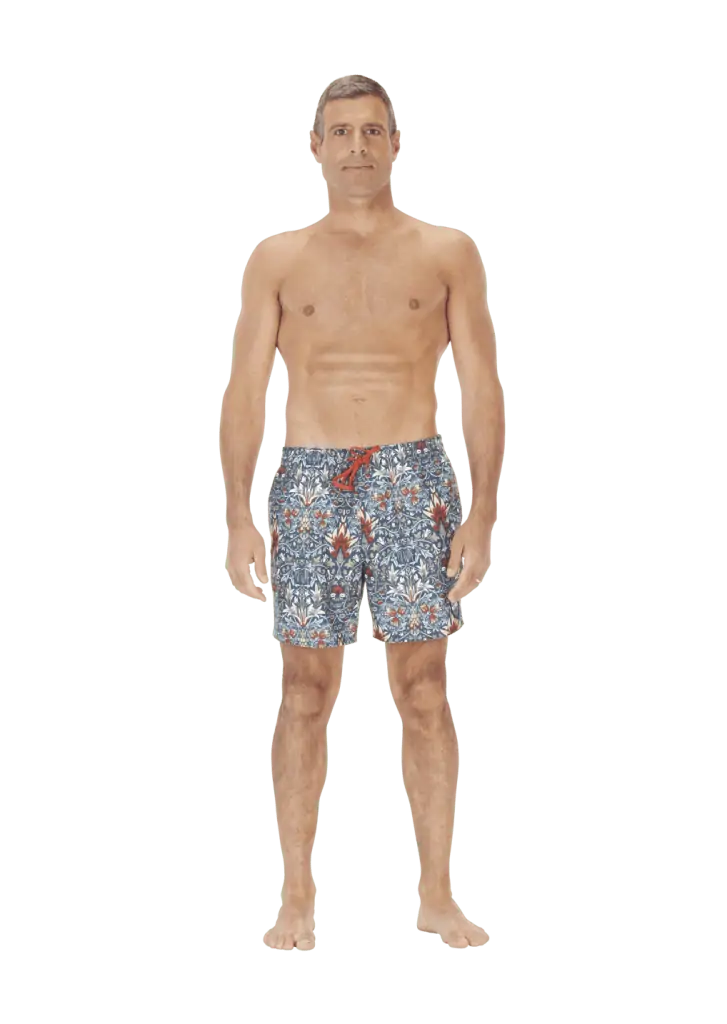 Wiping out fossil fuels is vital to long-term environmental health. With the fashion industry producing so much waste, sustainable swimwear brands need to reduce their carbon footprint. Picture Organic Clothing reduced their carbon emissions by 46% by utilizing organic materials, and cut it by another 40% by using polyester made from recycled bottles. Picture Organic is even looking into bio-recycling solutions as a way for customers to get new products from old ones. And while you're scanning Picture Organic's site, check out their detailed plan of how they're going to continue reducing their carbon emissions.
Have I told you how much I love a good floral print? Picture Organic sells the Imperial Board Short (check out the Horta design), which is our favorite design in their shop. Although definitely check out the rest of their store, all of Picture Organic's swim trunk designs are wonderful. The Imperial is made from Fast Dry 4D Recycled Stretch Fabric, as well as features a velcro back pocket. And if you look closely, there's a little recycle patch on top of the pocket to let everyone on the beach know that you care about the environment.
Riz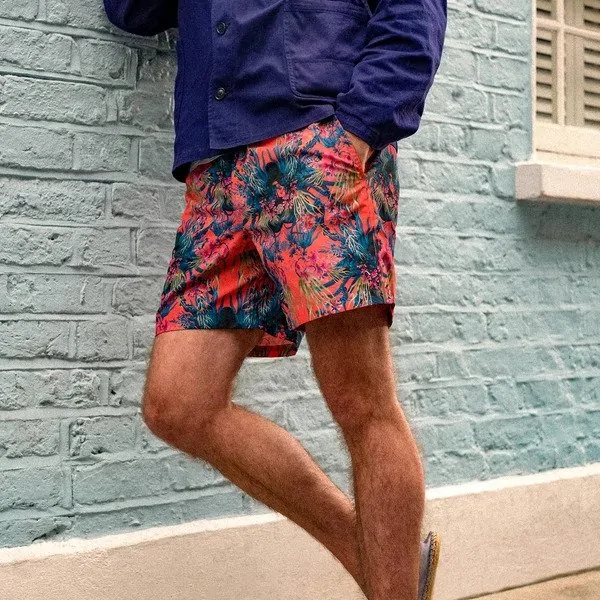 I hate puns, but I can't help but love that Riz Boardshorts created the term "Rizcylcing" to explain their sustainability process. What makes Riz one of the best sustainable swimwear brands for men is how they reuse your old shorts into something new. As shown in the picture below, you buy a pair of shorts, wear them out, send them back, and Riz recycles them into a new pair for someone else. Plus, when you return your shorts, Riz will give you 25% off. Riz also uses 100% recycled material for their clothing, donates money from every purchase towards marine conservation, and takes part in ocean cleanups. Few swimwear brands do as much for the ocean as Riz does.
Riz Boardshorts definitely has the most colorful collection of swimwear options, and all of them look rad. But our favorite is definitely the Blythe Swim Short in Seaweed and Coral Print. An elastic waistband and casual fit, these swim trunks don't take too many risks in terms of style but look at that print. The reds just pop off along with the green coral. These shorts are lightweight, comfortable, and perfect for a casual stroll around the boardwalk.
The Tropics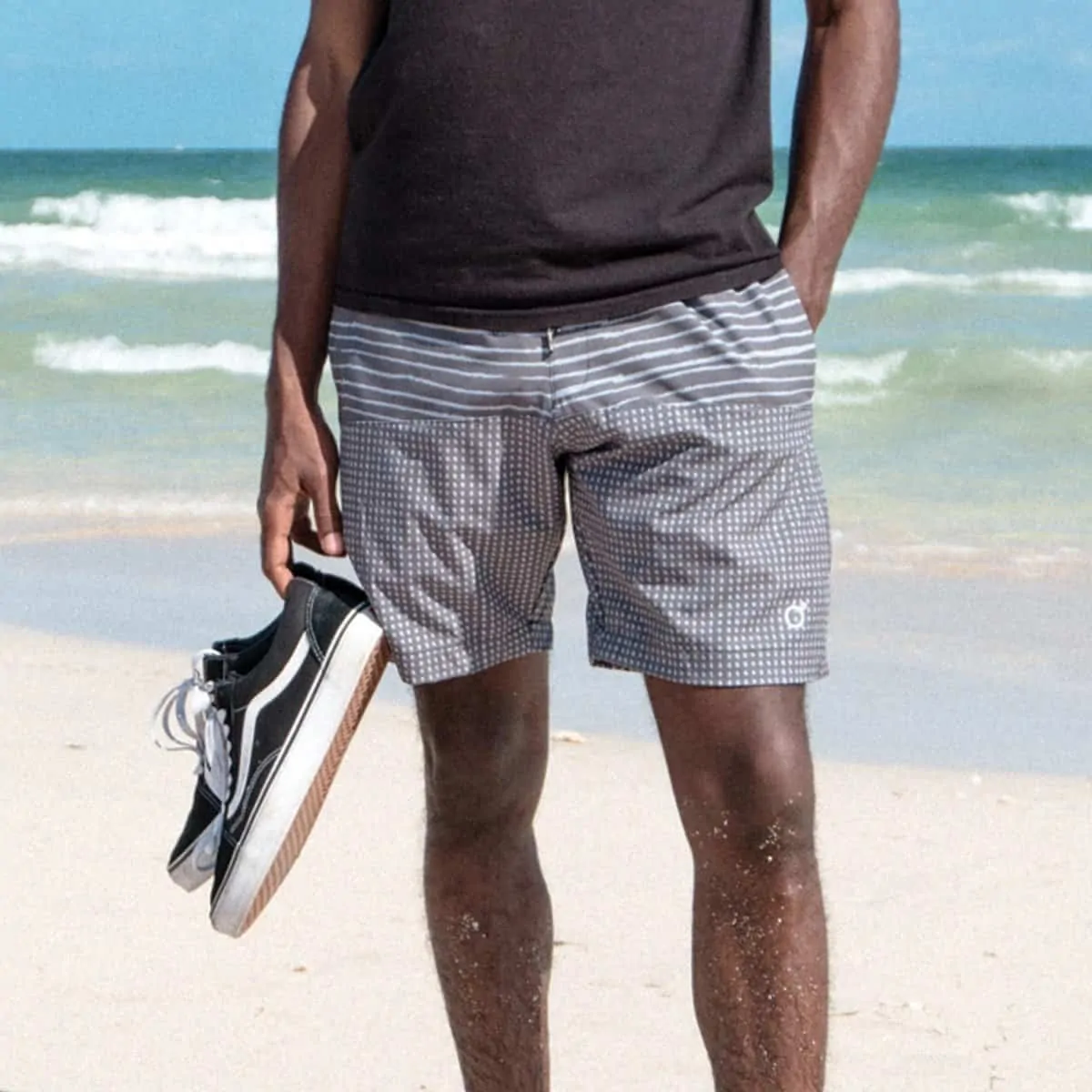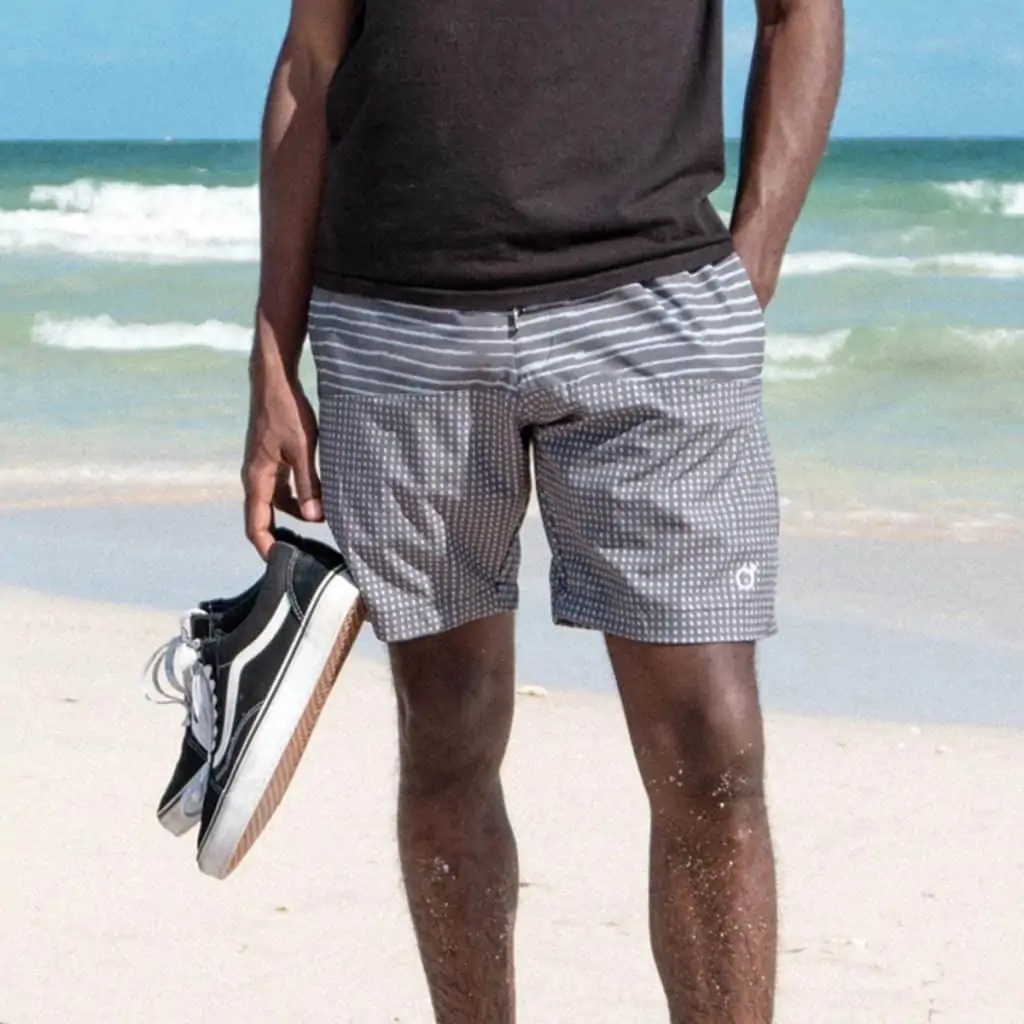 When you visit The Tropics website, one of the first images you'll see is said in big font "From Trash to Trunks." One of the coolest aspects of The Tropics clothing company is that they not only use recycled materials for their swimwear, but they also schedule beach cleanups in different areas of Miami, Florida. Each cleanup makes sure to dispose of/recycle all of the plastic bottles found on the beach as that is one of the most prominent forms of litter affecting our oceans. As one of the best sustainable swimwear brands for men, The Tropics does more than just create awesome swim trunks.
One of my favorite shorts from The Tropics is the Sand Trunk in Stone. Using Repreve, which transforms recycled bottles into the fiber, the Sand Trunk is made of 92% recycled polyester and 8% spandex. Because of the fiber used to make these shorts, they dry super quickly, which is perfect if you want to take a quick dip, and then rest on the beach without having a wet butt all afternoon. Plus, the different layout makes for a neat design that'll look good anywhere this summer.
Vanilla Sand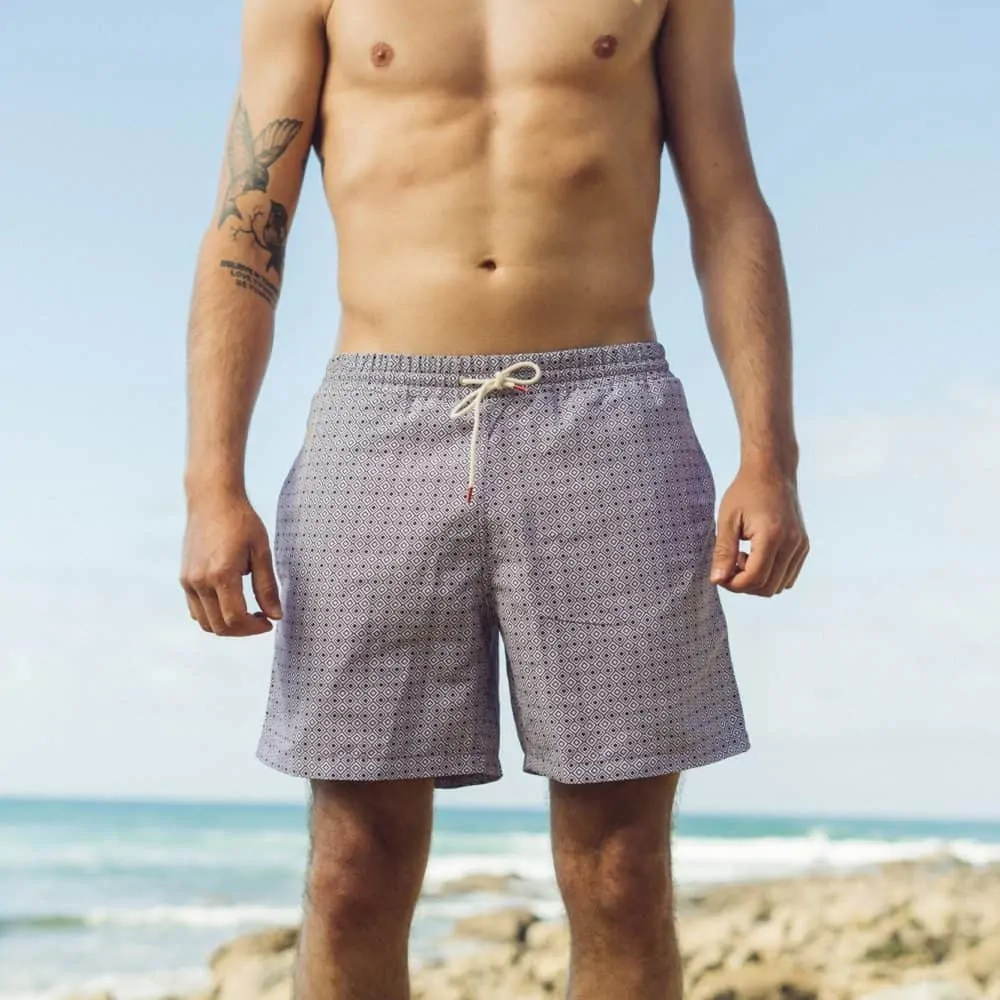 PETA Vegan approved and handmade by Brazilian and Portuguese artisans, Vanilla Sand's swim pants are uniquely designed and crafted with care. All of their sustainable swimwear is from recycled waste or biodegradable nylon, both of which help sustain the oceans that we love. Vanilla Sand uses a lot of fishing nets to transform into their nylon. By doing so, the company helps reduce their carbon footprint while removing waste from the sea. It's a win for everyone involved.
Labeled as "The Most Edgy Ocean-Friendly Swimwear In The World," Dudefluencer really likes the Coco Short. Made from 100% recycled polyester (from fishing nets), the Coco shorts square pattern is inspired by "sidewalks of Rio de Janeiro neighborhood right next to the Copacabana beach." How cool is that? While Vanilla Sand doesn't offer a lot of options, their design team takes special care in developing one-of-a-kind swim trunks that you won't find anywhere else.
Vissla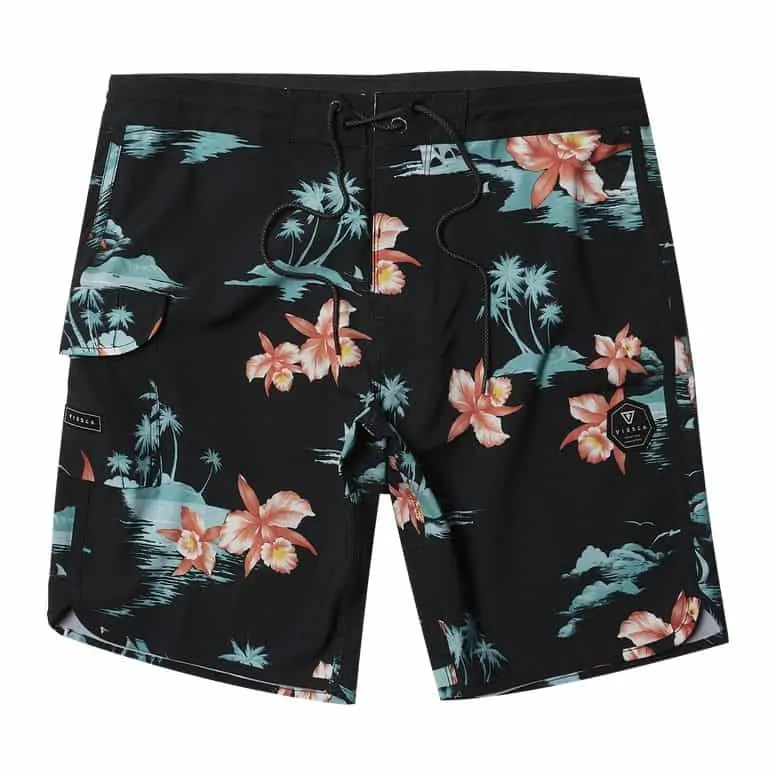 There's nothing more refreshing than Vissla's Cocotex Technology. It just so happens that coconut husks and Repreve polyester make for some excellent boardshorts making material. So instead of coconut husks going into a landfill, Vissla turns them "into an odor-resistant, fast-drying, Cocotex yarn." Like most sustainable swimwear brands, Vissla's boardshorts are designed to last a long time: that means you only need to buy them once, and you'll be wearing them for summers to come, which is everything we're looking for in a sustainable swimwear brand.
What's excellent about Vissla's boardshorts is the variety of style options available. I love the Real Fun, Wow! and the Woodside 50/50 because of their unique design. But everyone who knows me knows I'm a sucker for a good floral print, which is why The Mighty Aloha is Dudefluencer's favorite Vissla boardshort. Made from recycled poly and coconut fibers, these boardshorts also feature a side pocket and tethered waistband so they won't be falling off after you catch a big wave. So if you love the Earth, surfing, and coconut, check out Vissla's collection of killer board shorts.
Conclusion
When you're out this summer looking for a new pair of swim trunks, take a look at any of these companies who are creating unique, modern designs while making sure our oceans stay clean and our carbon emissions lower.
Make sure to follow us on Facebook and Twitter!
If you enjoyed this, be sure to check out some of my other pieces here on Dudefluencer:
The Best Men's Summer Shoes
The Best Ethical Men's Suits
Men's Summer Fashion Essentials