Buying a gift for the dude in your life isn't always easy: whether it's a friend's birthday, holidays with your significant other, or just as a thank you, it can be a struggle to find just the right present. I know I've been there before, and that's why Dudefluencer created the Ultimate Men's Gift Guide for 2020.
Like most great gift-giving lists, this will be updated frequently to highlight the latest trends and products available. And because I didn't just want to give you a random list of items, our ultimate men's gift guide is categorized so you can find exactly what you're looking for.
Each of these items has been chosen based on their uniqueness, everyday usability, and general cool-factor. And if nothing in the list quite hits what you're looking for, make sure to check out some of our extended articles for each category where you might find just the right gift. Good luck, shopping!
Disclosure: This content features affiliate links. Read our disclosure page for more information.
For the man who loves the outdoors.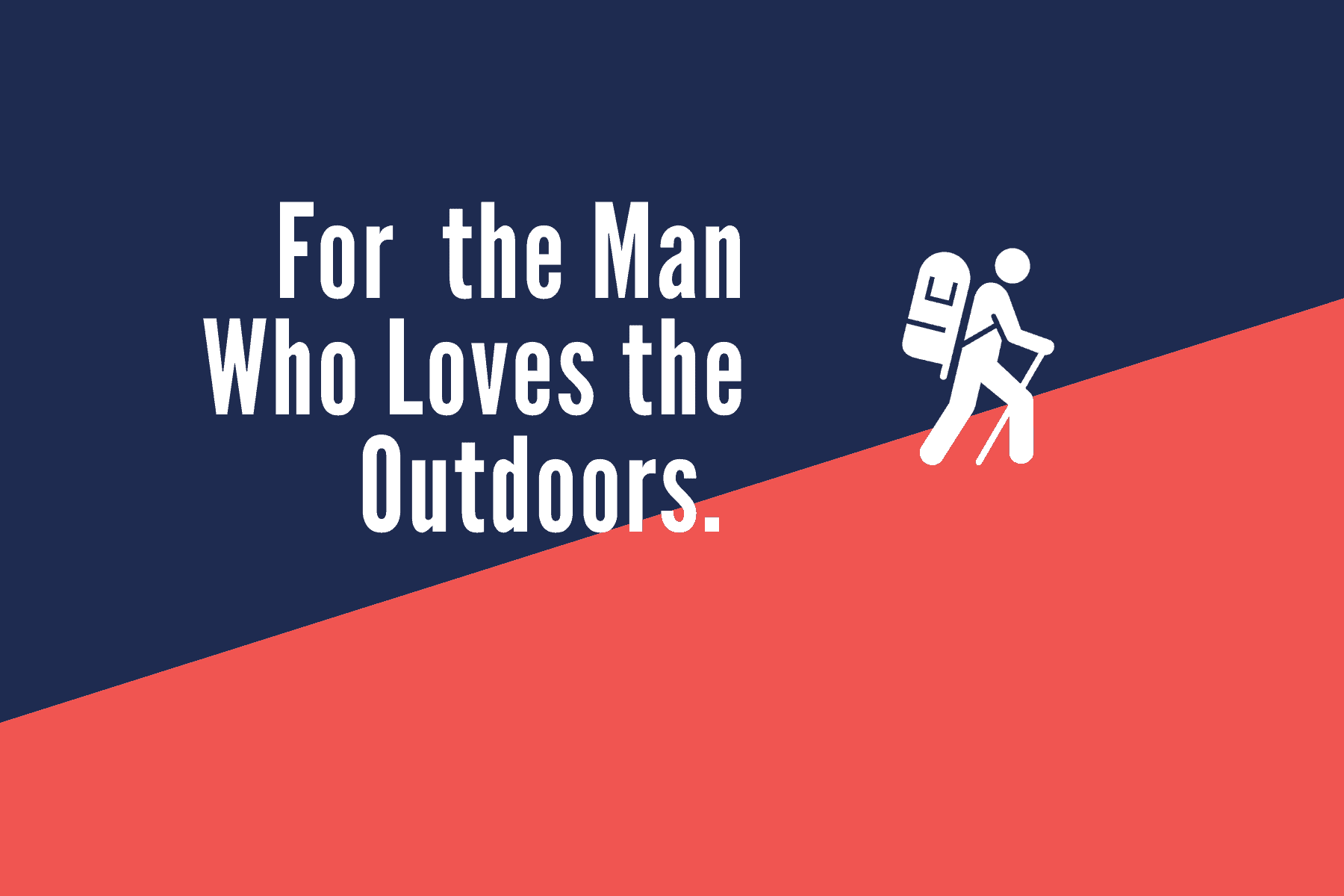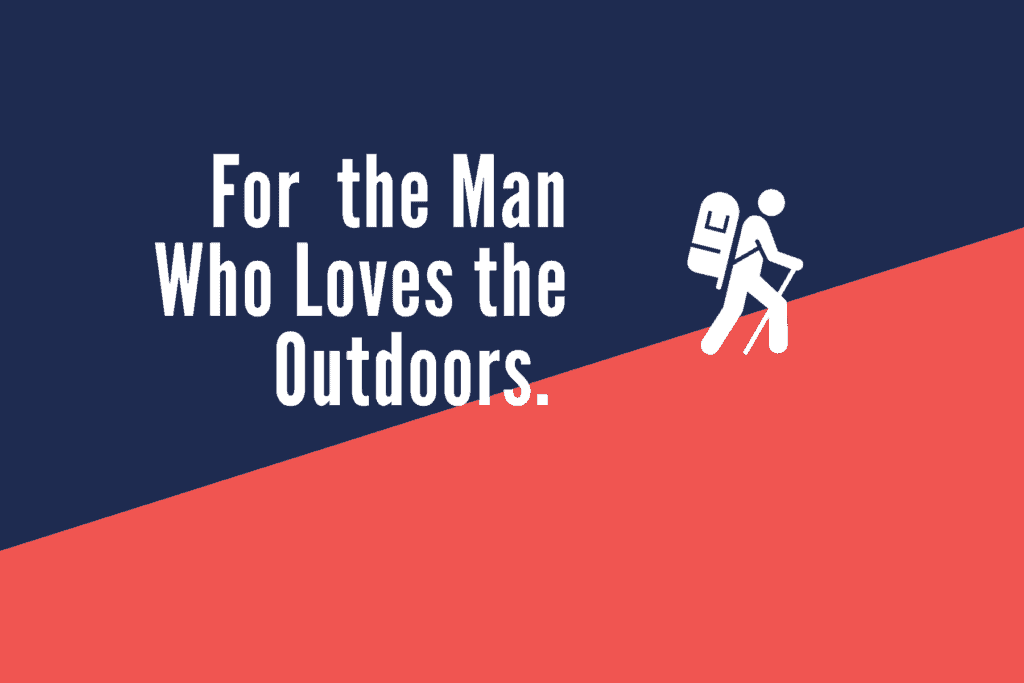 Fall, the most elite season of the year, is right around the corner, which means it's the perfect time to go outside and take a nature bath. Maybe you want to get the ideal gift for those men looking to go hiking in the woods, or just something for those night time bonfires, either way, there's something for every man who loves the outdoors in our men's gift guide.
UKIAH Tailgater-II Music Fire Table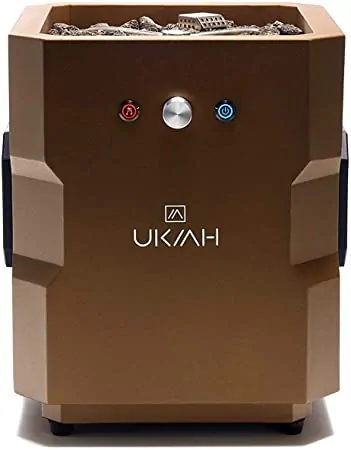 Do you like being warm? What about good music? Then look no further than the UKIAH Tailgater-II Music Fire Table, an all-in-one community builder. Dudefluencer believes in building close male friendships, and there's no better way to do that than getting the dudes together for a nice bonfire.
This particular fire pit utilizes an electronic ignition, as well as doubling as a music speaker. And let's not forget about how portable the whole thing is. There are few gifts as versatile on our men's gift guide as the Tailgater II Table.
VSSL Camp Supplies – Compact Adventure Tool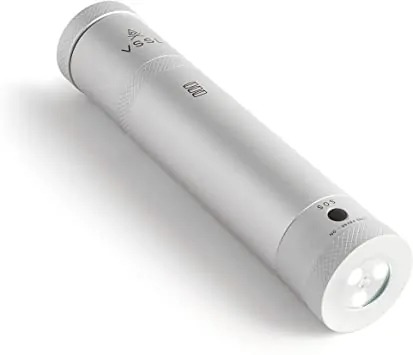 Whether you're hiking, kayaking, or camping, we understand the importance of space in your gear. You don't want to lug around heavy equipment everywhere you go, which is why the VSSL Compact Adventure Tool makes our ultimate gift guide list for men who love the outdoors.
While it might look like a simple flashlight, this virtually indestructible (and waterproof) compact adventure tool manages to fit 70 different outdoor essentials inside. Some of those included are a whistle, fire-starter kit, and even a can-opener. If you're looking for the perfect gift for that dude who'd rather spend his weekends out in nature than on the couch watching football, then definitely take a look at this compact adventure tool.
Darn Tough Light Hiker Socks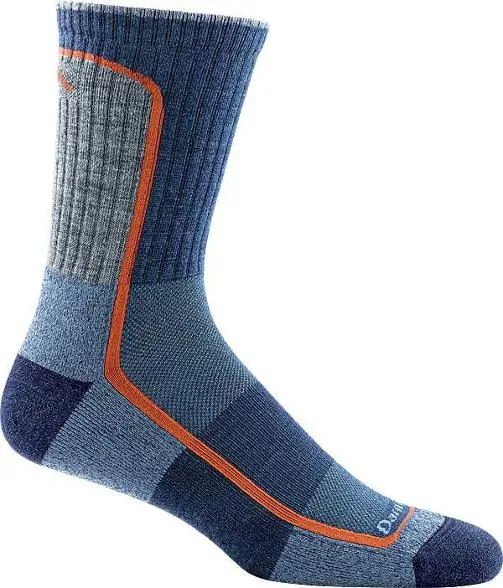 Never underestimate the importance of good socks and boots when outside hiking. That's why it is a no-brainer to include Darn Tough Light Hiker Socks on our ultimate men's gift guide list for men who love the outdoors. Darn Tough offers a ton of great outdoor socks options, but we love the Light Hiker Socks because they are the perfect fit between keeping our feet warm and dry while also not being too intrusive.
And if you still need a reason to pick these socks up, then take a look at Darn Tough's famous lifetime guarantee. Holes in your sock? No problem. Worn out sole? Easy. Return the socks and get a new pair sent to you, no questions asked. There's no better sock company on the market, and a pair of Darn Tough Light Hiker Socks make for a perfect gift.
MARCHWAY Tactical Molle Hydration Pack Backpack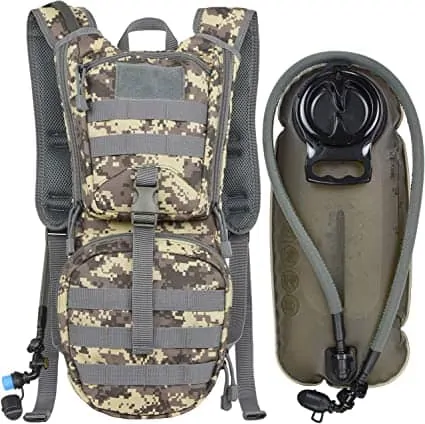 I've been a proponent of hydration packs for years, and the MARCHWAY Tactical Molle Hydration Backpack might be the best one on the market. For those outdoorsmen who love to romp through the woods, this Camelback alternative allows you to stay hydrated without having to carry a pesky water bottle around with you all day and night.
With foam padded shoulder straps and designed for comfort, the MARCHWAY Hydration backpack also includes a MOLLE system that allows you to carry additional items for your biking, hiking, or camping trips. This pack also features a 3 liter, waterproof bladder for your water, which will definitely keep outdoorsmen hydrated and healthy.
For the man who loves to cook.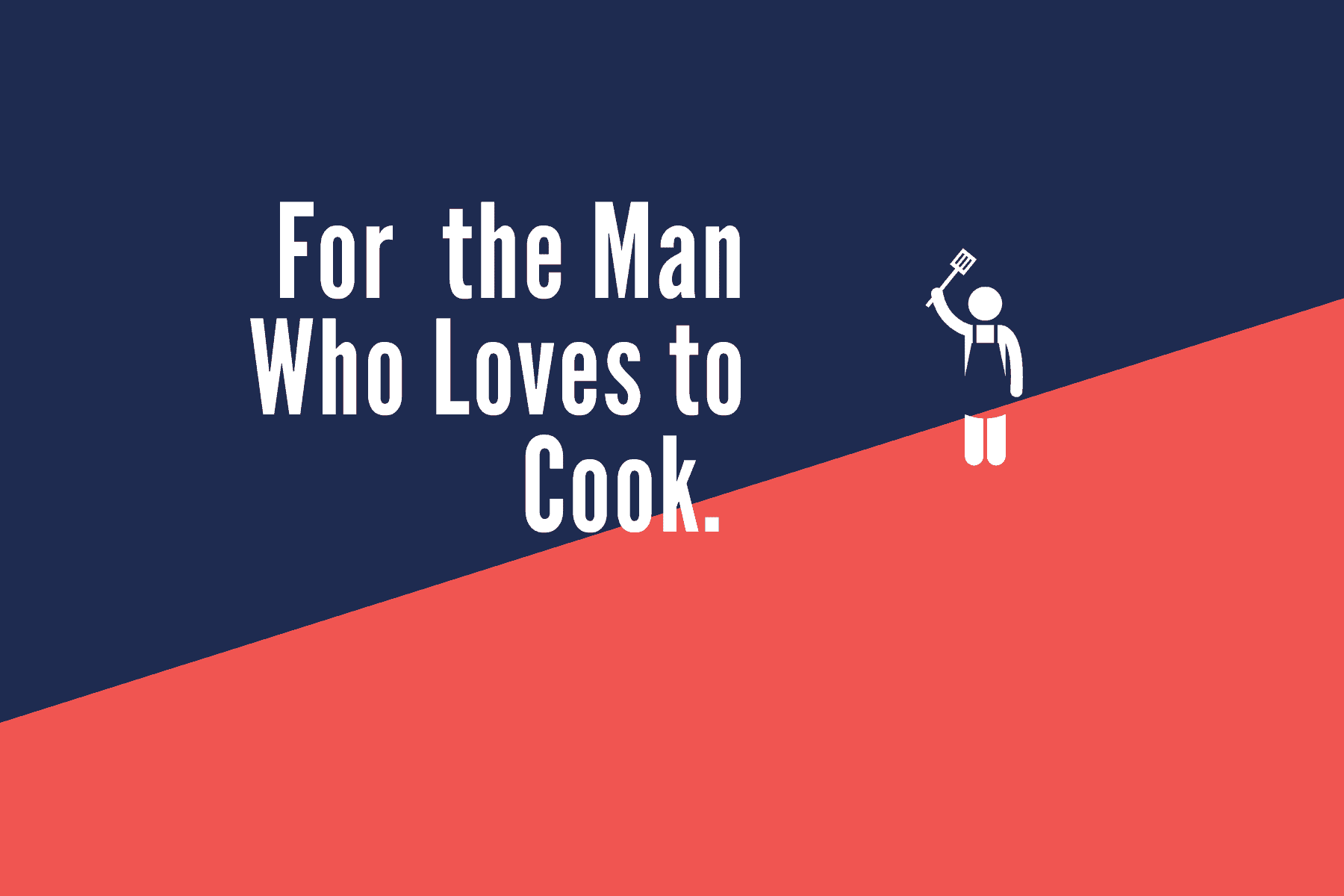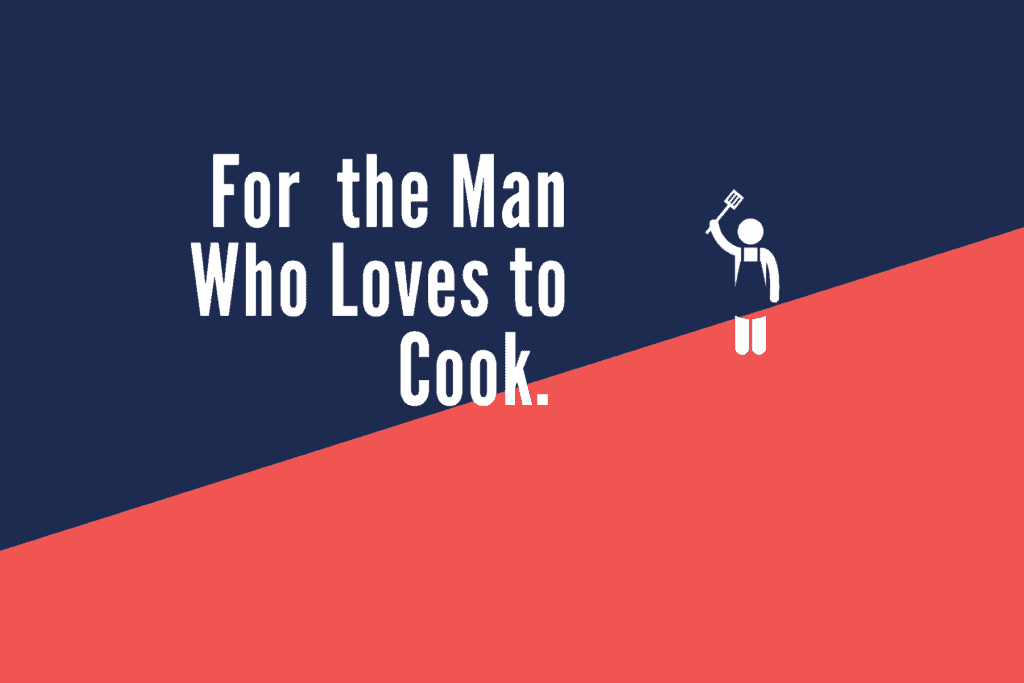 Not every man is born with the skills to be a great chef, but thankfully there are enough kitchen gadgets to make any Guy Fieri wannabe morph into Gordon Ramsey in the blink of an eye. That's why our ultimate men's gift guide list for men who love to cook features items for both the experienced and inexperienced chef. Let's face it, every man deserves an opportunity to get their inner-David Chang on, and our men's gift guide aims to help get them there.
Anova Culinary Sous Vide Precision Cooker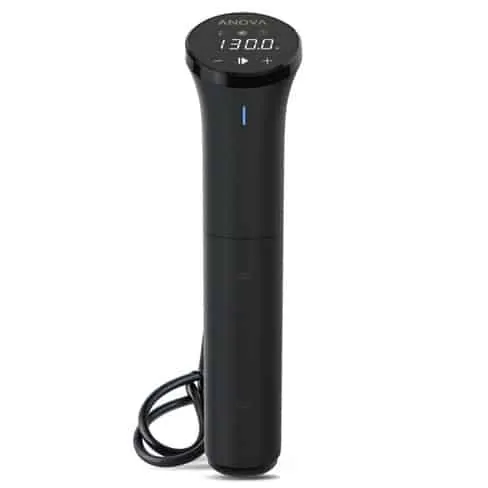 Ask anyone who knows me, I never shut up about my Anova Sous Vide Precision Cooker. And after you've tried sous vide medium-rare steak, you'll never shut up about it either. A Sous Vide circulates water to a specific temperature, cooking your food at the precise temperature. Your meats will come out looking gorgeous and perfectly warm on the inside, and your vegetables will taste that much better too.
The best part: all you need to do is put the Sous Vide in a container of water, vacuum seal your food, set the timer on your phone (it's all connected through Bluetooth), and voila, you're all set. You might want to sear your burgers and steaks a bit before serving, but other than that, there is no easier way to get restaurant-quality cooking at home.
Note: While you don't need these extras, I do highly recommend getting a Sous Vide Cooking Container, vacuum sealer, and Sous Vide rack to maximize your sous vide experience.
Bertello Outdoor Pizza Oven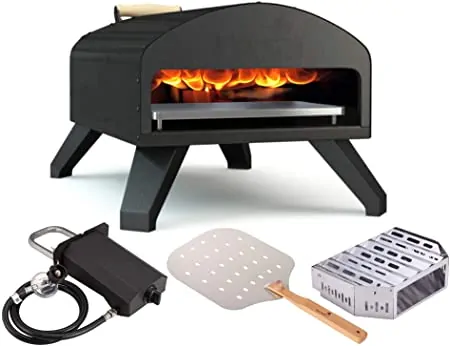 There may be nothing better in the universe than backyard oven pizza. And when it comes to an optimal pizza-making experience, our men's gift guide recommends the Bertello Outdoor Pizza Oven. This particular oven allows you to use charcoal, wood pellets, or a gas burner attachment to create a fantastic wood/brick oven pizza taste.
And while the cooking options are massive, I also love how small this oven is. Seriously, this thing is freaking portable. So let's put this all together: a mobile pizza oven that allows you to cook homemade wood/brick oven pizza? Any man who loves pizza absolutely needs to get a Bertello Outdoor Pizza Oven in their backyard immediately.
Sondiko Culinary Torch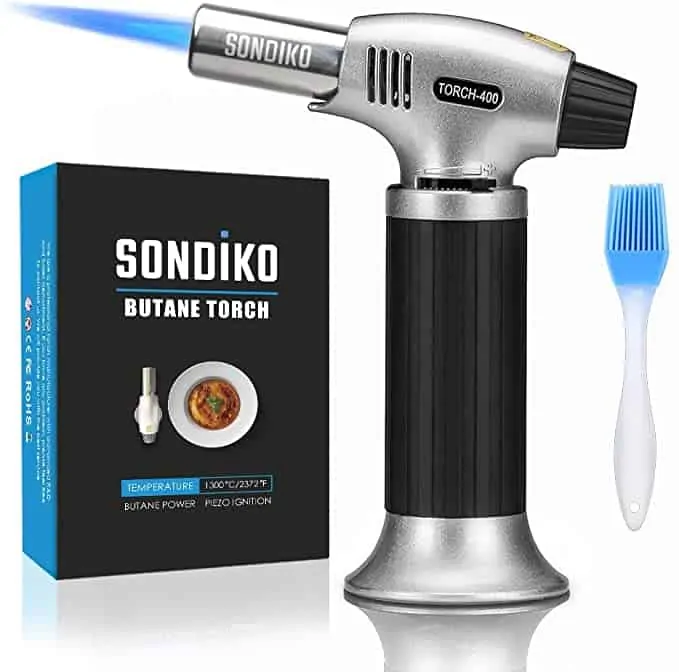 Who doesn't love a good (purposefully used, of course) fire in the kitchen? The Sondiko Culinary Torch is a super handy tool for every professional and amateur chef, making it a no-brainer for the ultimate men's gift guide for men who love the kitchen. This tiny torch for quickly searing steak (hmmmm…maybe sous vide steak?), glazing ham or melting cheese. Seriously, your options are nearly limitless.
Something I love about the Sondiko torch is just how simple and easy to use it is. There's nothing fancy about it, just a versatile tool that not only works in the kitchen but also works for cigars and spicing up your favorite flaming cocktails. Just pick up one of these, and your kitchen will never be the same again.
Gorilla Grip Premium Silicone Slip Resistant Oven Mitt Set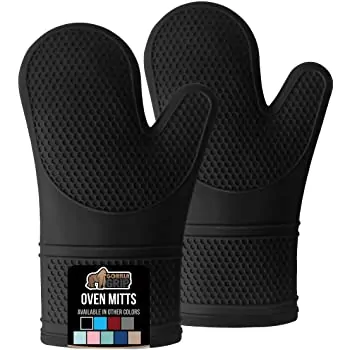 How many times have you, or someone you loved burned the crap out of your hands while cooking? I know I have, which is why I put these incredible Gorilla Grip Premium Oven Mitts on our men's gift guide. Rachel picked up a pair of these for me last Christma, and they've made my cooking life so much easier. The fear of pulling food off the stove or out of the oven is gone, and these oven mitts are built to last through super-high temperatures.
Because they're rubber, the Gorilla Grip mitts are easy to clean, and with a padded lining, they're comfortable to wear. This is one of those gifts that the dude in your life doesn't know he needs, but once he puts them on, he'll be asking himself where have these oven mitts been all their life. Seriously, these are game-changers for the kitchen.
For the man who has everything (but could use some more shipped to his home).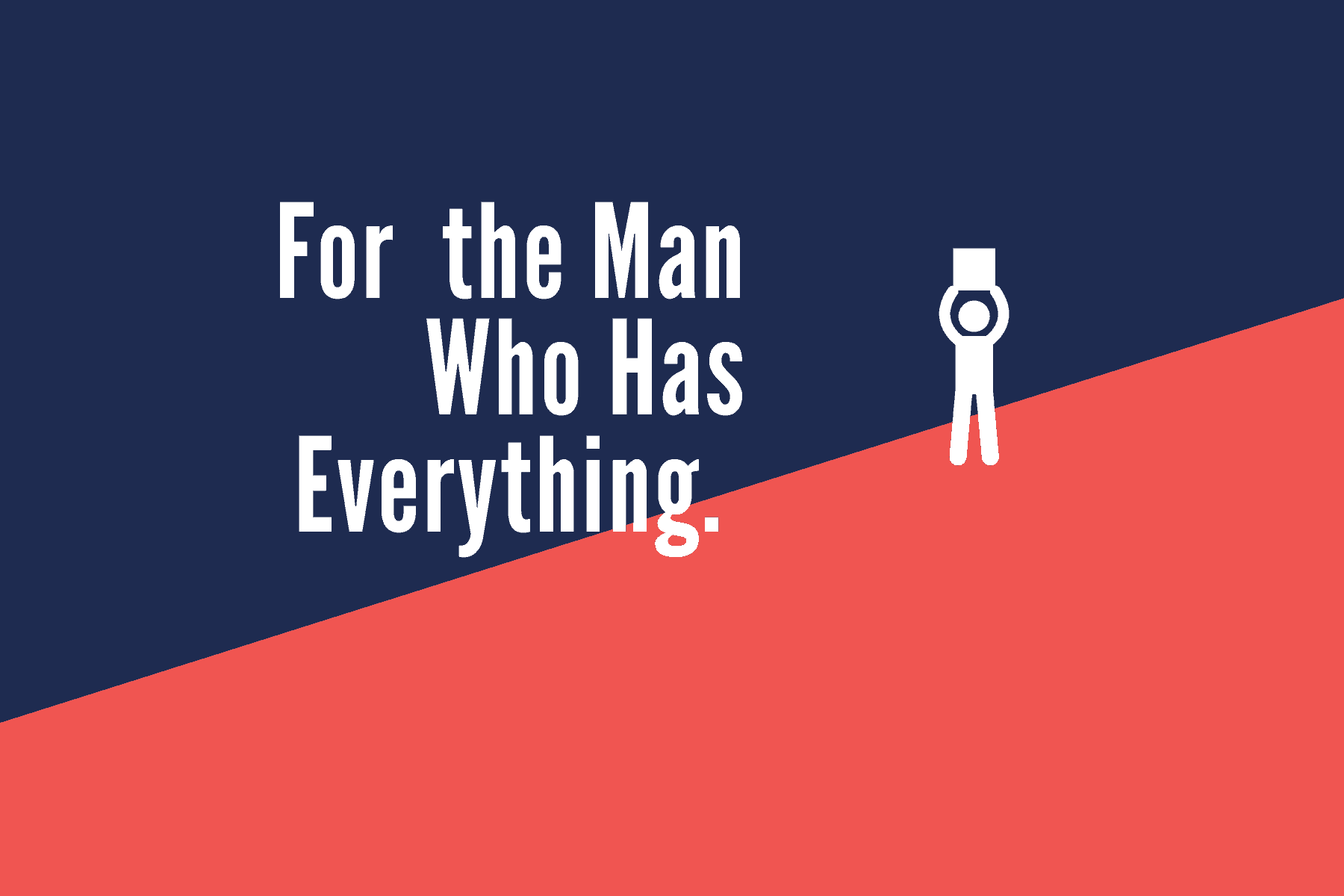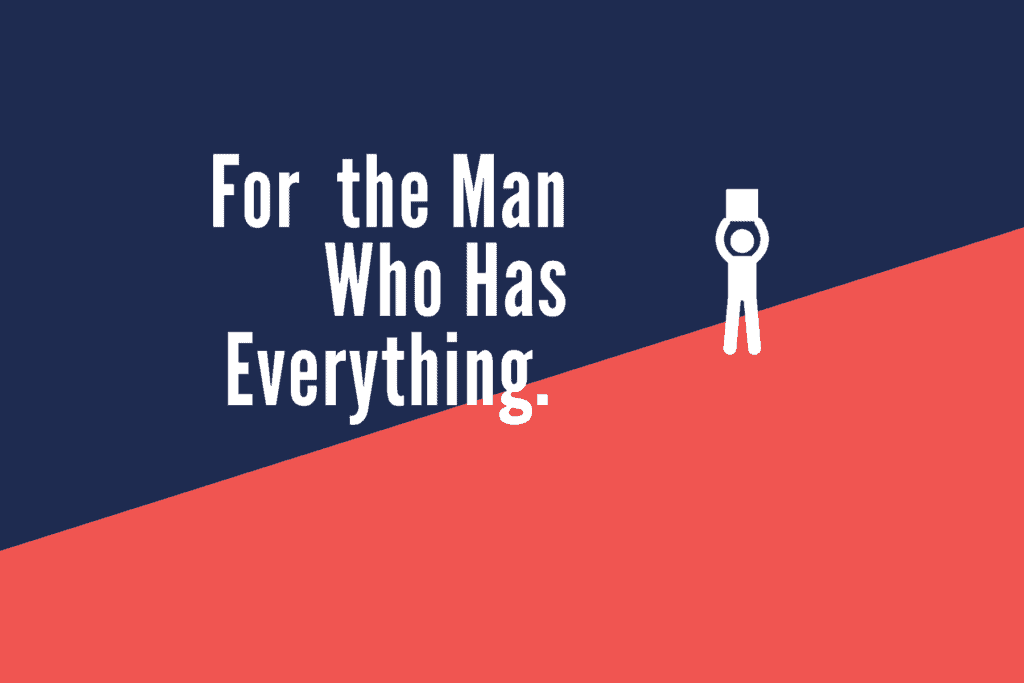 Since I was a kid, I've loved getting the mail. There's just something so exciting about the surprise of a random gift or letter. And as adult men, we still love surprises, which is why subscription boxes are the perfect gift. Every month (or every couple of months), men can expect to receive a nice collection of curated items shipped directly to their homes. When creating the ultimate men's gift guide, you cannot ignore the greatness of subscription boxes.
And by the way, if something on this list doesn't seem like the right thing for the man in your life, check out our more extensive list of men's subscription boxes.
Luxee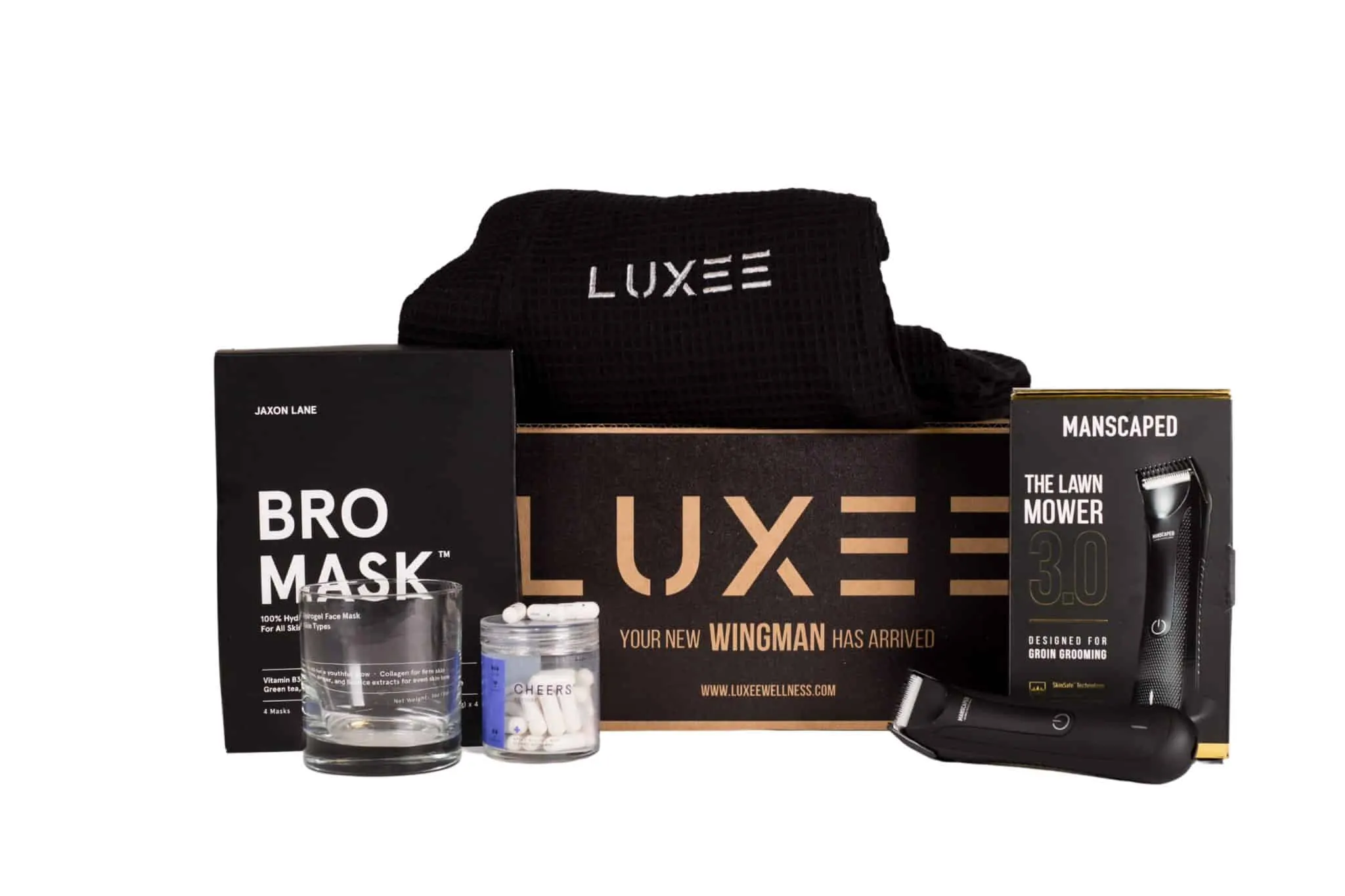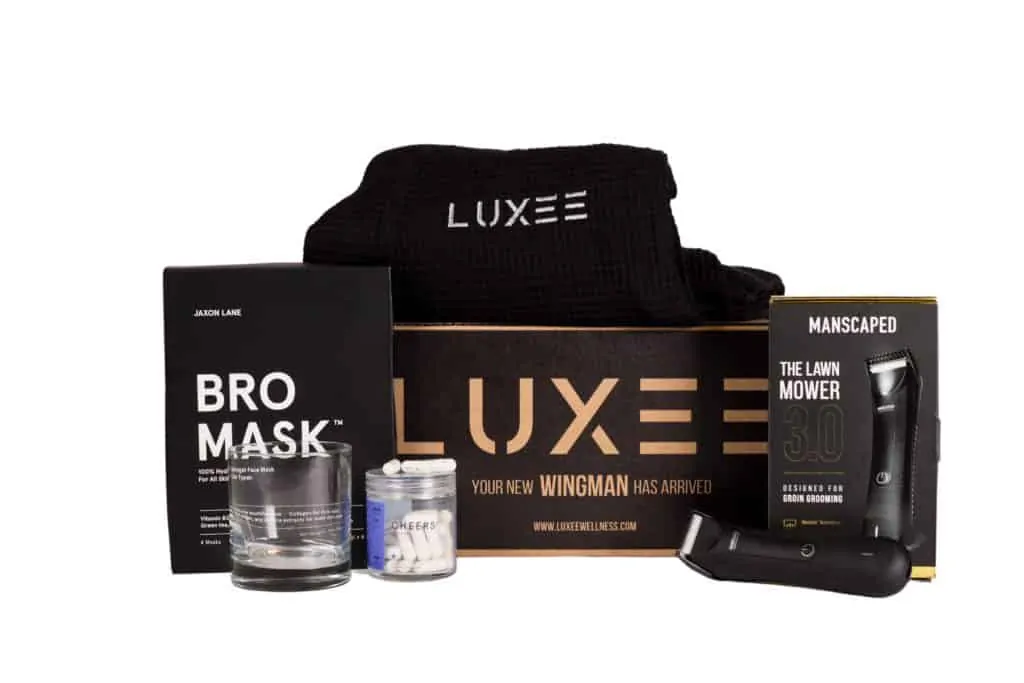 Men's self-care is super important, which is why I was so happy that the dudes at Luxee reached out wanting to send me their latest subscription box. And inside, I found a collection of unique men's self-care items such as facial cream, apple-cider vinegar vitamins, and much more. The value was incredible, but more importantly, the items were useful as well.
Men continue to struggle feeling comfortable taking care of themselves, which is why the Luxee subscription box is so incredible: great items explicitly curated to help men take care of themselves. 
The subscription costs $90 per box, with shipments going out quarterly.
Basic Man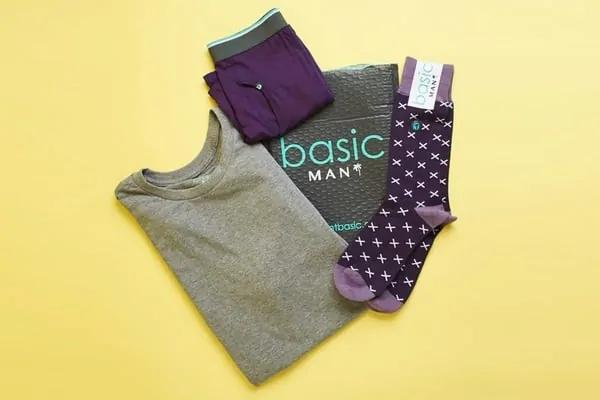 Sometimes men just need the basics, which is why Basic Man continues to be one of Dudefluencer's favorite subscription boxes. Seriously, this box is perfect for men who just want the essentials: a new pair of underwear, a clean t-shirt, and a nice pair of socks. Every month, Basic Man ships out an original box with high-quality clothing designed for every dude on the planet.
At around $16 a month, there's no better deal than the Basic Man box for those dudes who hate to go shopping but need the essentials. I love it, the clothes are great, and I don't even need to get off the couch (well, I guess technically to get the mail).
Watch Gang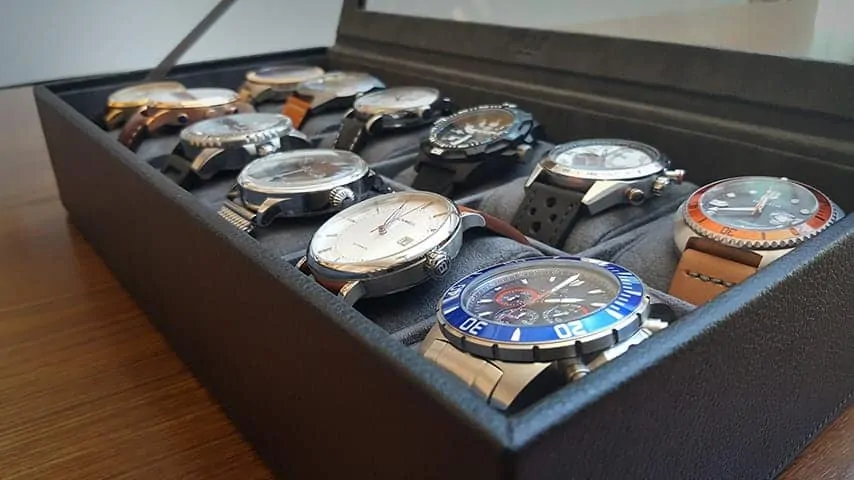 Every man needs a good watch. But some men, one watch just isn't enough, which is perfect because our men's gift guide is here to tell you about Watch Gang, the best watch club on the planet. Based on your preferences, users will get a new watch shipped directly to your house every month. Over time, the men in your life will build a beautiful watch collection that everyone will be talking about.
Depending on which membership you're a part of, you'll get a watch that varies in quality and price. Whether you like Swiss quartz or luxury automatics, Watch Gang is designed for you to build a beautiful watch collection.
SprezzaBox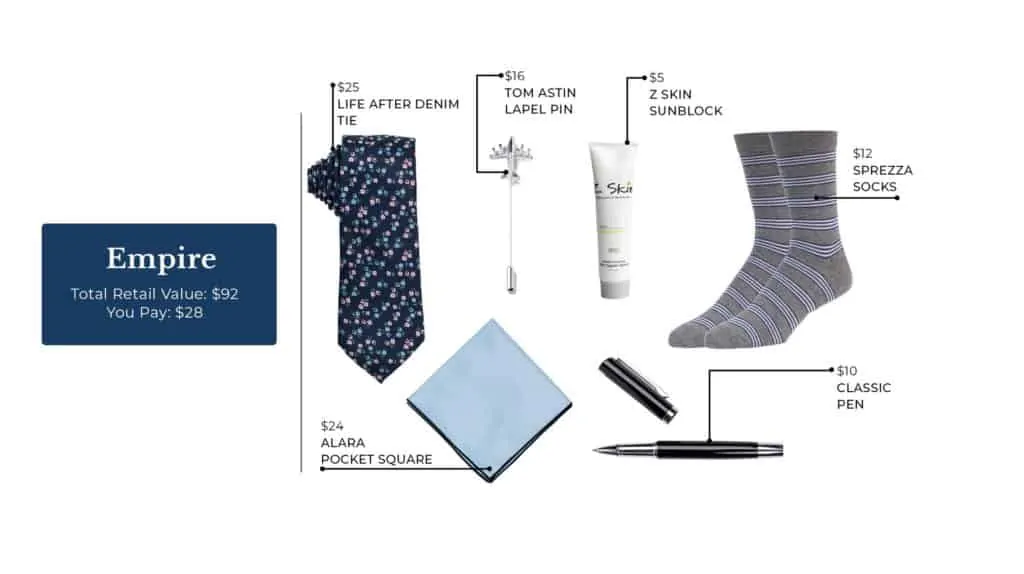 Maybe you have enough clothes, but are missing those modern male accessories that will take your style game to the next level? Well, SprezzaBox has you covered with monthly curated accessory boxes that fit what you need and what you want.
Each box contains 4-5 items, including a tie, some socks, and a couple of matching items (possibilities include tie clips, sunglasses, and pocket squares). SprezzaBox allows you to choose what style of accessories you want, and that's all you need to do: their team of experts will put together a monthly box of stylish goods to match any occasion or outfit.
For the man who loves to look good.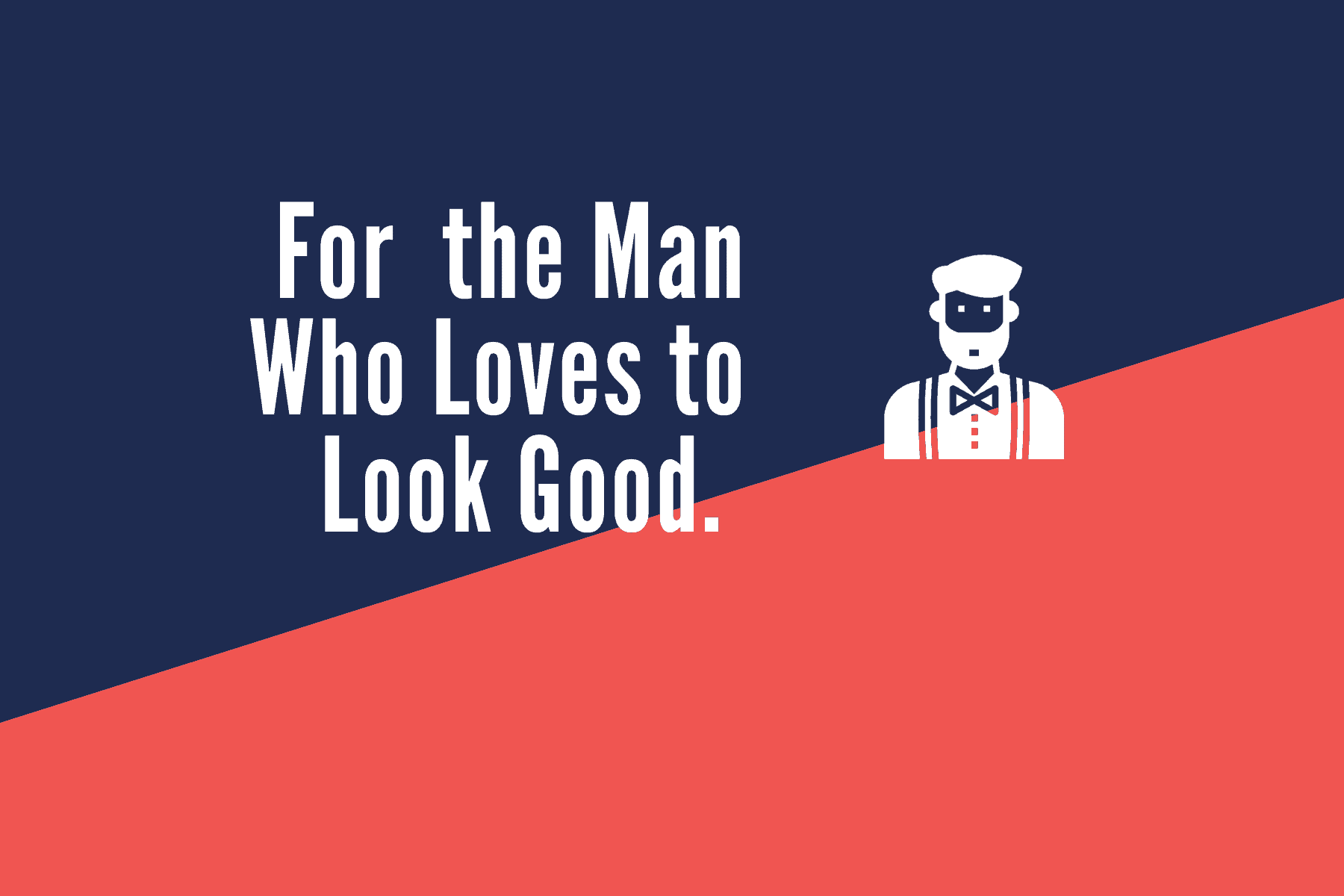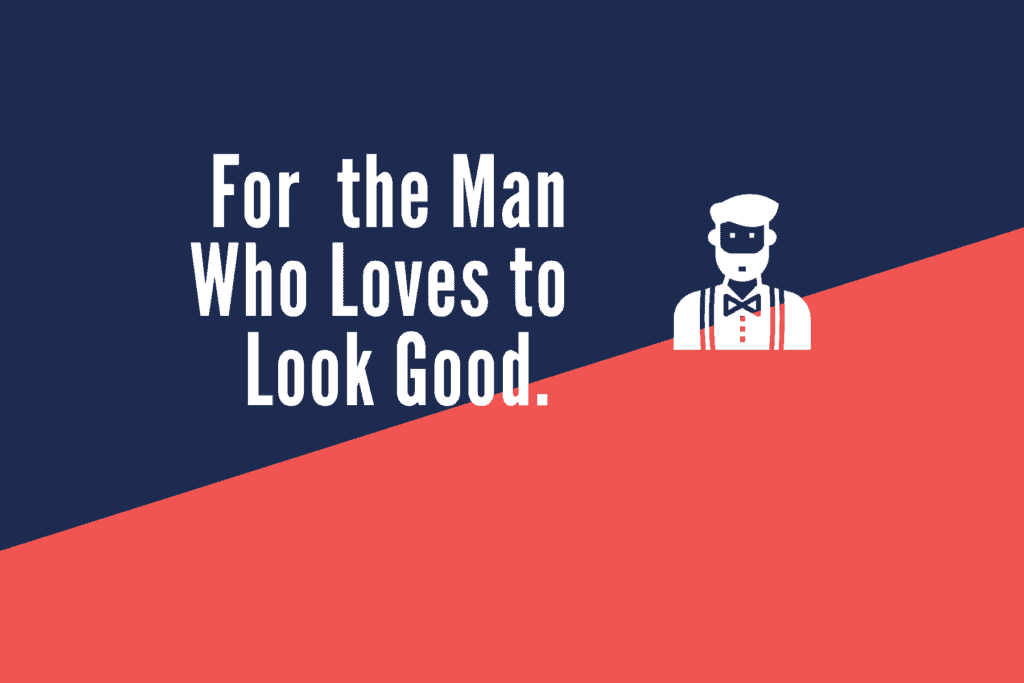 Looking good doesn't need to come at a price. And while everyone loves a good suit, it's just as essential to find regular-wear clothes that fit well and make the man inside them feel great. That's why our men's gift guide for 2020 consists of some of our favorite items from our ultimate men's fashion guide. Of course, make sure the fit works for the man you're buying for, as noted previously, the fit is the most essential part of any article of clothing.
Eddie Bauer Men's Slim Fit Jeans
What man doesn't need a nice pair of jeans? How about a great looking pair of jeans that come with a lifetime warranty? That's why Eddie Bauer's Slim Fit Jeans make our 2020 men's gift guide. These jeans last a long time while maintaining their color over numerous washes. As an added boost, these jeans are just so comfortable that even during the midst of quarantine, I found myself wearing these jeans more often than my sweatpants.
Jack Erwin Hunter Loafers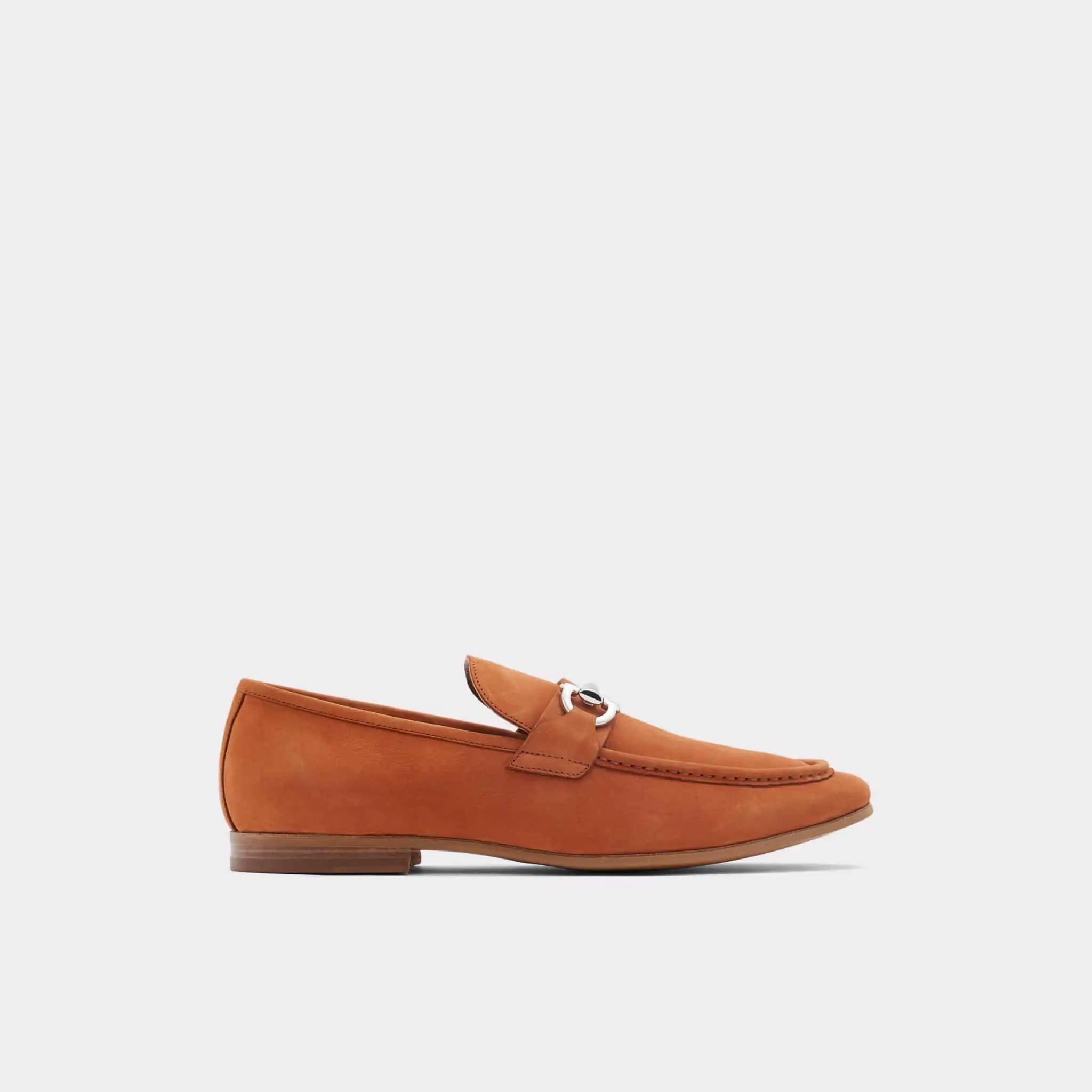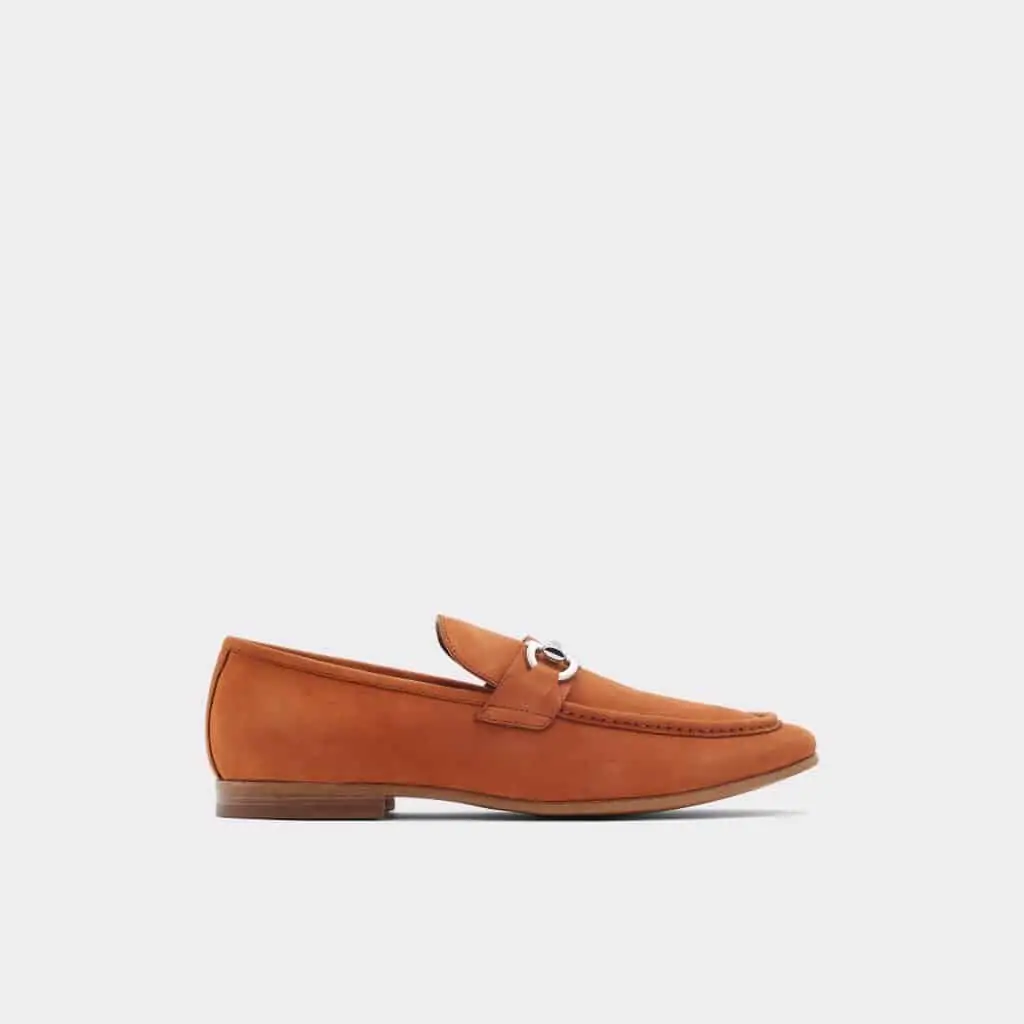 A good loafer goes a long way, especially now that they've gone back into style. The Jack Erwin Hunter is one of our favorite shoes on the market and definitely needed to be on our men's gift guide for 2020. What's fantastic about the Hunter loafers is that you can choose a neutral color like dark brown, or one of the more vibrant colors like blue or silver grey. Any choice that you make here is going to be a good one. And Hunter's elegant and modern design. These are a fantastic choice for anyone looking to get the man in their life a nice pair of slip-ons.
Banana Republic Slim-Fit Chambray Shirt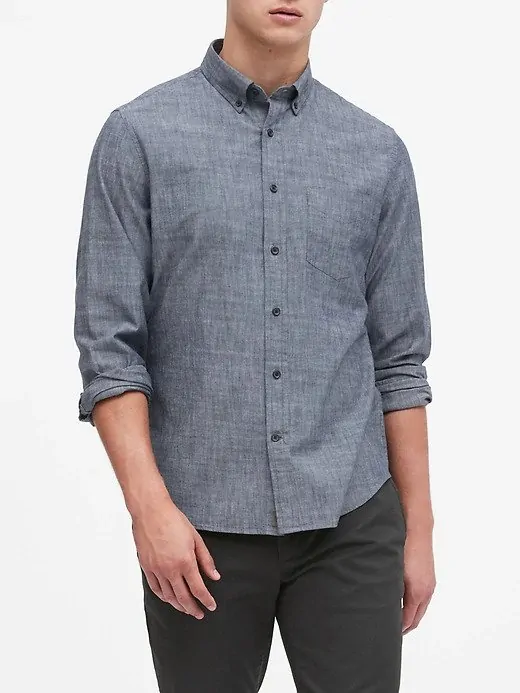 At the bar, on the beach, or off on an adventure, the Banana Republic Chambray Shirt is one of those items that never go out of style. Buy one after reading our men's gift guide, and it will never leave any dude's closet. Dress it up, dress it down, it doesn't matter because this is the perfect shirt. Add in the fact that Banana Republic offers some of the highest quality clothing items on the market.
Citizen Chandler Watch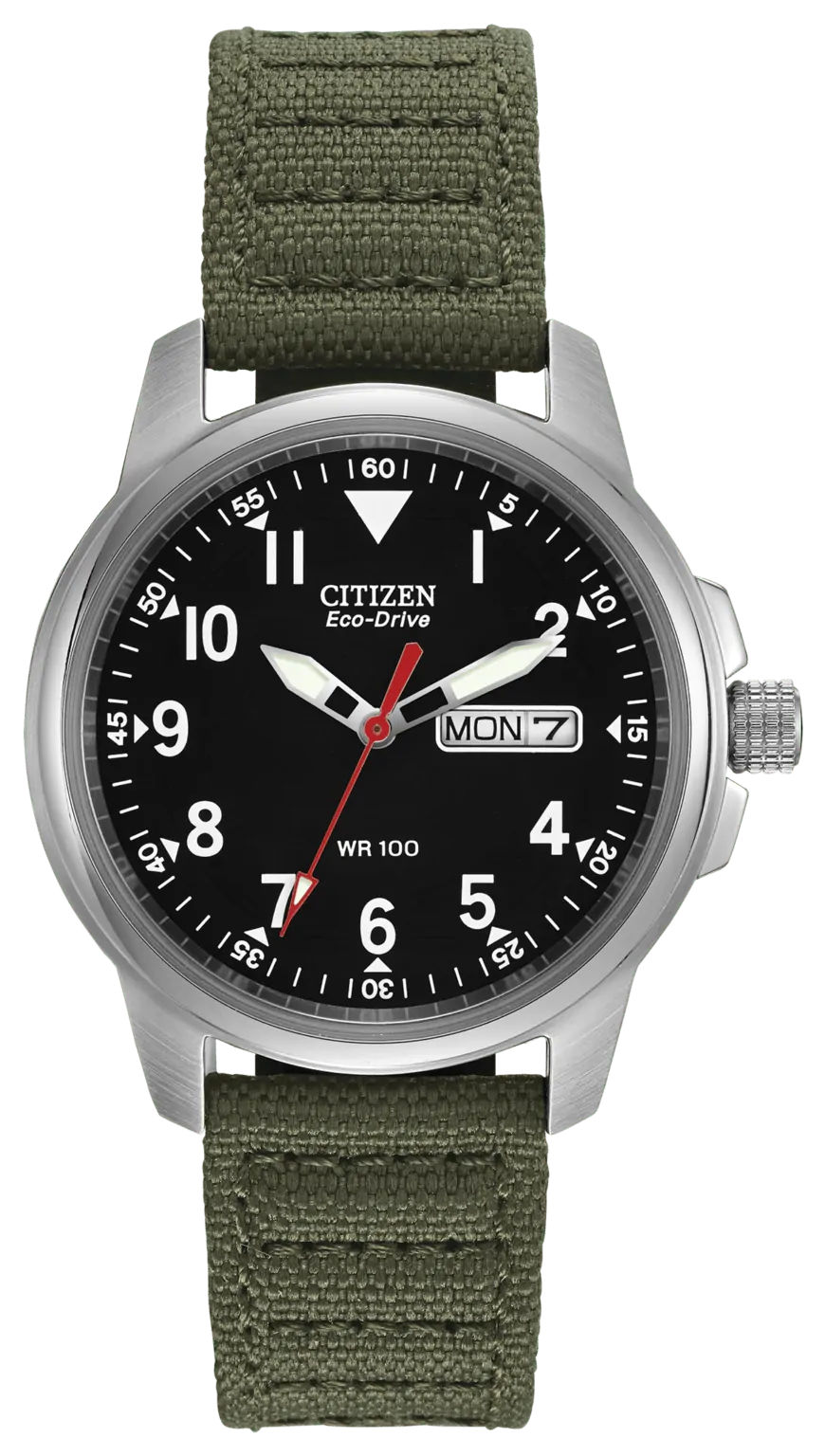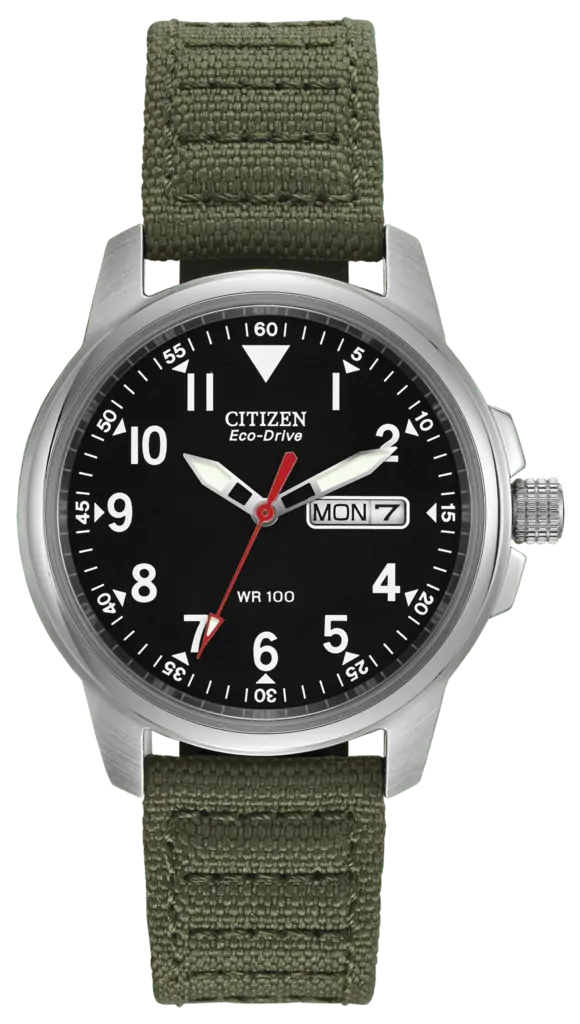 If the man in your life is looking for a nice, simple watch, then our 2020 men's gift guide recommends the Citizen Chandler Watch. Featuring a clean army green band and black face, this watch isn't going to pop-off as something too stylish, but definitely is a beautiful watch. I love the white details on the face, as well as the silver casing. Citizen is known for their fantastic watches, and high quality and the Chandler watch is no different. Plus, it comes at a reasonable price of under $200, which is excellent for most modern, fashionable watches.
For the man who loves a nice, refreshing beverage.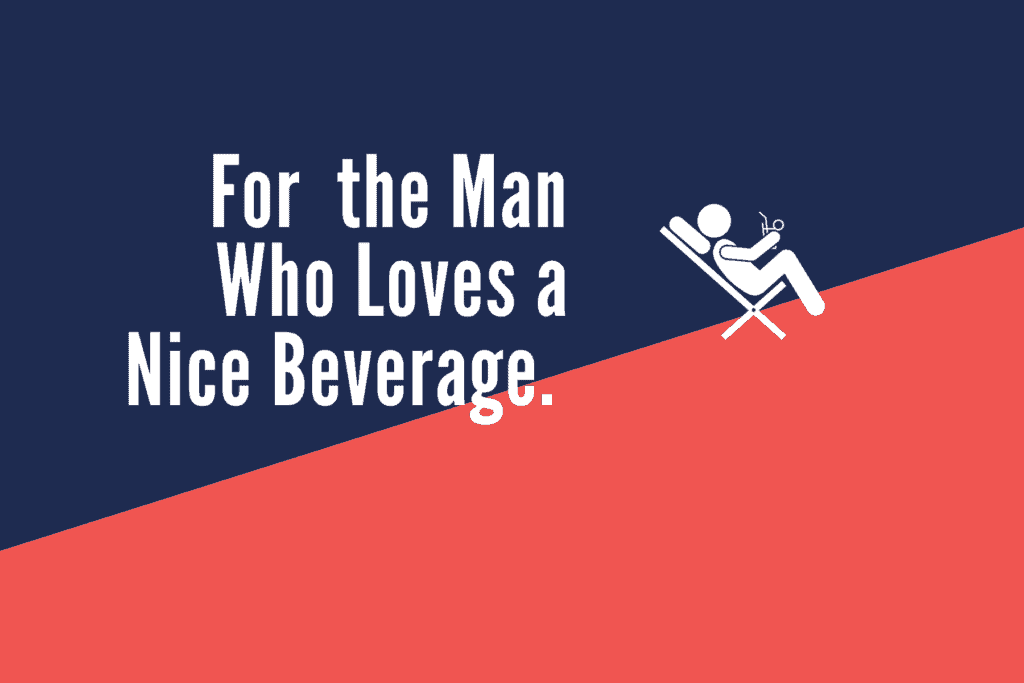 Whether you like a warm coffee to wake you up in the morning, or a nice refreshing beer to wind down your day, these subscription boxes are the ultimate men's gift for those who love unique beverages shipped straight to their door. Our ultimate men's gift guide features a variety of different drink options, and the best part is, once you subscribe for your friend, partner, or yourself, you don't have to do anything other than wait for the drinks to come in.
Drift Away Coffee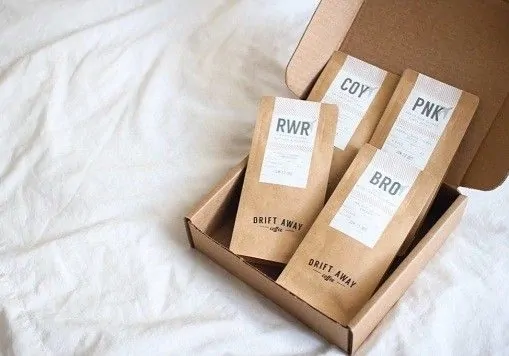 When it comes to those early mornings after late nights working, there's nothing better than the smell of fresh coffee brewing in the kitchen. But who wants the same old coffee every day? That's why Drift Away Coffee makes our list of the best men's gifts for 2020 because they ship out excellent tasting coffee, explicitly designed to your taste.
After rating a collection of trial coffees, Drift Away will then curate shipments based on those flavors. What's even better is that every batch of coffee is from around the world, featuring unique flavors that you won't find anywhere else. There might be no better men's gift than a subscription to Drift Away Coffee if you know a coffee lover.
Saloon Box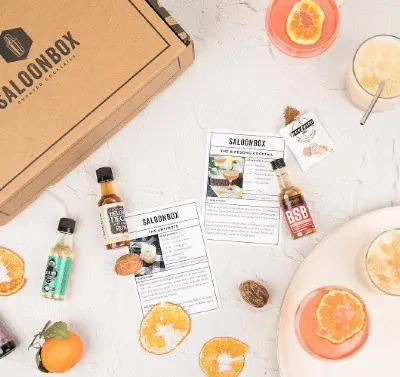 Many men have a favorite cocktail, but why not mix it up a bit by making new cocktails from home without all the stress of buying ingredients? That's where Saloon Box comes in, an all-in-one curated cocktail subscription box shipped every month. What men's gift guide would be complete without the opportunity to become a world-class bartender at home?
Every month includes two recipes as well as the spirits, ingredients for four total cocktails. Just be aware that due to alcohol shipping regulations, Saloon Box cannot be sent out to all fifty states at the moment. I love this box because I'm not a huge drinker, but I love making new drinks, and Saloon Box takes all the stress and research out of the equation.
Hop Heads Beer Club
Do you know a man who loves hops? Then look no further in our men's gift guide for 2020 at The Hop Heads Beer Club, the only beer club on our list designed specifically for those dudes who love hoppy beer. Buyers can expect 12 hoppy beers from both U.S. and International breweries, which will offer subscribers an utterly unique beer drinking experience every month.
The Hop Heads Beer Club features "a variety of hoppy beer styles, including IPAs, Double IPAs, Session IPAs, IPLs, Imperial IPLs, Session IPLs, hoppy Pale and Red Ales, and other well-hopped styles." With that much variety, The Hop Heads Beer Club is the perfect men's gift for any beer lover.
For the man who loves tech.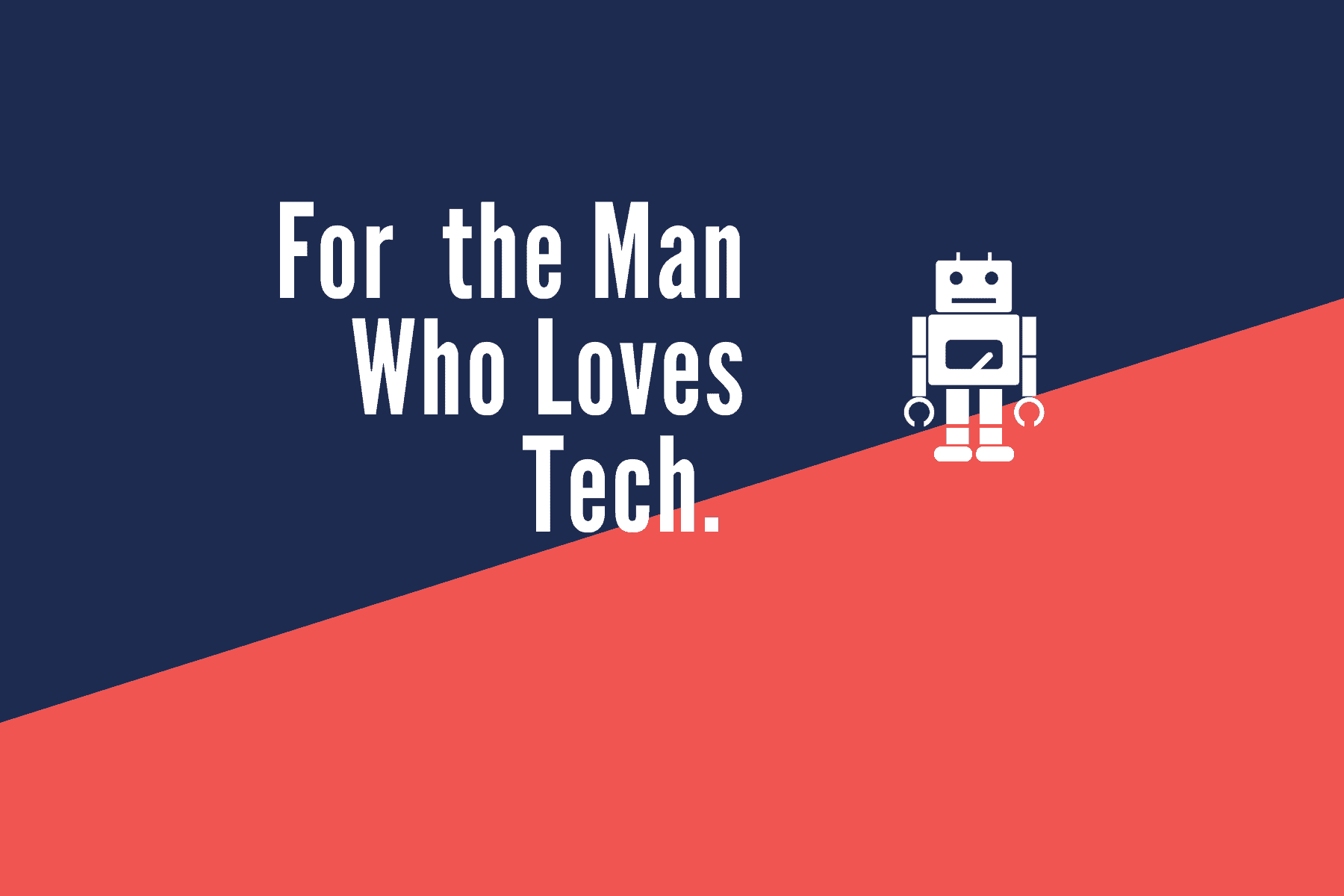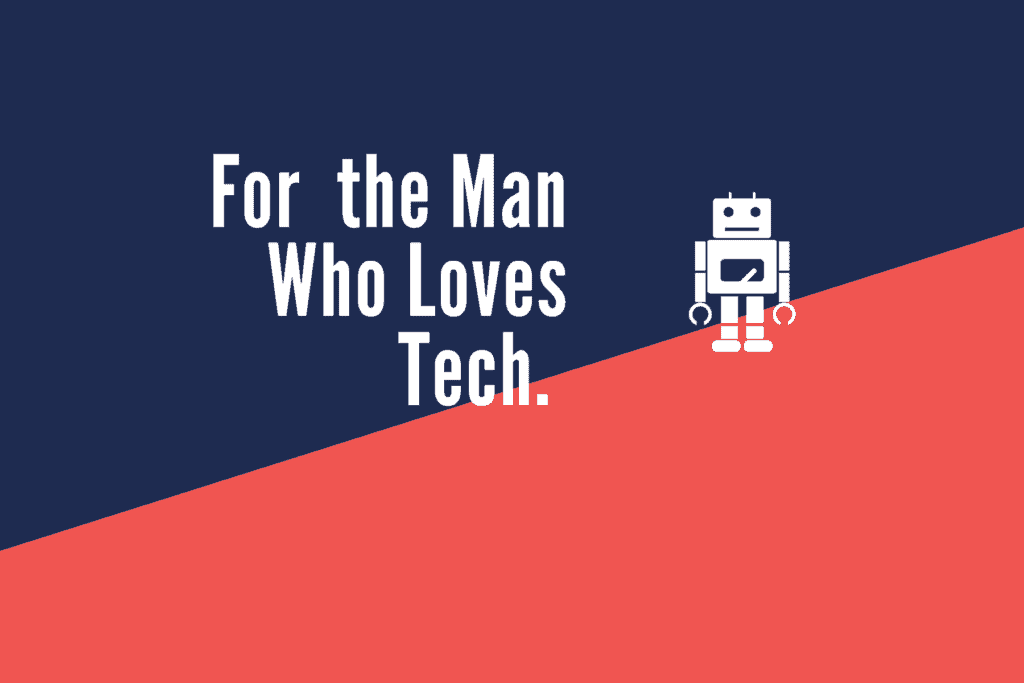 Do you know a guy who just needs to have the latest technology around the house? One look around and you're transported to what looks like The Sharper Image catalog? Well, you're in luck because our ultimate men's gift guide has you covered with a collection of extraordinary items that are certain to make any dude who loves high tech gear around the house ecstatic.
Logitech Harmony All-in-One Remote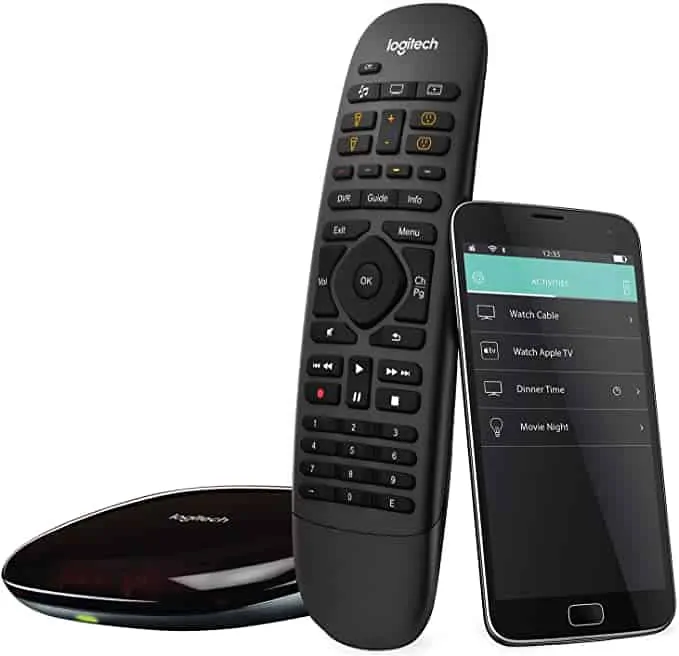 There's nothing more frustrating than losing a remote for your television, especially if you need more than one to just get the darn thing turned on. Enter the Logitech Harmony Remote Control, an all-in-one solution that controls your television, surround sound system, and all of your streaming services. Seriously, this thing is freaking amazing.
And that's not all. The Logitech Harmony Remote also works with Alexa, Philips Hue Lights, and Nest thermostats. But my favorite feature is the home automation option that allows you with the click of a button to lower the lights, shut the blinds (if they're smart blinds of course), and turn on the tv for movie night. There might not be a more relaxed (and more useful) device on our men's gift guide.
Raspberry Pi 4
Do you know a dude who loves classic video game systems? Or what about a man who wants to build a robot? Or even just develop their own mini-computer? Then look no further than the Raspberry Pi 4, a credit card-sized mini-computer perfect for all of those custom build tech projects the man in your life has been itching to complete.
This little computer can help teach various programming languages, but my personal favorite use for the Raspberry Pi has been recreating my favorite old gaming consoles. Take a look at this retro Nintendo 64 built using only a Raspberry Pi. Or program an emulator that features all of your favorite arcade games in one portable option? The versatility of the Raspberry Pi is why it makes our men's gift guide list.
Rocketbook Smart Reusable Notebook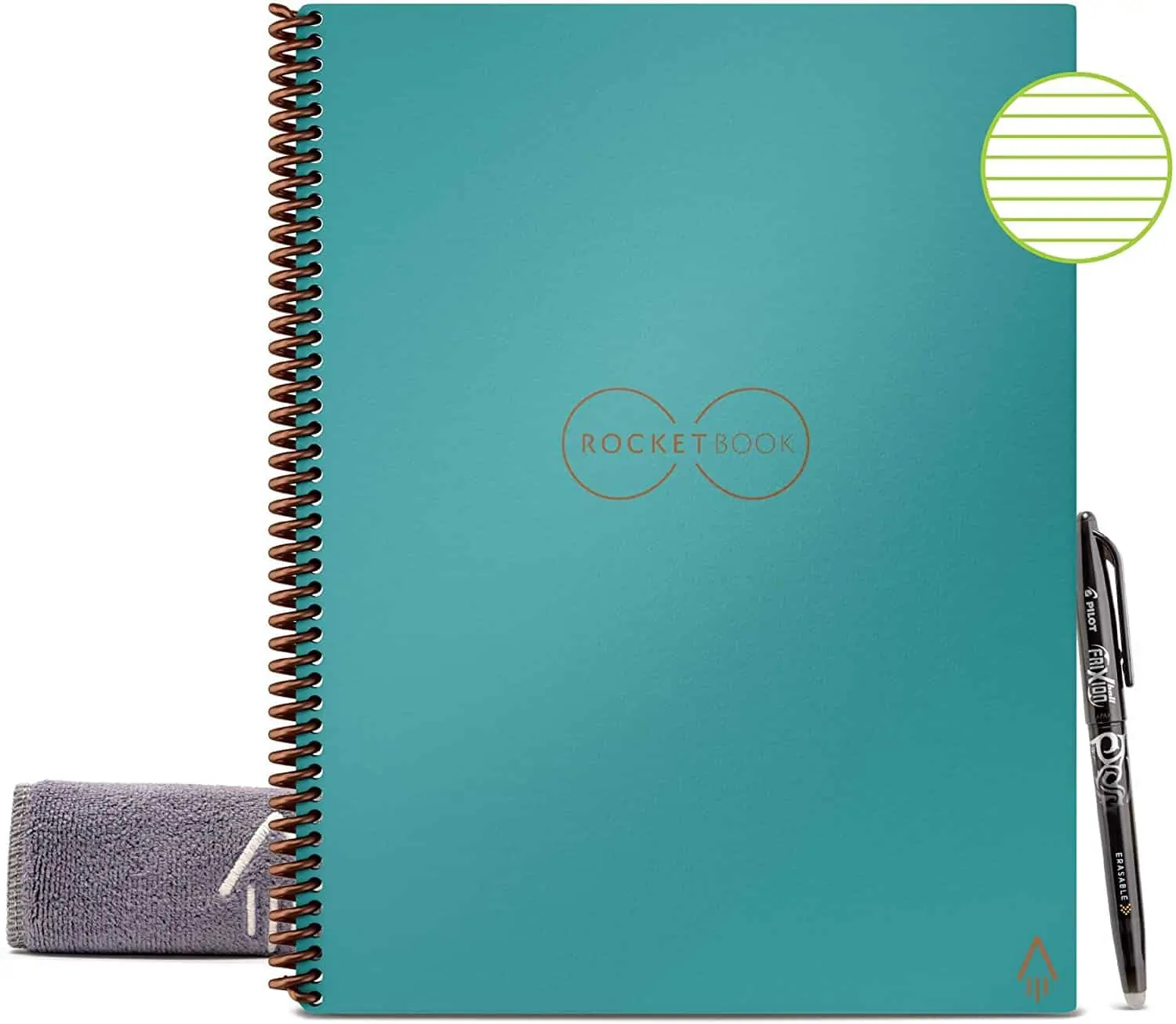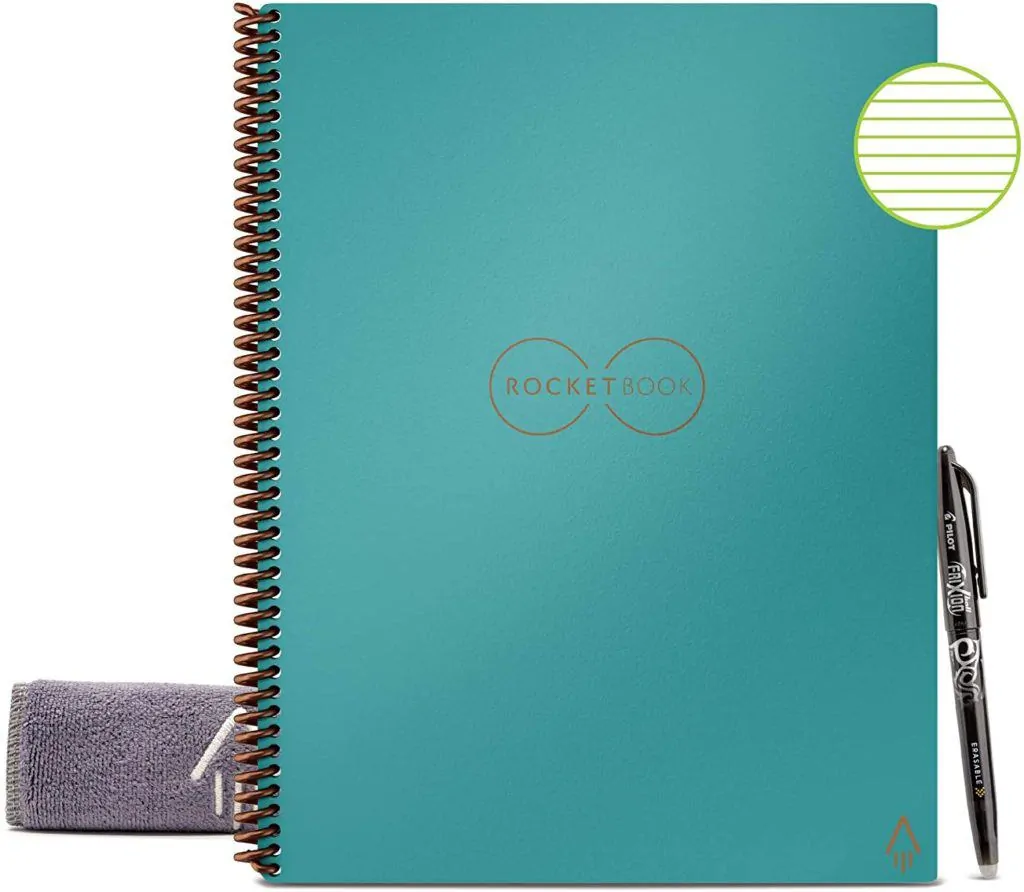 As a writer, my office is littered with filled up notebooks. And while I love having them around, it can be a chore to find precisely what notes I'm looking for at any given moment. The Rocketbook Smart Reusable Notebook hopes to make that easier by creating a reusable notebook that sends off your handwritten notes into your favorite cloud service.
All you need to do is write out your notes, upload them online, and wipe them off using a damp cloth. Voila, all of your messages uploaded online for more effortless organization. I seriously love this product because it allows me to keep all of my writings in one place, and it's super easy to search through. If you know a dude who loves to write and loves tech, you can't go wrong with a Rocketbook Reusable Notebook.
Ember Temperature Control Mug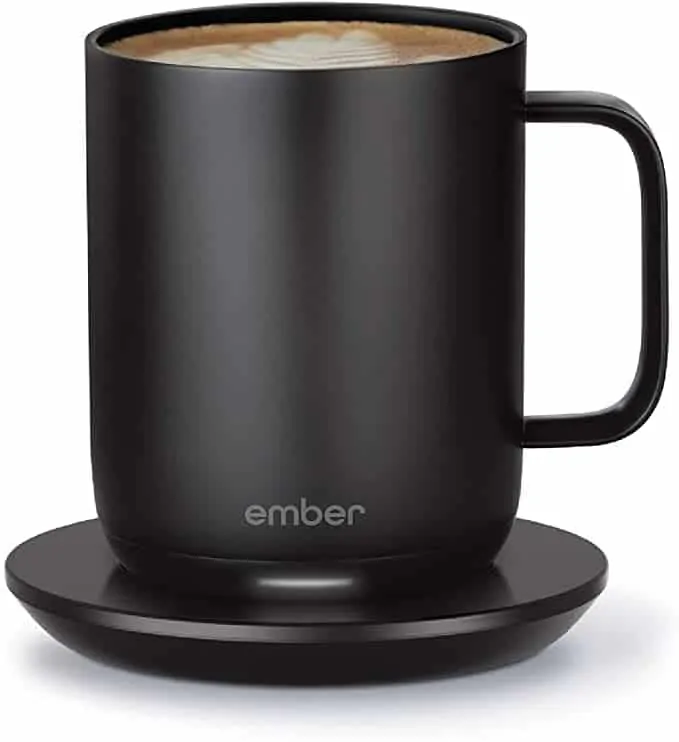 For some reason, I am fascinated with the Ember Temperature Control Mug. Seriously, it's a mug that stays at an optimal temperature (of your choosing) through your smartphone. Plus, the mug automatically enters sleep mode when it's empty, and senses when there is liquid inside to start heating it up. This is a perfect side-present if you decide to purchase the Drift Away Coffee subscription.
As a tea drinker, knowing that I can keep a cup of my favorite Earl Grey at the perfect temperature throughout the day makes me so happy. No more worrying about letting your coffee sit out for too long and getting cold, the Ember mug will keep it hot. An added bonus, the mug is stainless steel, so it's easy to wash and maintain over its life cycle.
For the man who loves to travel.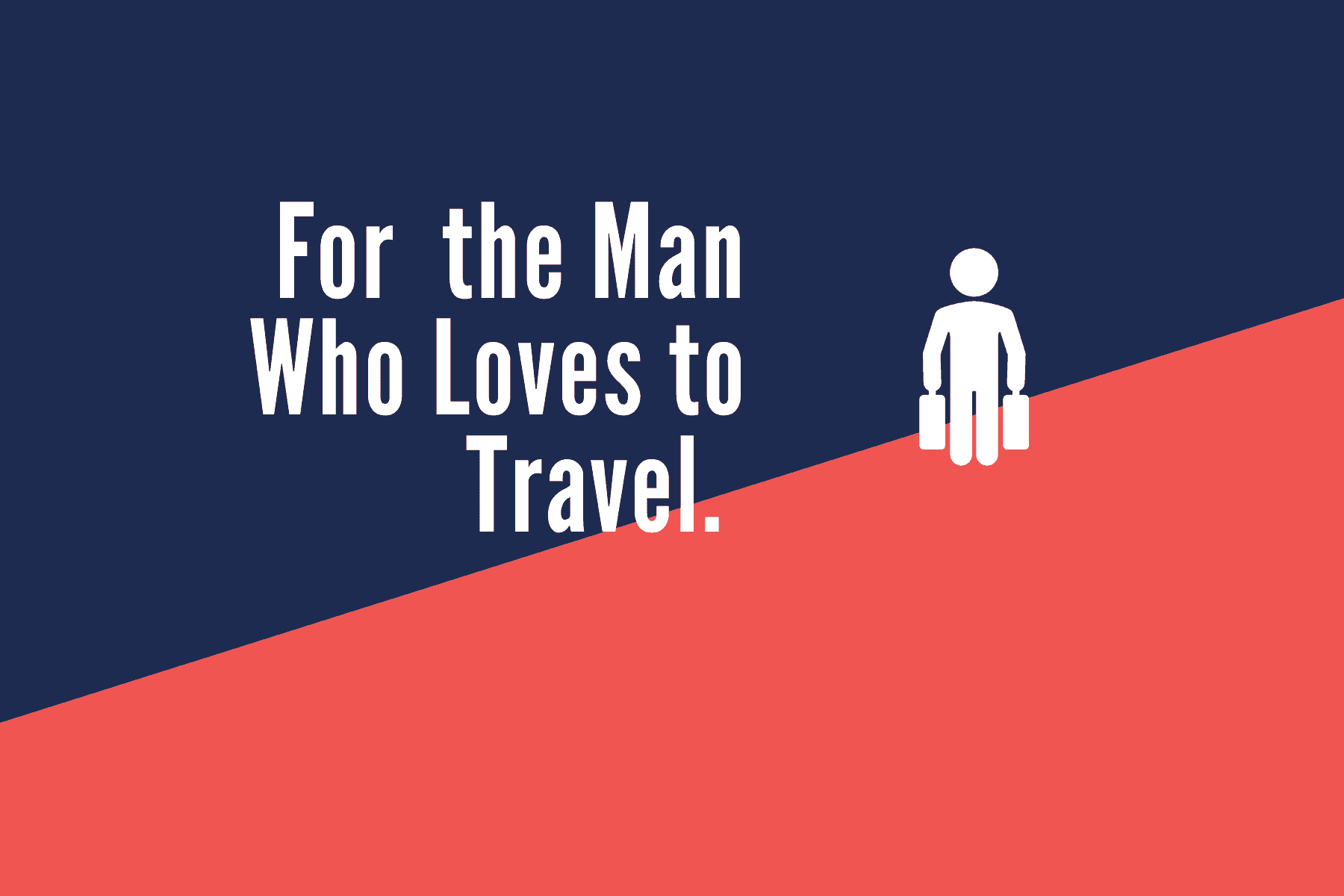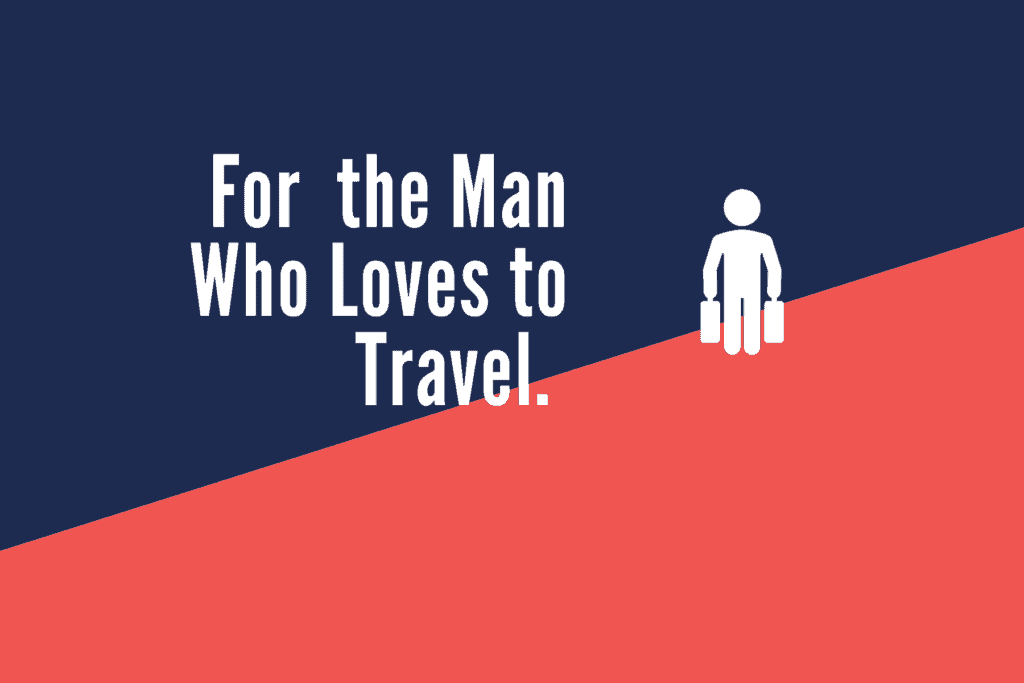 Travelling can be a pain in the ass. That's why it's vital that every man who loves or even just likes to travel, has the right gear to make sure their plans go as smoothly as possible. For our ultimate men's gift guide, we picked a selection of items that are functional and trip enhancing. Whether it's helping make sure you get a good night's sleep or capturing your adventures for years to come, these men's gifts are perfect for those dudes on the go.
Bose Noise Cancelling Headphones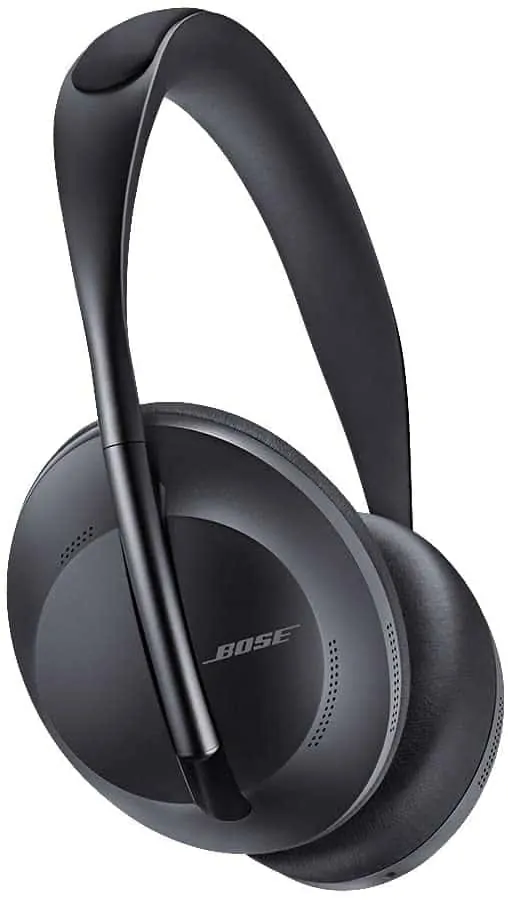 You can't start any list without beginning with a pair of noise-canceling headphones. And while there a ton on the market, my choice is the Bose 700 Noise Cancelling Headphones. I've owned a pair for the past couple of months, and like most things Bose, the sound is incredible. Beautiful clarity and excellent bass make my Spotify playlists pop every time I turn them on. Plus, they're comfortable as heck.
When it comes to headphones, these noise-canceling headphones do a tremendous job blocking out all sorts of sounds- from outside noise to airplane engines. Put on these headphones, and you'll soon see just how life-changing a pair of good headphones can be. That's why the Bose 700's make our ultimate men's gift guide list above all of the others.
Bose Sleepbud II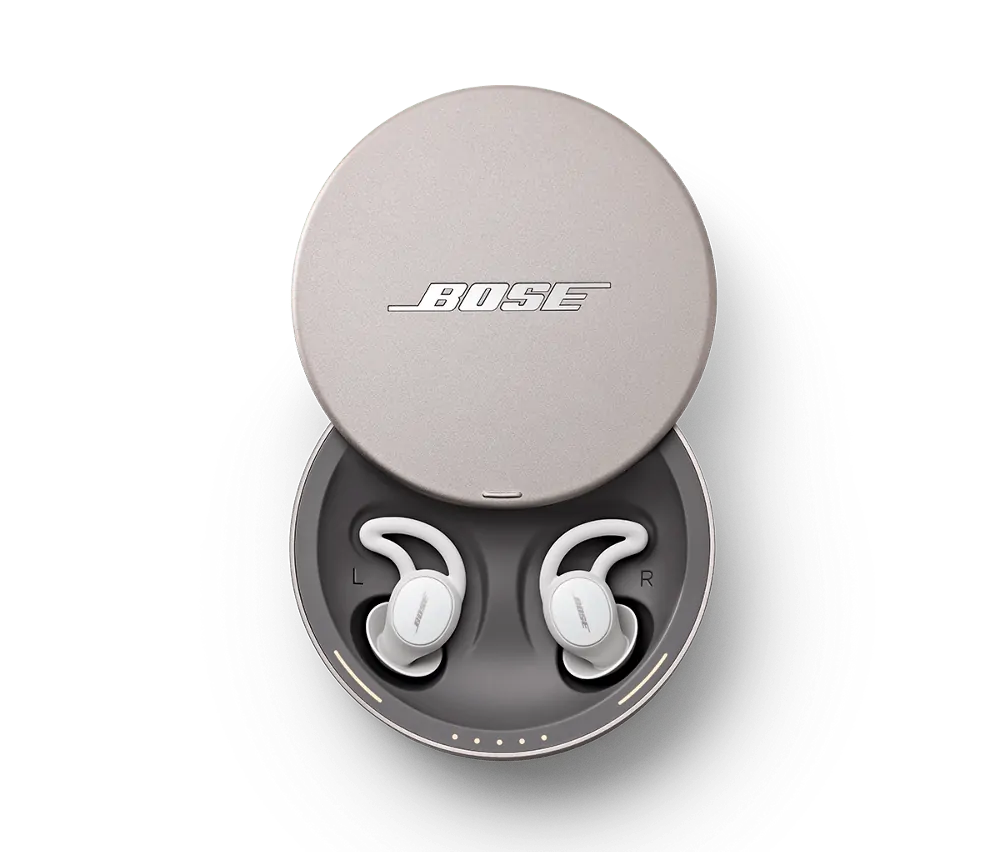 I hate snoring, I've always hated snoring, and I'm pretty sure I will forever hate snoring. That's why the Bose Sleepbuds II has been an absolute life-saver when it comes to getting a good night's sleep. Improving off of the now discontinued Sleepbuds (battery issues affected nearly every pair requiring returns), the Bose Sleepbuds II are designed to keep out extraneous nighttime noise (snoring, traffic, etc.), and help you stay asleep longer.
One of the most significant differences between the Sleepbuds and regular earbuds is that the Sleepbuds are meant to slept on, so if you're like me, a side-sleeper, then you'll have no problem with the Sleepbuds feeling uncomfortable. With a wide variety of white noise pre-sets available, the dude in your life can find nearly any relaxing, soothing sound to fall asleep to.
GoPro Hero8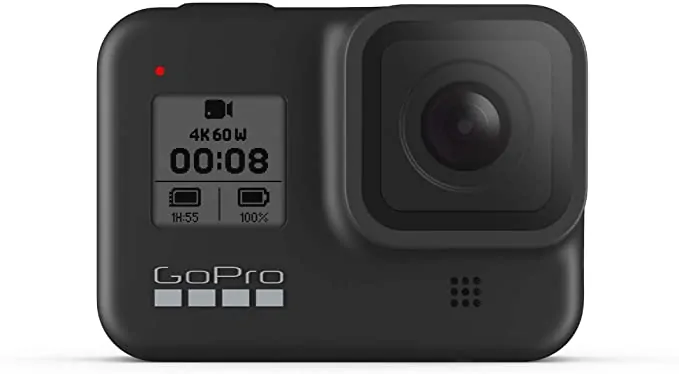 Once thought to be only used by action sports athletes, the GoPro Hero8 puts itself out as a reliable camera choice for anyone looking to travel. With the ability to live stream in 1080p, this camera is one of the best video cameras around, let alone it's 2x impact-resistant lens making it nearly indestructible. The GoPro Hero8 boasts the best video quality of any GoPro on the market today.
If you're looking for a camera that the man in your life won't destroy, then the GoPro Hero8 is a no-brainer. Our men's gift guide wants to make sure any camera on our list fits within the quality of a man's lifestyle: rugged, high-quality, and ready for adventure, and the GoPro Hero8 fits that description.
Braun Travel Shaver
Who doesn't need to shave? The Braun Travel Shaver is mobile, electric, and perfectly sized for those men who are off on-the-road to adventure. Portability is a key factor when choosing which items to pack on your trip, and the Braun Mobile Shaver fits nicely into any backpack, luggage, or travel pouch men plan to carry with them.
As someone who never knows when he will get the urge for a quick shave, the Braun Travel Shaver has been a great addition to my packing list. Needing only two A.A. batteries, this portable razor makes our men's gift guide because it's the easiest (and best) way to take care of that five o'clock shadow while on the road.
For the man who loves to game.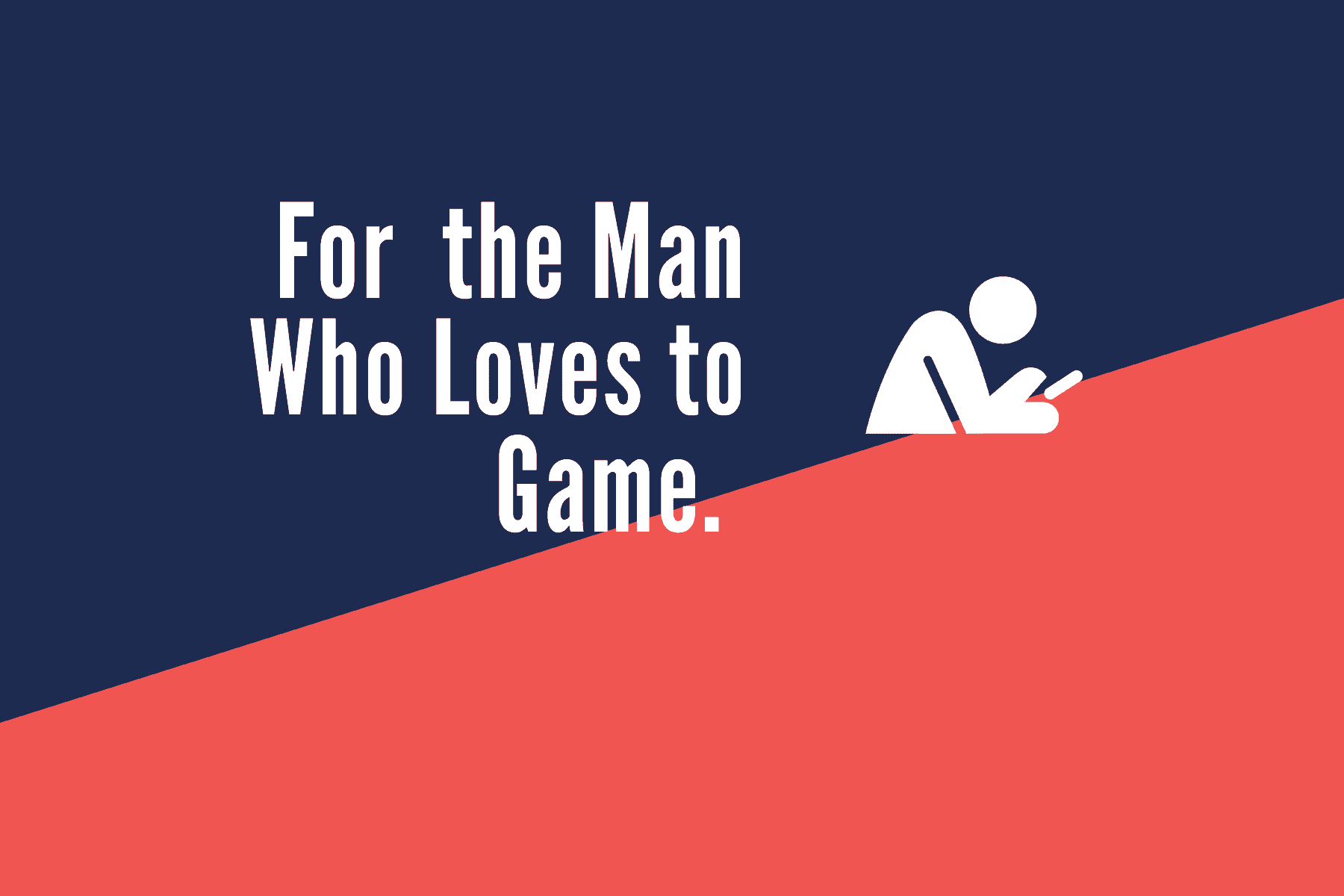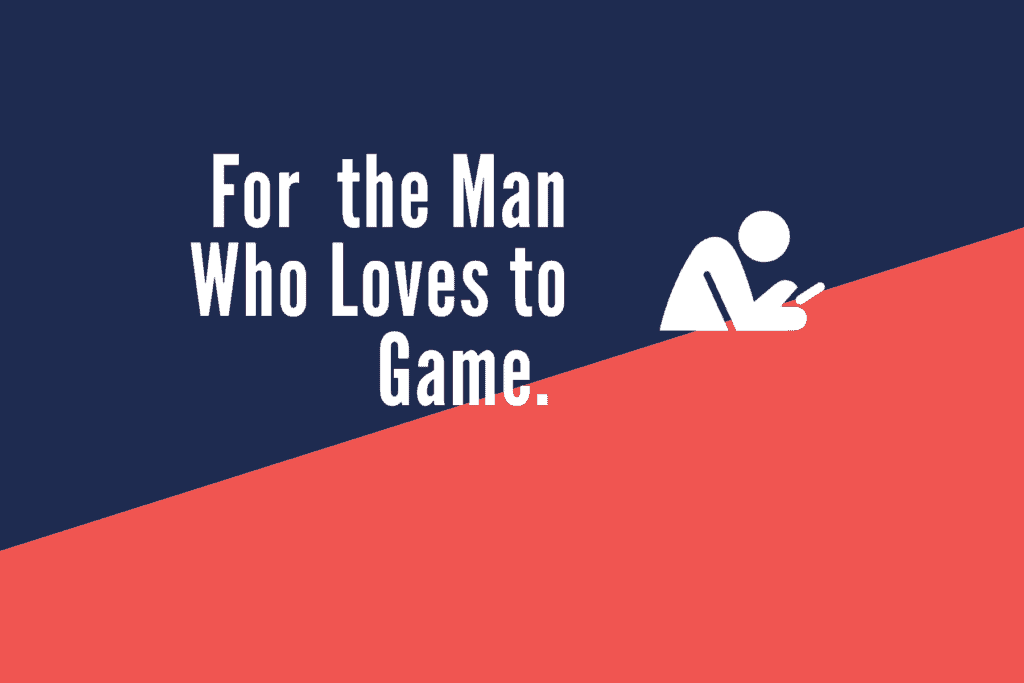 This winter is going to be excellent for gamers: the new Playstation 5 and Xbox Series X are releasing, which means next-gen is finally here. That's only good news for console players as they will be ready to go with the latest releases. But that's not all, there's a ton of really unique gifts on our men's gift guide for gamers that don't require a next-gen console and are the perfect fit between modern technology, and old-school cool.
PS5 Dual Sense Charger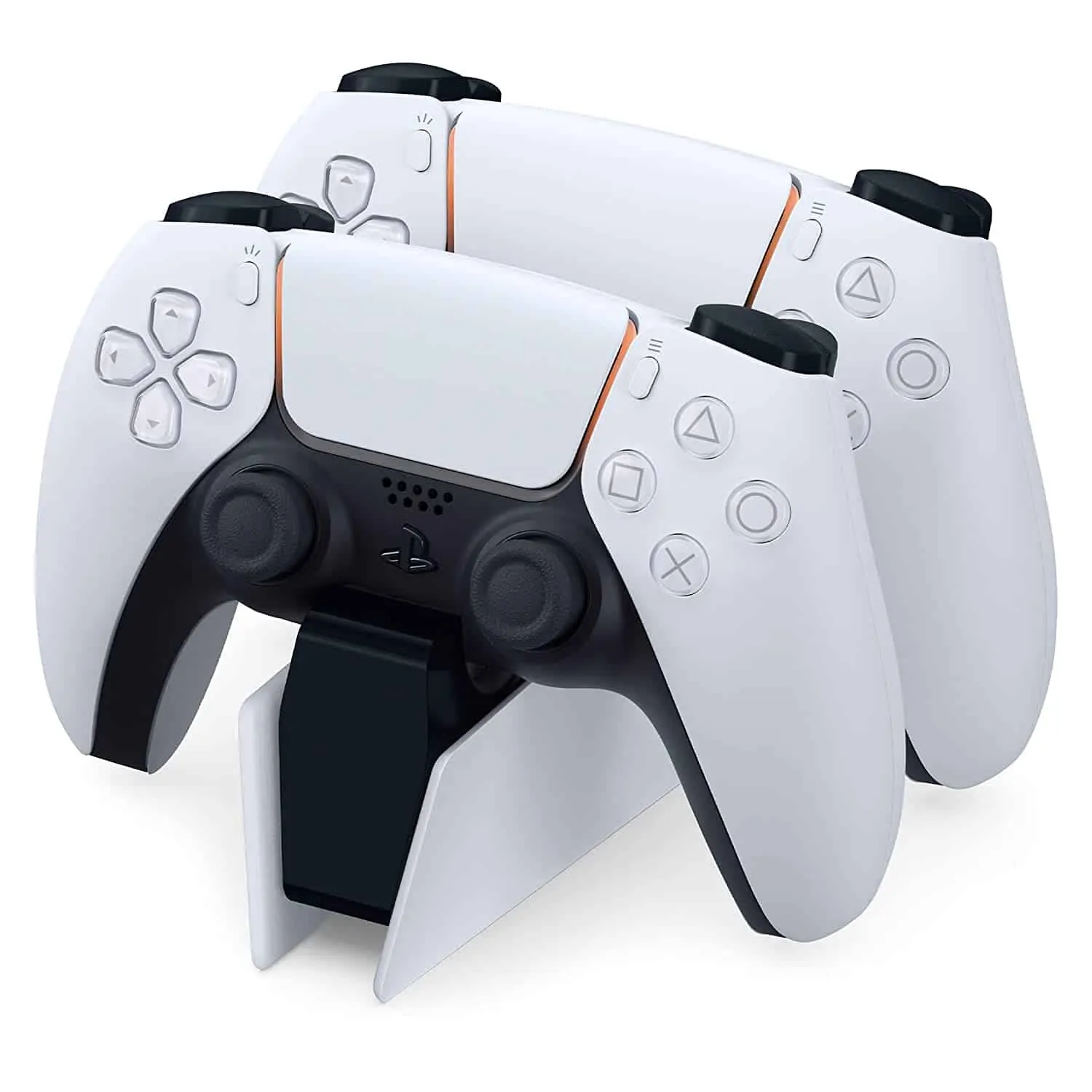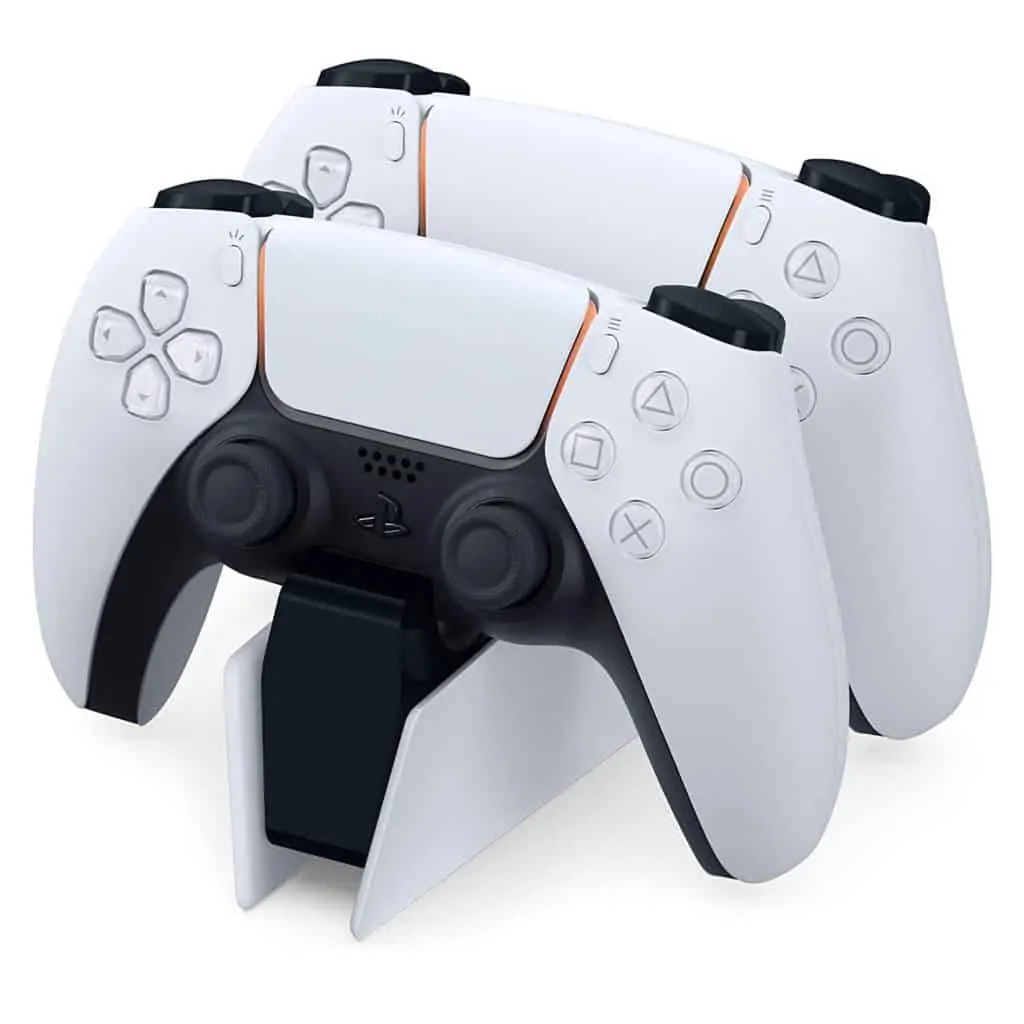 The only exclusive option for next-gen console owners, the PS5 Dual Sense Charger is one of those qualities of life improvement items that you won't need, but will definitely love once you get it. If any of the men in your life are gamers and own a PS5, they will understand the unnecessary stress charging a controller can be, which is why the Dual Sense Charger makes our ultimate men's gift guide.
All that needs to be done is put the controllers on the charger, and voila, they'll charge on their own and out of the way—no need to plug them into the PS5 or find a USB plug. And if you're looking for a controller charger for a different console, there are also chargers available for Xbox One, Playstation 4, and the Nintendo Switch.
Hyper X Cloud Alpha S Headset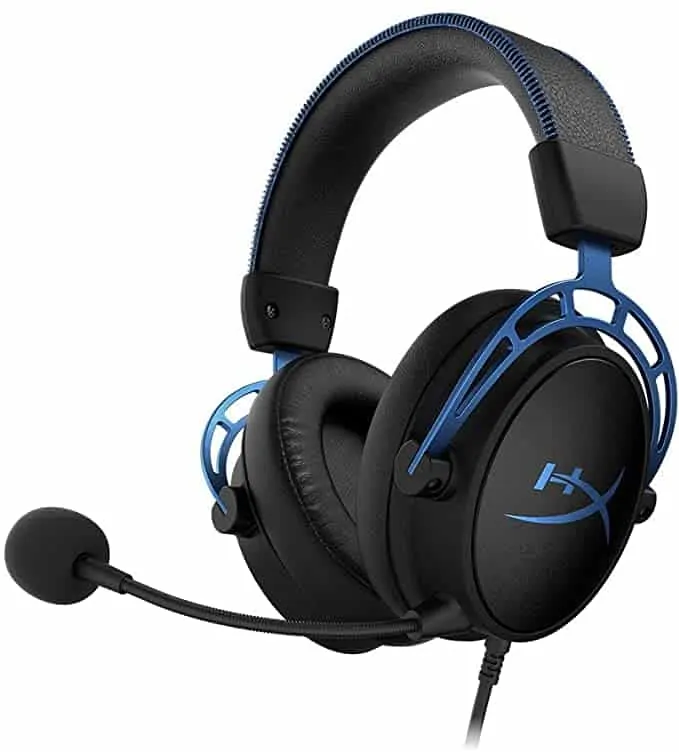 There's nothing worse than going online only to find out your teammates can't hear you, or worse yet, you're so muffled that they end up kicking you out of the party. Well, worry no more because the Hyper X Cloud Alpha S Headset is one of the best P.C. gaming headsets on the market. Noise-canceling with Hyper X's trademark comfort, this headset is meant to be as non-distracting as possible.
You should know, this particular headset is for P.C. gaming only, but there are a ton of options available for console users too. Check out the Turtle Beach Stealth 600 for Xbox One and Series X, or the Turtle Beach Stealth 600 for the Playstation 4.
NBA Jam Arcade1Up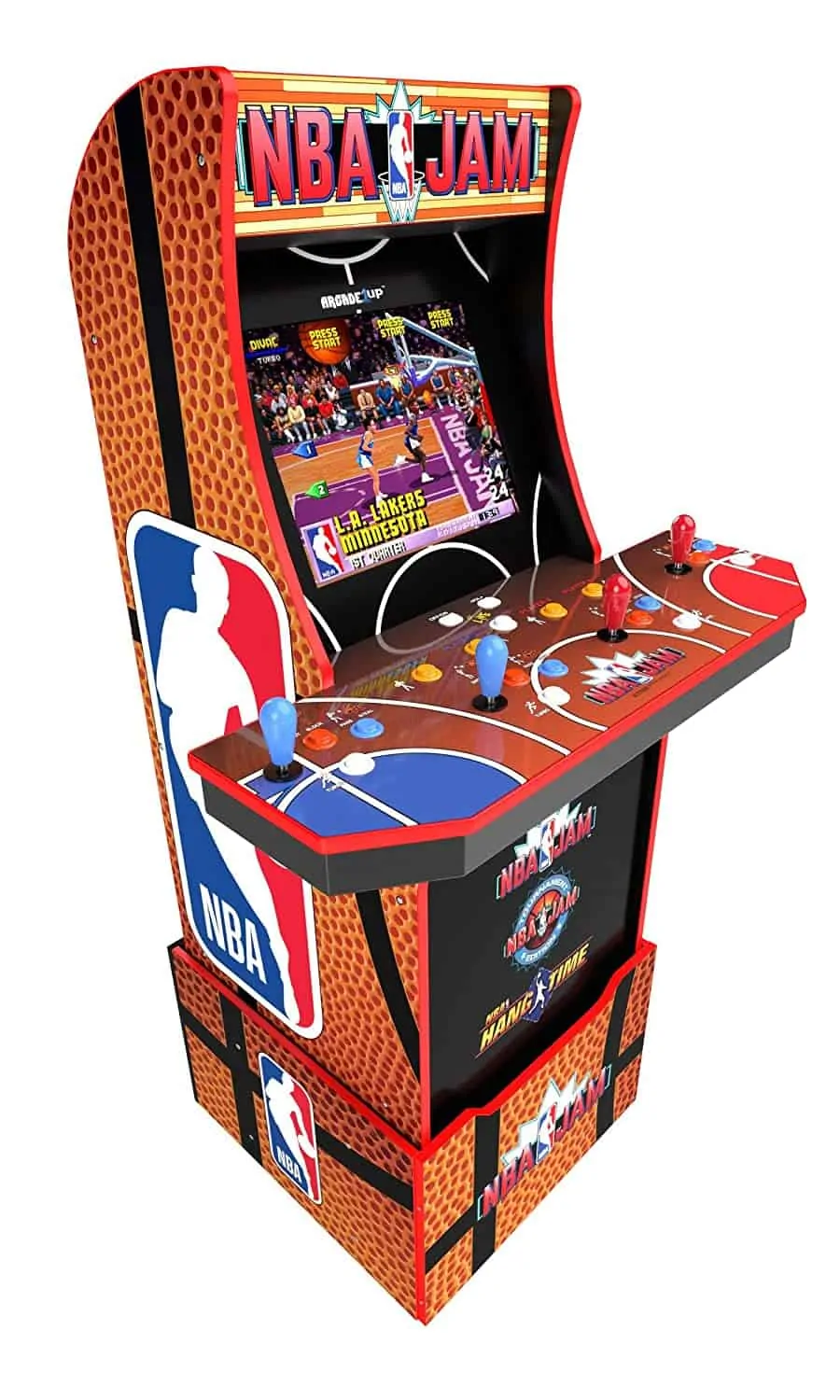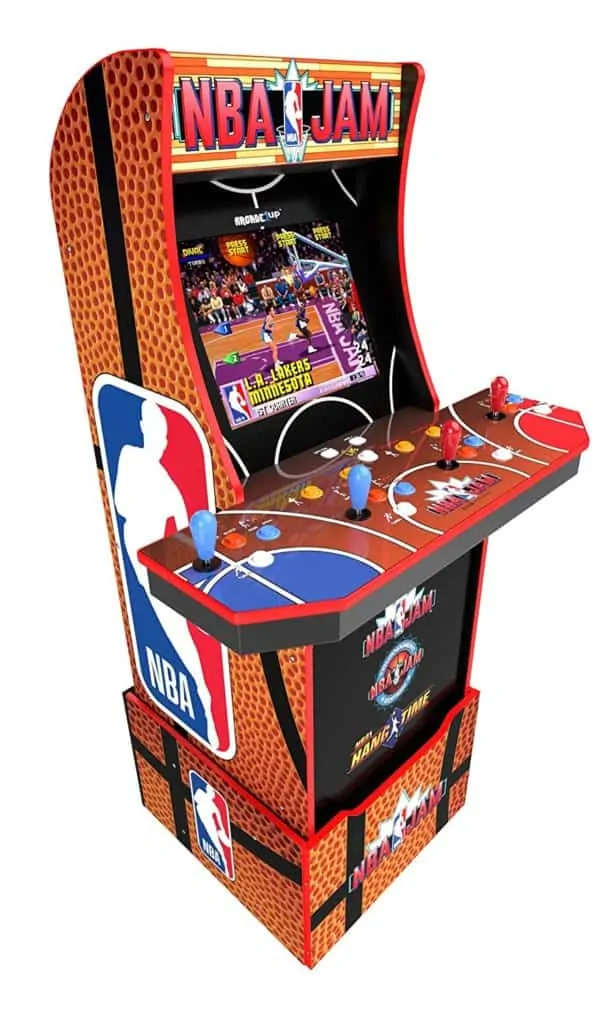 NBA Jam is my…well my jam. That's why I couldn't resist putting the NBA Jam Arcade1Up machine on the ultimate men's gift guide. I fondly remember the number of hours put into rounds of NBA Jam at my local mini-golf, and when I was older, an endless number of quarters at the Philadelphia Barcade. But now, all I need to do is walk into my office and play as much as I want as Arcade1Up has created an incredible replica for home use.
This home arcade machine features the original NBA Jam and NBA Jam Tournament Edition and NBA Hangtime. And if that's not enough, it's also Wi-Fi-enabled so you can recreate that arcade magic at home by playing against other people across the country. This might be my favorite item on our men's gift guide.
Mario Kart Live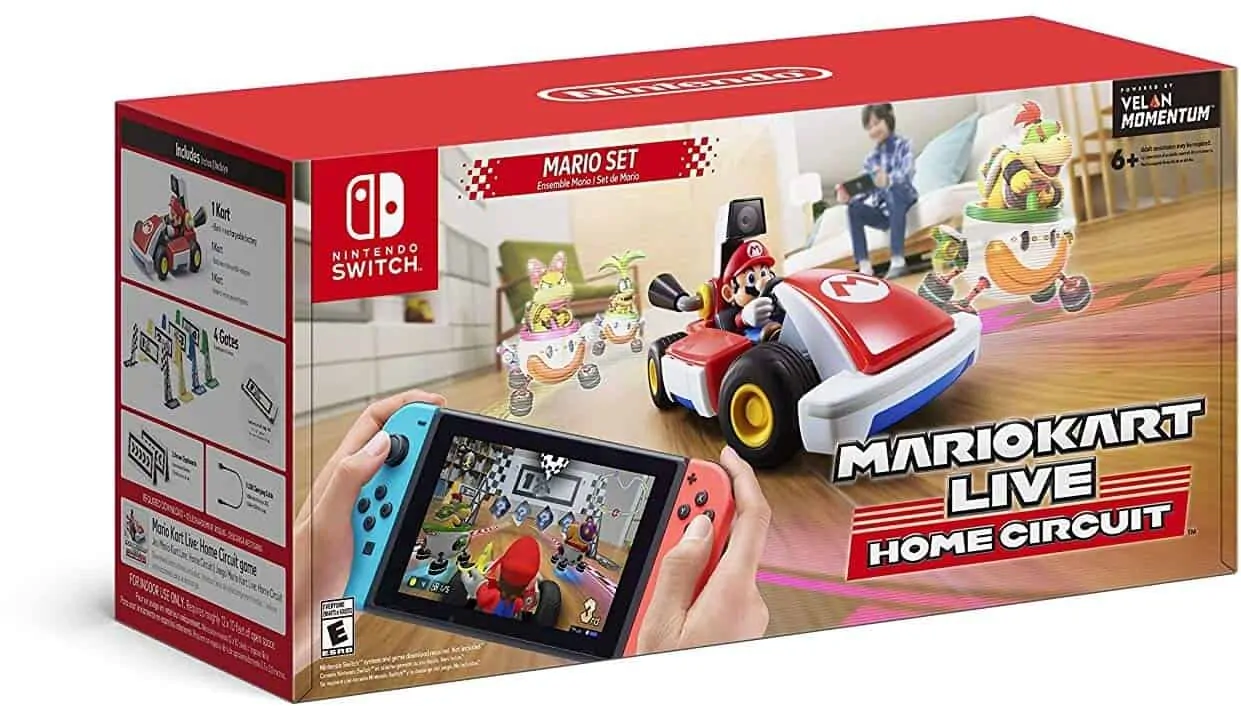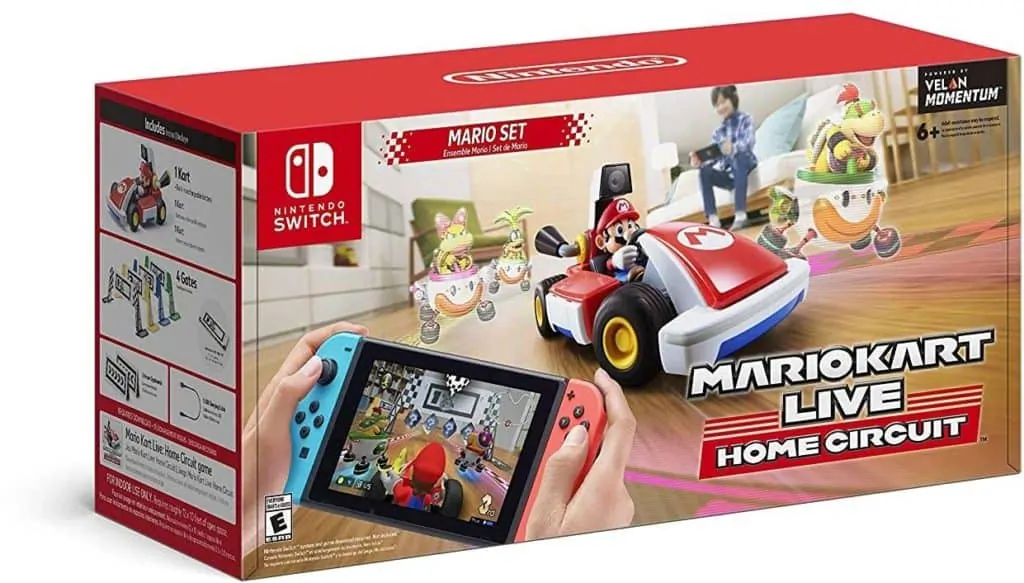 There's no amusement park attraction I'm more excited for than the upcoming Mario Kart ride at Universal Studios, but in the meantime, Mario Kart Live is finally on the market. Utilizing incredible A.R. Technology and remote control vehicles, Mario Kart Live allows users to use their Nintendo Switch to control real-life Mario and Luigi karts around the house.
As you hit boosts around the track, your kart will react live by spinning out, slowing down, or speeding up. It's the best parts of Mario Kart, except this time, you can bring it into your home by creating your own courses around the house.
Conclusion
Buying gifts for dudes is hard, but the Dudefluencer men's gift guide for 2020 is here to help. Are there any gifts missing from this list? Let us know in the comments below.